Silhouette Cameo getting started: it's easier than you think! Don't be so scared you live your new cutting machine in the box it came in. Here is everything you need to start using your Silhouette Cameo today!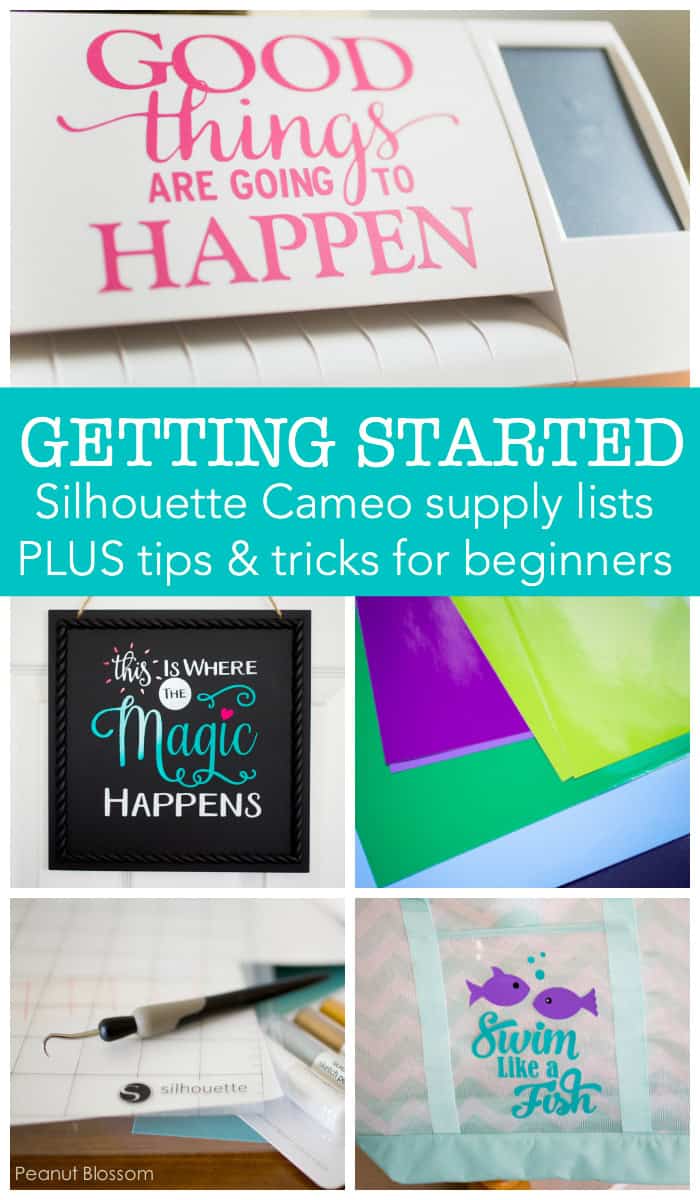 A few months ago, Santa left a Silhouette Cameo under the tree for me. I've always enjoyed crafty projects, scrapbooking, needlepoint, and other creative endeavors but I've never taken the leap with something quite so versatile and complex! Over the last few months, the girls and I have enjoyed learning and playing around with my newest toy but wow what a learning curve! I thought it might be useful to go over some of the basics if you've been curious about getting started with a Silhouette Cameo yourself. There are so many options, but as a newbie it is hard to figure out what it all means!
Silhouette Cameo getting started: First, what is a Silhouette Cameo?
A Silhouette Cameo is like a super charged paper puncher on steroids. Using design software that comes with the machine, you can create custom personalized designs to be cut out of vinyl, sticker paper, card stock, or even fabric. The machine will cut your design on your medium of choice and lets you then produce:
personalized t-shirts
holiday decor
3D paper gift boxes
handmade cards with intricate lattice work shapes
stickers and labels for any kind of project
custom vinyl clings for your walls or vehicle
templates for custom painting projects
party supplies: gift tags, photo props, bag labels, invitations, decorations of all kinds
and seriously So Much More.
Which products do I need to get started with a Silhouette Cameo?
The answer to that is best answered if you know what you are most interested in making with it. Amazon sells bundles of all kinds. The cheapest route for getting yourself the machine is to go with one of the bundles that best fits your preferences. But before we discuss the specifics of project materials, let's chat about the basic tools you will most likely need.
Silhouette Cameo Basic Tools for beginners:
All of the basic tools you need are already included in all of the bundles I recommend but the rest of your supplies will be determined by the type of projects you want to do. I, personally, started with a few simple vinyl projects to get acquainted with the machine so let's start there.
Vinyl Crafting Supply List for Silhouette Cameo Beginners: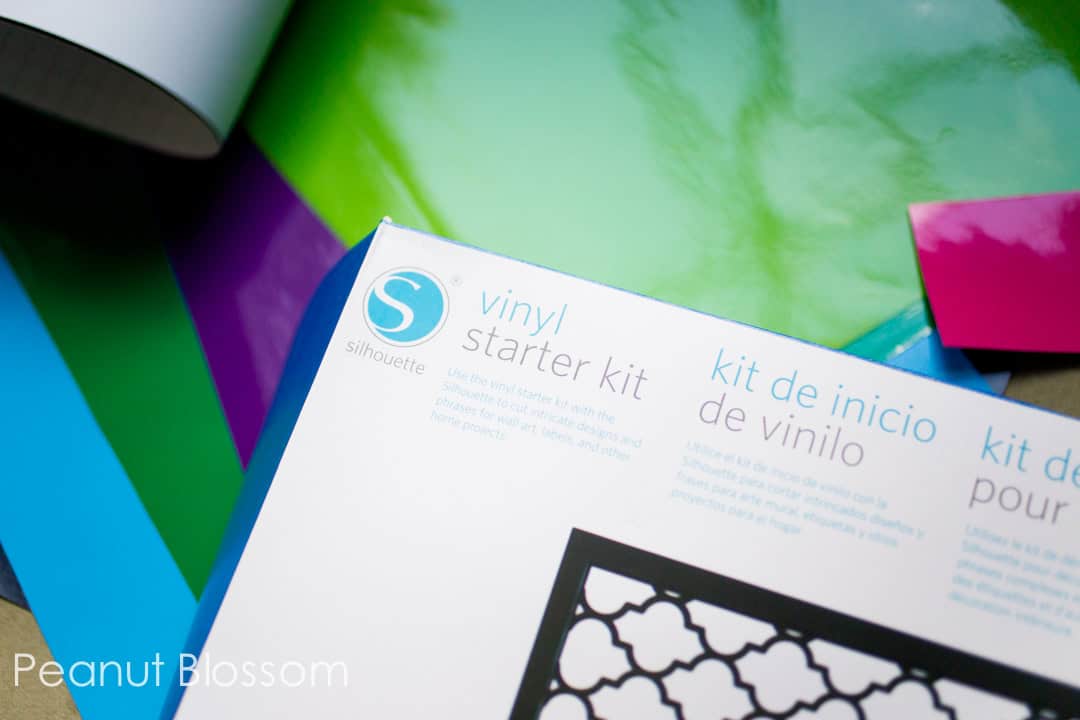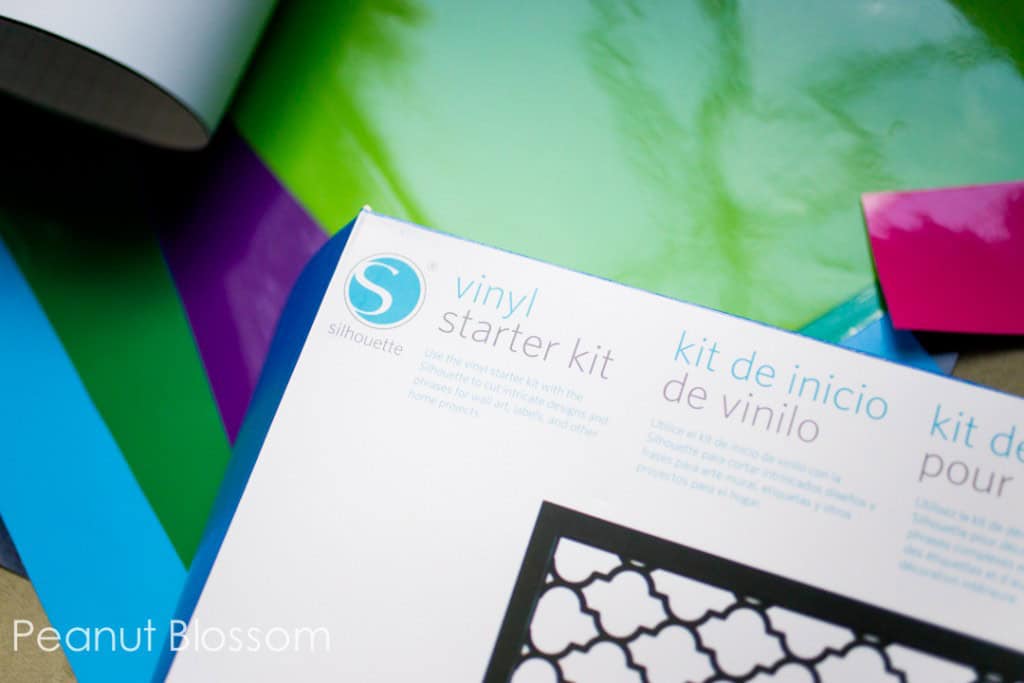 There are 2 major types of vinyl:
The kind that sticks to a smooth surface (plastic, glass, your wall, your car, etc.)
HTV or Heat Transfer Vinyl which needs to be applied with heat from an iron to a soft surface (t-shirts, tote bags, fabric organizers, etc.)
I started with the regular vinyl first. That cute little quote "Good things are going to happen" on the front of my Silhouette Cameo was my very first project. Then I made a couple cute holiday signs and the "This is where the Magic happens" sign for my kitchen pantry door. During spring break, I customized 2 cute swim bags for the girls using tote bags from Target.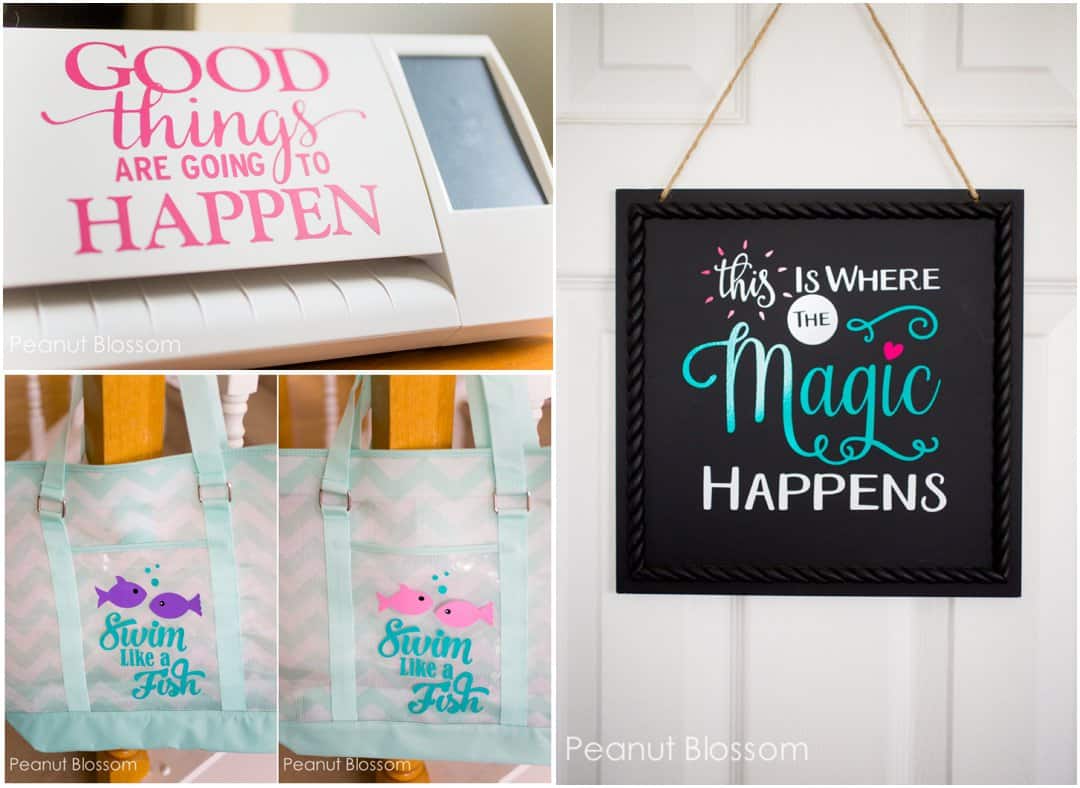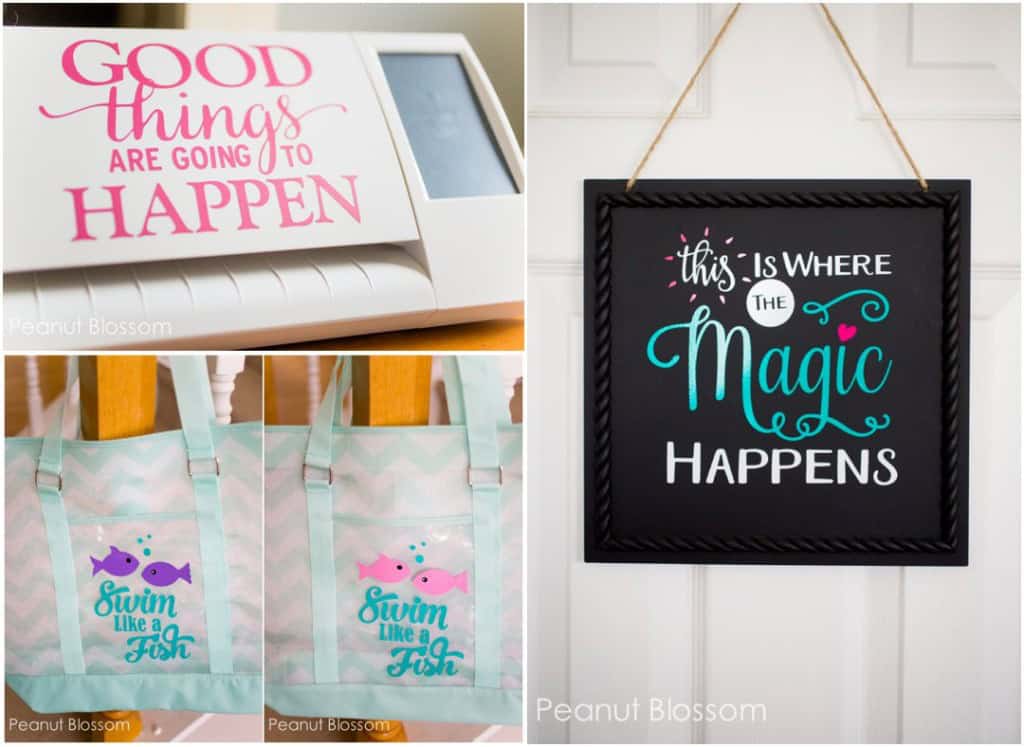 To work with regular vinyl as seen in these projects, you will need the basic tools listed at top as well as:
If you think you want to start with regular vinyl, I would consider this Silhouette Cameo bundle here.
Once I got the hang of the regular vinyl, we started to experiment with making t-shirts and things for the girls. We customized a doggy toy box for our new puppy, made Valentine, St. Patrick's Day, and Easter tees as well as a last minute one for a school spirit day.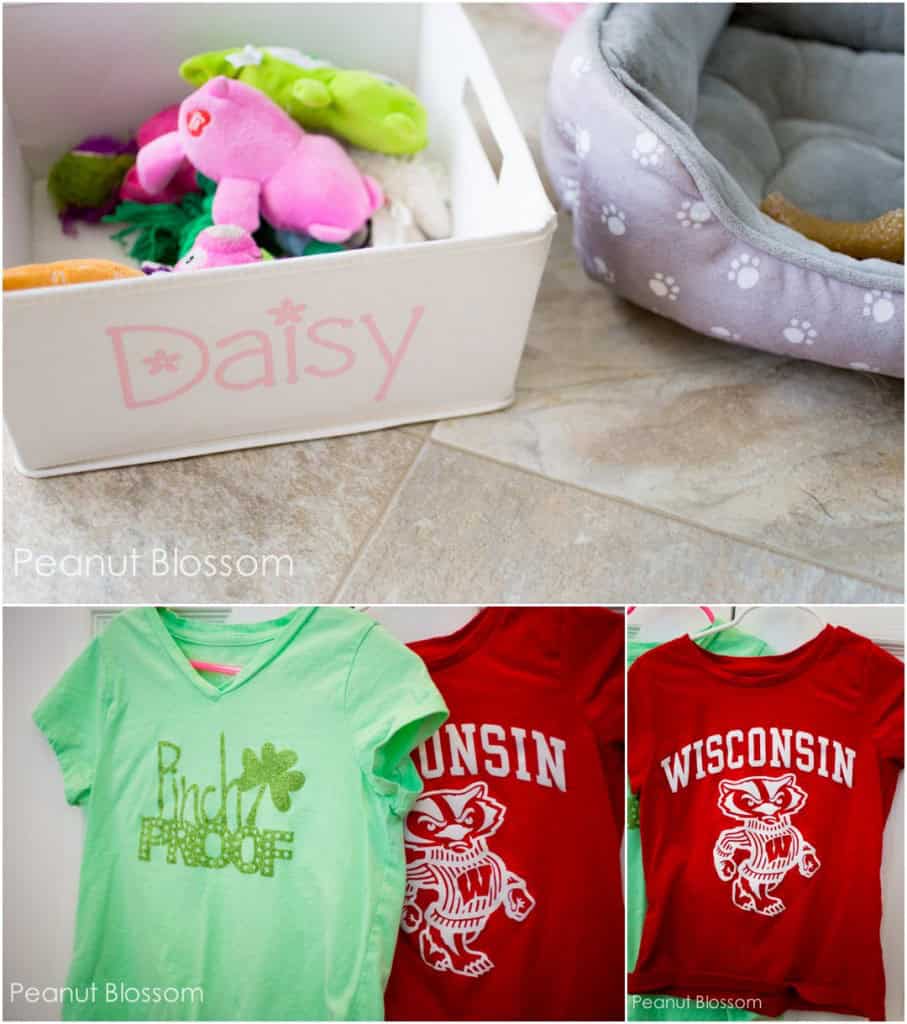 The t-shirts have definitely been my girls' favorite projects. Though it may not show up as well in the photos, we love to use glittery HTV to make them sparkle.
I even got into the act with a custom sweatshirt for my last Disney race:
To make HTV projects, you will need the basic Silhouette tools listed at the top as well as:
assorted colors of HTV: I prefer this glitter HTV or this Easy Weed HTV both from Expressions Vinyl I found it is worth paying for a little shipping to have such a wide assortment of options from their site. They have the best color selection and is so much easier to work with than the standard Silhouette brand vinyl.
an iron or heat press (I just use an iron for now)
If you think you want to start with HTV, I would consider this Silhouette Cameo bundle here.
Which project looks like the most fun to you? Do you still have questions about getting started with a Silhouette Cameo? Let me know in the comments so I can try to answer them!