Want to learn how to crochet? These stress-free patterns are perfect for beginners who want to get started with crochet.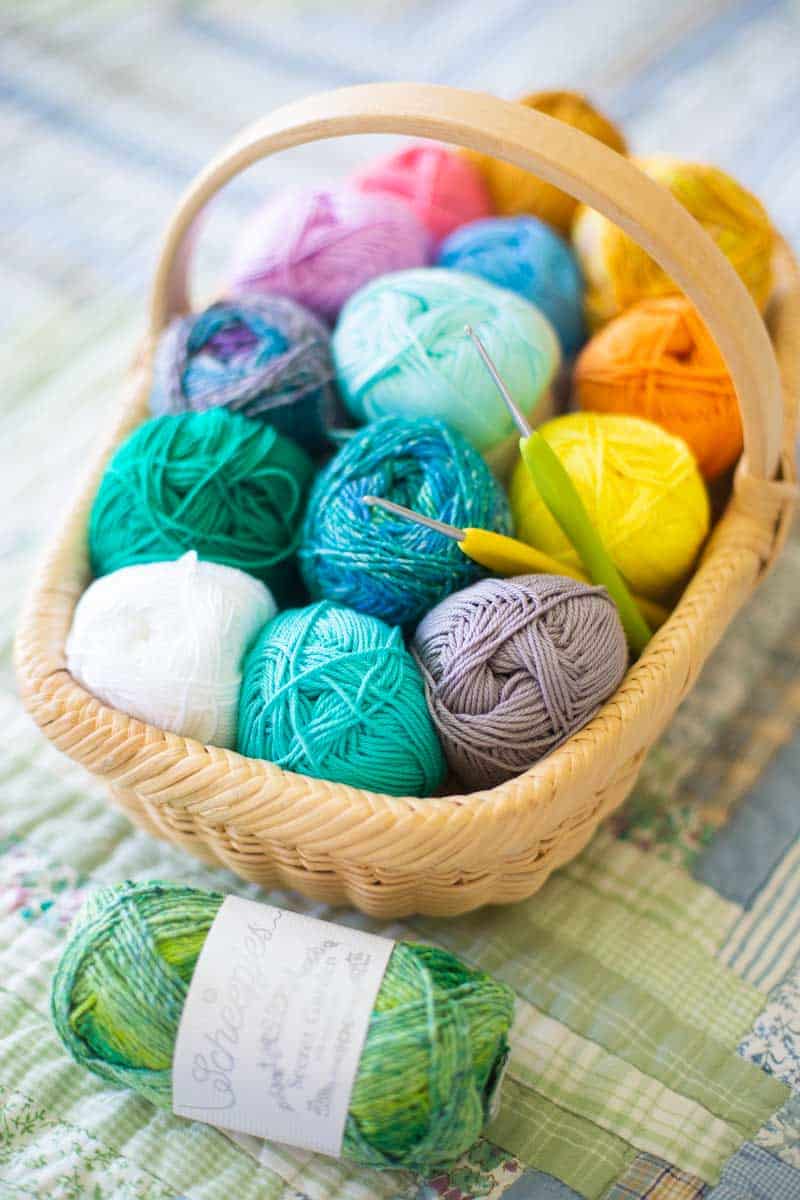 While I was in the middle of writing and photographing my first cookbook, I was under a crazy amount of stress. All my biggest deadlines hit the week right before Christmas. I was a total wreck that holiday.
For my Christmas present that year, knowing how I love to engage in a little crafty therapy, Tim gave me a copy of Crochet to Calm: Stitch and De-Stress with 18 Simple Crochet Patterns along with a few simple supplies to get started with crochet.
I had attempted to learn how to knit years ago with very limited success. Somehow crochet, with its lone single hook, called to me.
Over the last few years, I've dabbled with a few simple crochet projects. I find that I love the repetitive hand motions when I'm watching tv or listening to an audiobook.
I never became a master crocheter and my projects have remained in the beginner phase, but that doesn't bother me one little bit.
I love the soft feel of the yarn and seeing the colorful pile of yarn balls in my basket. If you need something calming to do with your hands, I highly recommend giving crochet a go!
Here's everything you need to know to get started.

Supplies to Get Started
The best thing about crochet is how few supplies you really need to get going:
Crochet Hooks: My husband gave me this awesome, colorful crochet hook set for my Christmas gift and I LOVE it. It has all the sizes I need for any project. If you don't want to invest in the whole set, I tend to gravitate towards projects that require the 3.75mm crochet hook like this one.
Yarn: The yarn you need will depend on the project you pick. As you learn the stitches, you could just pick up any ball of yarn at a local store for practice then plan out your first project.
The Best Crochet Tutorials for Beginners
When Tim gave me that book, I knew absolutely nothing about how to crochet. Before I could dig in on a project, I had to learn a few simple stitches.
I spent a few days over Christmas break with the kids watching crochet tutorials on Craftsy. I streamed the videos to our tv from my laptop and just sat myself down by the Christmas tree with yarn and a crochet hook.
I started with Beginner Crochet Basics & Beyond.
The class covered how to do a basic chain stitch and the simple stitches you need to complete a very simple project. It also went over how to read a crochet pattern, which really felt like reading a foreign language at first!
By the end of the week I was able to stitch a few very basic crochet stitches into something that resembled the coffee cup warmer project from my Crochet to Calm book. It turned out totally wonky and I never even bothered to put the final finishing touches (cleaning up the edges and adding a button) but I was proud of it anyway because it wasn't just a simple square.
After learning about granny squares in this Bluprint video, my second project was to do a granny square pillow. I used happy tropical colors and the front and back turned out super cute but I confess I'm still trying to figure out how to sew the seams up to finish it off!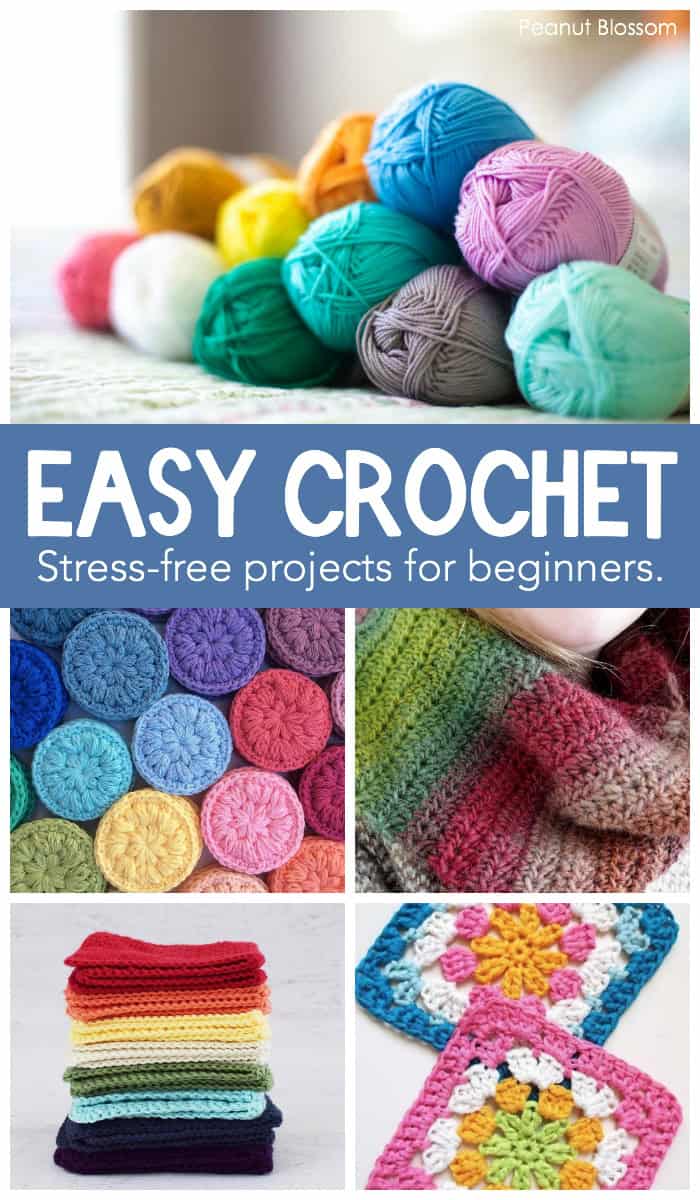 The Perfect Crochet Project for Beginners
My two little failed (or at least not-completed) projects taught me that my favorite things to crochet include:
Small projects that can be finished in a single session or two: washcloths, scarves, little pouches, etc.
Have repetitive stitches: only require two to three different stitches for the whole project
Are slightly monotonous: I am crocheting for stress-relief, I don't want to be staring at a pattern and worrying about what the next step is going to be. I want to be able to just relax and watch tv and have my crochet work be on almost-auto-pilot in my hands.
That may sound overly simplistic, but I believe it is the best way to get started and build your confidence.
If it never levels up beyond that? Who cares?? We can still create fun and useful items so our crafty time doesn't feel wasted.
FREE Crochet Patterns for Beginners
Not all patterns are created equal. Just because a project is small doesn't make it appropriate for a beginner.
You want to look for patterns that have a short list of required stitches and simple lines and rows as you get going.
Once you've accomplished a project or two from that list, be sure to check out the adorable drawstring crochet gift bags I made during the holiday season! They'd be so cute for any gift-giving occasion during the year.