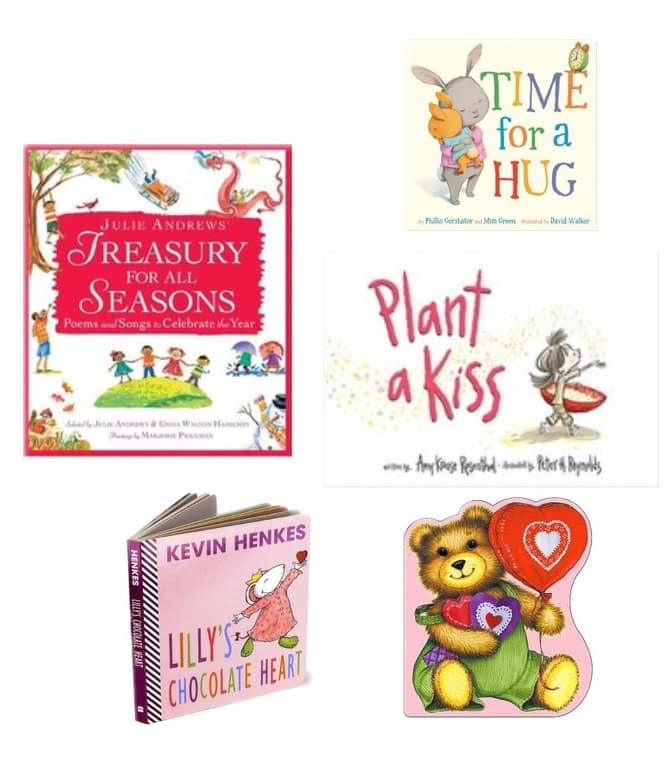 I'm a huge fan of giving books as gifts. I always make sure to include at least one for every gift-giving holiday for my girls. Last year, I gave them a few super sweet picture books about love and friendship for Valentine's and they've been big hits.
This year, I decided to change it up just a tiny bit. Now that we are ordering so many paperback picture books via Scholastic through the Peanut's Kindergarten class, I'm seeing the value in thicker, fancier hardcover books that have longer lasting power. There is something in the heft and weight alone that makes them feel important and special.
If you're looking for a great last-minute gift for your little sweetie, these books all have special place in our home library:
1. "Treasury for All Seasons: Poems and Songs to Celebrate the Year" by Julie Andrews: This is this year's gift. I'm giving it to the girls next week. I can't wait! I stumbled across it by accident but it is just so sweet and lovely. I am enamored with the idea of a book that chronicles small celebrations throughout the year and I look forward to using this in the months to come. I'd love to have the Peanut begin small poem memorization this summer and there are several lovely little verses in this book we can start with.
2. "Time for a Hug": This simple picture book chronicles a single day's activities and pauses every bit to squeeze in "time for a hug." For my routined little ladies, that theme really struck a chord.
3. "Plant a Kiss" by Amy Krouse Rosenthal: I adore pretty much anything by Amy ("Little Pea", "Little Hoot") but "Plant a Kiss" is extra whimsical. The pages actually have some glittery sparkle to them in spots. This hardcover picture book is such a treasure.
4. "Lily's Chocolate Heart" by Kevin Henkes: We still appreciate a good board book in this house. Little Pea is getting better but these are just safer. I'm always thankful to find board books that have an actual story to them. This one couldn't be sweeter. It was Little Pea's gift last year.
5. "Corduroy's Valentine": Someday I'm going to look back at pretty much anything with Corduroy on it and cry. He is the Peanut's Very Special Lovey. It started when she was 18 months and continues now at nearly 6. We have most of Corduroy's books because she loves him so. I've read this one so many times it has literally fallen apart at the seams. She's past the reading stage for a board book but I'm tempted to replace our copy anyways. Just because. And just to have in the future in case it goes out of print. Am I ridiculous? Very very likely. Too sentimental for my own good.