Want to capture sweet Valentine's Day photos of your kids? No need to take them to a studio, with a few handy props you have at home, you can create the cutest backdrops for a DIY photo session right in your kitchen.
One look at Pinterest for Valentine's Day photo ideas and your average mom might want to run away!
Most of those crazy set-ups are elaborate, expensive to reproduce, and incredibly time consuming.
You can capture priceless photos of your kids this holiday with just a few easy little tricks.
These simple Valentine's Day photo ideas require minimal props and put the focus of the picture right where it belongs . . . on your KIDS.
1. Baking Photo Session
You are bound to get happy, natural smiles from your kids when chocolate is involved!
Props To Use:
Baking sessions are fun because you can use cute things from your very own kitchen or just have your kids smile with a treat.
My kids loved posing with our homemade brownie pops, but baking up whatever treat your kid loves best is sure to get some sweet smiles.
Here are some of my favorite easy recipes to bake with your kids that could make pretty food photo props:
Background Ideas: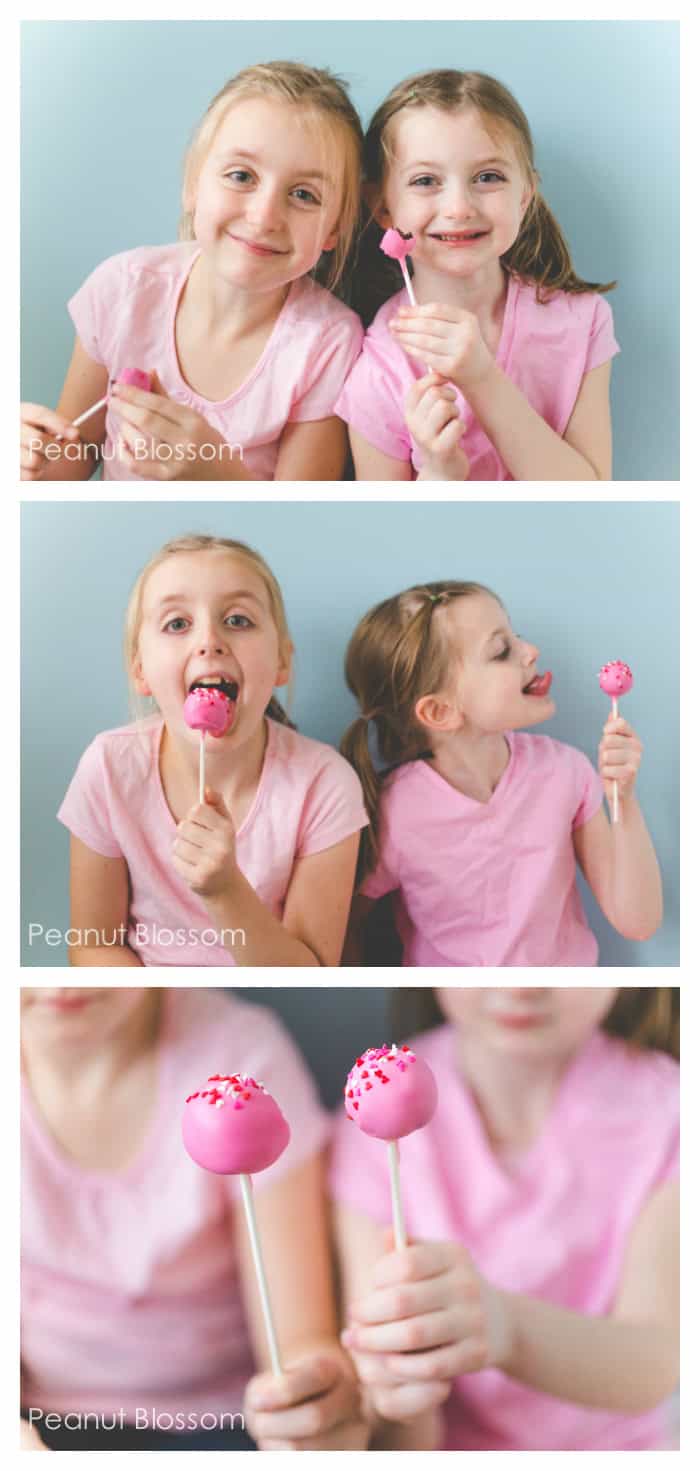 My girls are sitting on the kitchen floor, that blue backdrop is just our kitchen wall behind them!
Find a well-lit spot with a plain backdrop and all you'll see in the picture are the sweet smiles.
2. Red and White Polka Dots (Simple DIY Photo Backdrop)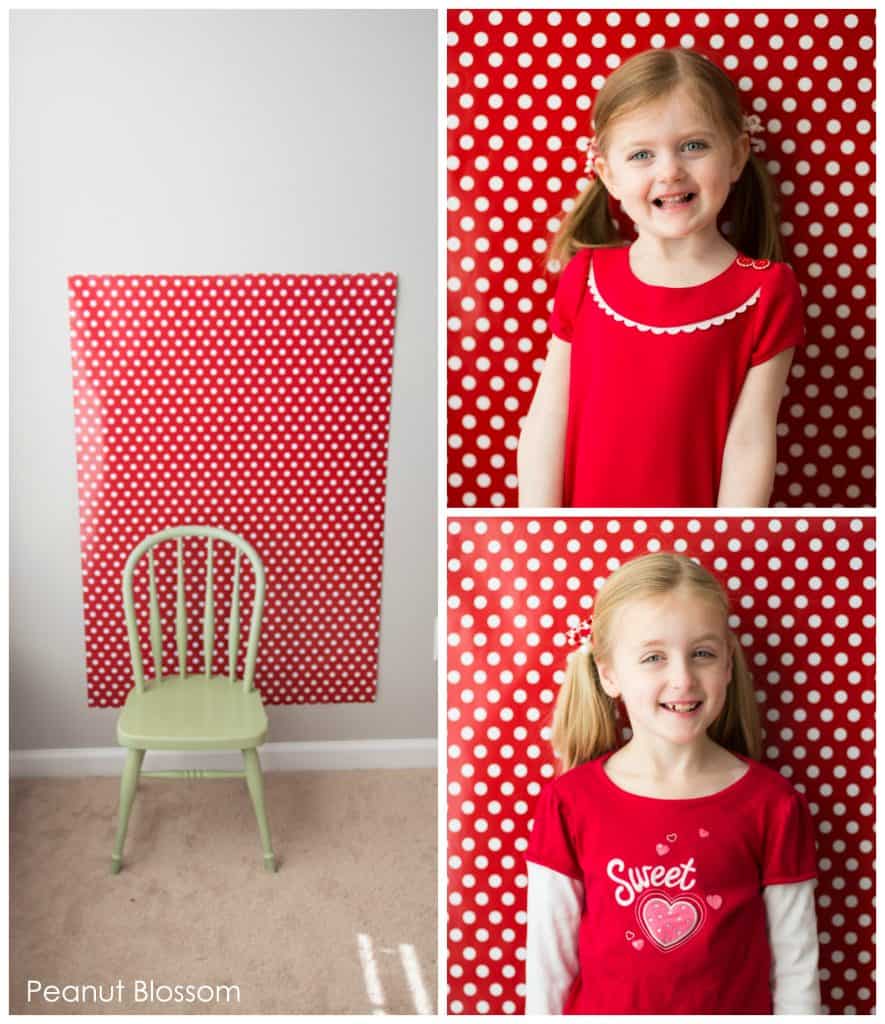 If you don't have a plain colored wall you want to use for your Valentine's Day photo, try hanging a large swatch of wrapping paper! This red and white polka dotted paper was left over from a jumbo roll of Christmas wrapping paper. I cute a huge strip of it and just taped it to the wall where we had good light.
BUT, please note!! This set-up only works if you cannot see the edge of the paper in the photo. The biggest No-No I've seen is trying to crowd too many kids in front of the backdrop or the photographer standing too far away. Get down at eye level and shoot as close as you can so the backdrop fills the frame.
3. Chalkboard Signs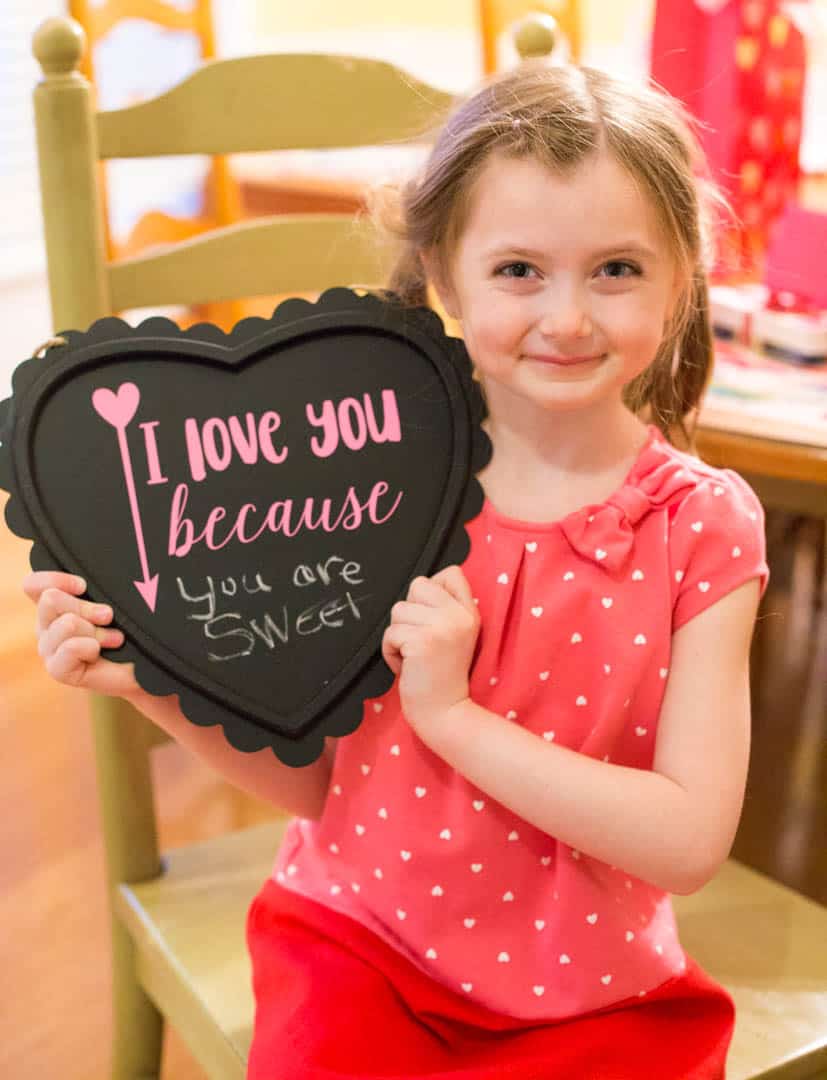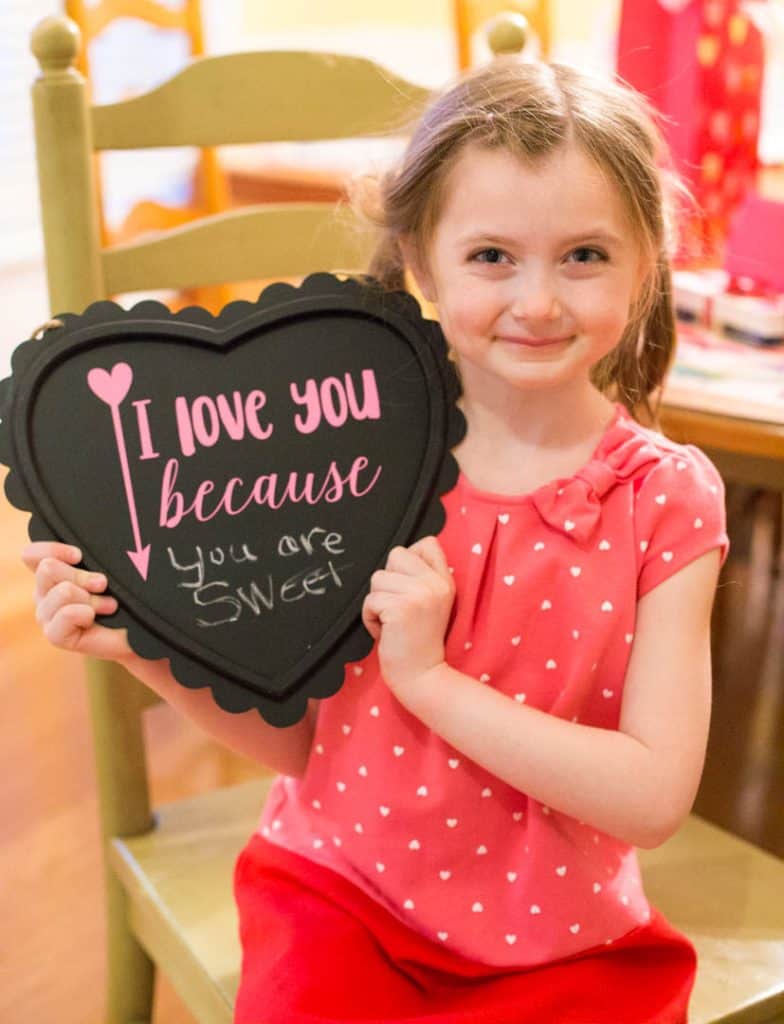 I found these cute heart-shaped chalkboards at Target one year.
I used my Silhouette Cameo to cut the "I love you because" sayings and then we just write in new phrases in chalk to complete the sentence.
You could easily just write the entire message in chalk.
Maybe it's the reason they love their family?
Maybe it's a note to the recipient of your photo gift?
Maybe it's just a sweet saying about love and hugs?
Ask your kids to think of the gift recipient when they smile to make it even more special.
4. Cute Valentine's Outfits for Photos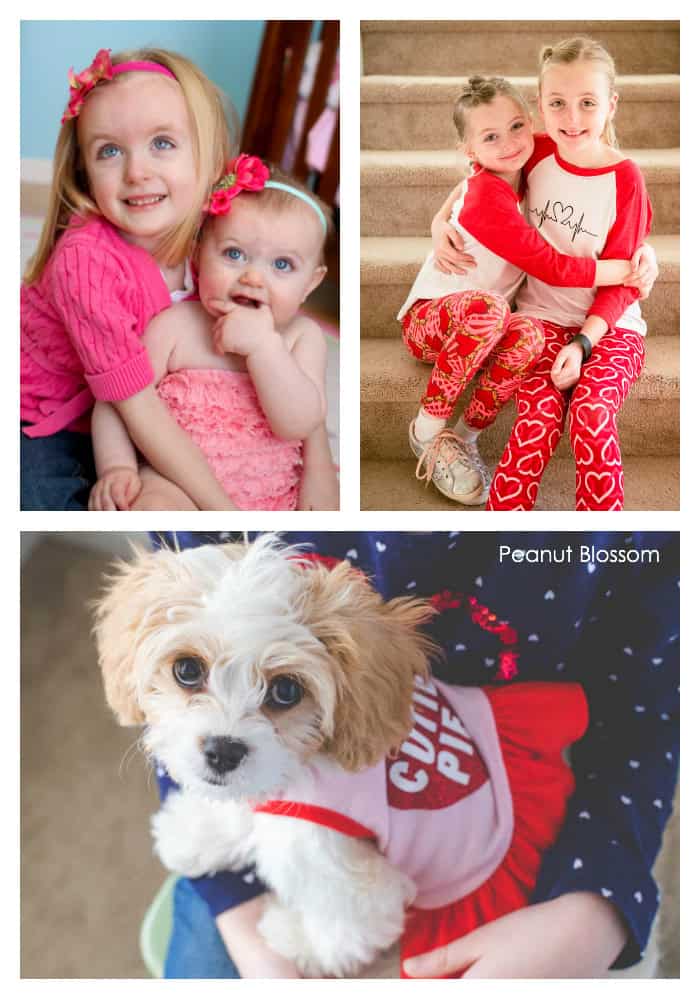 More than most other holidays, what makes or breaks an adorable Valentine's Day photo of kids is what they are wearing.
Thankfully, it is super easy to pick something out whether your child enjoys heart covered clothes or not. Just a simple red, pink, and white color palette would be enough.
When Little Pea was tiny, I bought that swoon-worthy little pink ruffle romper and giant flower headband over on Etsy.
We got so much photo mileage out of it! I had the girls sit on the nursery floor one sunny morning and captured one of my all time favorite pictures of them.
Ruffle Rompers:
You can find the same ruffle romper we used in that photo and more in a variety of colors from Chic Baby Rose over on Etsy.
Flower headbands:
The store we used for our headbands is no longer in business, but I found AMAZING alternatives from the Lucky Cricket shop on Etsy. Check out these adorable Valentine's Day headbands!
Make Your Own:
Last year I made our own Valentine's tees using my Silhouette Cameo. I found that cute heart beat design in the Silhouette Design store and then ironed it on to a pair of raglan shirts I bought super cheap on Amazon. You can see some of the options right here.
Not familiar with a Silhouette? You can read my Beginner's Guide to a Silhouette Cameo right here which includes some of my favorite sources for affordable supplies.
This option is especially great if you have boys in your family. I know many of my mom friends have complained about finding cute options for their sons. So, why not make your own?
5. Valentine Puppy Love Pictures
Get your family's best friend in the sweet photo shoot, kids will give you fantastic smiles when they're cuddling the family pet.
Daisy was still just a puppy and we wanted her to be part of our Valentine's shoot in 2016.
I found that adorable little puppy dress at Petsmart. The trick to getting the "Cutie Pie" message to be seen was to have one of the girls hold her in their lap and shoot down from above.
I called Daisy's name to get her to look up. So much easier than chasing after her or asking her to sit!
More Easy Family Photos to Take
I love capturing seasonal pictures of my family all year round. You can capture such memorable holiday pictures with these easy tips: