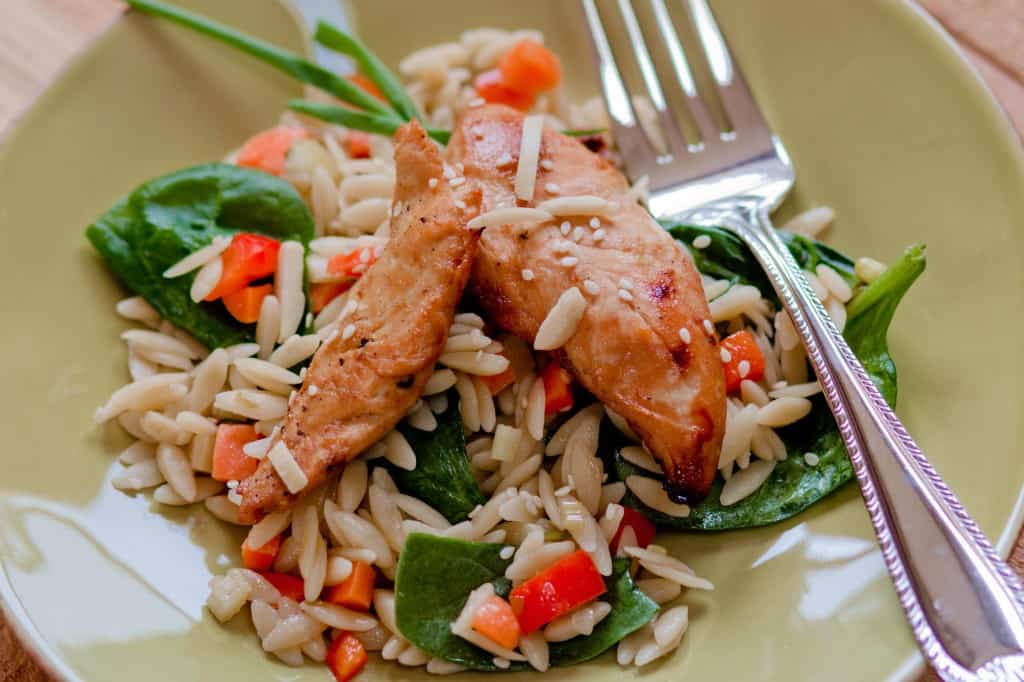 One of the newer tricks I'm trying as I restock my freezer is to prepare marinades for raw meat and freeze them together. While the meat is thawing in the fridge, the marinade works it's magic. I'm assembling a few of my favorites to share in a future post but I'm still experimenting. I really wanted to have an Asian flavored one to add to my mix. After a quick hunt over on Tasty Kitchen, I came across this recipe. I was mostly interested in the marinade, but decided to try making the entire salad since it sounded so yummy.
I froze the chicken in the marinade a couple weeks ago and made this for dinner last night. I originally just halved the marinade recipe for the chicken. Anyone know if the other half could be made and frozen? I'm not sure that would work, so I decided to do it fresh on the evening I made the meal. This is a perfect summer recipe! The only thing you have to cook is the broiled chicken which you could easily take outside and pop on the grill.
The mix of raw veggies with pasta (orzo in this instance) is cold and refreshing. Perfect for the 90+ degree days we've been having. I felt the dish was a little too pasta heavy, not enough salad. I tweaked the recipe to add an entire bag of spinach vs. the original 1 cup the recipe called for. I am not a fan of too much dressing, this quantity just barely coats the final salad when you add that much more spinach. If you want a bit more dressing, plan ahead and up the quantities to suit your tastes.
The marinade itself is Awesome. Handyman Tim devoured the chicken. So much for having leftovers for dinner tonight! I would use this marinaded chicken over rice and in other dishes as well. It will definitely be added to my favorites list.
And food photo tip of the day: Don't try to take a picture of your dinner when you're tired and starving! I had zero patience with prepping this food photo, I was too excited to eat it. I'm going to have to figure out a new timing schedule to prevent this in the future. Occupational hazard?? I guess so.
____________________________________
Asian Chicken Pasta Salad
Inspired by  Lauren's Latest on Tasty Kitchen
Ingredients:
For the dressing/marinade:
1/4 cups white vinegar
1/4 cups canola oil
1/4 cups soy sauce
2 Tablespoons sesame oil
1 Tablespoon fresh lime juice
6 Tablespoons brown sugar
1/2 teaspoons ground ginger
1/8 teaspoons salt
1/4 teaspoons black pepper
1 clove garlic, minced
For the salad:
1 pound orzo pasta
4 whole green onions, chopped
1 cup diced carrot (1 cup is about 2 large)
1 whole red pepper, diced
2 stalks celery, diced
1 bag of prewashed baby spinach, roughly chopped
1/2 cups slivered almonds, toasted
2 pounds chicken tenderloins
Sesame seeds, for garnish
Method:
Mix all ingredients for the marinade/dressing together in a small bowl. Pour half of the mixture into a large zip top bag. Place chicken tenderloins into the marinade in the bag and seal. Move chicken around in bag to coat in marinade and store in refrigerator until ready to broil. Keep the other half of the dressing in a bowl for serving with the salad.
To make orzo salad, bring a large pot of water to boil. Cook pasta according to package directions until al dente. Drain completely and pour cooked orzo into a large bowl. Top with onions, carrot, red pepper, and celery. Pour the other half of the dressing (the reserved dressing) over salad and toss to coat completely. Store in refrigerator until ready to serve.
To cook chicken, heat broiler to high. Place chicken onto a broiler pan coated with cooking spray. Flip the chicken half way through cooking time so it browns on both sides. My pieces were relatively small and only took 20 minutes, adjust as needed for the size of your chicken.
To assemble, pour the spinach into a large serving dish, add orzo salad and toss gently to combine. Top with toasted almonds. Place cooked chicken over top and sprinkle with sesame seeds.