This easy skillet lemon mustard chicken with roasted potatoes and frozen green beans is an easy weeknight dinner for busy families. Great tips for getting it all hot to the table at the same time.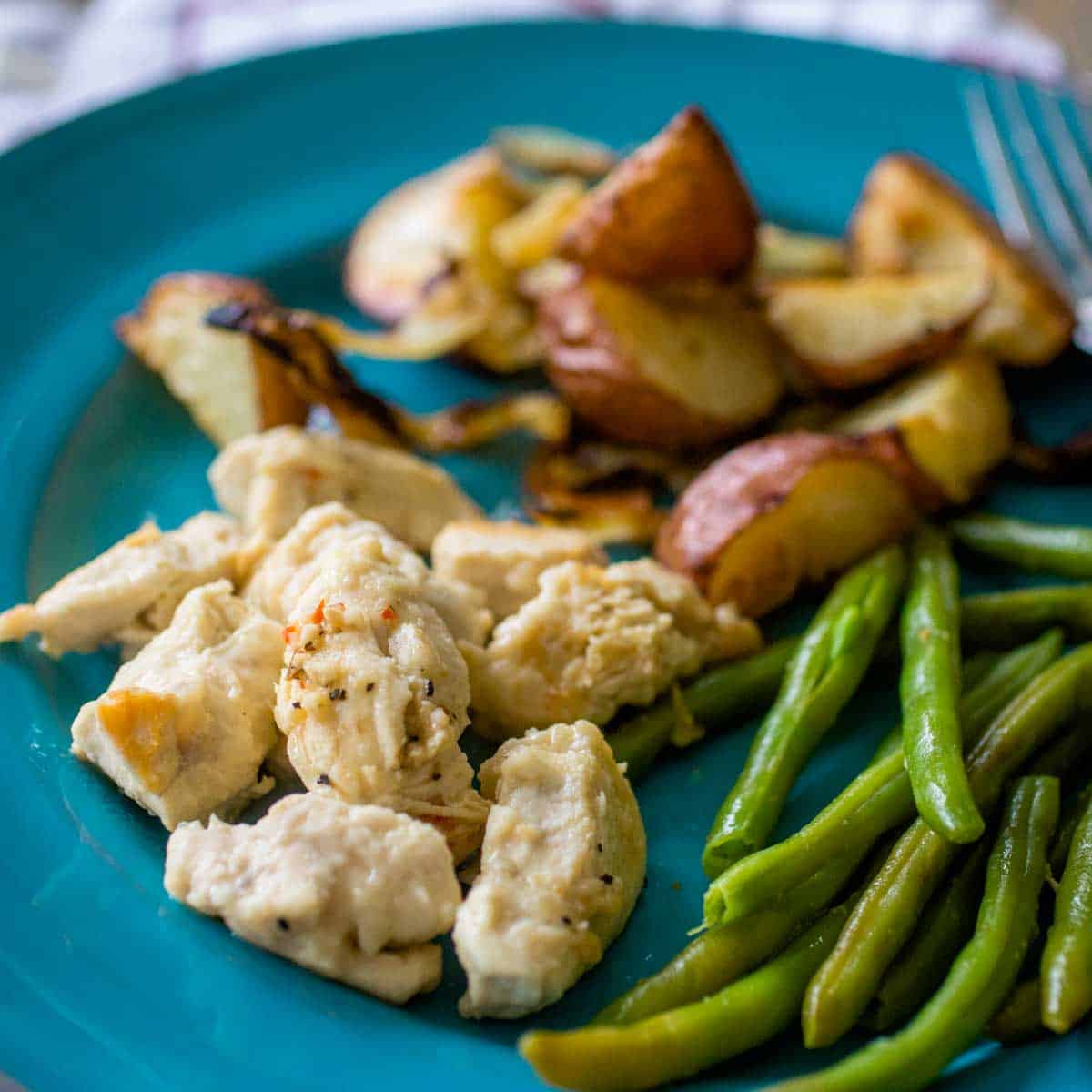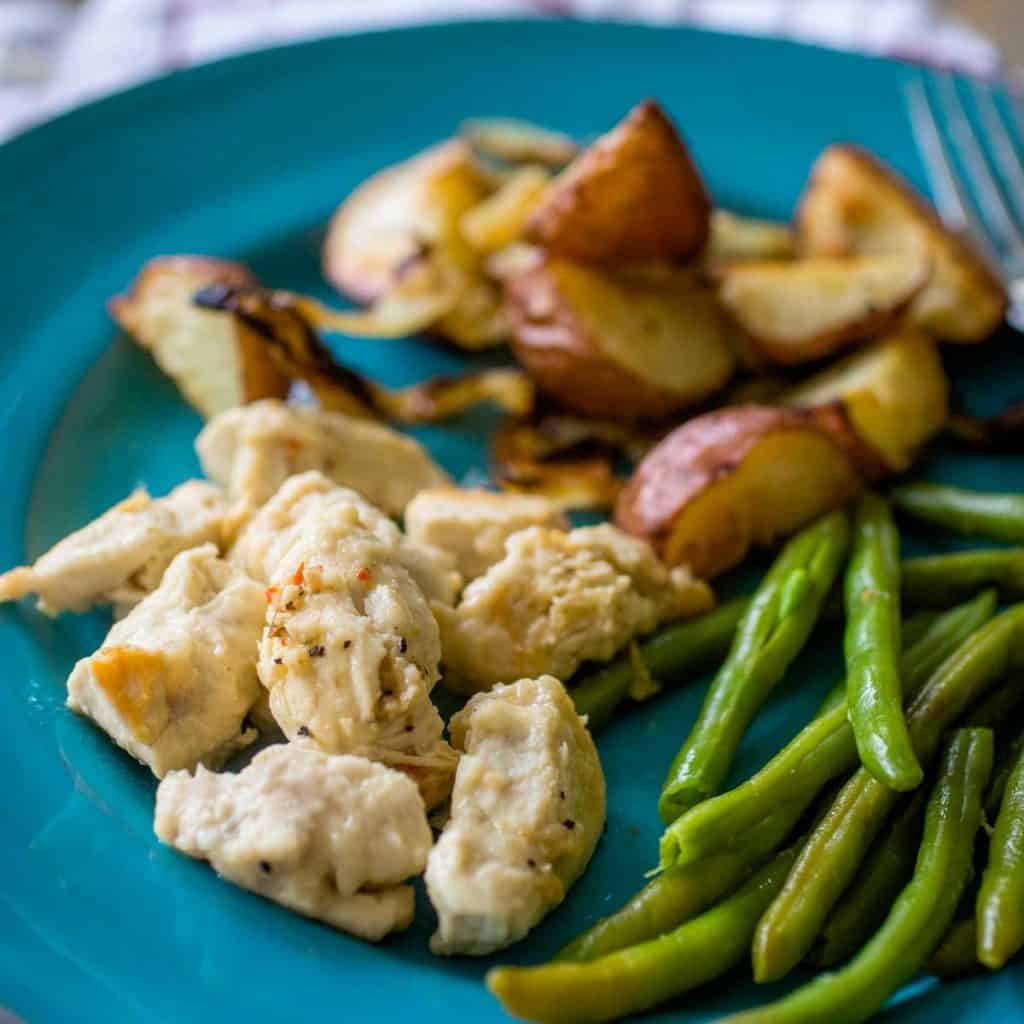 You know what I really stink at? Side dishes. I can rock a main entree like nobody else but when it comes to making sure that I have healthy accompaniments to go with the star of the show, I fall seriously short.
Since Tim and I have been eating more healthfully, I've been particularly focused on making sure we have healthy light side dishes to fill out our dinner plates. On busy weeknights, I find that to be a particular challenge.
My mom had a double oven and I've always been envious of her ability to make dishes without the worry of temperatures being equal. I feel like any time I find a yummy veggie side dish, it requires baking at a temperature that is totally different from my chicken!
So to challenge myself to get two healthy side dishes on my plate, it was a freeing experience to not think twice about the temps of the recipes I wanted to make! I love that you could make one item in the top oven and the other in the bottom.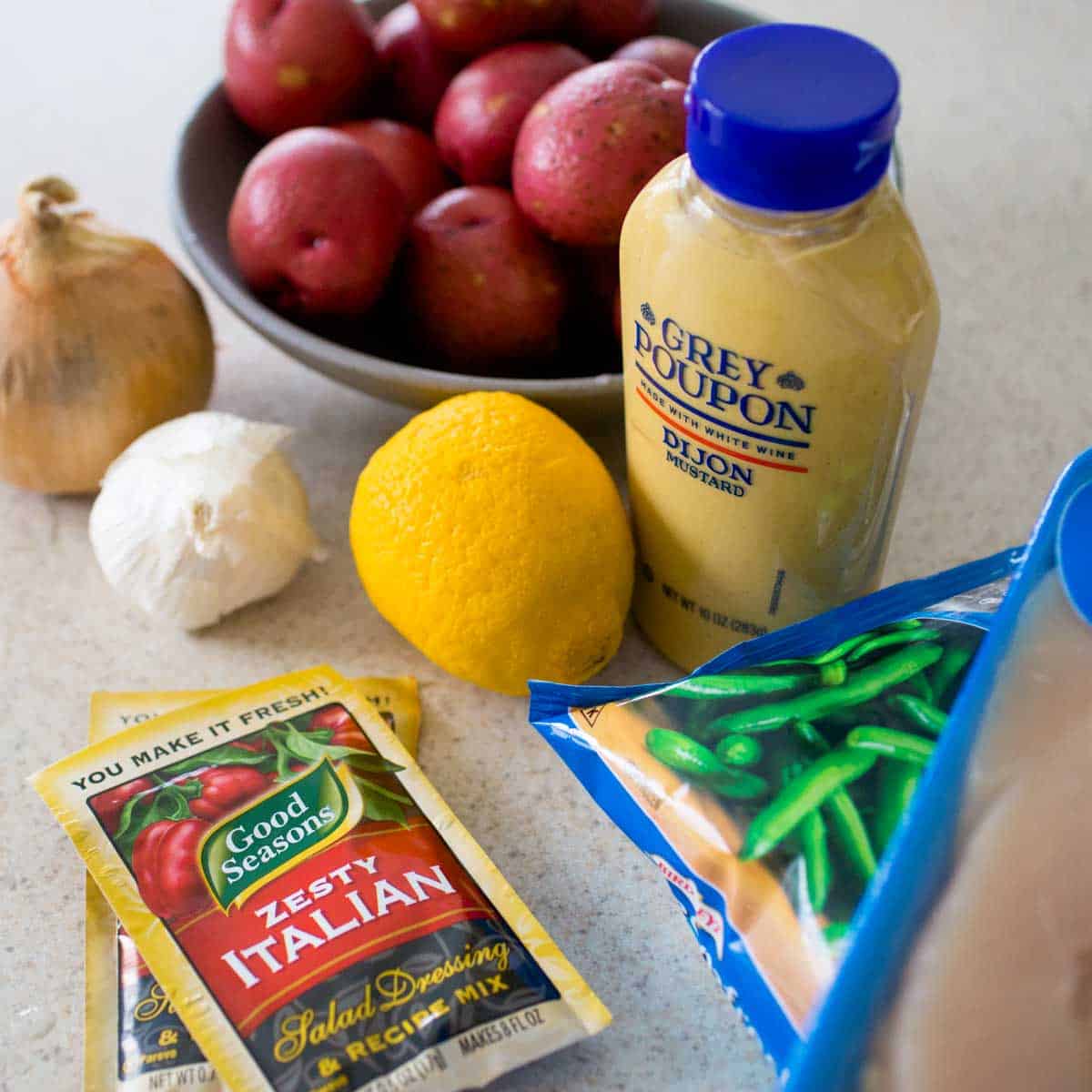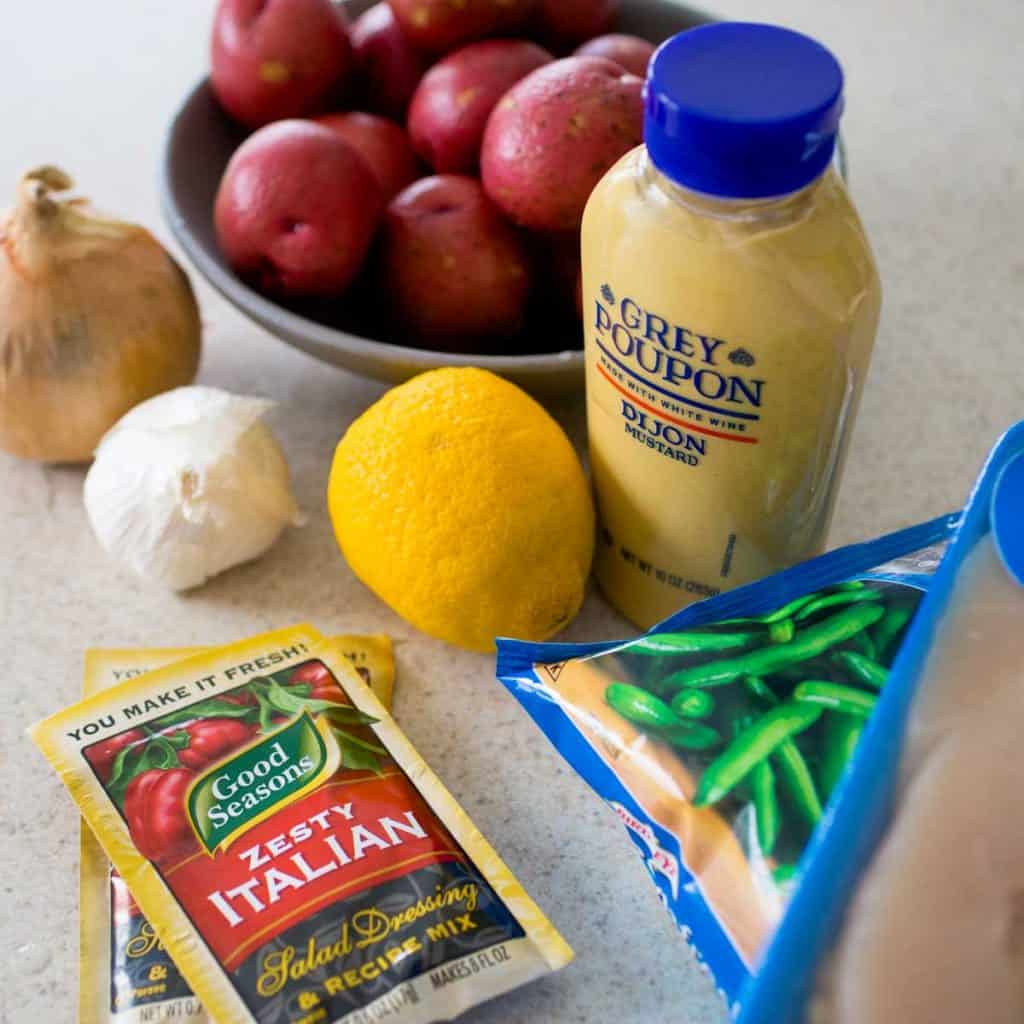 I combined two of our favorite things for this dish: mustardy lemon chicken for me and roasted potatoes for Tim. To up the healthfulness of it, I added a big bag of frozen green beans.
Because the potatoes take longer to bake, I preheated the oven and prepped them first. While they were busy roasting, I moved onto prepping the sauce and the chicken.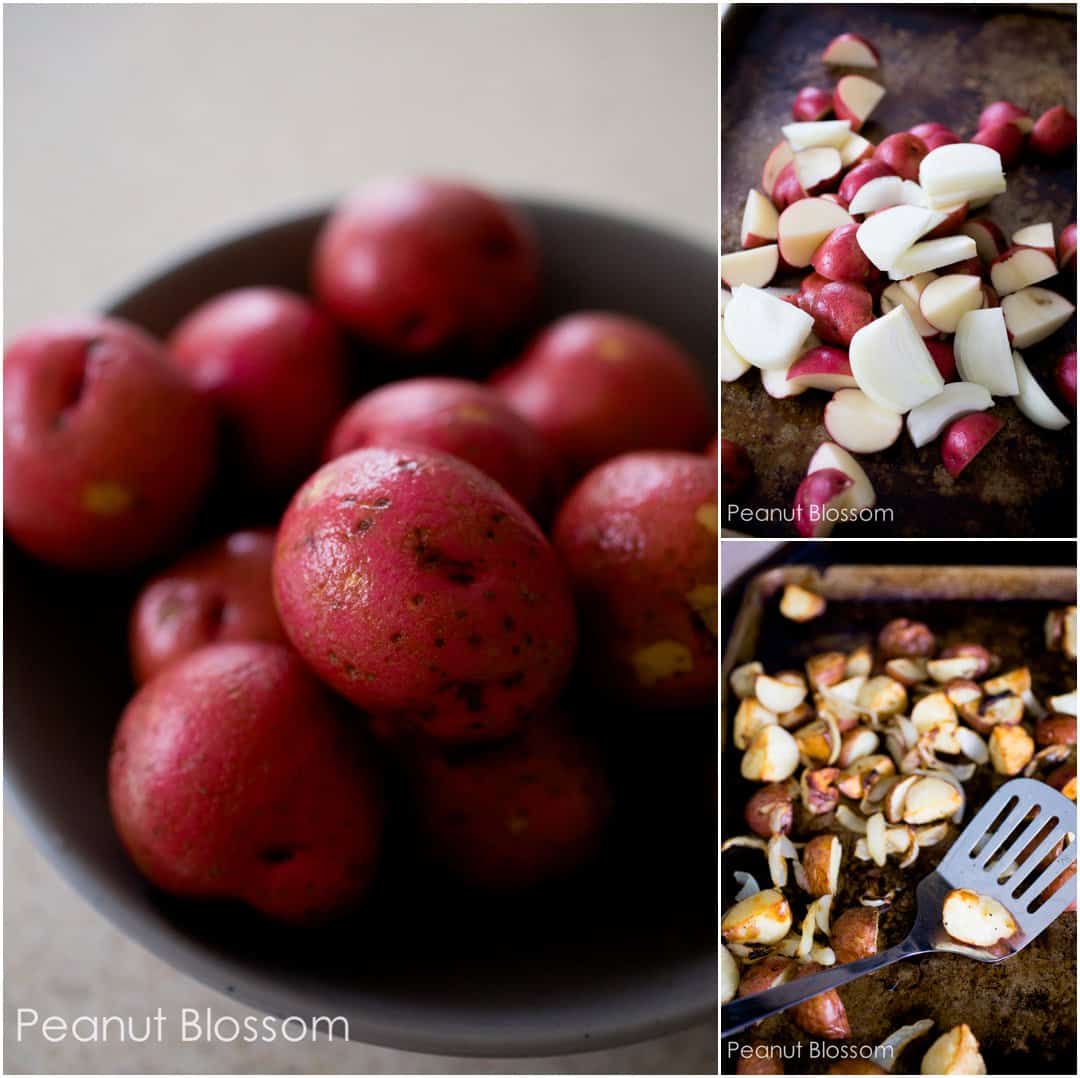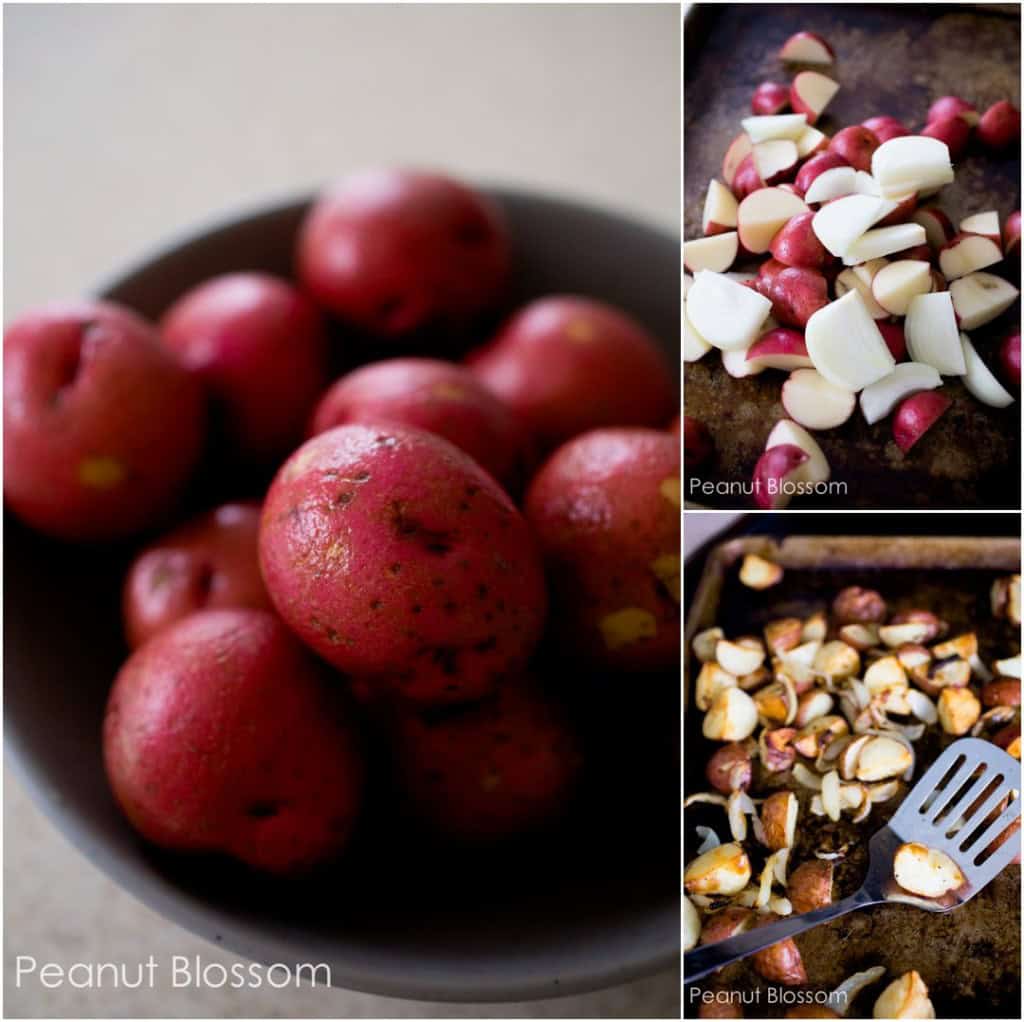 One of my new favorite methods for cooking chicken involves browning it up briefly on the stovetop, making a sauce in the pan and finishing the chicken in the sauce. The result is an extremely tender and juicy chicken that requires very little additional fat or oil.
While the bite-sized chicken chunks were sautéing in a small bit of olive oil, I mixed up the sauce using dijon mustard, fresh lemon juice, fresh garlic, a little chicken stock, and a packet of Italian dressing mix.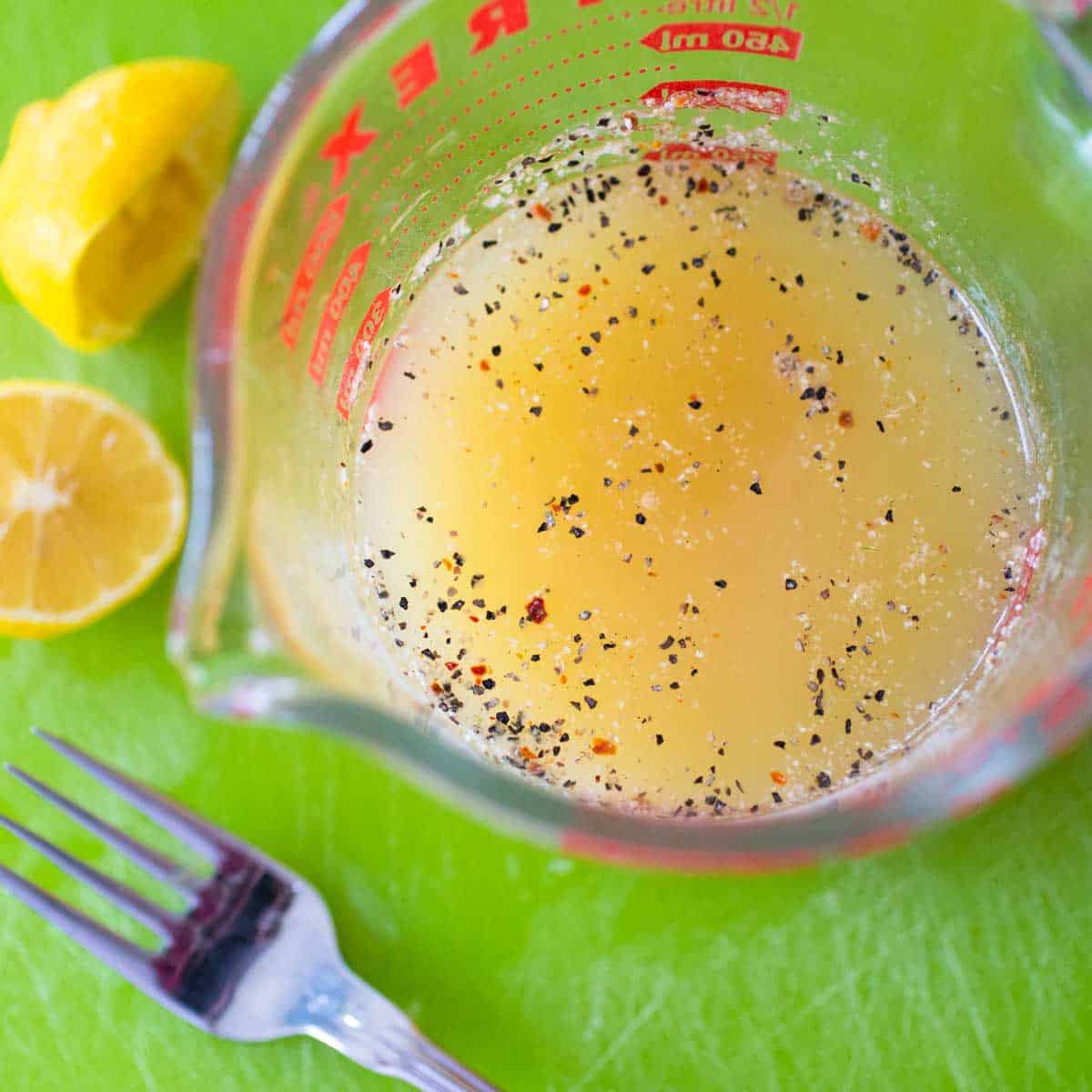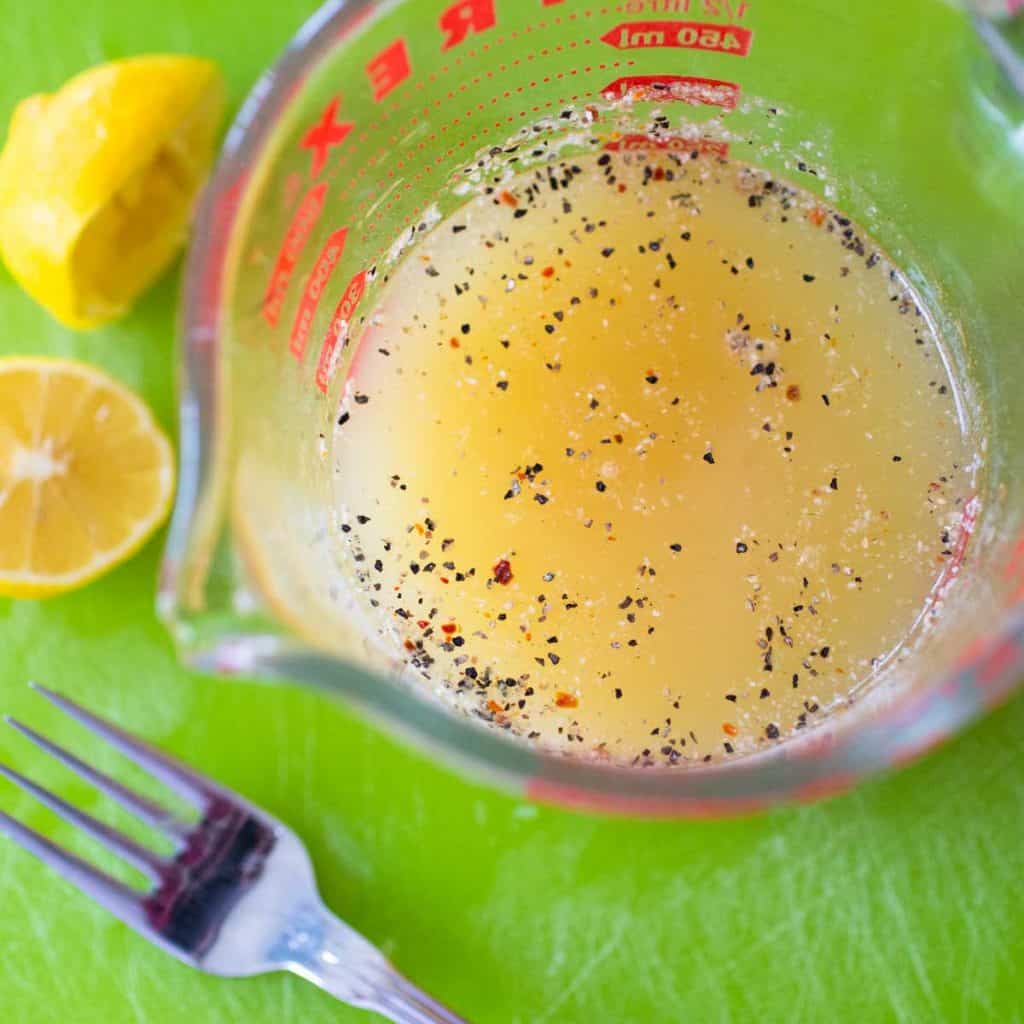 When the chicken had been browned on both sides, I removed it to a dinner plate while I made the sauce in the hot skillet.
Once the sauce was thickened, I added the chicken back to the pan to heat through.
It made for a warm and filling meal that I could easily make during most of our weeknights.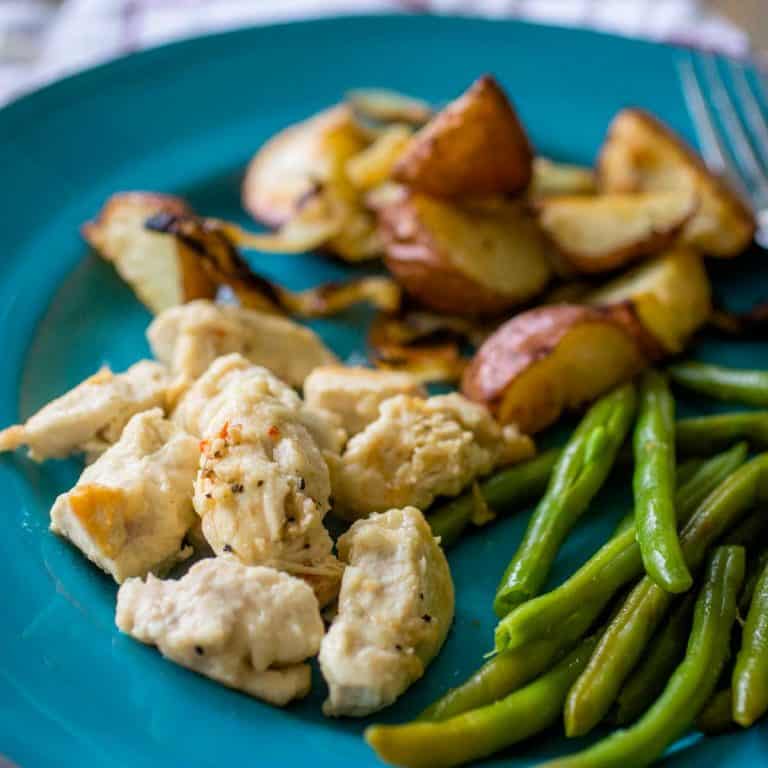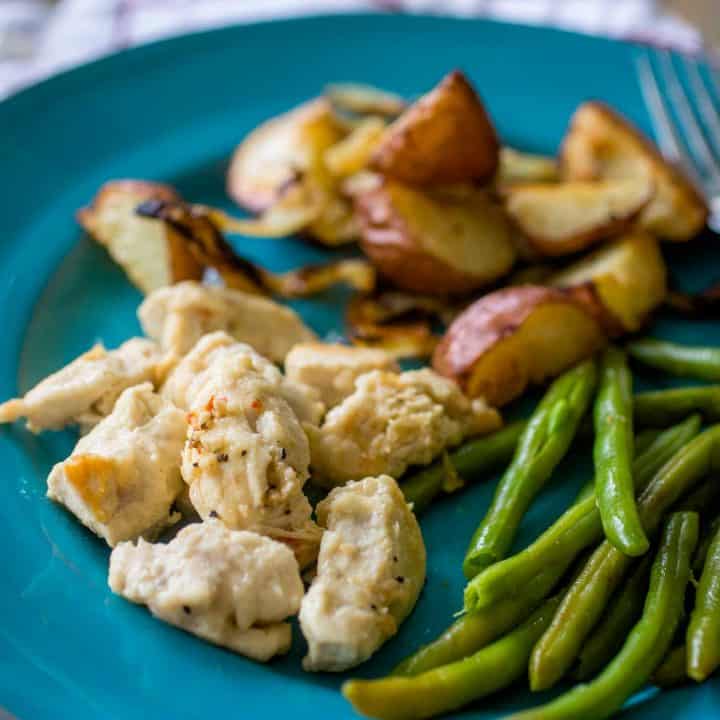 Chicken with Lemon Mustard Sauce
This zippy lemon mustard sauce is delicious over chicken tenderloins with roasted potatoes and green beans.
Ingredients
For the potatoes:
24 oz small red potatoes, washed and cut into quarters
1 small onion, sliced
1 tbsp olive oil
¼ of a packet of dry Italian Dressing mix 
For the Chicken:
1.5 pounds of chicken tenderloins, cut into chunks
1 tbsp flour
1 tbsp olive oil
juice of 1 lemon
2 tbsp dijon mustard
¾ packet of Italian Dressing mix
½ cup chicken stock
1 tsp minced garlic
Instructions
Get the Potatoes Roasting:
Preheat the oven to 400°F.
Toss the potatoes and onion slices with 1 tbsp olive oil and seasonings. Spread in a single layer on a cookie sheet and roast for 40 minutes, tossing half way through.

Prepare the Chicken:
Toss the chicken with 1 tbsp flour to coat. Heat up an oven-proof sauté pan with 1 tbsp olive oil. Brown the chicken in a single layer for 3 minutes until crispy. Turn and brown the other side for an additional 3 minutes.
While the chicken is browning, combine the chicken stock, lemon juice, mustard, seasoning packet, and garlic in a measuring cup.
When the chicken has finished browning, transfer the pieces to a clean dinner plate. Pour the sauce mix into the hot sauté pan and bring to a bubble. Once the sauce has reduced and started to thicken, lower the heat to Low and add the chicken back to the pan to heat through.

Serve the chicken with a drizzle of sauce next to the roasted potatoes.
Notes
Optional:
You can add trimmed green beans to the potatoes to roast in the oven or simply heat a bag of frozen beans in the microwave and serve on the side with the lemon mustard sauce.