This amazing Tuscan soup recipe is so easy when you have a shredded rotisserie chicken on hand! Kids will love the sweet Italian vegetable soup made with tiny chopped up fresh carrots, celery, and zucchini.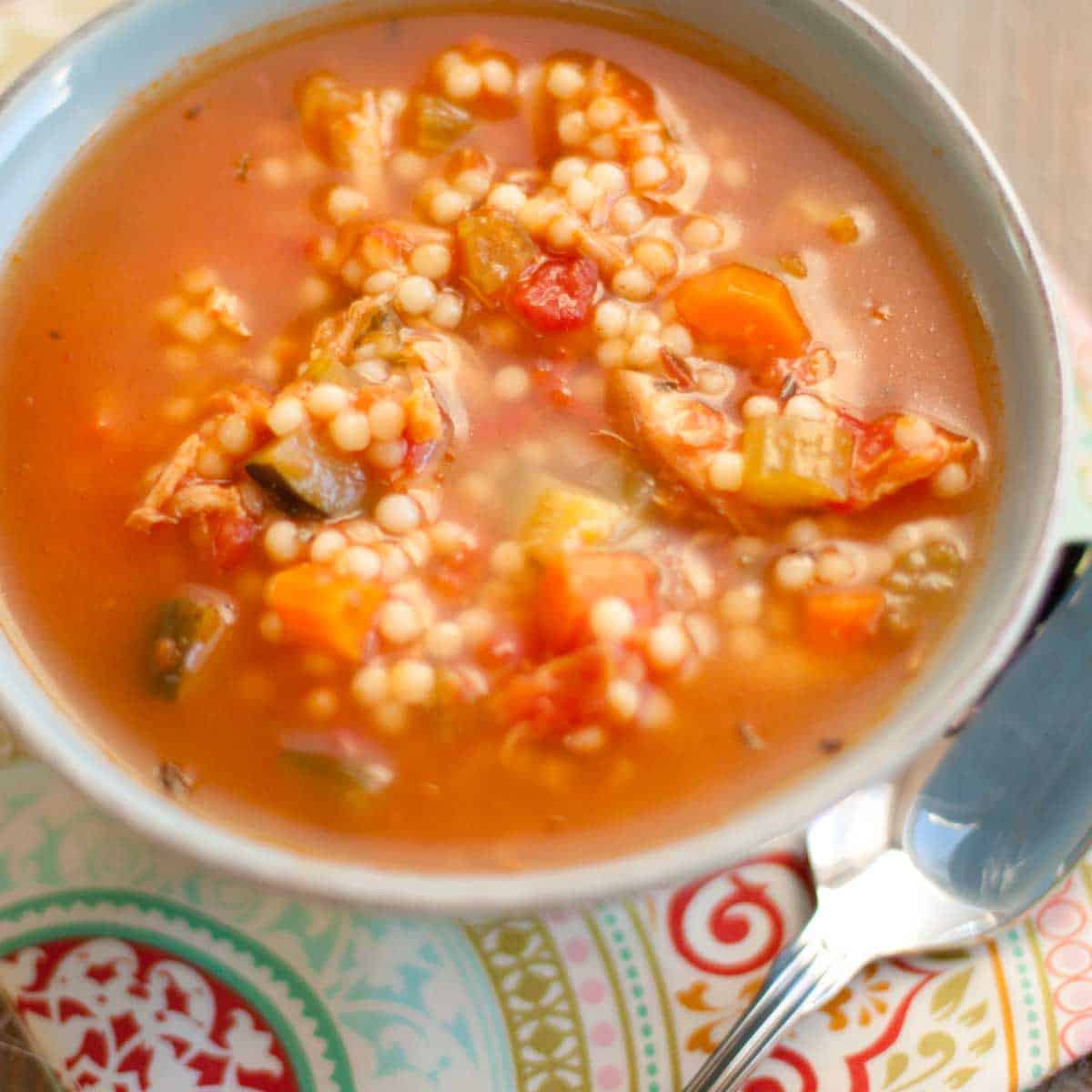 During a recent trip to visit family in the Twin Cities area, we stopped in at a cafe called D'Amico & Sons for a quick lunch. Too much heavy fast food on our trip left me with an upset stomach so all I wanted was a light and healthy vegetable soup. When the server brought my bowl, I immediately knew I had picked a winner.
This Tuscan soup has a tomato-based broth with just a hint of creaminess without being a full-fledged cream soup.
It is thick with Italian vegetables and teeny tiny pasta but still brothy enough to be a soup but not a stew.
It might possibly be the most perfect chicken veggie soup I have ever had. The little bits of chicken gives it that nice savory taste but it is truly the sweet carrots and zucchini that are the heroes of this dish.
Jump to:
Ingredients
The ingredients for this homemade soup are so wholesome:
Rotisserie Chicken: My favorite dinner shortcut ever. You could use any leftover cooked chicken you have on hand, but this is the fastest way to get it from the store.
Fresh Carrots: I prefer whole carrots that have been peeled and diced but in a pinch you could substitute baby carrots.
Fresh Celery
Zucchini: This is a great way to use up some zucchini, but don't miss more ways to use zucchini here.
Onion
Can of Crushed Tomatoes
Chicken Stock
Heavy Cream: You only need a touch of cream for this soup, you could substitute milk or even a little butter if you prefer.
Acini de Pepe Pasta: This Italian soup noodle looks like tiny round peas once cooked. You could substitute orzo or a wavy egg noodle or even rice if you prefer.
Minced Garlic
Olive Oil
Dried Oregano and Basil
Variations
I love to serve this soup for company but if your guests have special dietary needs it is easy to adjust this recipe to fit their requirements:
Gluten-Free Soup:
Leave out the pasta completely and eat as a vegetable soup or add your favorite rice.
Dairy-Free Soup:
Skip the heavy cream.
Vegan Soup:
Substitute vegetable stock for the chicken stock and omit the chicken. Leave out the heavy cream.
Short Cuts to Faster Soup
Homemade soup doesn't need to take hours and hours to prepare. With a few handy shortcuts, you can make this Tuscan chicken soup even on a busy weeknight:
Chop the Veggies Small: Cut the veggies as small as you can. Not only will the soup taste better but it will cook more quickly since the vegetables won't take as long to soften.
Use a Rotisserie Chicken: My favorite trick for getting cooked chicken into a new dish. I almost always have a packet of pre-shredded chicken meat ready to go in my freezer.
Use Boxed Chicken Stock: The fresh veggies will bring plenty of homecooked flavor, the boxed stock is just a fantastic speedy shortcut for the broth.
Fast Cooking Soup Noodles: The Acini de Pepe cook right in the soup in practically no time!
Serving Suggestions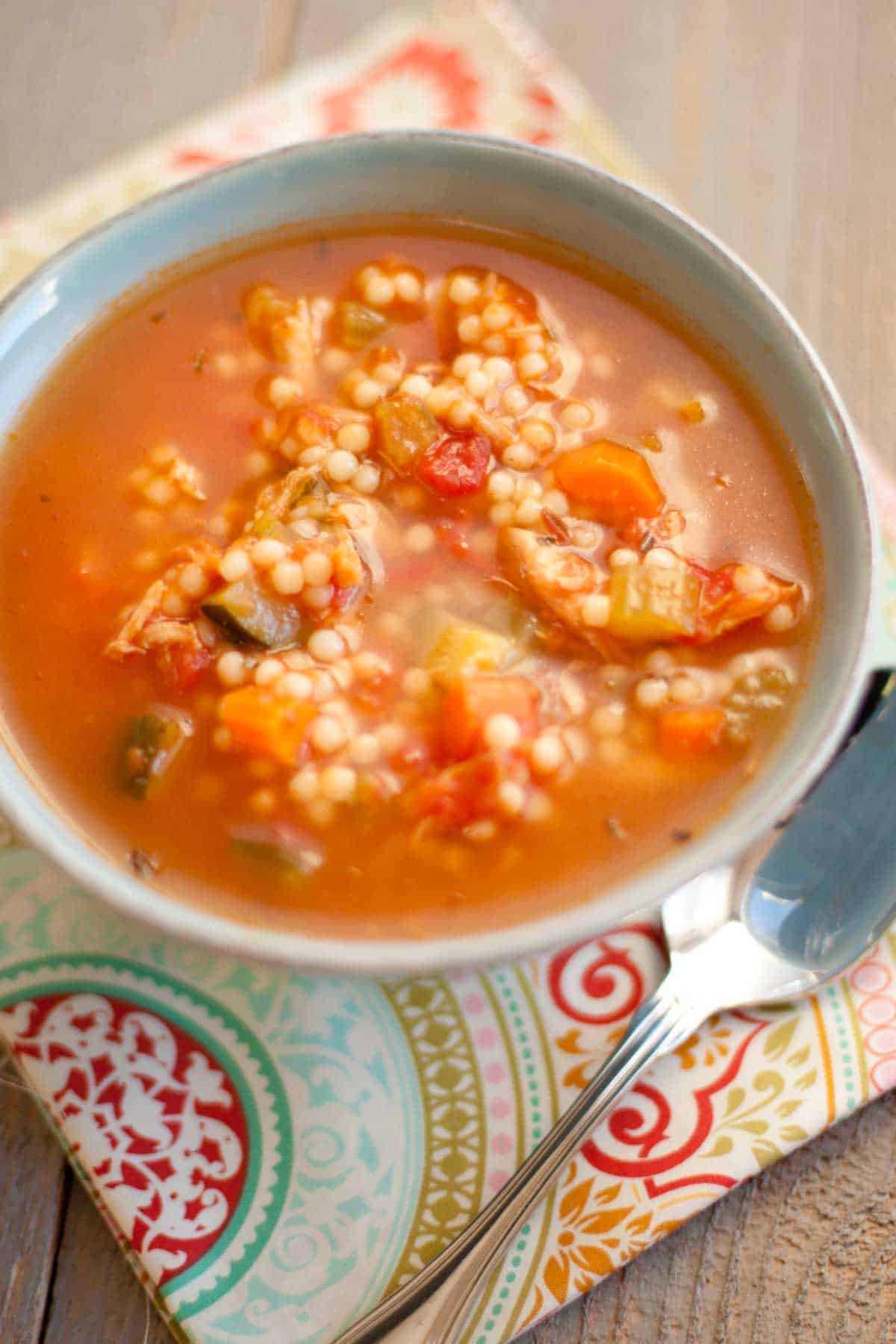 Serve this Tuscan soup with some fresh warm bread and butter and it is total cold winter day heaven. Even the Peanut gave it two thumbs up. She practically licked her bowl clean and I couldn't feel better about the ingredients in it.
Make Ahead Tips
This Tuscan chicken soup can absolutely be made ahead of time and even frozen.
One thing to keep in mind is that the Acini de pepe pasta will continue to absorb the soup broth as it sits and your leftovers may appear too thick.
You can simply add a little more chicken broth when you reheat any leftovers to restore the texture of the soup.
More Rotisserie Chicken Recipes
With shredded rotisserie chicken on hand, you can make so many delicious recipes: