Sausage dip is hugely popular for football parties everywhere. This year, change things up a little and make this Swedish meatball-inspired sausage dip for the big game!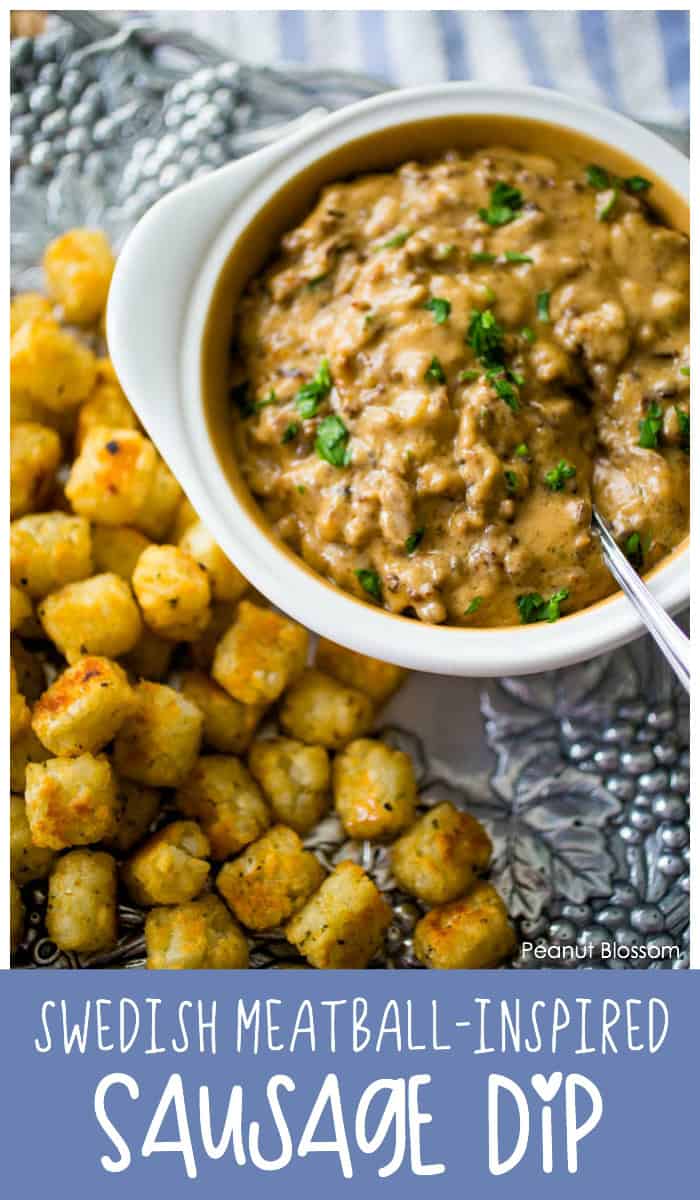 Football friends are so fun. I teamed up with 60 other bloggers for a football team project where each of us was assigned a team to develop a recipe for.
Since Handyman Tim was born and raised in Minnesota, I took one for the proverbial team and volunteered to take on the Minnesota Vikings despite the fact that my family is filled with die-hard Green Bay Packers fans. The rivalry is real and this blog post could very well get me disowned!
When I started to think about the Minnesotan foods I've come to love, I realized it was a fairly specific and odd little list: wild rice soup, Snickers "salad", and all things blueberry. Then I realized that one of my very favorite dinners is actually perfect for this Scandinavian inspired dish: Swedish Meatballs!
RELATED: Do Minnesotans really make the best cookies ever?
But, rolling meatballs is not my idea of a great time and when I think of entertaining and parties, I think hot dips. I thought it would be fun to create a Swedish Meatball Dip by using a base sausage dip recipe as the ultimate Guy Food.
I decided to give it that authentic Swedish meatball flavor, the sausage dip sauce needed to be inspired by a traditional Swedish meatball sauce. This hearty dish is perfect for your meat and potatoes guy and all his football-loving friends.
Oh who am I kidding, I wanted to label this into my mouth with a spoon. If you love the mildly sweet and savory original, this spin-off is perfect for your next party.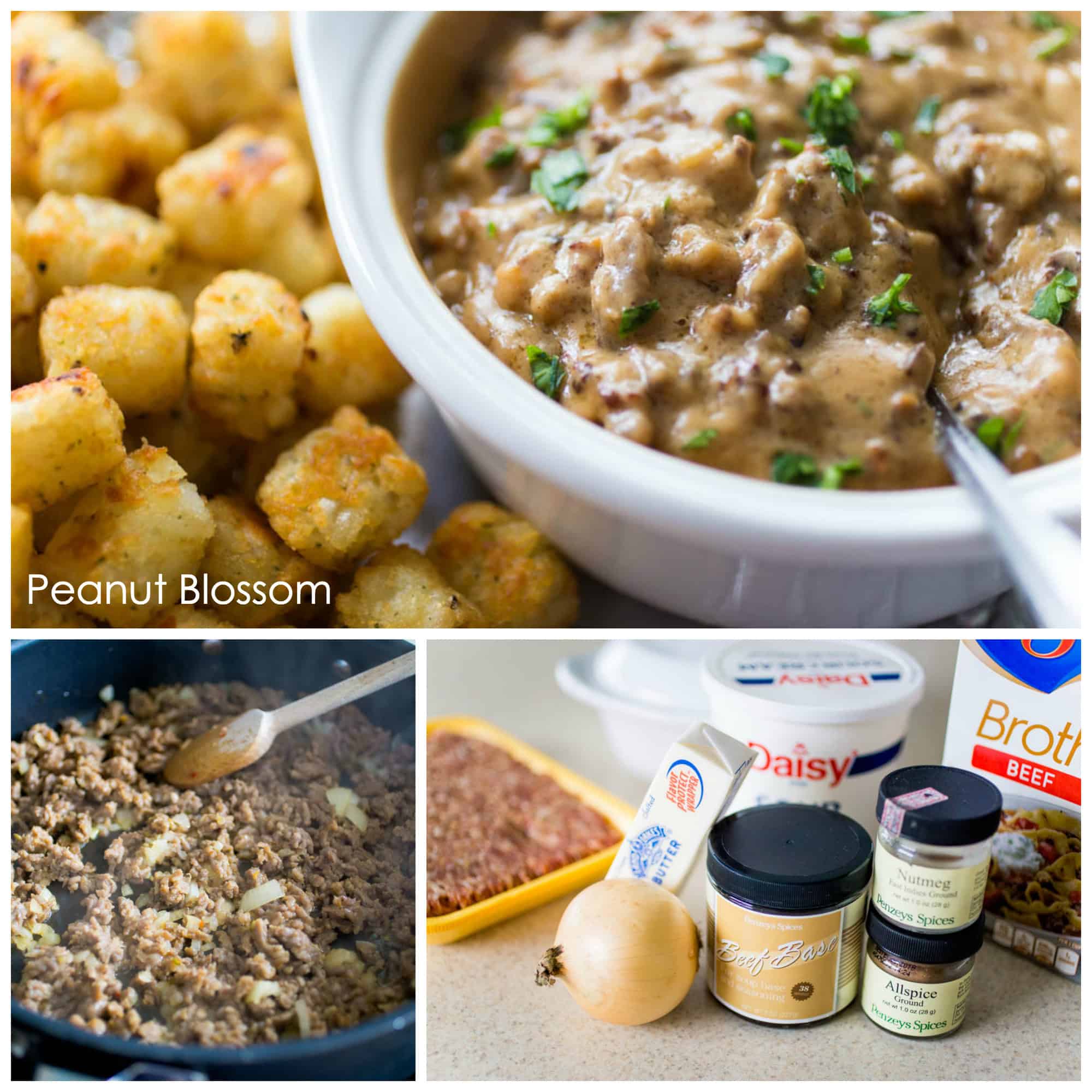 Swedish meatball sausage dip only takes a few ingredients. The preparation is so easy as long as you remember a few tricks:
Be sure to really brown up and slightly toast the sausage. Make sure it is just a bit crispy and golden brown or your sausage dip will end up chewy. Blech.
When you make the roux, be sure to whisk it until it is slightly toasted in color and bubbling smooth.
You can brown the sausage ahead of time but otherwise I'd make this right before serving. It tends to separate after it's been refrigerated and doesn't present as well once reheated. (Though leftovers are just as delicious!)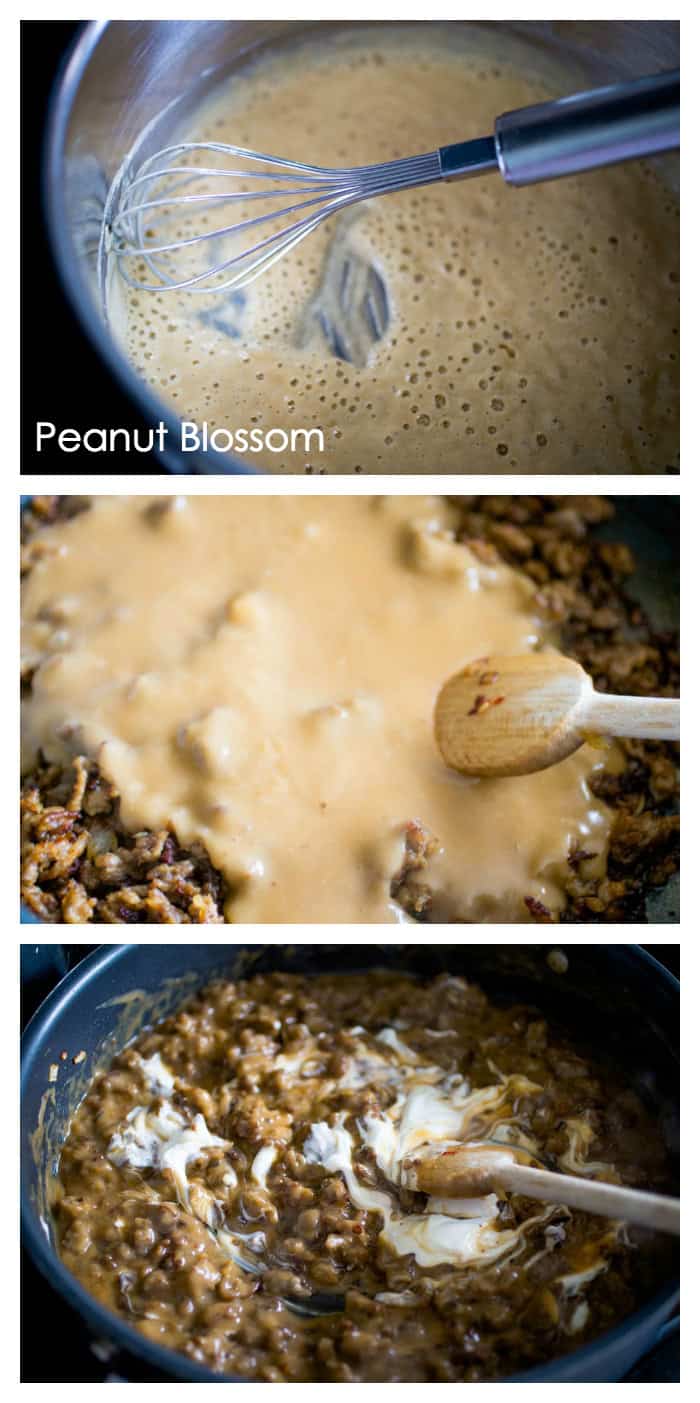 Minnesotans love their tater tots. I googled "favorite Minnesota foods" and "tater tot hot dish" came up repeatedly. I'm a Wisconsin girl who refuses to call it hot dish when it is, in fact, a casserole but that didn't keep me from adding tater tots to the mix.
Our family loves the Alexa brand's seasoned potato puffs. They have a hint of sour cream and onion in them and are extra crunchy. You can use whatever tots you prefer, but if you can find these they go excellently with the swedish meatball sausage dip.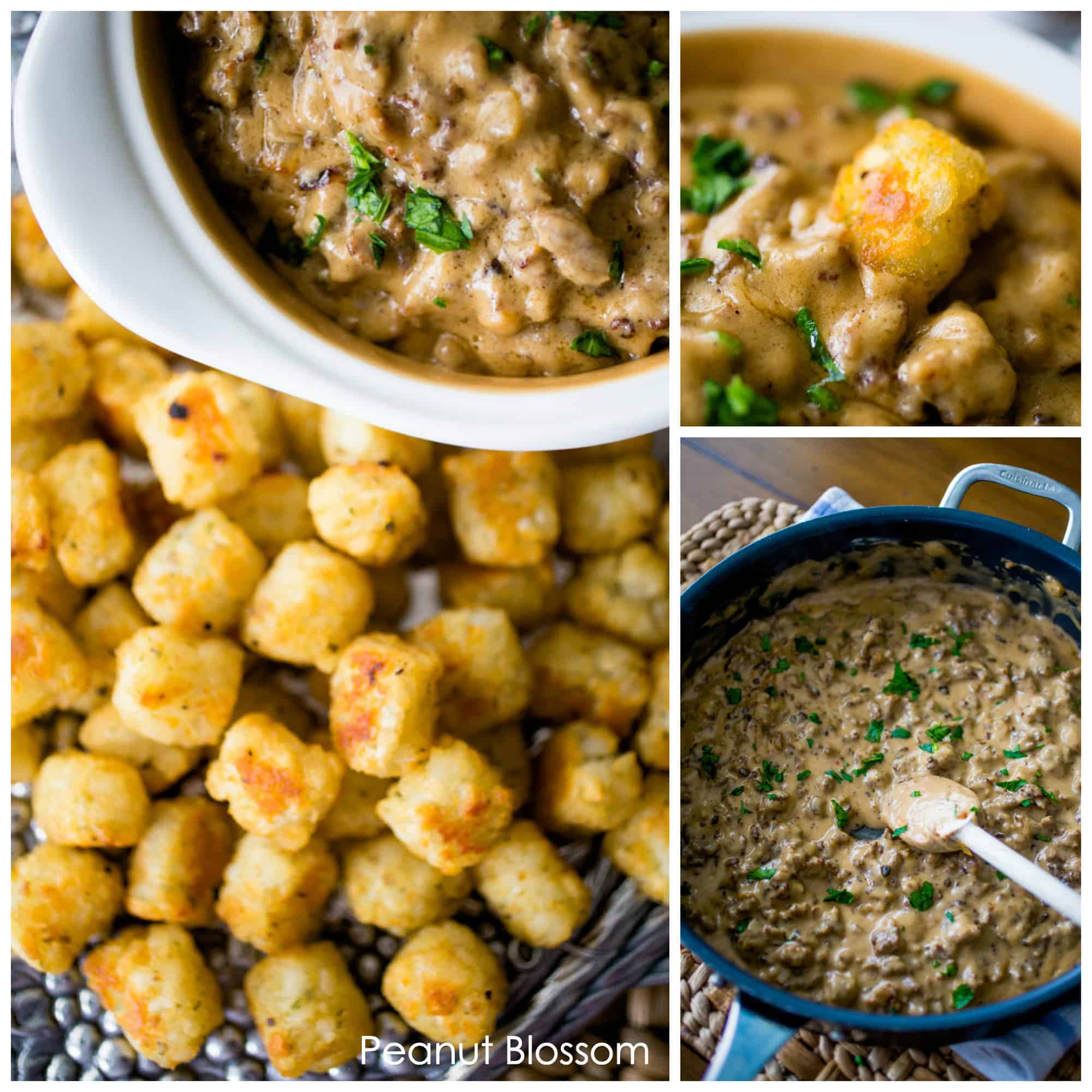 Now which team are you rooting for this season? Whichever one it is, you'll find something fun to make for your next football party in the list below! And if you make my Swedish meatball sausage dip, let me know what you think!!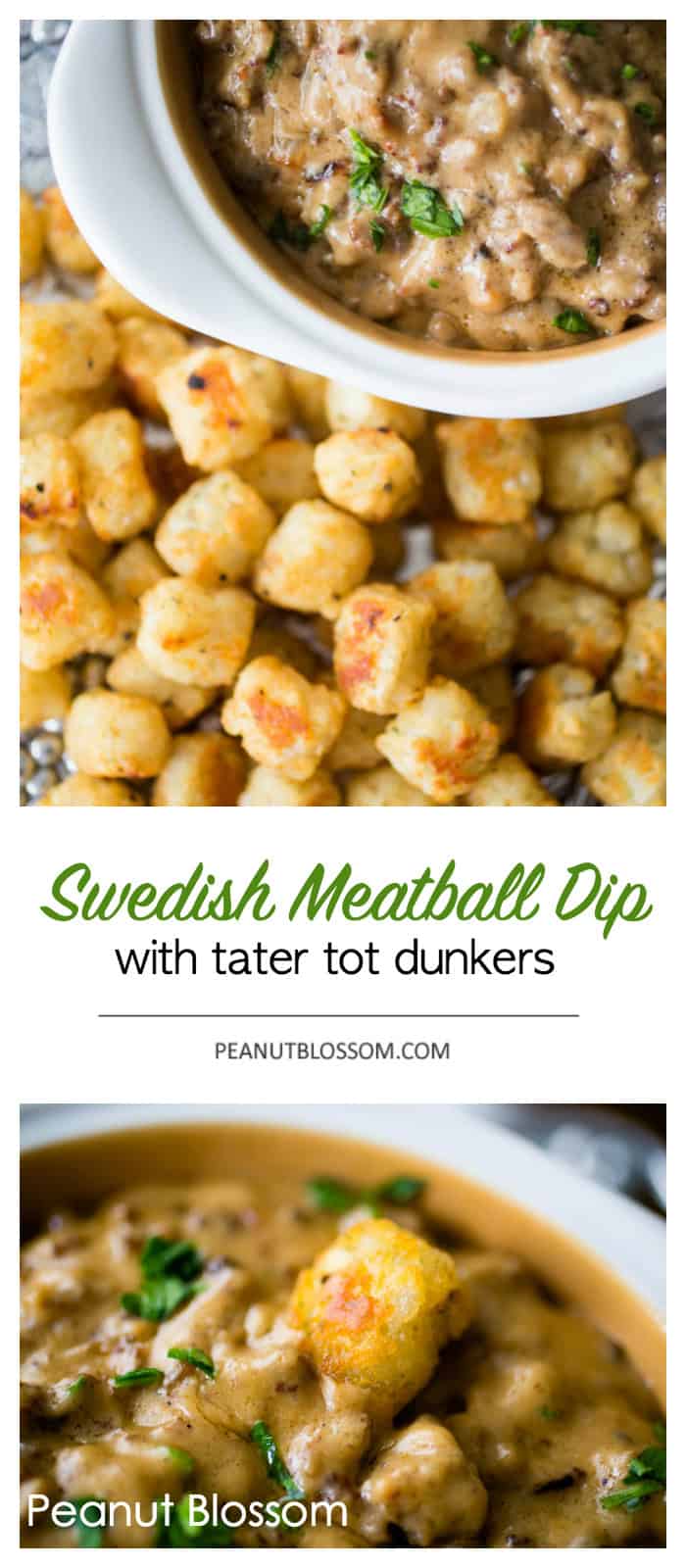 Swedish Meatball Sausage Dip with Tater Tot Dunkers!
📖 Recipe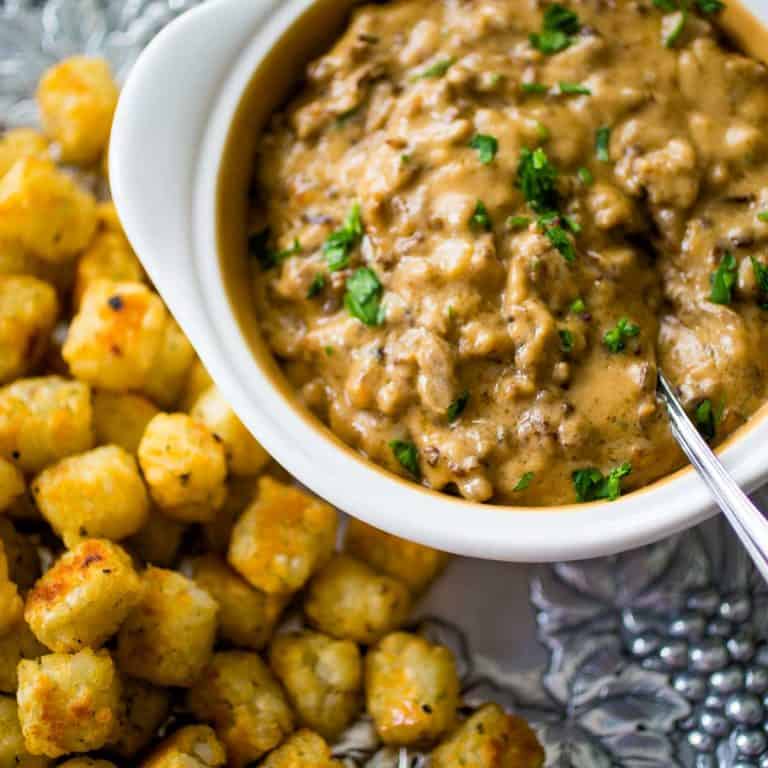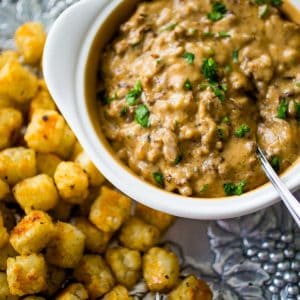 Swedish Meatball Sausage Dip with Tater Tot Dunkers
This savory sausage dip is inspired by the classic Swedish meatballs everyone loves. Serve it with a giant pile of crispy seasoned tater tot dunkers!
Ingredients
1

tablespoon

olive oil

1

pound

bulk mild sausage

1

onion

diced

½

teaspoon

ground allspice

½

teaspoon

nutmeg

Fresh ground pepper

¼

cup

butter

⅓

cup

flour

2

cups

beef broth

2

teaspoon

beef soup base

¾

cup

sour cream

Fresh chopped parsley for garnish

1

package of tater tots or potato puffs

baked
Instructions
In a large skillet, heat the tablespoon of oil over medium-high. Add sausage and break it up with a spoon. Add the onions when the sausage is half-way cooked through and continue to break it up and saute until the meat is golden brown and starting to crisp on the outside. Season the mixture with the allspice, nutmeg and pepper and heat through until fragrant, about 30 seconds. Set the pan aside.

In a large saucepan, melt the butter over medium heat. Add the flour and whisk for 1 minute until golden and bubbly. Slowly pour in the beef broth and whisk until smooth. Add the soup base and whisk until completely dissolved.

Add the beef broth mixture to the pan with the sausage. Stir to combine. With the heat turned to low, add the sour cream and stir until combined and heated through.

Garnish with parsley and serve alongside the fresh tater tots.
Save This Recipe to Your Recipe Box
Find this delicious recipe next time you visit by saving it to your very own recipe box on my site. All your favorites stored in one easy place!