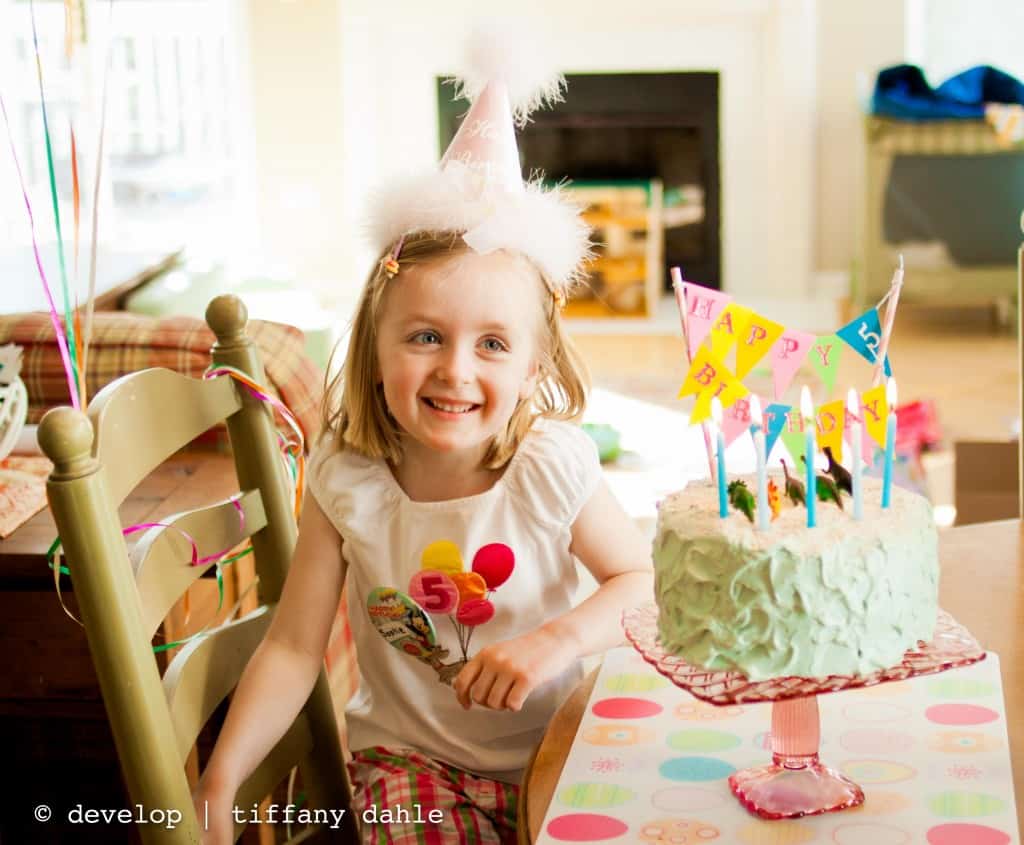 My little girl is 5 years old. She is finally old enough that she remembers every last piece of our birthday traditions: how we decorate, the need for flowers, the appropriate balloons, our red plate. She made sure we were on track for every element of her special day right down to her cake.
Her very favorite color is blue. Blue. Blue. Blue. And yet, she wanted a strawberry cake. So we decided on a pink and aqua party + dinosaurs. Typical 5 year old fashion, right? A little of this, a little of that. All that matters is she loved it.
I looked high and low for the right kind of recipe for her cake and finally found the perfect pink cake. I decided to double batch it and pair it with our favorite Vanilla Swiss Meringue Buttercream from last year. Though the photos don't show it well, the frosting was tinted aqua as dark as I could make it without spoiling the fluffiness.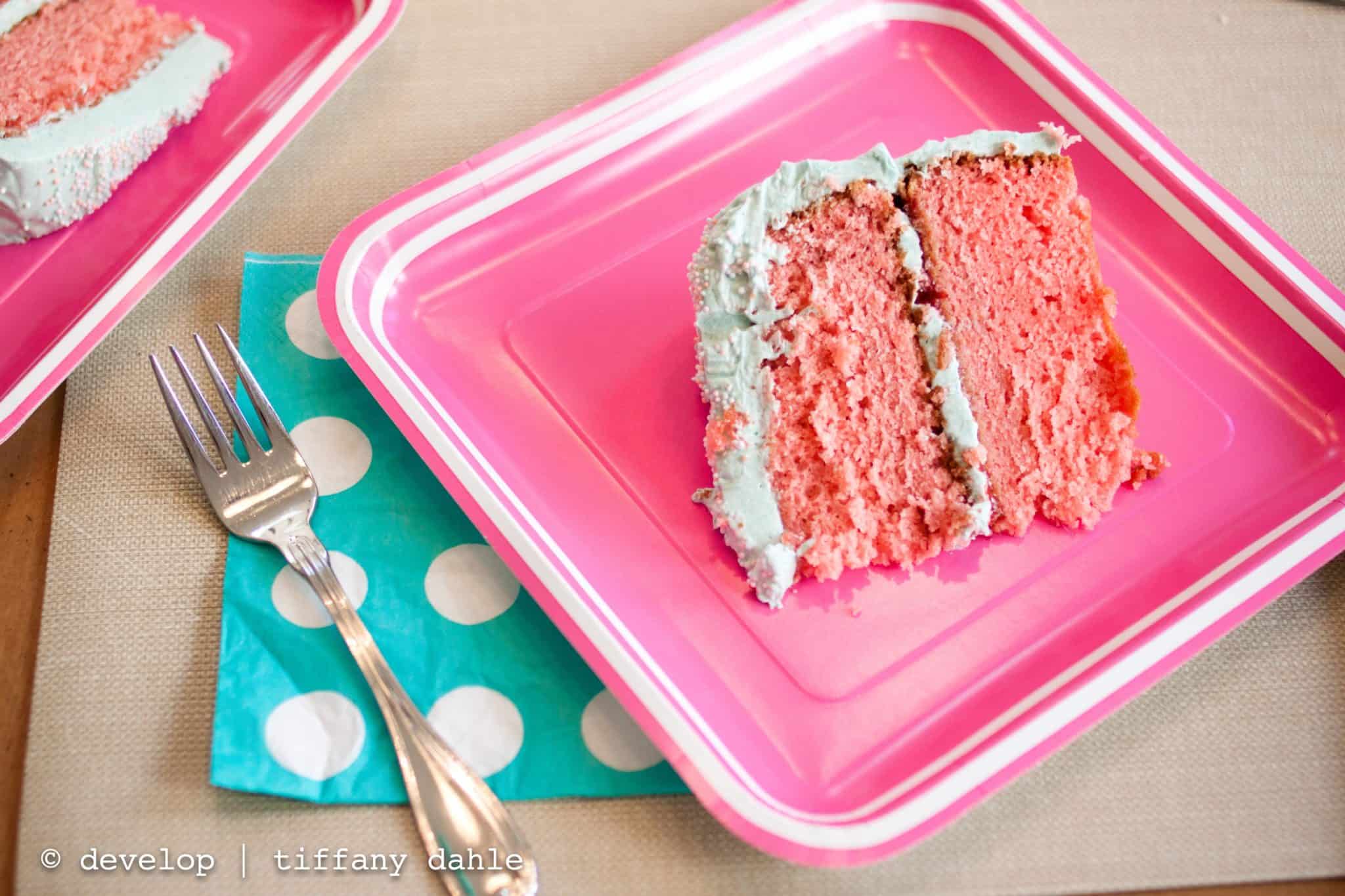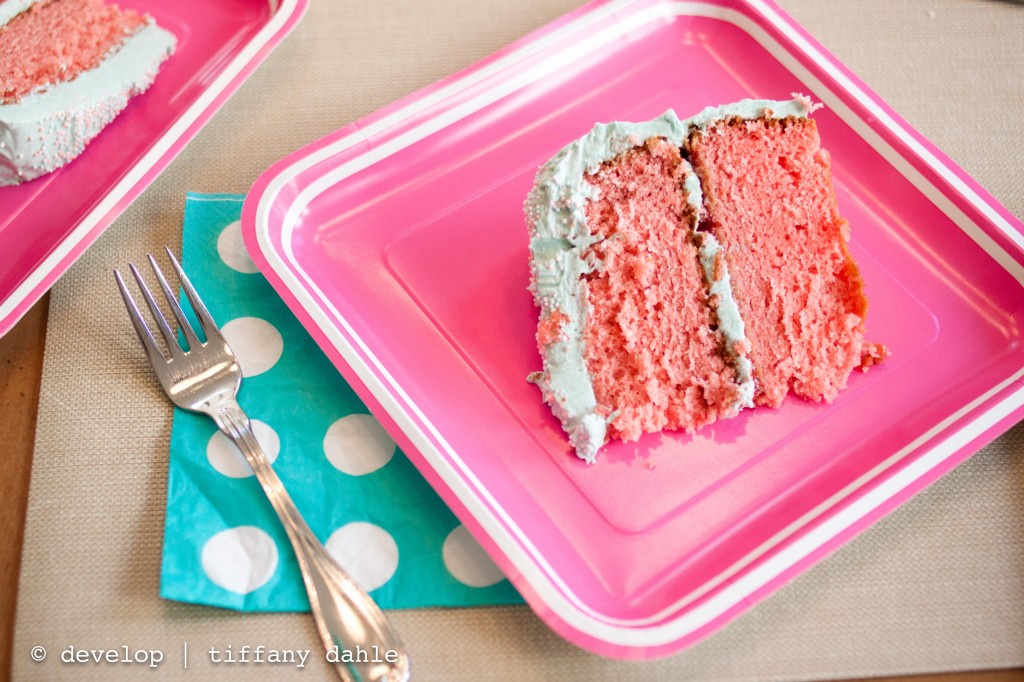 I used the last jar of our homemade strawberry freezer jam inbetween the layers. The cake is dense, very strawberry-ish, and the frosting is light and airy and just the right amount of sweet. We decided to serve it with Neapolitan ice cream and the Peanut thought that was just incredible: "Three Flavors in One?!"
If you're looking for a strawberry cake with vibrant color, look no further. The gelatin in the recipe is what really turns it vivid pink. It really was pretty in person and a huge hit with the party goers.
Strawberry Birthday Cake
📖 Recipe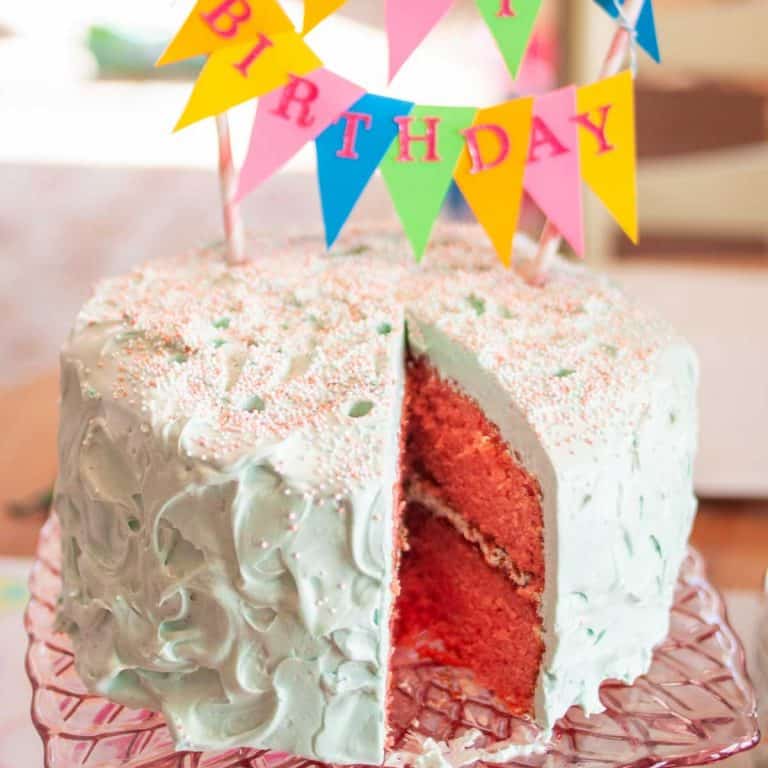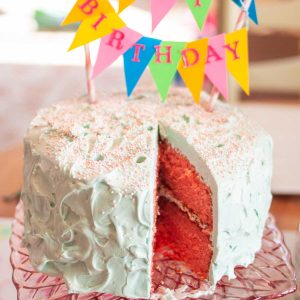 Strawberry Birthday Cake
This pretty pink cake is sweetened with real strawberries and a bit of strawberry gelatin for extra flavor.
Ingredients
2 ¾

cups

all-purpose flour

2 ½

teaspoon

baking powder

½

teaspoon

salt

2

cups

sugar

3

oz.

strawberry gelatin

1

cup

(2 sticks) butter

softened

4

large eggs

1

cup

milk

3

teaspoon

vanilla extract

½

cup

sweetened strawberry puree
Instructions
To make the strawberry puree:
Blend partially thawed frozen strawberries with a bit of sugar in a blender or food processor until smooth.  If using sweetened frozen strawberries, no additional sugar is necessary.
To make the cake:
Butter and flour the edges of 2 9-inch round pans, shaking out the excess flour. Line the bottoms with a round of parchment. 

In a small bowl, combine the flour, baking powder and salt; whisk to blend and set aside. Combine the sugar, strawberry gelatin and butter in the bowl of an electric mixer. Beat on medium-high speed until light and fluffy, about 2-3 minutes.  

Beat the eggs into the sugar mixture one at a time, mixing well after each addition. With the mixer on low speed, add half of the dry ingredients to the batter and mix just until incorporated. Blend in the milk and vanilla extract.  

Add in the remaining dry ingredients, mixing just until incorporated.  Blend in the strawberry puree.

Preheat the oven to 350°F.  

Pour the batter into the prepared pans and bake, rotating halfway through, until a toothpick inserted in the center comes out clean, about 35 - 45 minutes or until a toothpick comes out clean.

Transfer the pans to a wire rack and let them cool in the pan for 20 minutes. Run a knife around the edges, then turn the cakes out onto the rack and let them cool completely.
To assemble the cake:
Place one layer of cake on your serving platter. Spread a thin layer of strawberry jam and frosting before adding the second layer on top.

Frost and decorate as desired.
Save This Recipe to Your Recipe Box
Find this delicious recipe next time you visit by saving it to your very own recipe box on my site. All your favorites stored in one easy place!