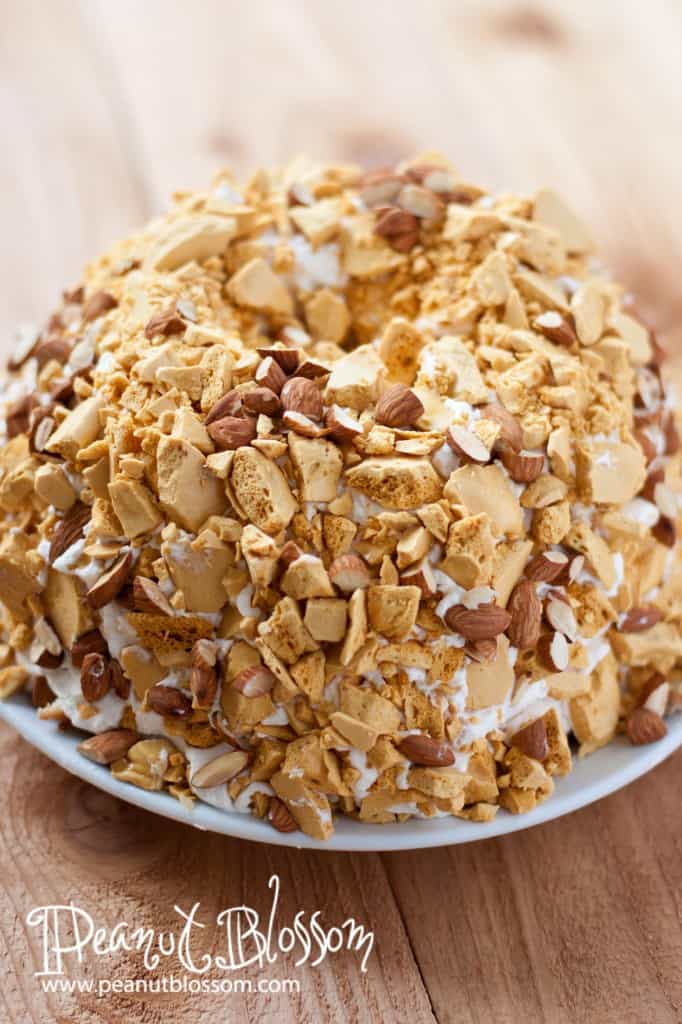 Picking my own birthday treat was so much harder than I thought it would be. There are so many options out there! The suggestions I got from you were all so very tempting. I had it narrowed down to margarita cupcakes, a peanut butter/chocolate concoction, or a Neapolitan style cake when my friend Michelle finally suggested the winner: Ann Frautchi's Almond Crunch Cake.
I've only had this cake one other time in my life. 14 years ago. And I could still taste it.
Michelle nannied for the Frautchi family while we were in college. Ann made this awesome dessert for a fancy party she hosted. I remembered the texture being so unique--light, creamy, and crunchy/chewy all rolled into one. It takes a very special dessert to stick in my memory after only one slice.
Once Michelle suggested it, I could not think of anything else. I had to have this cake. When she sent me the recipe, I knew it fit my requirements for being something a little more challenging. I consider myself a fairly savvy baker. Michelle on the other hand, can't follow a recipe to save her life. She is an amazing chef in the kitchen, but needs to follow her own path. Recipes are always tweaked. I figured if she could handle this cake, I could easily manage it.
Oh how wrong I was. I think I called her at least 3 times during the afternoon I made it with questions about the process.
My cake batter turned out perfectly but the baked cake stuck to my pan and had to be chiseled out with a knife.
I realized too late that I needed a candy thermometer for the topping and had to schedule in a trip to Target for the morning. The candy itself caused me to break out in a sweat from nerves, I've never ever made candy in my life. I'm happy to say it did actually turn out in the end though.
And the biggest lesson learned? Whipped cream is VERY forgiving. My cake was broken in 3 major pieces. I just slathered the whip cream all around and in between and it covered up a multitude of blemishes.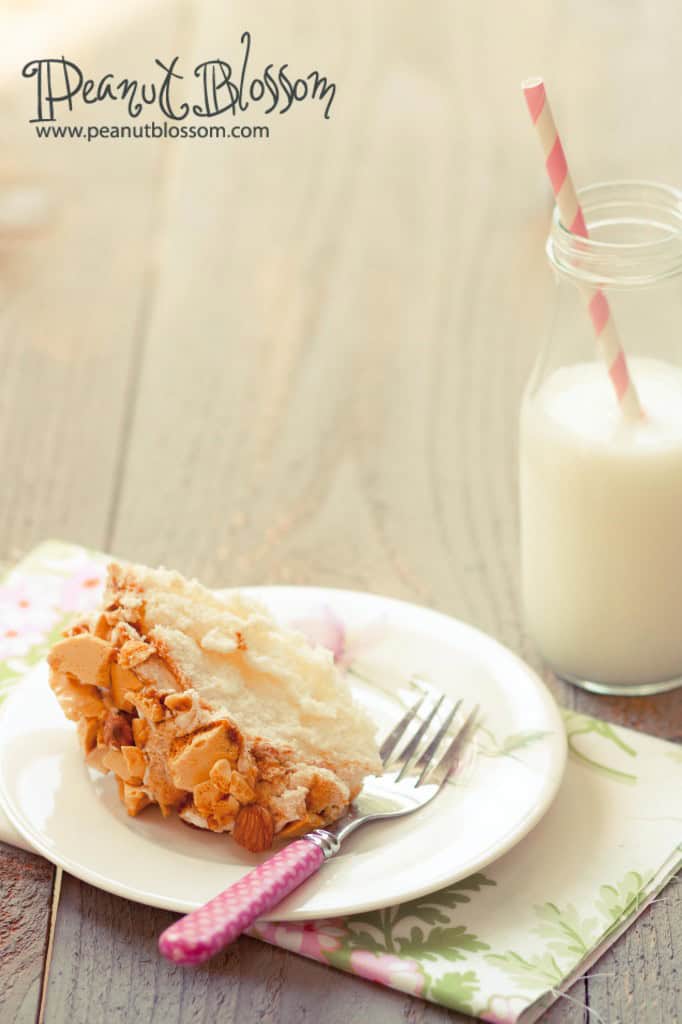 Now that I've made this dessert, I will definitely do it again. In my opinion, it is ideal for a ladies' luncheon type event. A shower, a birthday party, Mother's Day. It is decadent but so very light. A little bit like an angel food cake on steroids.
Thanks for the suggestion, Michelle. And thanks for the recipe, Ann. Two of the most spectacular hostesses I know!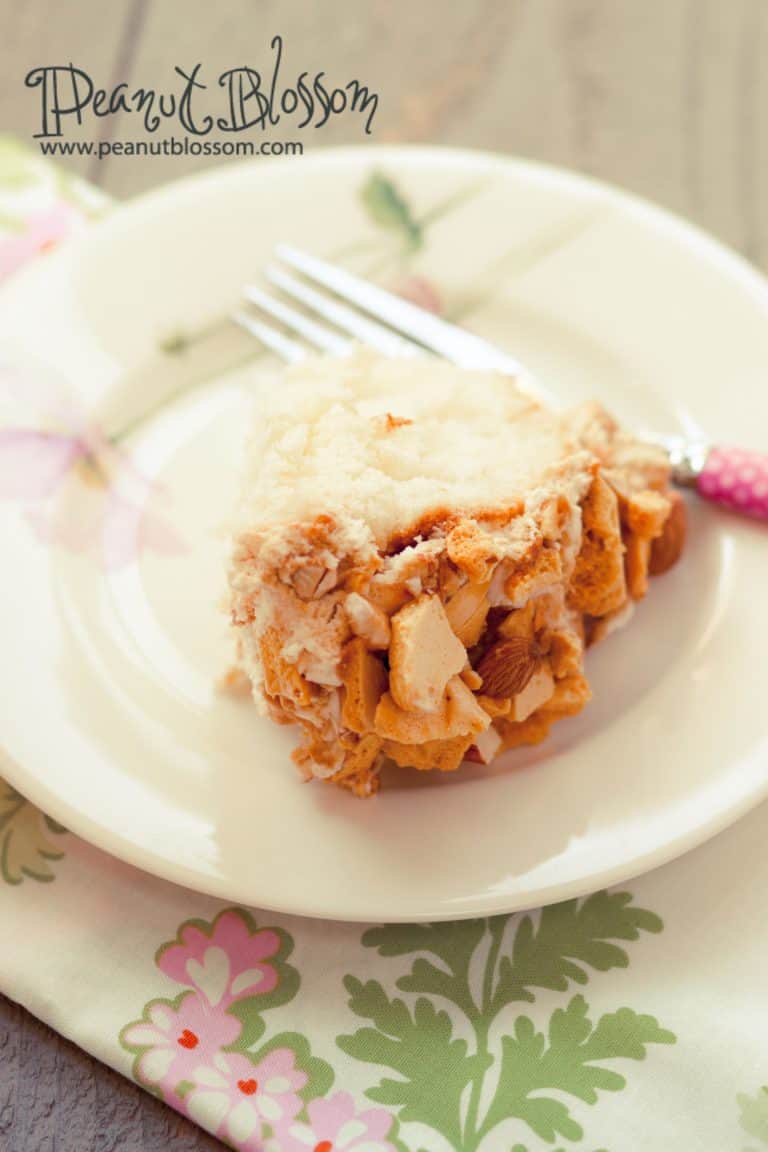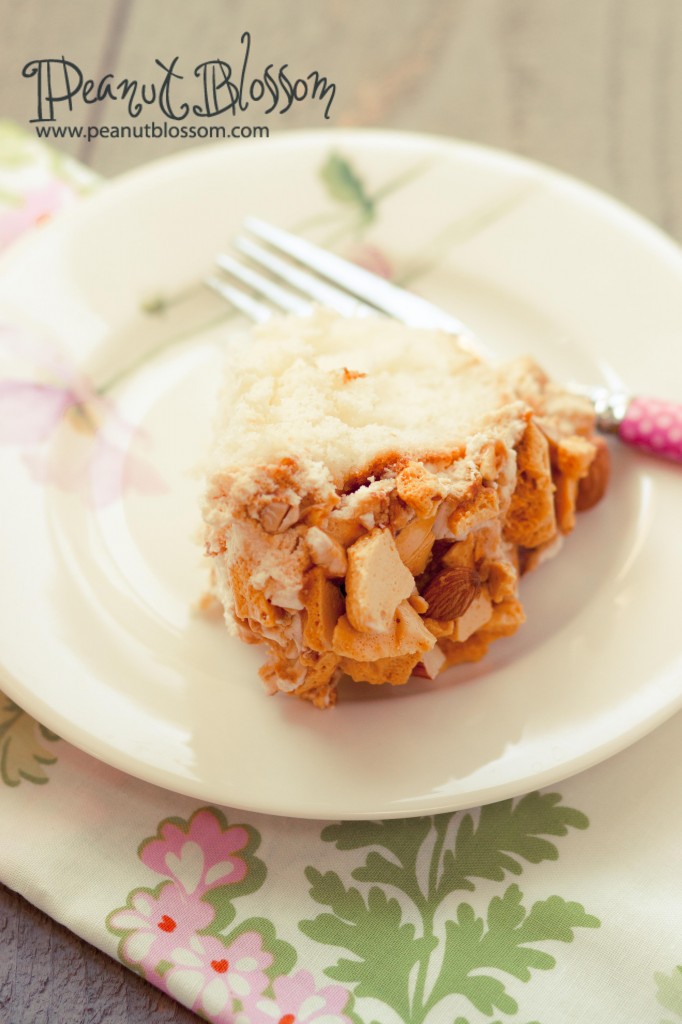 _________________________________
Almond Crunch Cake
recipe of fairly uncertain origin via my friend Michelle via the beloved Frautchi family
Ingredients:
Cake:
1 ½ cups flour
1 ½ cups sugar, divided
8 eggs, separated
¼ cup cold water
1 tbsp lemon juice
1 tsp vanilla
1 tsp cream of tartar
1 tsp salt
Almond Brittle Topping & whipped cream frosting:
1 1/ cups sugar
¼ tsp instant coffee
¼ cup light corn syrup
¼ cup hot water
1 tbsp sifted soda
2 - 2 ½ cups heavy cream
2 tbsp sugar
2 tsp vanilla
Almonds, blanched, halved, and toasted
Method:
Cake:
Sift together flour and ¾ cup sugar. Make a well in the center, add egg yolks, water, lemon juice, vanilla, and beat until smooth.
Beat egg whites, cream of tartar, and salt just until soft peaks form. Add remaining sugar, 2 tbsp at a time, continuing to beat until stiff. Fold flour mixture gently into egg whites.
Pour batter into a 10 inch tube pan or two 2 quart baking pans. Do not grease pan. Cut carefully through the batter, going around tube 5 or 6 times with a knife, to break air bubbles. (I used a bundt pan, this is the pan that came highly recommended. I'd just add, be sure to use a plain one, not one that is molded and decorative--too many nooks and crannies for the cake to stick to!)
Bake at 350 degrees for 50-55 minutes or until top springs back when lightly touched. Invert pan 1 hour or until cool. Remove cake and split in 4 equal layers if using a tube pan. Make either 2 or 4 layers if using baking pans.
Almond Brittle Topping:
Combine sugar, coffee, syrup, and water in a saucepan, stirring well. Cook to hard crack stage, 290 degrees, remove from heat. Add soda. Stir vigorously until mixture blends and pulls away from sides of pan.
Quickly pour onto a shallow baking sheet lined with a silicone liner. Let stand until cool. Knock out of pan and crush candy with a rolling pin into small chunks.
Whipped cream topping:
Whip cream and fold in sugar and vanilla. Spread ½ of cream between cake layers and remainder over top and sides. Cover top and sides with candy, lightly pressing into cream. Decorate with almonds. NOTE: Do not press candy and almonds into cream more than 6 hours before serving. Refrigerate.