Follow this easy meal train set up plan for helping a friend in need. Learn all the information you should include on the meal train sign up page and tips for making the food delivery go smoothly.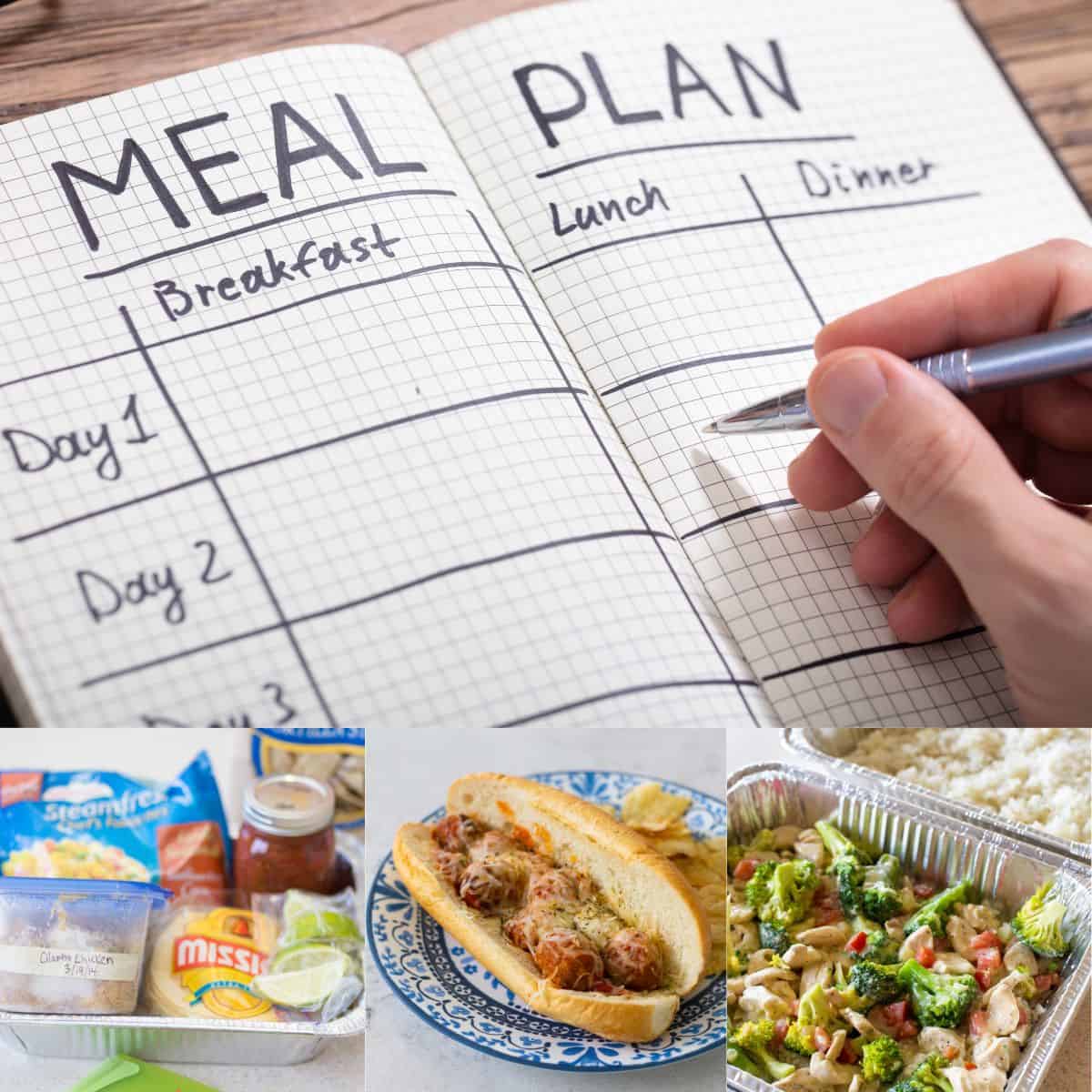 My first experience with a meal train group was with the playgroup I joined when my girls were babies.
We provided six weeks of meal delivery support for new moms. I was blessed to be on both the giving and receiving end of that effort and it was a truly life changing experience.
Since then, I've participated in meal trains for friends healing from surgery, battling cancer, and supporting elderly parents who just needed a little more support.
The key to a successful group starts with the best meal train set up.
Learn how to organize a meal train for a group to support your friend in need with these easy steps.
Jump to:
How to Set Up a Meal Train for a Friend
Perhaps you've noticed your friend needs assistance. Before you go any farther, check in to see if they would appreciate your offer to set up a meal train.
Some people are very private and the constant traffic of meal deliveries may be more than they can handle at this moment.
If they give you the green light to set it up, then arrange your meal train web site and invite the community of friends to support the family.
Pick a Meal Train Web Site
Step 1 in setting up a meal train is to figure out how to organize the actual sign up for meal deliveries.
Our playgroup used Care Calendar but there are lots of free meal train web site options out there:
Pick the site that works best for you and fill everything out before you invite anyone to sign up.
Important Information to Include on the Sign Up Form
When setting up your meal train web site, be sure to fill out the introduction with all of the following information:
Name of the Family
Delivery Address: Complete with zip code
Best Phone Number: for arranging drop offs
Number of People the Meal will Feed: Including the number of adults vs. kids
The Contact Information for the Organizer: This helps with fielding questions so the family doesn't need to
A link to this important meal train etiquette information and a link to the best meal train ideas with recipes to give them a place to start, obviously they can pick any dish they want to provide whether or not it is on that list.
Decide the Frequency of Meal Train Deliveries
Don't assume a meal train requires an every-night delivery schedule.
In fact, when our playgroup did the 6 weeks of meals for families with newborns, we used a Monday, Wednesday, Friday delivery system because most meals are plentiful enough to allow for a night of leftovers.
This helped reduce waste and extended the duration of help over a longer period of time.
We also assumed that weekends would be spent with visiting family or just giving the family some space and privacy.
It can be stressful for families going through a difficult challenge to be overwhelmed with too much food.
I encourage you to find a schedule that reaches a balance and stretches the help out longer rather than pile up dinners that could go to waste too soon.
Ask About Food Preferences and Aversions
Before you and your friends cook the first meal, have the meal train organizer interview the family about dietary restrictions and food preferences once and then label the meal calendar clearly so that everyone knows how to respect their wishes.
Requests like, "Not too spicy, no seafood, please avoid ranch flavoring" were common among the new moms receiving our meal train dinners.
Be sure the recipient is honest and open about what doesn't go over well with their family.
This saves everyone from guessing what to make for their contributions and ensures that every meal gets used!
BONUS: Ask what the family's favorite order would be from a local pizza delivery place and a few favorite local restaurants. List them as meal options for people to select who can't cook.
The "cook of the night" will agree to go and pick up that order and deliver it for the family so they don't even have to think about meal planning.
Define What "A Meal" will Include
Our playgroup established right off the bat that our Mommy Meals required 3 main parts.
This allowed for the recipient to be completely covered and always knowing what to expect from her meal delivery.
The 3 elements of a meal train dinner:
Main Dish
Side Dish: This could be a salad, a simple veggie, or even just fruit
Dessert
Sign Up WITH Your Meal Labeled
Be sure everyone that signs up on the meal train website labels their day with the name of the meal they will be bringing.
This helps to avoid repetition in the dinner deliveries.
You wouldn't want 2 lasagnas arriving in a row. It also allows you to be a little more creative if you see they've had too much of a certain meat or cuisine.
Which leads to . . .
Be Considerate with Meal Planning
Be considerate of the big picture when selecting your meal train contribution.
Notice they've had a lot of Mexican food? Maybe fajitas aren't your best bet.
Notice a week worth of pasta before your date? Maybe try a rice-based dish.
There are so many delicious meal train recipes you could pick from, try to imagine how sick of casseroles you'd be after a couple of weeks!
Cook the Meal and Share
One of the best strategies for actually cooking a shareable dinner is to choose a recipe that makes a big batch that you could split.
These big family dinner ideas are perfect because you can double them easily so you save half of the meal to feed your own family and then give the other half to your friend.
Offer Alternatives to Helpers Who Can't Cook
Thoughtful friends have different skill sets. Not everyone is able to cook a homemade meal for a family in need.
You can still support your loved ones in other helpful ways. It is important to suggest a few meal alternatives right on the meal train sign up.
Consider adding the options for:
Visa Gift Cards: This allows the family to order take out or food delivery from any favorite restaurant of their choosing. They could also privately use it for other medical care costs or needs they may have.
Meal Delivery Subscriptions: Offer to pay for GrubHub, Door Dash, or another meal delivery service that allows flexibility for the family to order a meal.
Donate Funds for Home Care: Offer to collect money towards paying for a cleaning service or lawn care for the family.
More Meal Train Tips
Now that your meal train is all set up, it is time to select the meal train dinner ideas.
Start with my classic meal train ideas which includes how to package and deliver the food.
Then check out the 35 best meals to freeze and reheat. These would be an especially thoughtful gift for your meal train recipient if you volunteer towards the middle or end of the schedule.
And as always, don't forget your manners. Read through these essential meal train etiquette tips to make sure you're one of the most helpful meal train providers ever.