What is the etiquette for a meal train? With these 12 tips you'll learn how to be one of the best meal train participants of all time.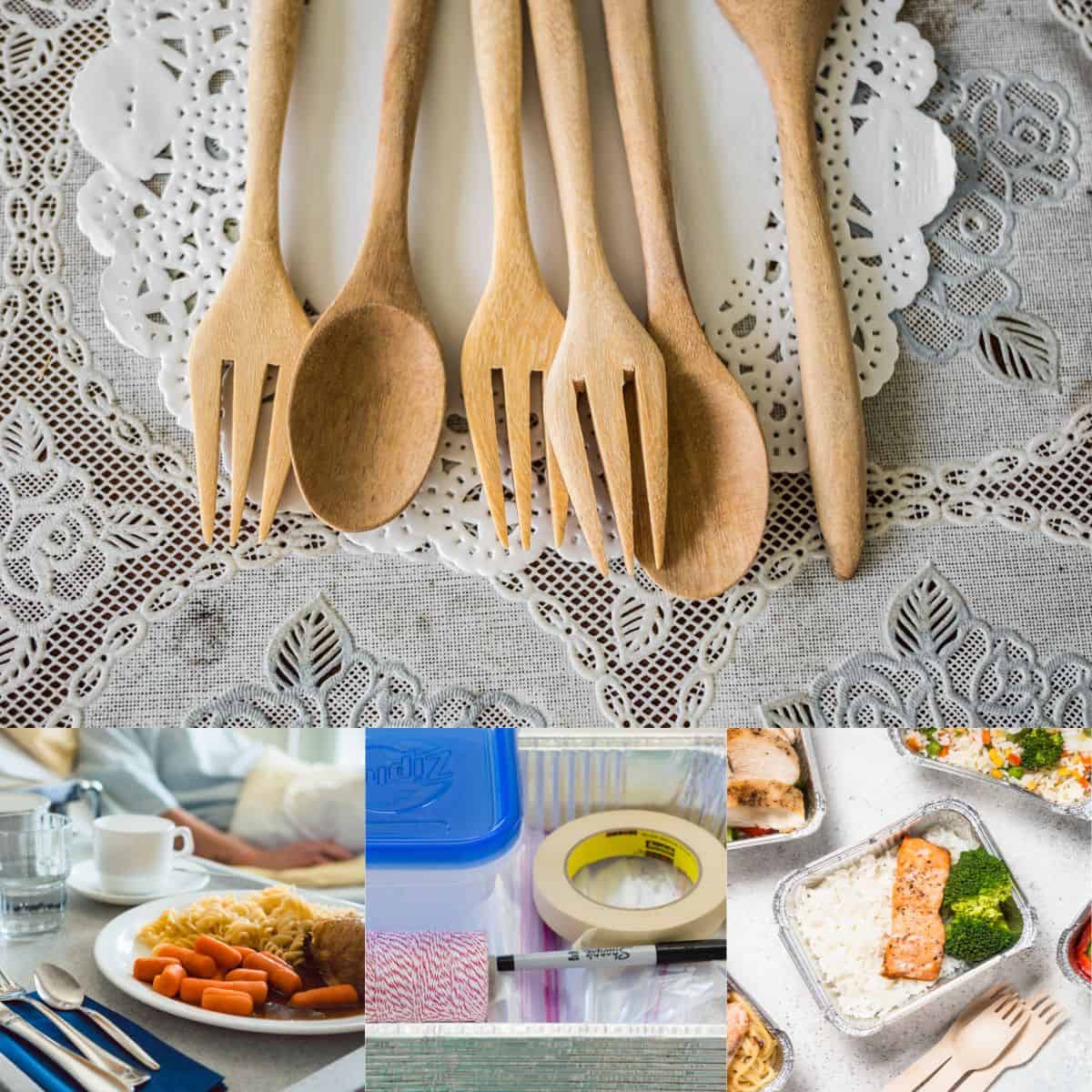 If you've never participated in one before, you may be wondering what is the etiquette for a meal train?
Having delivered lots of meal train dinners over the last 15+ years, I've seen the absolute best and some of the worst behaviors you'll definitely want to avoid.
These helpful etiquette tips will help you be one of the best meal train participants ever and ensure that the family you're helping is taken care of well and feels your love.
Jump to:
Focus on the Love
When a family is going through a difficult time, they don't just need food on the table, they need to feel the love and support of their friends and community.
Making them feel loved and encouraged doesn't require a complicated menu, but there are easy things you can do to make sure your gift has the intended result:
Cook Something Homemade IF Possible: My list of meal train recipes has something for every level of cooking skill. Bring something homemade, semi-homemade, or at least something that involves pre-washed and prepared fresh fruit and vegetables on the side.
Deliver a Store Bought or Restaurant Meal Yourself: Take the time to go and pick it up yourself and deliver it with a friendly smile and hug. This is so much more personal than a delivery service if it is possible for you to arrange.
Track the Delivery and Send a Text: If you live out of town or cannot deliver the meal in person, pay attention to the delivery process and just send a simple thoughtful text after it arrives saying: "I hope the dinner arrived well and that you enjoy your meal tonight. I'm thinking of you and wish I could be there to help."
Remember the Kids
If the family you're helping has young kids in the mix, the parents may be embarrassed to admit some picky eating habits the children have.
Even if they say they have no dietary restrictions of preferences, it is smart to bring meals that are kid-friendly.
At the very least, be sure you have 1 or 2 simple items in the mix that a picky eater could eat if they don't like the main dish:
Dinner Rolls or Biscuits
Baby Carrots with Dip
Apple slices or already-peeled orange segments
Cheese and Crackers
Mini Bagels or even a batch of homemade quick bread or muffins
Keep In Touch
There are two important texts you should send your meal train recipient:
Heads Up: A quick note letting them know you're next in line, what you plan to bring, and when you plan to arrive. Send this the day before if possible so they can rest at ease and know it is being taken care of.
I'm On My Way: 15 - 20 minutes before you plan to arrive, send them a quick reminder that you're coming with the meal. It is especially helpful to offer to pick up anything else they might need on your way.
Quick Drop Offs
Don't stay longer than 10 - 15 minutes.
It is quite possible that your meal train recipient is exhausted, has their hands full, or is just anxiously trying to get a meal ready for their hungry kids.
Explain what you need about the food itself, give them a brief bit of encouragement, and take your leave.
If they insist you stay, politely decline OR stay if you plan to offer hands-on help with the final meal prep, cleaning up dishes, or other tasks.
Remember at all times: you're the helper, not the guest.
Be Generous with Portions
Every family has a different level appetite. Don't let them go hungry.
It is better to plan for leftovers and especially thoughtful to deliver a meal that can be easily frozen and reheated later if they have too much right now.
Delivery Container Considerations
DO NOT Deliver a meal train meal in a container you ever hope to get back again.
Stock up on disposable pans, plastic food containers, or plastic baggies to help contain the food you plan to deliver.
It is a heavy burden on the family to keep track of special dishes that need to be returned to the giver when they are going through a very difficult time.
If your meal absolutely has to be delivered in a certain kind of dish, buy a new one and explain that the dish is also part of the gift and need not be returned.
Label EVERYTHING
Label each and every container of food that you deliver with the following information:
Name of the Item
Heating Instructions
Storage Instructions
Serving Tips as Needed
Any Allergy Considerations: Be particularly mindful of nuts, eggs, and dairy. The family may have out of town guests helping them that need to know what's in each dish.
Accurate Meal Sign Up
It is very common for meal train participants to sign up with "TBD" on their sign up form.
At least a week out from your turn, update your sign up so that the other participants know what you'll be bringing as it may affect what they choose to bring.
You wouldn't want your family to have 3 spaghetti nights in a row.
If you have a last-minute change with your delivery, go back and edit your sign up form so that the next person in line knows what you brought.
Restaurant Delivery Considerations
If you are arranging a restaurant delivery, be sure that you manage all of these things:
1. Place the Order Yourself:
Hopefully the meal train set up included their favorite order or favorite restaurant.
If it didn't, you can send them a simple text that says: "I'm sending dinner from XYZ restaurant. Is there something specific you'd like? Otherwise I'll just order items A, B, and C."
Don't burden them with the need to respond, just handle it for them if you don't hear back.
2. Pay for the ENTIRE Order Including Tax & Tip:
Double check that there are no additional hidden fees and make sure every penny is covered.
How Much Money to Give
If you are assisting the meal train financially, every little bit helps but how you manage it matters.
If your budget doesn't allow for an entire meal, you could:
Partner Up: Find another friend or two to split the cost of a meal together.
Consider Lunch or Breakfast: Offer gift cards for quick service places that could be more affordable. If the family is spending a lot of time near a hospital, consider restaurants nearby.
Group Fund: Ask the organizer if they are accepting donations for a pool. This could be distributed to the family to assist with house care things like a cleaner or lawn service, too.
If your budget does allow for it, you should definitely offer enough money to cover the cost of an entire meal for the family.
They may not have the resources to pay for the remainder of a take out order themselves and your gift could go to waste if it isn't used.
Check out the restaurant web site ahead of time and calculate the cost of a very generous order. Add an additional $10 - 20 for tax, delivery fees, and tips.
No Thanks You's Required!
Most importantly, do not expect a hand written thank you note from the meal train recipient.
For some people, this gracious habit comes very naturally. However, a grieving family or people going through an especially challenging time, may not have the energy or awareness to follow the courtesy.
If they call to apologize or even mention it in frustration: "I have to get my thank you's written!" be sure to tell them that is not at all required for you.
Remind them how much you care for them and that letting you help them was thanks enough.
More Meal Train Tips
Providing food to families in need is a time honored tradition and a proven way to love your neighbor.
Start with an easy meal train set up so everyone gets on the same page.
Then choose one of these clever meal train ideas, all the recipes you need are included!
If you're helping a family to stock their freezer, you'll definitely want to go through this list of meals to freeze and reheat and if you're worried about feeding your own family that night, check out these big family dinner ideas for meals you could split in half and share.