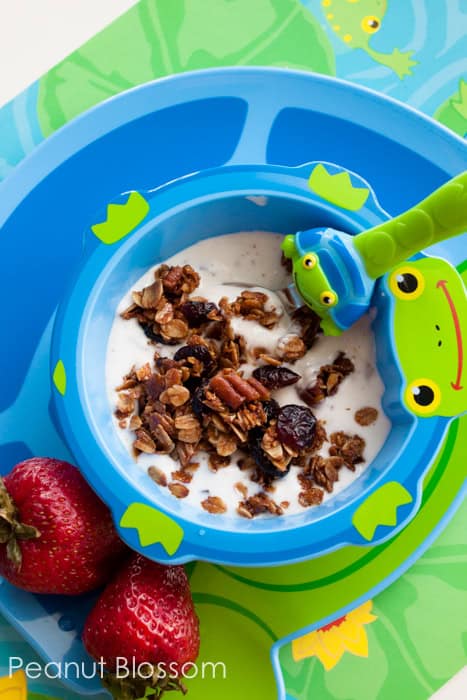 Have you ever tried making homemade granola? It is so easy and so much tastier than what you can find at the store. I love it particularly because you can mix and match the ingredients to fit what your family prefers.
It only takes about 30 minutes total to pull this together and the granola keeps well in an airtight container for ages! I break ours up into fairly large chunks and it serves as both snack and breakfast topping.
Most recently I was pantry-raiding to make this recipe and all I had on hand were dried cherries and hazelnuts from a Valentine's recipe I never got around to trying. Paired with a chocolate chip studded vanilla yogurt, I figured this was the perfect combo! If you don't have that flavor of yogurt, you could always sprinkle in a few mini chocolate chips to the completely cooled granola.
If the thought of cherries sends you running to the hills, my other favorite combo swaps dried blueberries & cranberries and almonds & pecans for the fruit/nut combo below. Happy swapping!!

_____________________________________________________
Chocolate Covered Cherry & Hazelnut Granola Parfait
Ingredients:
2 cups rolled oats
1/4 cup chopped hazelnuts
1/4 cup brown sugar
1/4 cup dried cherries
1 tablespoon ground cinnamon
1/4 cup canola oil
2 tablespoon honey
2 tablespoon maple syrup (100% pure)
1/2 teaspoon real vanilla extract
Yogurt for serving (NOTE: I used a vanilla chocolate chip yogurt I found at the store but you could substitute another flavor. You might want to sprinkle a few mini chocolate chips into the granola mix after it has completely cooled if you plan to use plain vanilla or something else.)
Method:
Combine all the dry ingredients, including spices, in a large bowl.In a separate small bowl combine oil, honey, maple syrup and vanilla extract and mix.
Pour mix over dry ingredients, mix well, and spread evenly in a roasting pan or cookie sheet. Bake at 325 for 25 – 30 minutes until lightly toasted, stirring several times during baking.
Let cool before serving – it will crisp up as it cools.
______________________________________
This recipe was developed as part of the Melissa & Doug "On the Go" campaign. Be sure to tune back in on Thursday for fantastic eating on the go suggestions for your family road trips!