Sometimes you just need cute but easy to find spots for your Elf on the Shelf to hide. If your family has little ones that want to participate in this magic tradition but aren't the best "finders" just yet, these cute hiding spots are simply perfect.
Not only should the Elf on the Shelf tradition be easy for parents, it should also be easy enough for the littlest of kids.
Don't let creative elf poses get in the way of your child's simple joy of spotting your elf.
When you need a cute but obvious spot for him to hide, these ideas are just perfect.
1. Hiding in the Lantern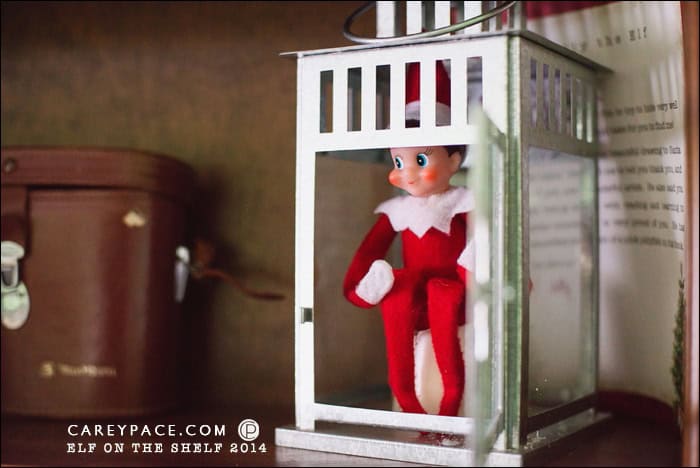 Jolly thought it would be fun to hide in a little more challenging way for this day, inside the decorative lantern on our bookshelf in the family room.
Unfortunately, the kids couldn't find him!!!
They looked before school, after school, and up until dinner time!  
We finally gave up after dinner and showed them where I had noticed him earlier in the day while I was leaving the laundry room.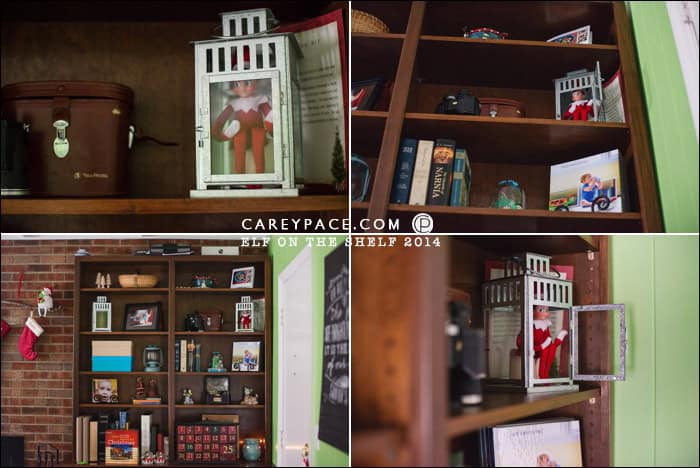 This totally took us by surprise that with MUCH effort, the kids were unable to locate his hiding spot.  
So though the lantern is clear, be sure it is at eye level and in a very obvious place for your child to find it!
2. Chalkboard Sentences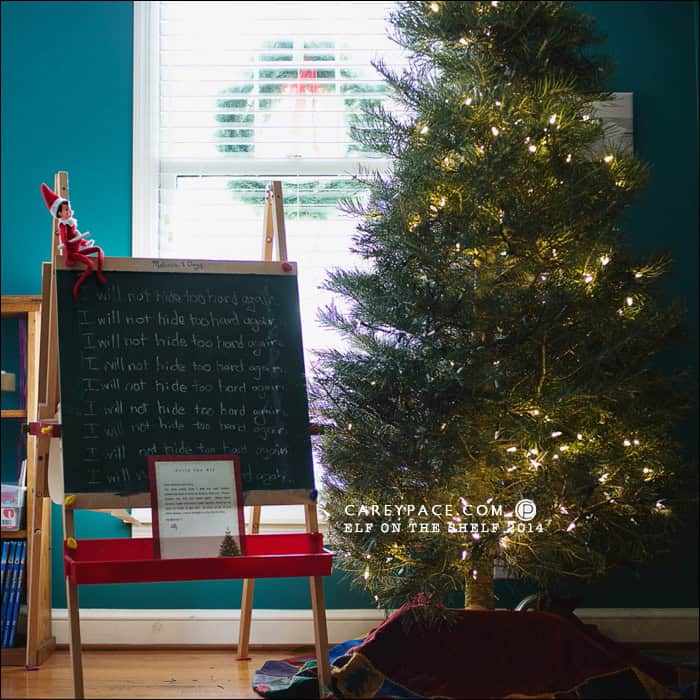 Well, poor Jolly just felt terrible that the kids had had such a difficult time the day before. Terrible guilt, he had!
So much so, that he decided to engage in some self-induced discipline and wrote sentences on the Melissa & Doug art easel we had lying around.
He wrote:
"I will not hide too hard again."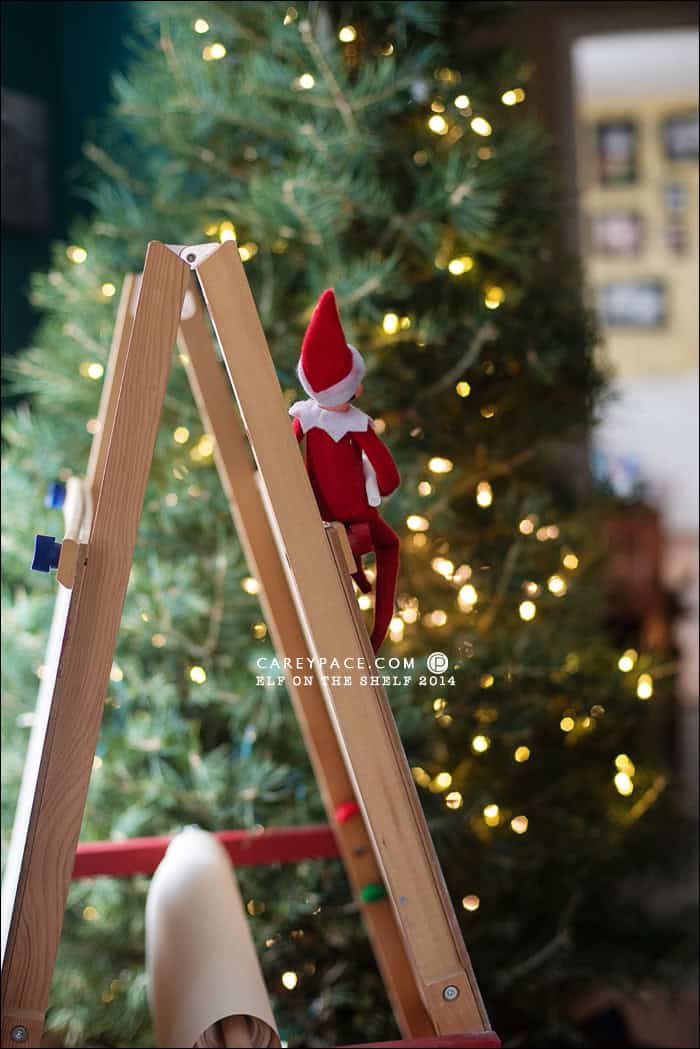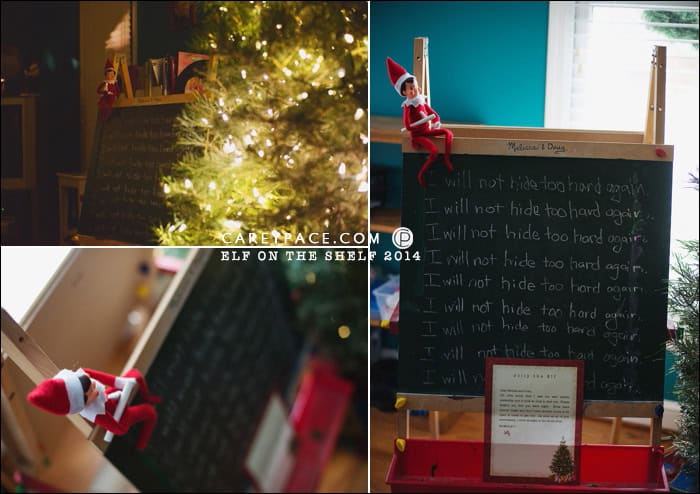 The kids found this quite humorous, and it seemed to mend the frustration of the previous day.
3. Elf Sized Snow Globe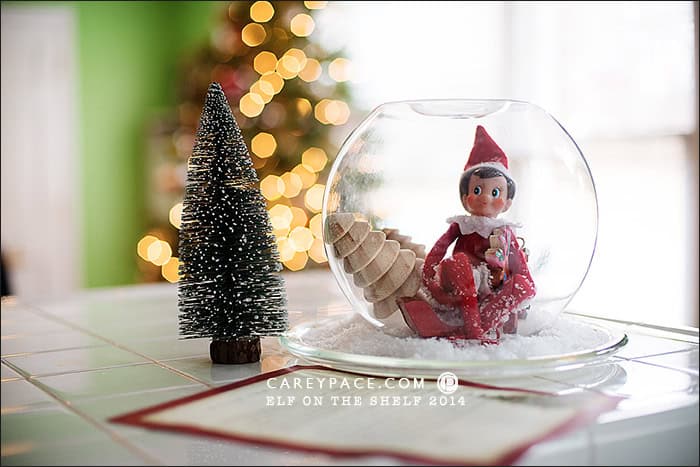 Last year I did this idea with glass kitchen bowls I had on hand, but went for the fish bowl idea to try it out again.
I was so excited for this idea, and let me tell you. This is MUCH HARDER than it looks! I could NOT get everything to stand up and get the bowl down.
Eventually I settled for what you see. However, the kids thought it was great. And that's all that counts, right?
I used this fish bowl, fake snow, (you could totally add white iridescent sequins!),  wooden craft tree shapes from Hobby Lobby, and a wooden ornament my daughter had recently painted.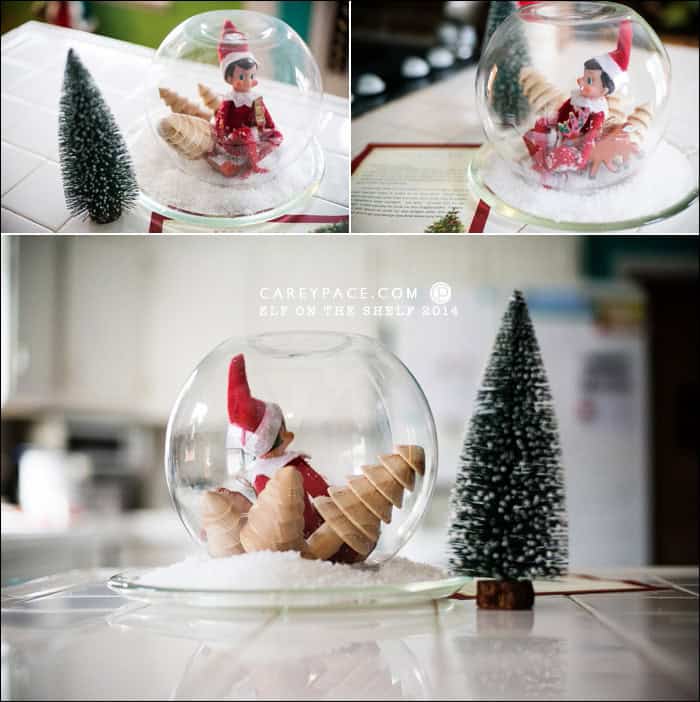 More Ideas for Your Elf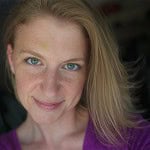 Carey Pace believes that beauty waits to be uncovered in the ordinary moments of everyday life. She chases creative motherhood, honesty in her writing, and images that tell stories. Her faith in Jesus inspires her to explore and share the trials and triumphs of raising children while designing magical moments along the way. She is a seeker of Light, a starter of projects, a reader of books, a lover of food and flavor, and an encourager to others. She and her husband Shawn reside in Massachusetts with her son and daughter.  
You can find Carey's writing and photography on Facebook, her blog, Instagram, and Pinterest.