Take your Elf Off the Shelf with these fun and silly ways to plan Christmas visit adventures for your favorite holiday visitor.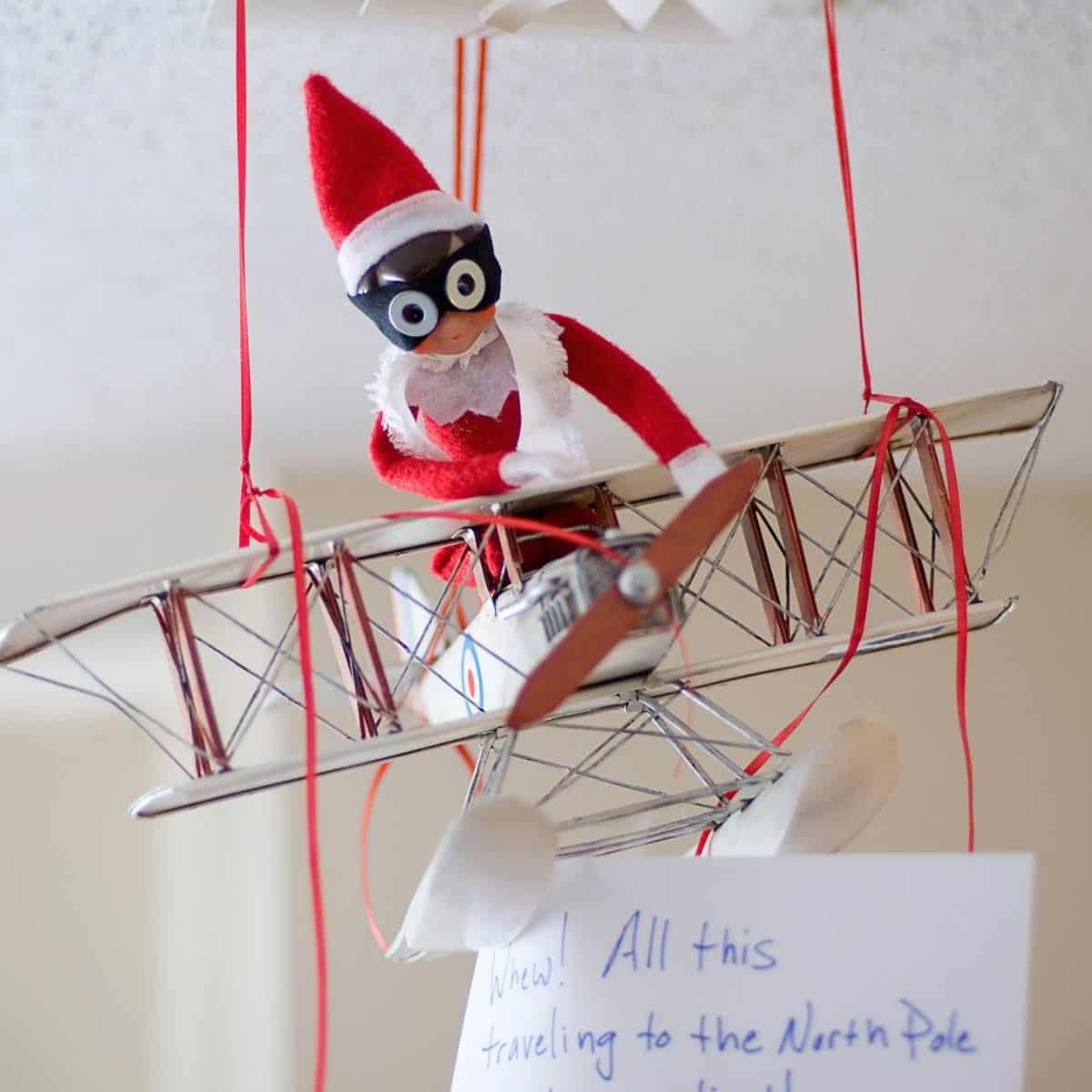 Taking your Elf on the Shelf Adventures to the next level can be intimidating, but it doesn't have to be.
Creating props to go along with your elf can be done quickly and easily with things you have on hand.
Below I'll share a few hints and tricks to how I did some of my favorite Elf on the Shelf days.
1. Vintage Airplane Ride to North Pole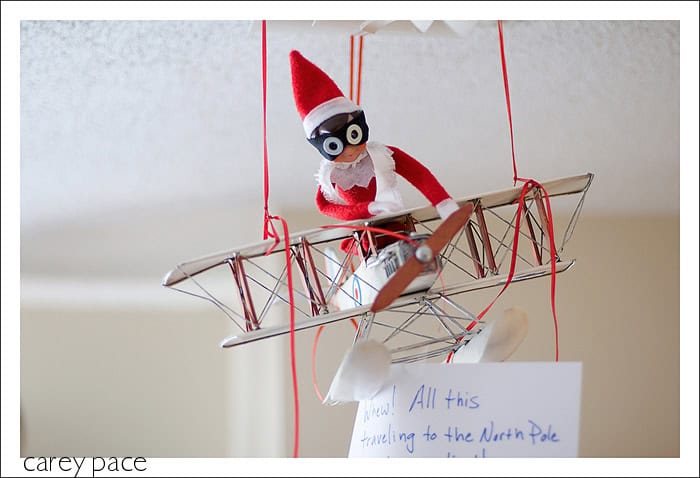 I knew I wanted to use the vintage model airplane that hangs from the ceiling in my son's room for an Elf on the Shelf day, and my husband suggested that Jolly borrow it on a particularly tiring day for his return to the North Pole.
I needed aviator goggles and a scarf, in Elf Size.
I used some black fabric I had on hand that I simply cut to size. I wrapped it around Jolly the Elf's head to determine the location of his eyes and cut slits, then small holes with scissors.
I glued on washers from my husband's hardware drawers over the slits/holes.
I also glued on some small velcro pieces to attach it around Jolly's head. Voila! Elf aviator goggles!
For the white aviator scarf, I used the frayed selvedge edge of some white fabric I had on hand.
The most challenging part was getting him Jolly up there, over my son's bed, while he was sleeping!
Don't miss these other creative flying poses for your elf:
2. Held Hostage by Toys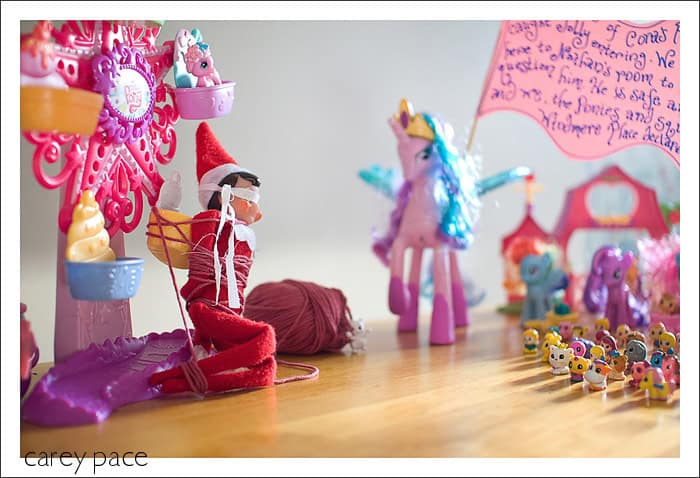 I combined two ideas I'd found on Pinterest for this one and I love how it turned out.
I used more of the white fabric to create the blindfold for the Elf.
I used a ball of yarn to do the hostage tying.
And of course, having Hacked my Elf, I could pose him how I needed to so he looked all pitiful with his hands behind his back.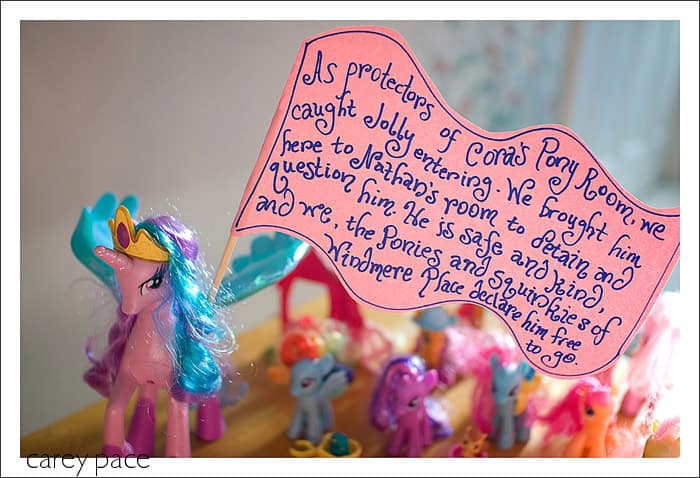 Since we write a note from our Elf every day, but Jolly had been captured for this idea, I chose to write the note from the Toys, instead.
My daughter was really, really into My Little Ponies and Princess Celestia at the time so this was WAY cool.
3. Trap the Toys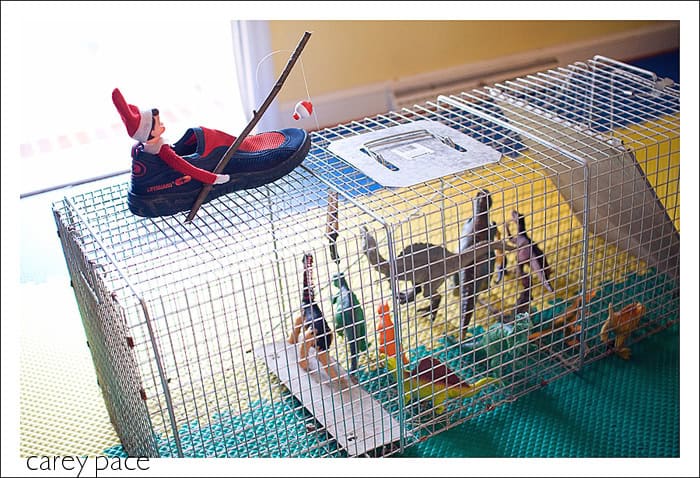 Our elf "trapped" my sons dinosaur figurines in a real animal trap my husband grabbed from our garage.
A child's shoe turns into a clever "boat" and all we had to do was add a fishing pole toy to finish the scene.
4. Deliver the Dog Food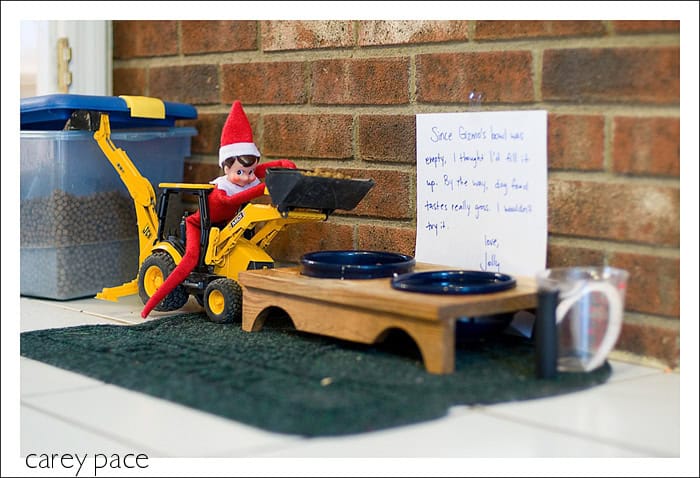 One morning our elf delivered the dog's food using a favorite construction toy I grabbed from our toy box.
Add a note of explanation and done!
5. Elf Adventure Gone Wrong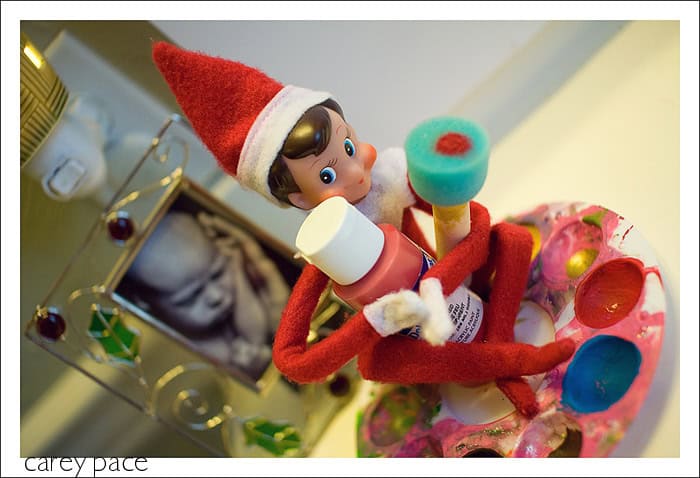 I was sooooo excited when I came up with this idea, I waited until my were good and asleep, but still in that early super deep phase of sleep and wouldn't wake when I did it.
I dotted their little noses with my red acrylic paint and held their hands away from their face until it could dry. It doesn't take long.
I could not wait for them to awaken the next morning. Imagine my disappointment when they emerged from their bedroom with no red noses!!!
What I discovered was that acrylic paint dries fairly quickly, but also rubs off quite easily. Which is apparently a problem for my face-rubbing-in-their-sleep children.
So I suppose you may want to go with something other than paint for this one, if you dare to try it.
I'm going to try it one more time, with some actual face paint or red lip liner, and dust it with powder.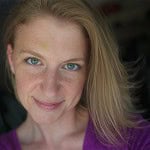 Carey Pace believes that beauty waits to be uncovered in the ordinary moments of everyday life. She chases creative motherhood, honesty in her writing, and images that tell stories. Her faith in Jesus inspires her to explore and share the trials and triumphs of raising children while designing magical moments along the way. She is a seeker of Light, a starter of projects, a reader of books, a lover of food and flavor, and an encourager to others. She and her husband Shawn reside in Massachusetts with her son and daughter.  
You can find Carey's writing and photography on Facebook, her blog, Instagram, and Pinterest.