Easy tips for making your Elf on the Shelf tradition even more magical this year. This wonderful Christmas activity will be something your family cherishes for a lifetime.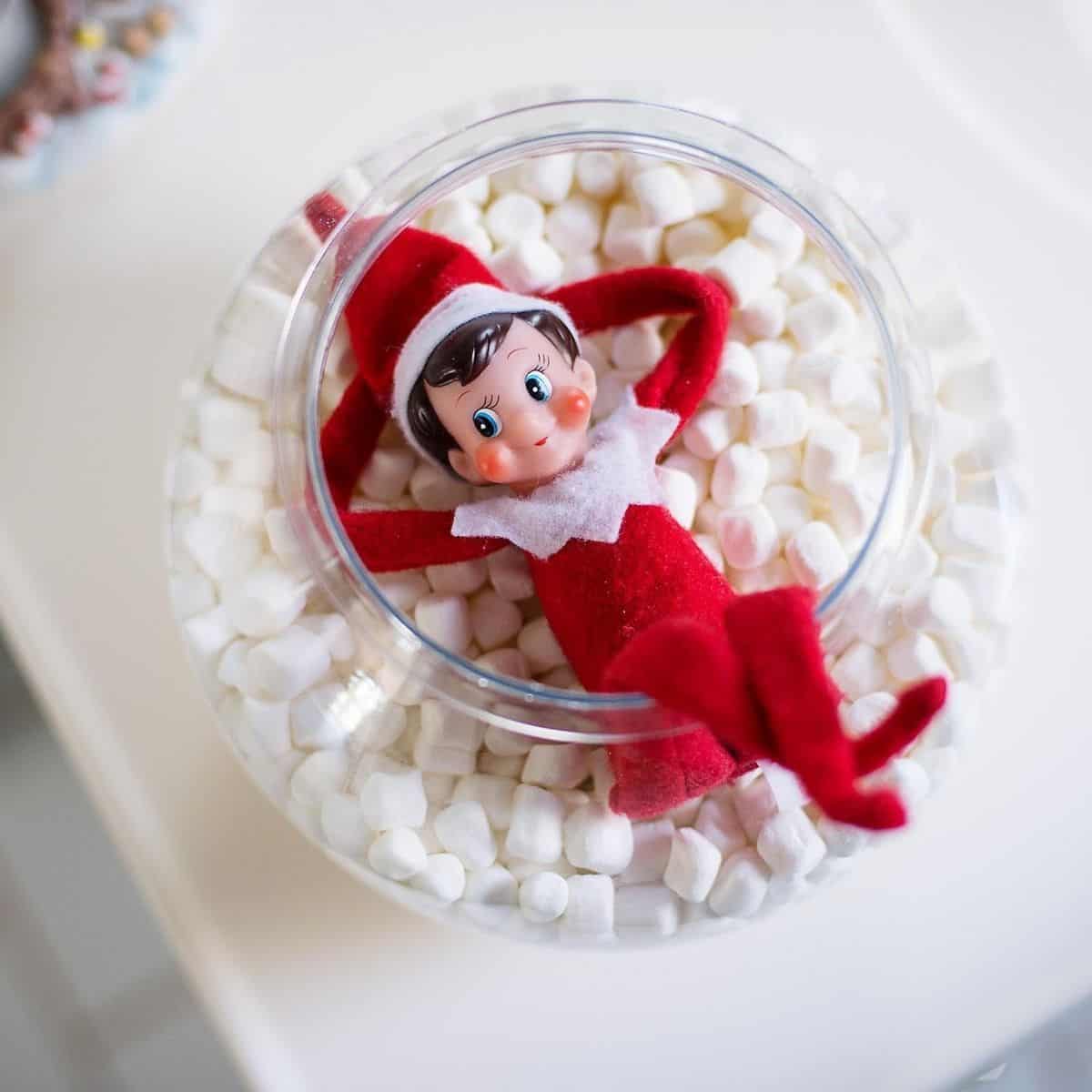 If you want to take your Elf on the Shelf to the next level, these easy ideas will help give you more flexibility with the daily tradition.
Even busy parents can incorporate these simple tips for making lasting memories for the whole family!
3 Elf on the Shelf Tips
If you want your elf season to be truly magical this year, these three tips are essential to keep in mind.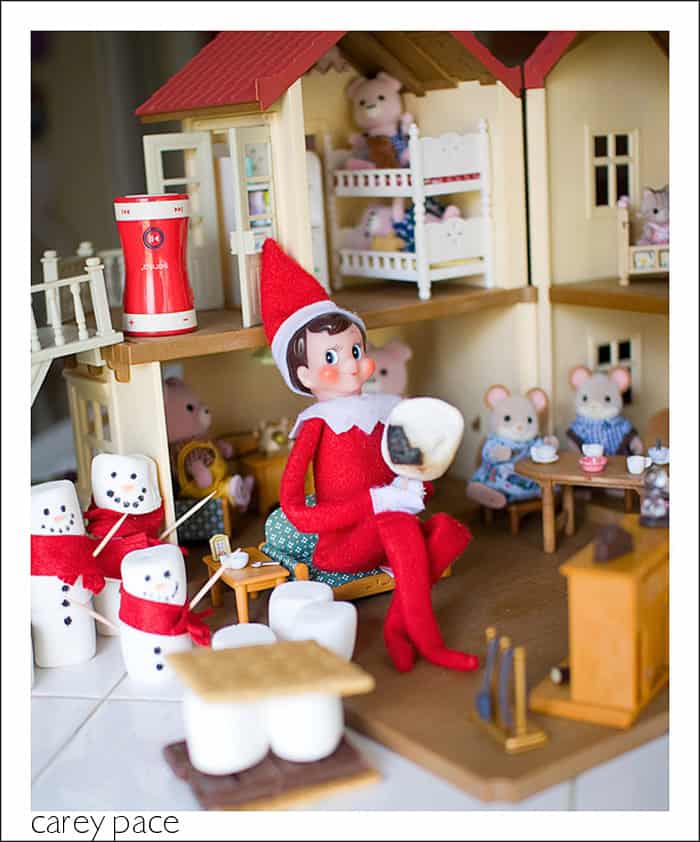 1. How to Hack Your Elf
Have you seen the tutorial to hack your Elf? This lady is just brilliant!
You put a bendable gauge wire inside your elf that allows you to pose his arms and legs, and you also add Velcro to his hands.
The tutorial has you glue the Velcro, but I suggest you sew it (I had to use a thimble) for longevity.
I found wire at Dollar Tree just the other day that I think would work perfect for this, too!
Without having done this, I couldn't have executed many of my awesome Elf days last year, like the Smores in the Calico Critters Dollhouse or the arms behind the head and legs crossed in the Marshmallow bath.
I know I was a tad hesitant after spending all that money on this elf to go after it with the seam ripper, but I did and it went just fine.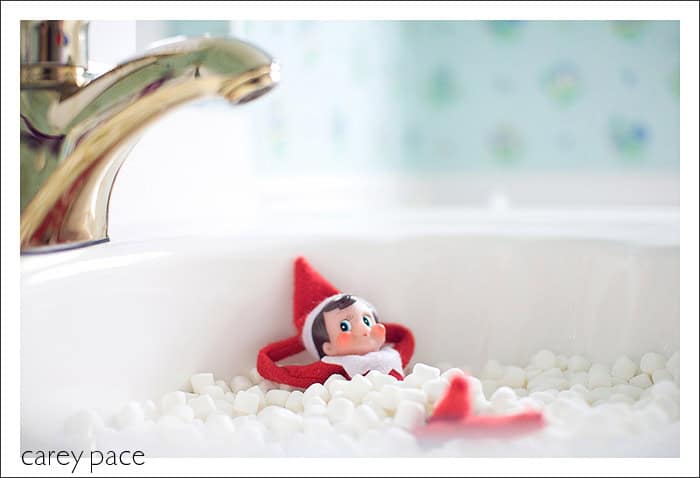 2. Elf on the Shelf Notes
Just because your elf cannot speak doesn't mean he can't communicate!
My husband starting writing the notes from Jolly the Elf and it just stuck. My kids have loved hearing what Jolly says to them each day. There was one day we didn't include a note and our son was heartbroken. That sealed the deal for us.
Plus, it adds another dimension to some of the elf antics. It is one thing to see the elf in the shower, but it takes it to a whole new level if the note explains that he's in the shower because he accidentally stepped in reindeer poop on the way back from the North Pole last night.
It's cool for your elf to Candy Cane Zipline, but even more awesome if it is because the elf saw you use your backyard zipline and wanted to give it a try himself.
If your kids are older and able to recognize handwriting, you'll probably want to use a handwriting font and print your notes. (Just don't leave the computer program open for your children to find the next day!)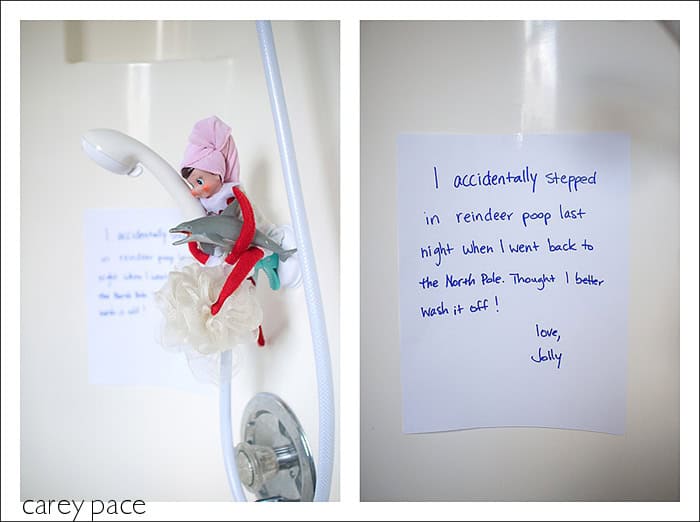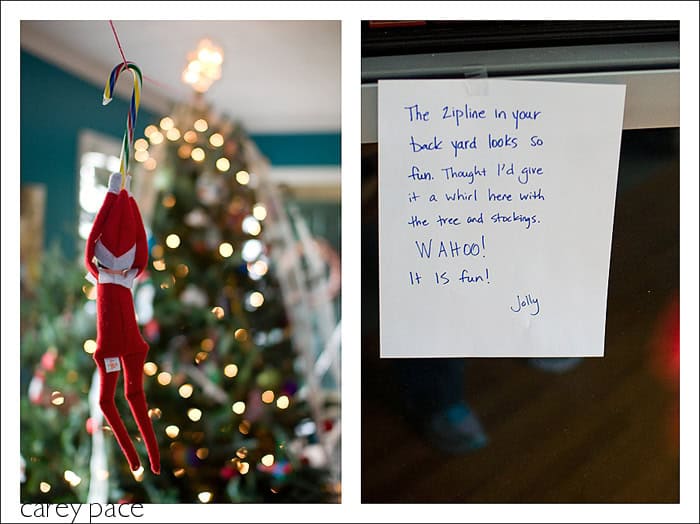 3. Don't Forget the Photos
Last year I made it a priority to photograph our Elf's adventure daily. I wanted to feature them on my blog, but my biggest priority was to have the photos to combine into one awesome Christmas book decoration that could be a family memento.
We are visual creatures, and having that visual record of each elf activity has been awesome for my kids.
Collect your images throughout the season and then use an online photo book software to create one awesome Christmas family heirloom for next year!
One more tip! Jolly, our elf, wasn't always in the most light friendly locations in our home last year, but I didn't let that stop me.
I used my tripod, which allowed me to use very slow shutter speeds for proper exposure, that I could never achieve just hand holding my camera.
Use your tripod if you own one, or set your camera on a book, stool, countertop, or anything stable!
More Great Tips for Your Elf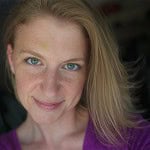 Carey Pace believes that beauty waits to be uncovered in the ordinary moments of everyday life. She chases creative motherhood, honesty in her writing, and images that tell stories. Her faith in Jesus inspires her to explore and share the trials and triumphs of raising children while designing magical moments along the way. She is a seeker of Light, a starter of projects, a reader of books, a lover of food and flavor, and an encourager to others. She and her husband Shawn reside in Massachusetts with her son and daughter.  
You can find Carey's writing and photography on Facebook, her blog, Instagram, and Pinterest.