Welcome to Elf Central! If you've just stumbled upon this popular holiday series starting with this post, you won't want to miss all the great elf action we have organized for you:
Elf on the Shelf Central: All of the ideas and instructions you'd ever need for some festive fun rounded up in one spot for your convenience here.
______________________________________________________
Christmas 2012 marks our fourth season of visits from Jolly, our Elf on the Shelf.  All those visits over the years have given me a little perspective.
So here are Three Ideas to make your Elf on the Shelf experience even more awesome:
Hack your Elf
Write Daily notes from your Elf
Photograph your Elf!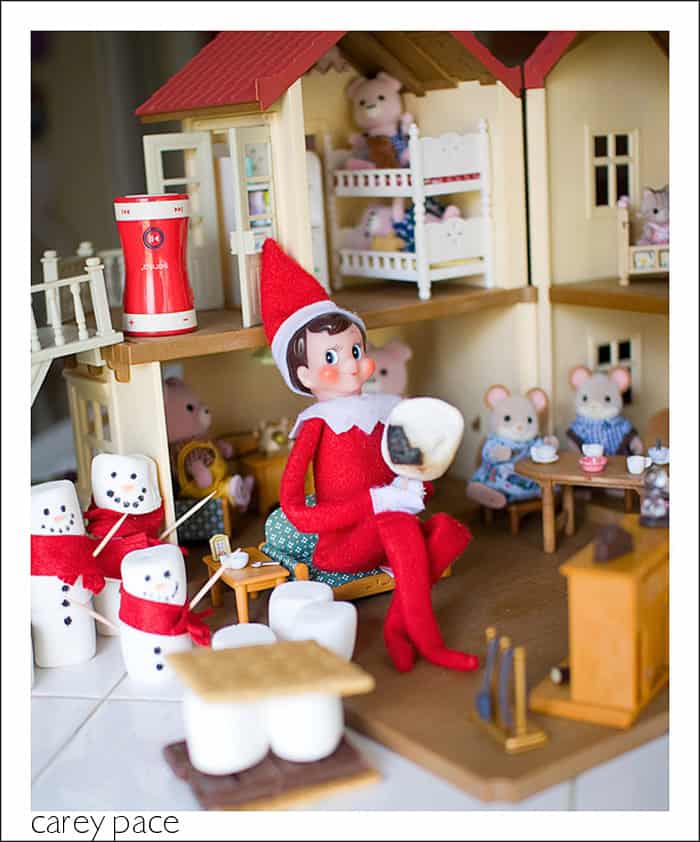 1.  Hack: Have you seen the tutorial to hack your Elf? This lady is just brilliant!  I followed her guide last year and I highly recommend it. You put a bendable gauge wire inside your elf that allows you to pose his arms and legs, and you also add Velcro to his hands. The tutorial has you glue the Velcro, but I suggest you sew it (I had to use a thimble) for longevity. I found wire at Dollar Tree just the other day that I think would work perfect for this, too! Without having done this, I couldn't have executed many of my awesome Elf days last year, like the Smores in the Calico Critters Dollhouse or the arms behind the head and legs crossed in the Marshmallow bath.  I know I was a tad hesitant after spending all that money on this elf to go after it with the seam ripper, but I did and it went just fine, as her excellent tutorial shows.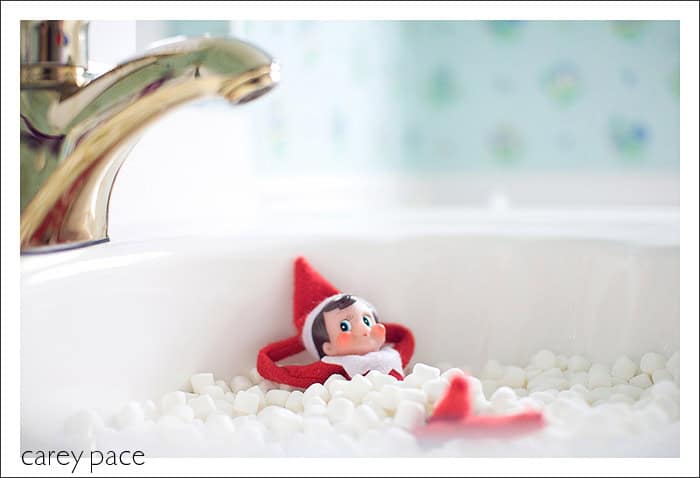 2.  Notes: Just because your elf cannot speak doesn't mean he can't communicate! My husband starting writing the notes from Jolly the Elf and it just stuck. My kids have loved hearing what Jolly says to them each day. There was one day we didn't include a note and our son was heartbroken. That sealed the deal for us. Plus, it adds another dimension to some of the elf antics. It is one thing to see the elf in the shower, but it takes it to a whole new level if the note explains that he's in the shower because he accidentally stepped in reindeer poop on the way back from the North Pole last night. It's cool for your elf to Candy Cane Zipline, but even more awesome if it is because the elf saw you use your backyard zipline and wanted to give it a try himself. If your kids are older and able to recognize handwriting, you'll probably want to use a handwriting font and print your notes. (Just don't leave the computer program open for your children to find the next day!)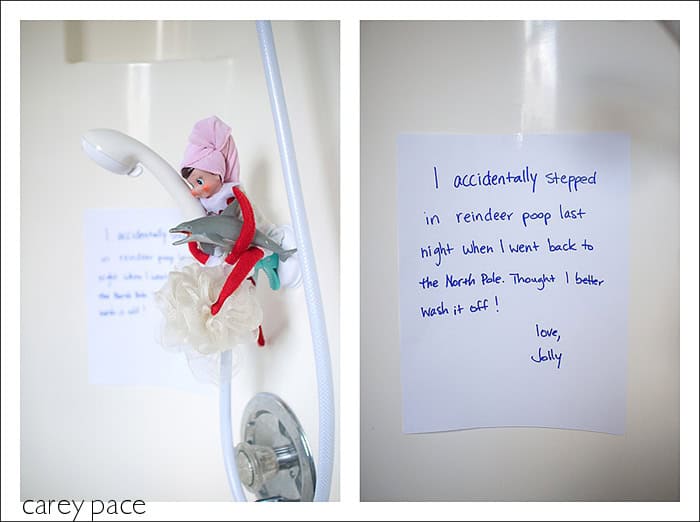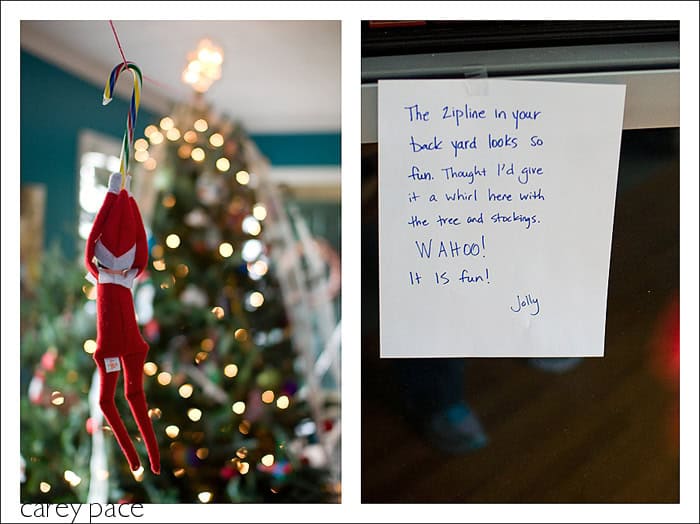 3.  Photograph.  Last year I made it a priority to photograph our Elf's adventure daily.  I wanted to feature them on my blog, but my biggest priority was to have the photos to combine into one awesome Christmas book decoration that could be a family memento.  We are visual creatures, and having that visual record of each elf activity has been awesome for my kids. Collect your images throughout the season and then use an online photo book software to create one awesome Christmas family heirloom for next year!
One more tip!  Jolly, our elf, wasn't always in the most light friendly locations in our home last year, but I didn't let that hurt me.  I used my tripod, which allowed me to use very slow shutter speeds for proper exposure, that I could never achieve just hand holding my camera.  Use your tripod if you own one, or set your camera on a book, stool, countertop, or anything stable!
Just don't do like I did last year and step away from the tripod.  I hadn't tightened the wand that set the angled vertical position of the camera tight enough.  With the weight of the camera, it gave way, camera fell forward on the tripod, and the momentum of that send the whole tripod, in its full extension, tipping over.  It landed on a huge snow globe on the coffee table and then onto the hardwood floor.  Somehow the camera still seems fine, a year later.  But talk about wanting to toss your Christmas cookies....
Carey Pace is a Lifestyle Photographer  and Stay at Home Mom in Kingsport, Tennessee who loves to write and capture the magic of childhood with her camera.  You can find her at www.careypace.com and on Facebook at Images by Carey Pace.