Welcome to Elf Central! If you've just stumbled upon this popular holiday series starting with this post, you won't want to miss all the great elf action we have organized for you:
Elf on the Shelf Central: All of the ideas and instructions you'd ever need for some festive fun rounded up in one spot for your convenience here.
______________________________________________________
Hi again!  I'm Carey Pace, a mom who loves imagination, creativity,  and FUN!  I'm sharing an entire Elf on the Shelf season here on Peanut Blossom.  Are your kids excited about the upcoming Elf season?  Mine have been asking for a few weeks when Jolly would return, but it has ramped up just within the last week.   They both even wrote him letters yesterday!  I LOVE their excitement and enthusiasm for our tradition.  I often get inspiration for new ideas from their theorizing about what Jolly will do next!   Today I will share with you some Elf on the Shelf Inspiration that is
IN THE AIR
!
Let's explore THREE ways to suspend those elves!
PARACHUTING ARRIVAL
Jolly is particularly fond of parachutes and always, always arrives to the Pace Place via one.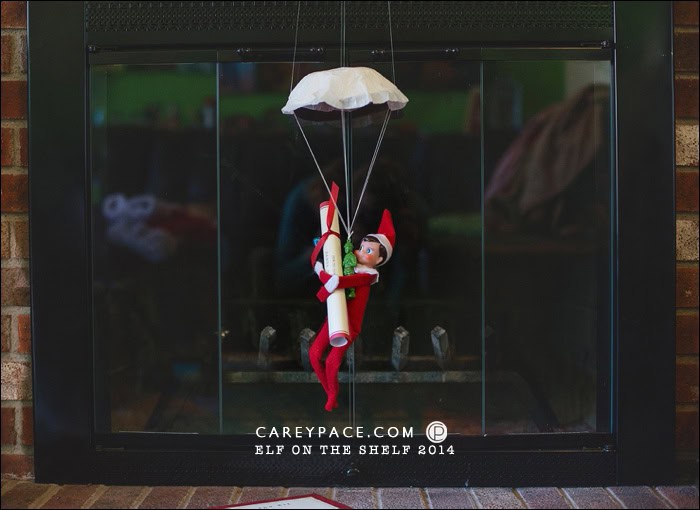 I use toy paratroopers for the parachute. Buy a 12-pack and keep them put away in your Christmas gear to use for the duration of this tradition! I taped a paper bowl inside the parachute to make it remain extended.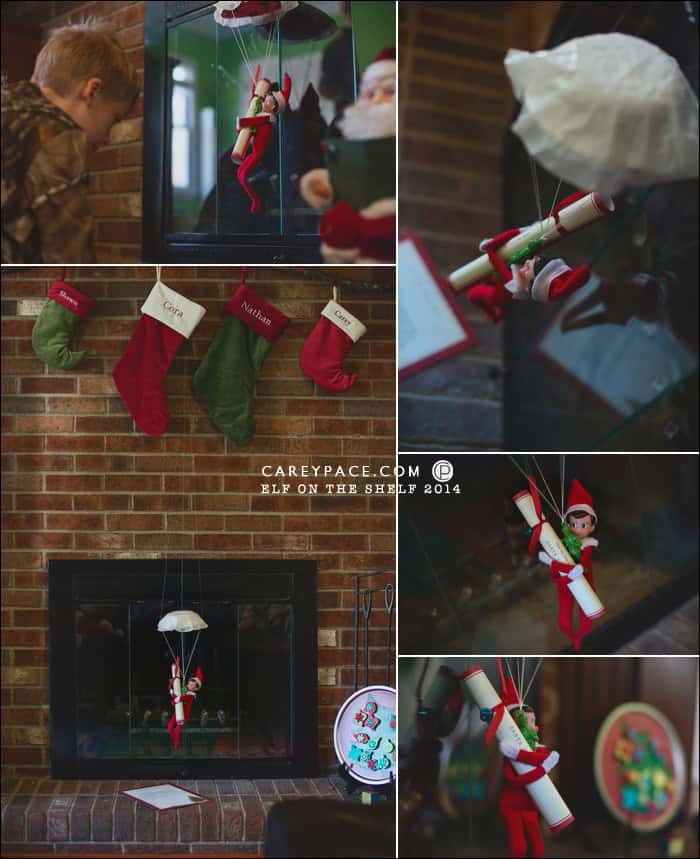 ALWAYS BRINGS A LETTER FROM SANTA
Jolly always brings a letter from Santa himself. We actually don't do the behavior component of Elf on the Shelf, since I believe that the naughty or nice thing doesn't jive with our philosophy of Christmas. (I wrote about why we "do" Santa and Elf on the Shelf here, if you are curious how we tie in Santa, the elf, and Jesus. ) Santa reminds the kids both why he brings gifts for Christmas and to tell Jolly anything they are hoping for. If you'd like the text for this letter, I include it here for you to copy and paste.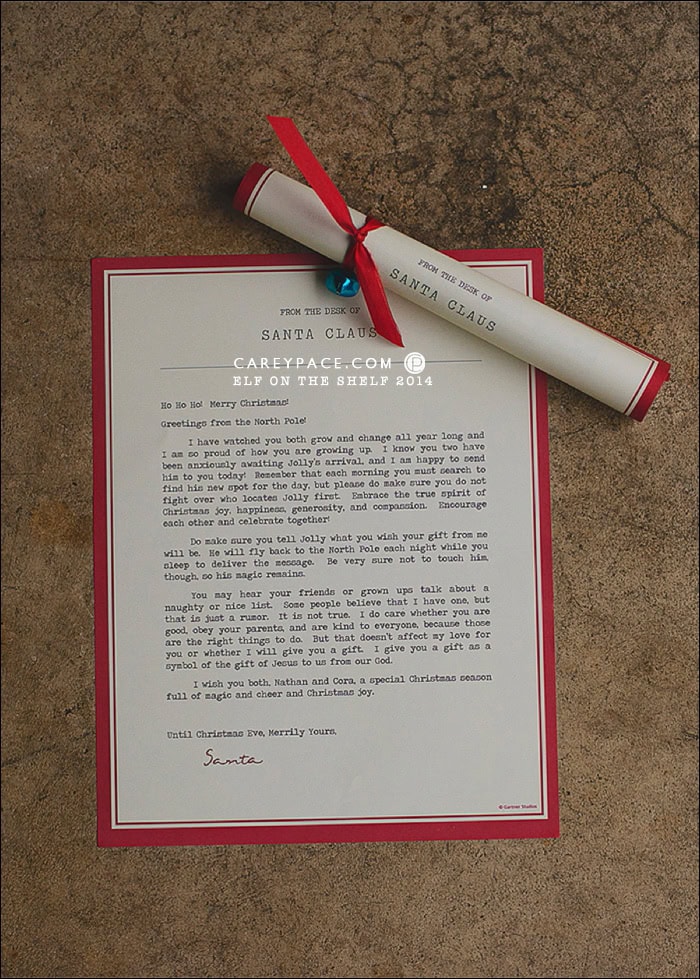 DISC SWING
We have this disc swing in our yard and my daughter especially loves it. That was the inspiration to make a disc/tire swing for Jolly to ride on.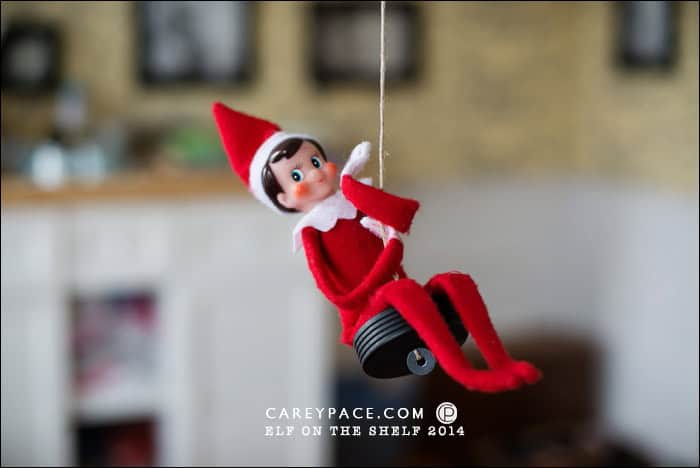 I used a package of wooden tires/wheels from Hobby Lobby and spray painted them matte black (go ahead and do it now before it gets too cold to spray paint!). I used a washer to keep the twine string from pulling through the bottom hole. And I tied the swing to bottom of our dining room chandelier.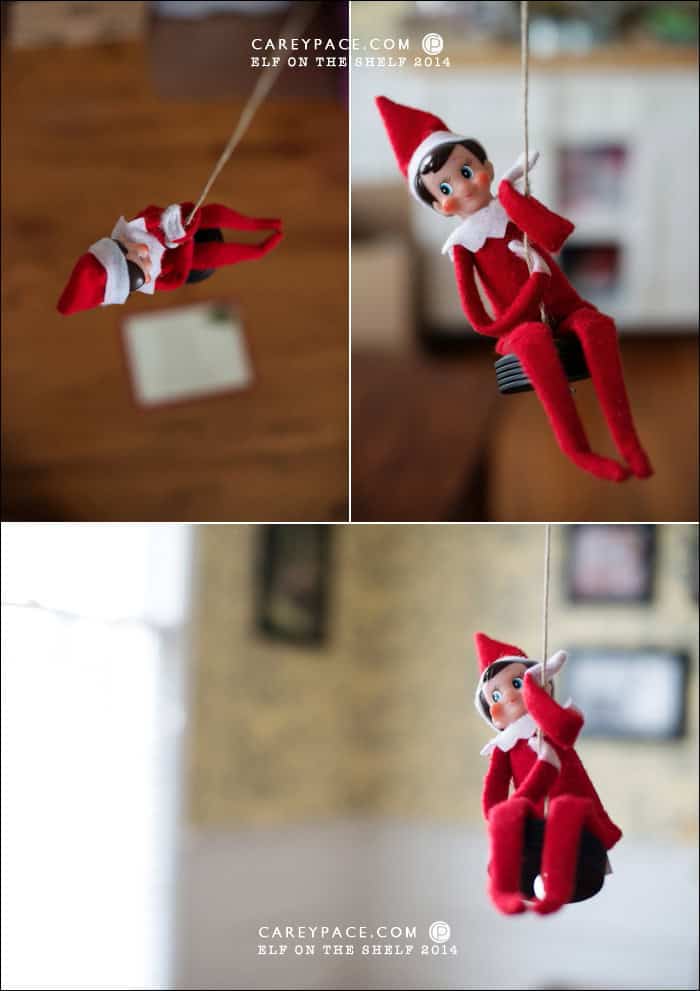 Jolly writes a note to the kids each day on his own personalized stationery. For the disc swing, he wrote
"At the North Pole, we elves sure do love to swing. And a tire swing is my favorite kind of swing. But old tires aren't very common at the North Pole where there is so much snow. We ski to get from place to place... or hitch a ride on a reindeer. I found this old tire on my flight back to you last night and thought it would be so much fun to swing all day while you were at school!"
What if your Elf had his own personalized stationary like this "In the Clouds" set from Minted? You could add in one of your own Elf Photos!
What do you think???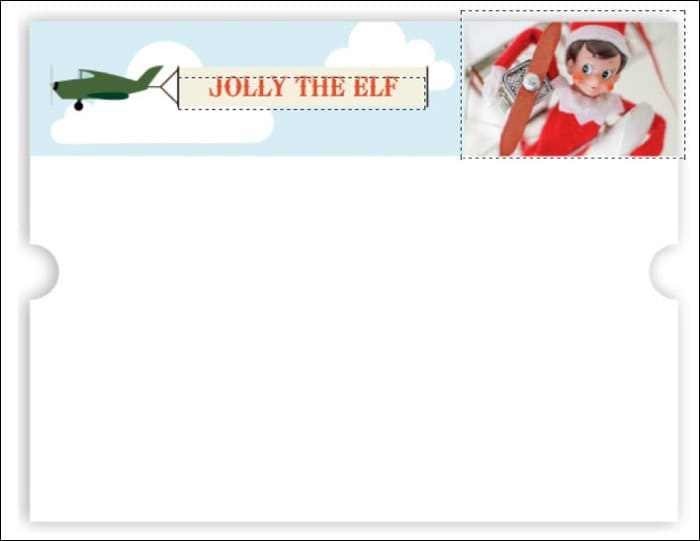 FLYING TO THE NORTH POLE ON AN AIRPLANE
Jolly takes the vintage airplane in my son's room on a trip to the North Pole each year!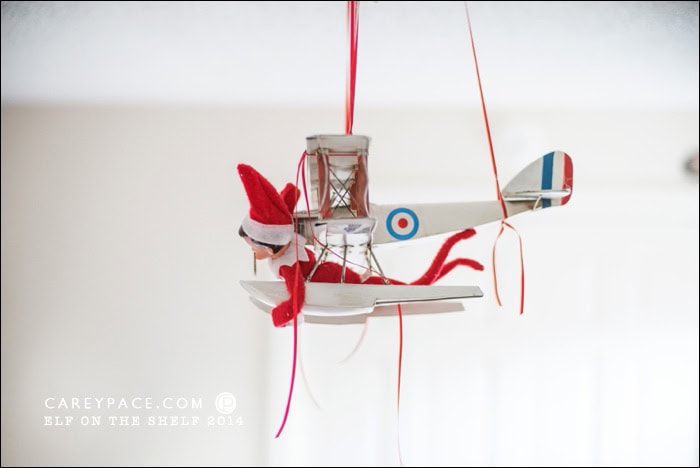 I have to say, this is always one of my favorite Jolly adventures. Over the years he has piloted the plane with aviator goggles, hung from his hands, and now hugged the pontoons!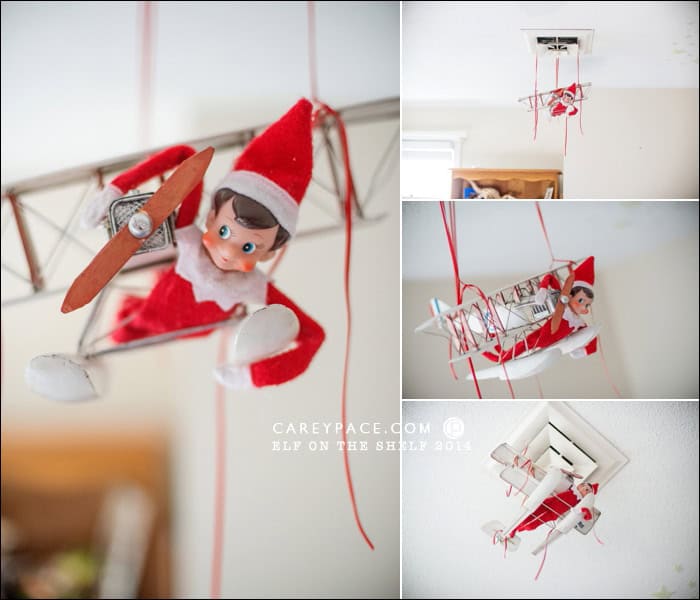 Jolly's note this day read
"I look forward to flying your bedroom ceiling airplane back to the North Pole every year! It makes for a super fun and super fast fly back to the elf village at the North Pole!
Don't forget to think about what you want Santa to bring you for Christmas! You should let him know early, and be sure you won't change your mind. You don't want Santa to run out of the materials it takes for your gifts!"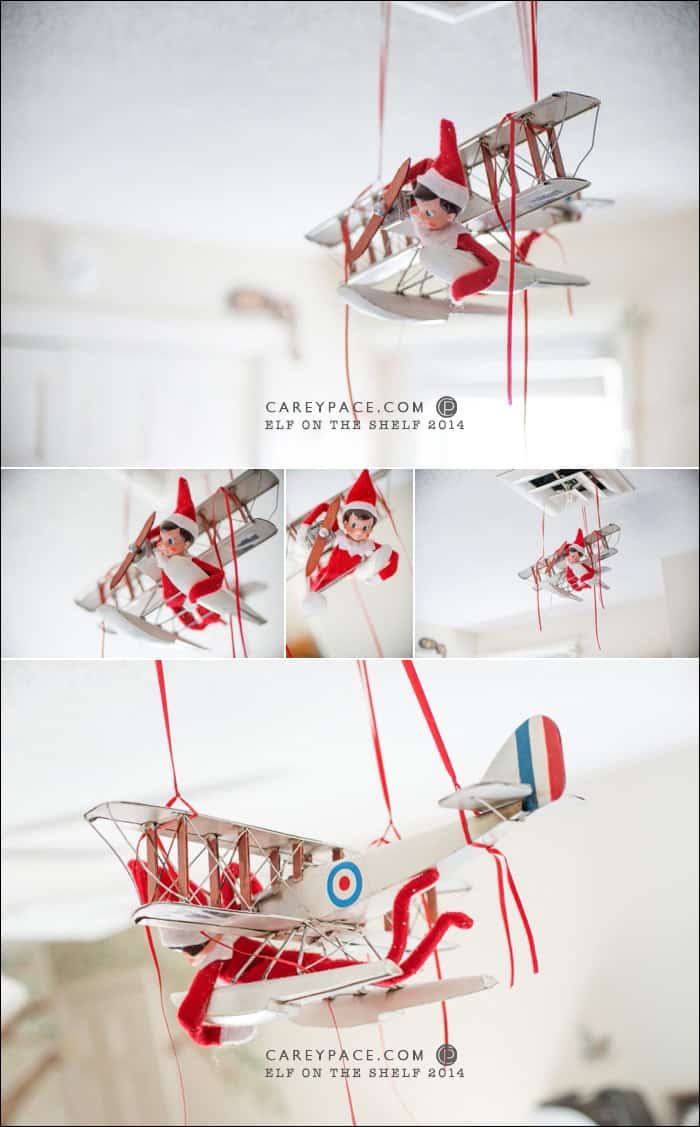 This is another one of those investment pieces. Buy it once and use it every year as part of your tradition! Here are a few I found on Amazon: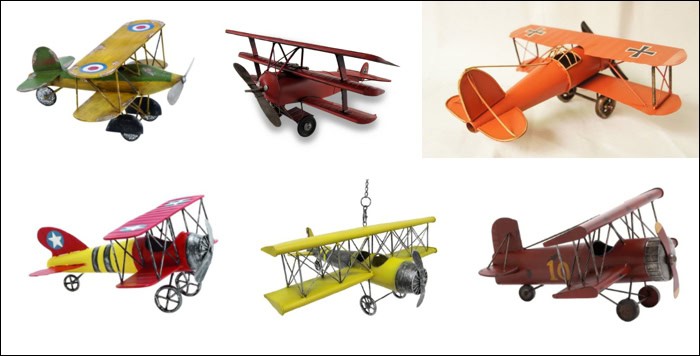 Benzara Decorative Metal Bi Airplane with Stars, Yellow Vintage Retro Metal Bi-Plane Hanging Decor, Deco 79 Metal Airplane, Red Metal Triplane Sculpture w/Iron Cross Details, Woodland Imports Metal Biplane, or Zenness Vintage Airplane Model Wrought Iron Aircraft Handicraft Souvenir 819 Red
Stay tuned for the next post in the series: EMBRACE CREATIVITY!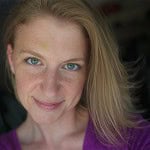 Carey Pace believes that beauty waits to be uncovered in the ordinary moments of everyday life. She chases creative motherhood, honesty in her writing, and images that tell stories. Her faith in Jesus inspires her to explore and share the trials and triumphs of raising children while designing magical moments along the way. She is a seeker of Light, a starter of projects, a reader of books, a lover of food and flavor, and an encourager to others. She and her husband Shawn reside in Tennessee with her son and daughter.
You can find Carey's writing and photography on Facebook, her blog, Instagram, and Pinterest.