Are the kids asking when does the Elf on the Shelf arrive yet? If not, they will soon! Be ready to go with these awesome Elf on the Shelf arrival ideas.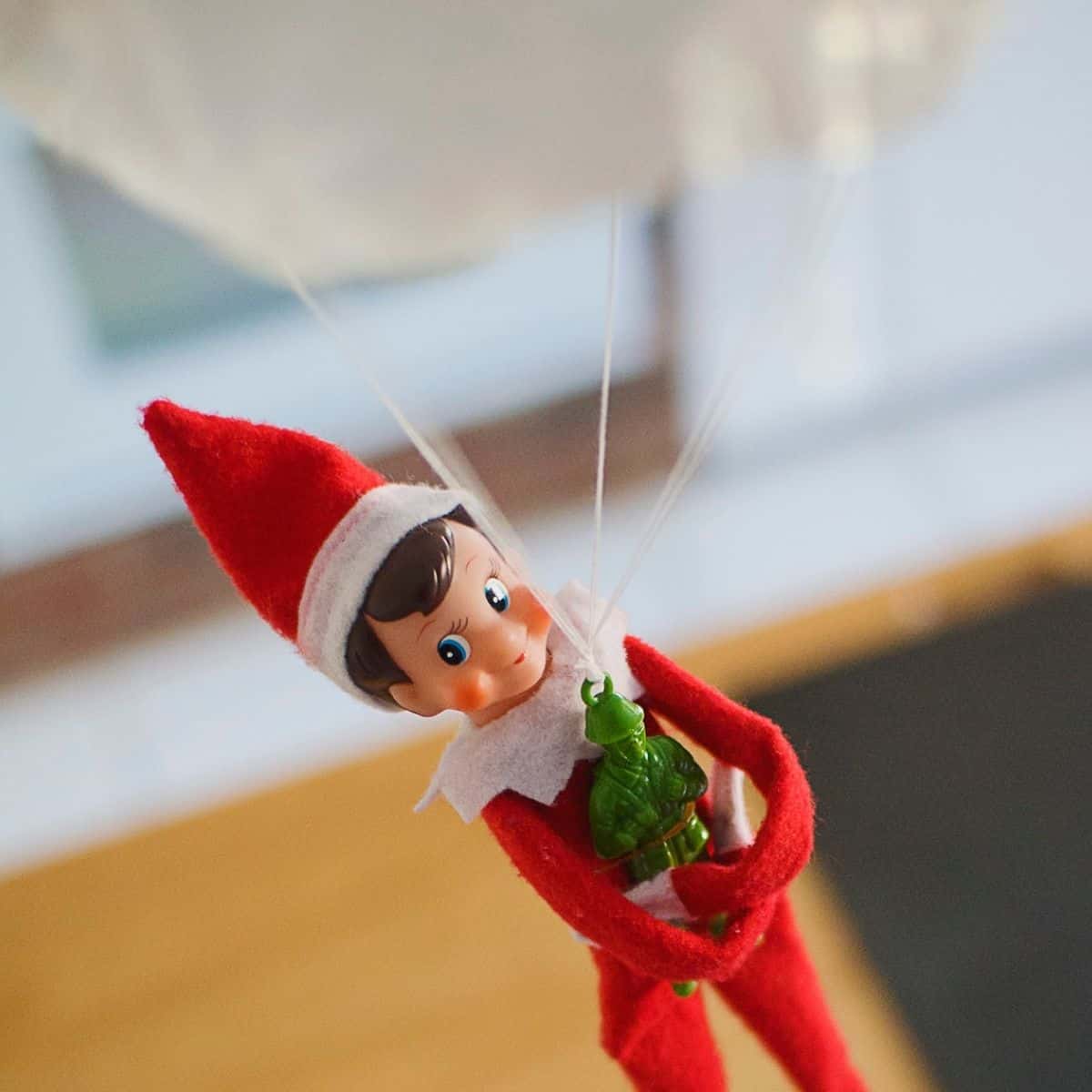 Few things are more exciting than the day your family Elf on the Shelf arrives for his annual Christmas visit!
Kickstart the Christmas elf season with these easy tips for a magical Elf arrival that will set the festive tone for Christmas.
When Does the Elf on the Shelf Arrive?
In our family, our elf arrives the first morning after we've put up and decorated our Christmas tree.
We believe that the decorated tree is the beacon that signals to our elf that we are ready for the Christmas fun to start!
If we've gotten super excited and the tree is up before December 1, our elf likes to just hang out on the living room mantle for a few days and appreciate our decorating handiwork.
Once December 1 arrives, our elf gets to work with his playful mischief and adventures.
Elf on the Shelf Arrival Ideas
There are three main elements to an awesome Elf on the Shelf arrival day:
1. The Parachute
Our elf always parachutes in for his arrival.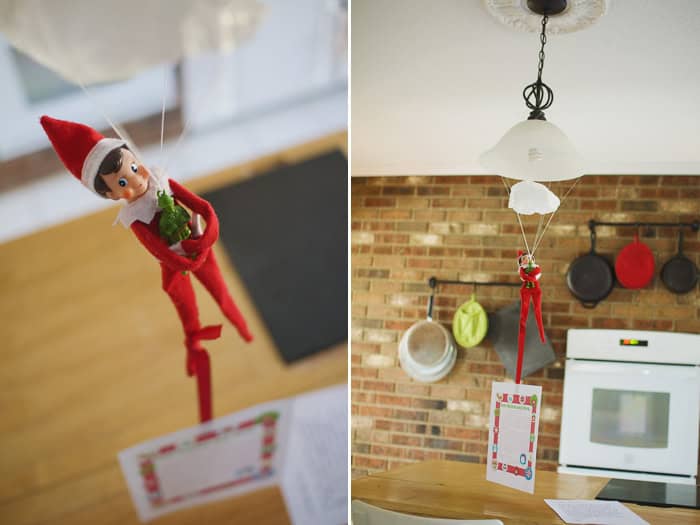 Your elf could also arrive via hot air balloon, helicopter, or sleigh.
You can read more about how to set up five different flying poses here.
2. He Brings Letters
Santa always writes a special letter for the elf to bring when he arrives.
Our elf also always writes his own "hello letter" for the kids to let them know how excited he is to be back.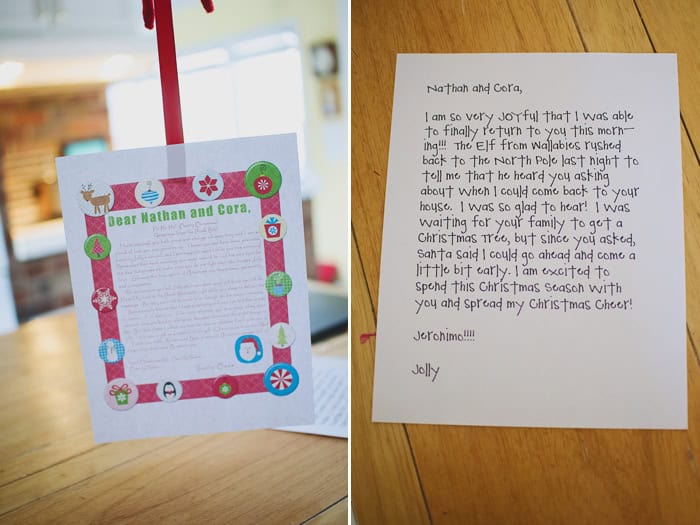 We actually don't do the behavior component of Elf on the Shelf, since I believe that the naughty or nice thing doesn't jive with our philosophy of Christmas.
I wrote about why we "do" Santa and Elf on the Shelf here, if you are curious how we tie in Santa, the elf, and Jesus.
Santa reminds the kids both why he brings gifts for Christmas and to tell Jolly anything they are hoping for.
If you'd like the text for this letter, I include it here for you to copy and paste.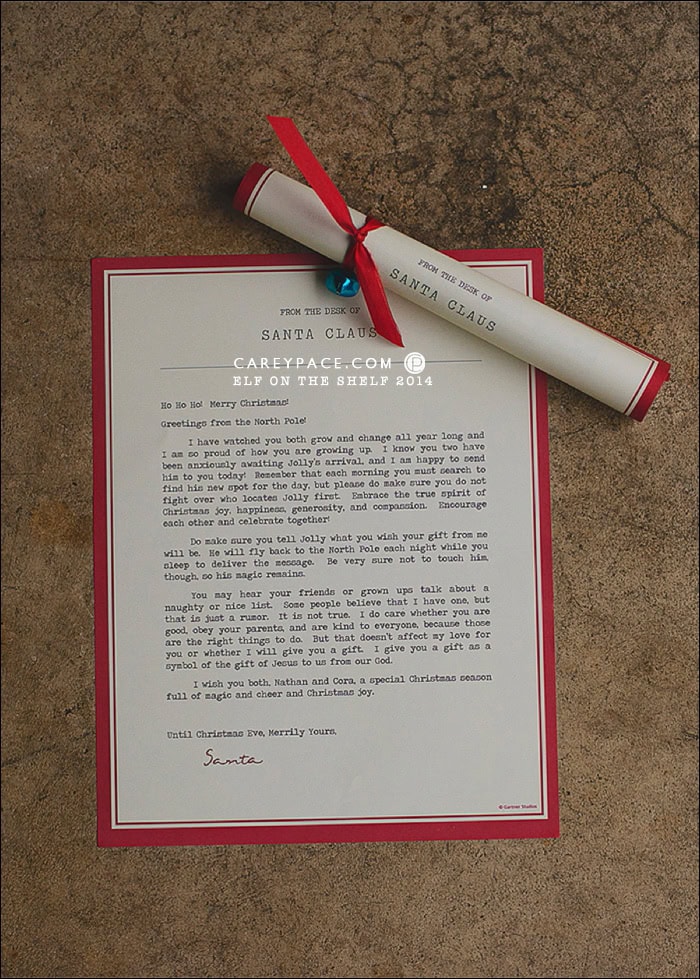 Or, what if your Elf had his own personalized stationary like this "In the Clouds" set?  You could add in one of your own Elf Photos!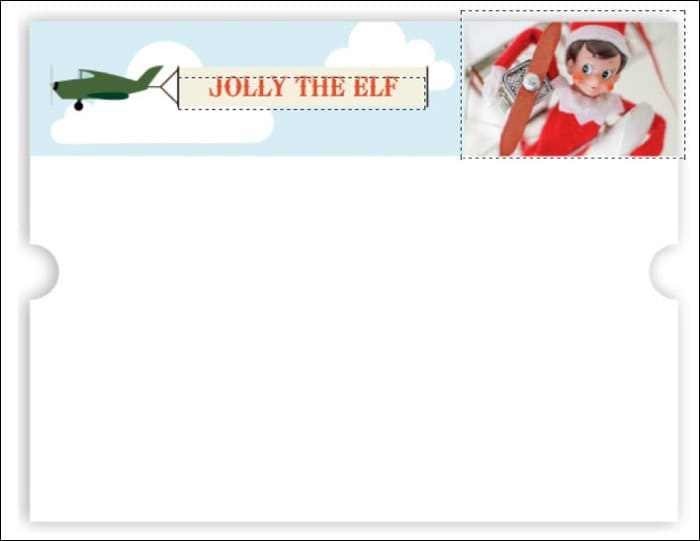 3. The First Christmas Gift
In addition to the letters, our elf usually brings something special for our family to enjoy the Christmas season together.
It could be as simple as a new holiday decoration he plans to play with during his adventures, a pair of matching Christmas jammies for the kids, or a new Christmas movie for us to watch together.
Even if your family doesn't celebrate St. Nicholas Day, any of these St. Nick gift ideas would be a perfect fit for a special treat from your elf.
Supply List
Easy accessories you can use to make the elf arrival extra impressive: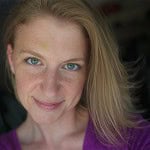 Carey Pace believes that beauty waits to be uncovered in the ordinary moments of everyday life. She chases creative motherhood, honesty in her writing, and images that tell stories. Her faith in Jesus inspires her to explore and share the trials and triumphs of raising children while designing magical moments along the way. She is a seeker of Light, a starter of projects, a reader of books, a lover of food and flavor, and an encourager to others. She and her husband Shawn reside in Massachusetts with her son and daughter.  
You can find Carey's writing and photography on Facebook, her blog, Instagram, and Pinterest.