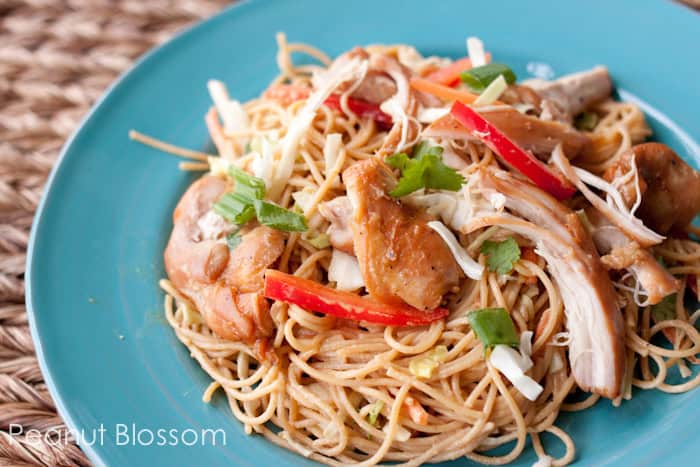 We're looking at a miracle here. I have never claimed to be a recipe developer. I'm a recipe follower. But you are looking at my first recipe invention. For real!
I'm so excited that this actually worked out I don't even know where to start! Even Handyman Tim was blown away and asked if I'd be sharing on the blog. Of course!
We've been facing some new dietary restrictions around here the last couple months which explains a more quiet recipe section than normal. I've been doing lots of trying and failing in my attempts to figure out new foods that comply with all the rules. One of the oddest results is that Handyman Tim has a nearly endless desire for Thai flavors--pad thai in particular. My husband who usually resented any amount of flavor spice has been requesting extra seasoning on all his food.
So this weekend I took 2 separate recipes we've enjoyed in the last few months--a Flat Belly Diet nutty noodles recipe & an awesome honey soy chicken I found on Tasty Kitchen--tweaked them, combined them, and added a few more things and developed this mind-blowing pasta salad. It is delicious hot or room temperature. Possibly cold, but I don't think I'd prefer that.
It will most definitely be hitting our rotation in the coming warm weather months. I can't wait to use ingredients from our garden in it! Next time I'm mixing it up heavier on the veggies, lighter on the noodles. This round I was just too nervous to go overboard with all the new flavors. I just didn't expect it to be such a hit!

__________________________________________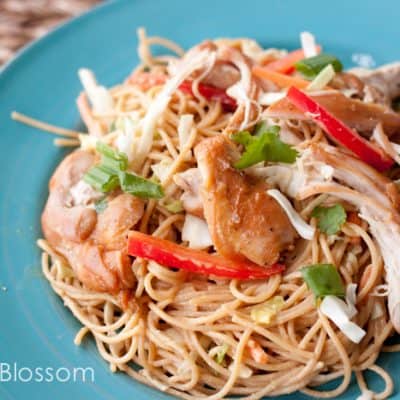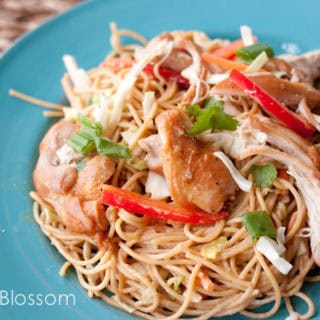 Peanut Noodles with Sweet & Sticky Chicken
Total Time:
1 hour
10 minutes
This savory peanut butter and soy pasta dish is an easy way to make your own take out at home.
Ingredients
For the chicken:
3 pounds boneless skinless chicken thighs
3 tbsp olive oil
3 tbsp soy sauce
5 tbsp honey
2 tsp minced garlic
½ tsp ginger
For the pasta:
1 box whole grain thin spaghetti
½ c peanut butter
¼ c soy sauce
2 tsp minced garlic
healthy sprinkle of crushed red pepper flakes
½ c reserved pasta cooking water
For the salad:
½ fresh red bell pepper, sliced very thinly
¼ c chopped fresh cilantro
¼ c sliced green onions
½ c raw red & green cabbage mix, sliced thinly like slaw
¼ c grated carrots
(OR–I found an awesome Asian Slaw mix in my produce aisle that had a mix of everything listed but the red pepper. I just used 2 big handfuls of that. Take a look, you might be surprised what you find to save time.)
Instructions
Set a large pot of salted water to boil. Preheat your oven to 425.
Make the marinade for the chicken: Whisk all the ingredients together and pour over the chicken. Toss to coat. You can do this earlier in the day and let it marinate or do it just before popping in the oven. I've done both and it worked just fine.
Bake the chicken at 425 for 50 minutes. Turn it 3 times (after 25 min., another 15, another 10) during cooking so that it gets nice and caramelized by the heat. My family fights over the crunchy bits!
Boil the pasta: While the chicken is baking, add the pasta to the boiling water and cook according to package directions. Be sure to reserve a good cup or two of the cooking water before you drain the noodles.
Prepare the pasta sauce: Whisk all the ingredients in a small bowl. Set aside for tossing. The peanut butter mixture will be insanely thick until you add the pasta water. It will come together nicely with the bit of heat the pasta water gives it. Add more or less water to get the consistency you prefer.
Prep the veggies: It took me a minute or less since I was using the bag of Asian slaw mix. I just had to slice the pepper.
Assemble:
When the pasta is done, reserve the water you need, drain and place in a large bowl.
Whisk the pasta water into the pasta sauce bowl. Toss the finished sauce with the noodles to combine.
Toss the raw veggies in with the warm noodles. The heat of the pasta will just SLIGHTLY wilt them a bit but they will still be full of crunch. OR you can put the veggies in a separate bowl and let your family add just what they want to their mix–the much more popular method for my girls.
Cut or shred the chicken. You can toss it in with the pasta or serve it on top.
Storage/Leftovers:
Be warned, the pasta will get very dry when left to soak up the peanut butter sauce overnight. Since we served the veggies as separate mix-ins, I was able to store the pasta alone with just a few tablespoons of the reserved pasta water laying at the bottom of the container. When we wanted to eat the leftovers, I reheated the noodles in the microwave and the water turned to steam and rehydrated the noodle sauce after a good toss.
The chicken and veggies will store perfectly if kept separate. Just assemble your leftovers as needed.