This easy, spicy shrimp stew recipe is loaded with spicy sausage, bell peppers and corn. Serve a comforting bowl with a warm biscuit or fresh cornbread for a delicious cozy meal.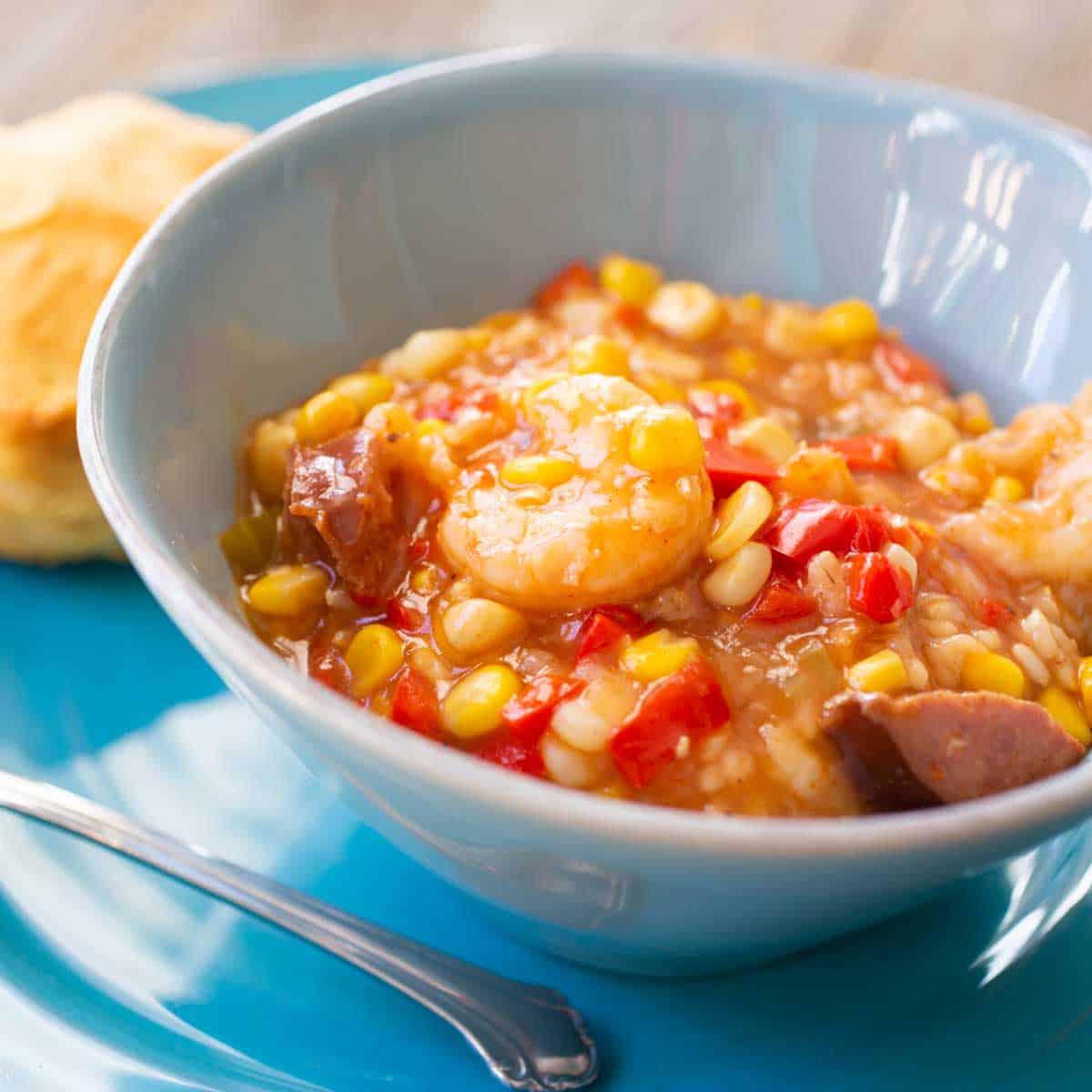 This thick and hearty shrimp stew is very heavy on the corn and sausage which is exactly what draws my family in.
Serve it up with warm biscuits and the hot sauce on the side so everyone can add it to taste.
For my husband's sake, I doubled up on the andouille sausage because I knew he'd want to pick around the shrimp but my girls and I love the way the shrimp cook up perfectly tender in the slowcooker.
Adding a little more protein to the stew helped stretch the recipe farther, since I've found that any extras freeze really well.
Jump to:
Ingredients
This hearty shrimp stew is a perfect way to introduce shrimp to your family. Tucked inside a spicy stew filled with sausage and rice.
All you need to make it is:
Andouille sausage: You can substitute any smoked sausage you prefer.
Shrimp: fresh or frozen
Red bell pepper
Celery
Onion
Frozen corn
Tomato paste
Minced garlic
Chicken broth
Rice: The recipe calls for brown rice but you can substitute white or jasmine rice.
Tapioca for thickening: You can skip the tapioca if you prefer a thinner brothed stew
Hot sauce: Adjusted to your taste
Prep the Veggies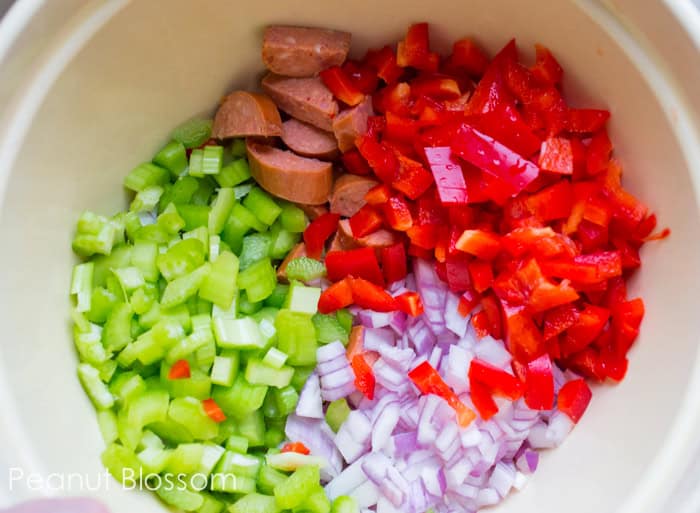 Combine the chopped sausage, onions, celery, bell peppers, tomato paste, garlic, and seasonings in a covered bowl and microwave until softened, 8 to 10 minutes.
Stir occasionally so it doesn't burn.
This helps get things started so the veggies will cook better in your slowcooker.
Transfer to the Slowcooker
Transfer the vegetable mix to the slow cooker.
Stir in the water, broth, rice, tapioca, and ¼ spoon salt.
Cover and cook for 3 to 5 hours on LOW or 2 to 4 hours on HIGH. The rice should be tender.
Add the Shrimp
Stir the shrimp and corn into the stew and cover. Adding the shrimp at the end of the cooking time keeps them from getting overcooked and rubbery.
You just want to cook the shrimp on high until they are opaque and cooked through, about 15 to 20 minutes.
If the stew is too thick, add additional chicken stock at this point.
Stir in hot sauce, season with salt and pepper. Serve with hot sauce to taste.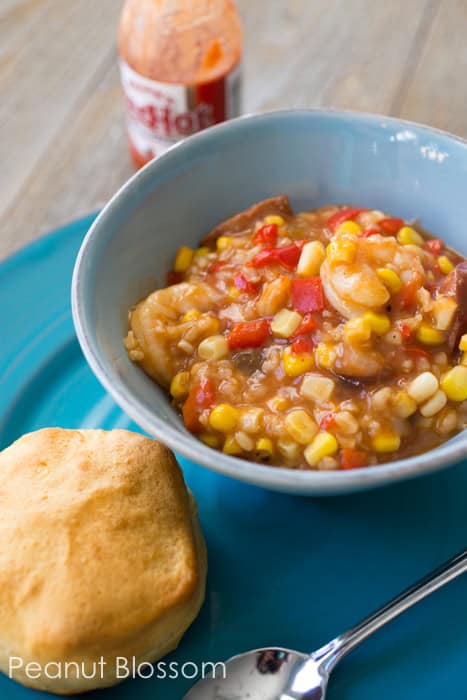 Freeze It for Later
This shrimp stew recipe freezes really well. I recommend storing it in smaller containers so you can reheat just a portion or two at a time for easy lunches or smaller dinners when you need.
Store in an airtight container in the freezer for 3 - 6 months. Let it thaw in the fridge overnight and reheat it in a saucepan over the stove over medium-low heat so you don't overcook the shrimp.
Serving Suggestions
This hearty shrimp stew is the perfect cozy dinner for a chilly night. I recommend serving it with yummy bread for dipping.
More Shrimp Recipes
Looking for more easy ways to use frozen shrimp for dinner? Don't miss these delicious shrimp recipes my family loves: