These DIY garden markers are a fun summer gardening craft to make with your kids. Use recyclable items from around the house for this adorable craft.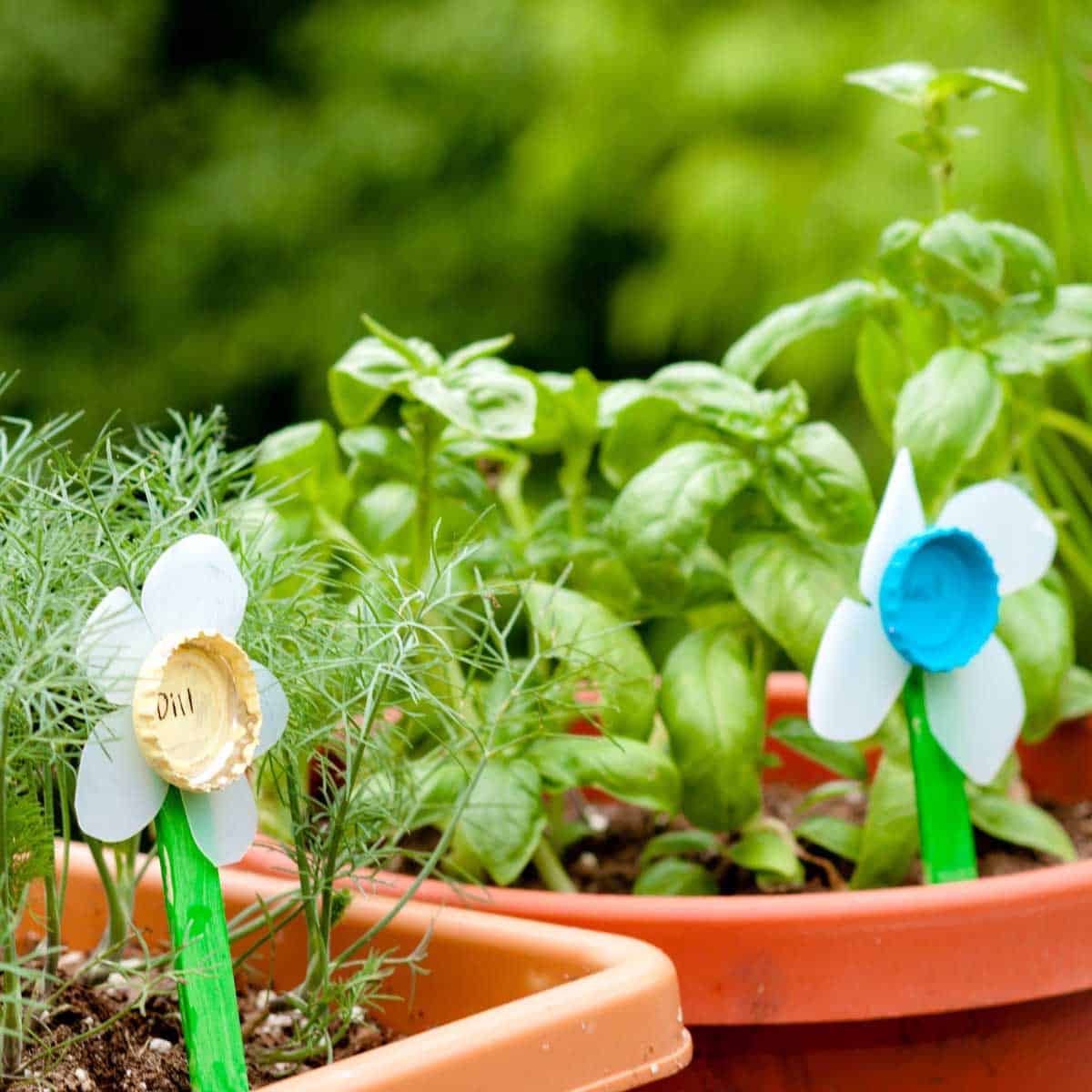 Our summer garden is installed and growing!
We hit a bump in the road when it came to the initial planned location of the garden and a last minute decision lead me to starting a container garden on our deck with the Peanut instead.
I was initially disappointed in the move, but now that we're all planted I love this new set-up.
With various flowers, vegetables, and herbs growing in tons of pots all over our deck, we needed a system for marking which plant is which.
I could have just kept the plastic tags the plants came with but we did plant a few from seed.
I thought this was the perfect opportunity to do a craft with the Peanut.
I specifically wanted little markers that were cutesy and looked like they belonged in a child's garden.
So many of the ideas I found were a little too grown up and classy looking and were out of scope of our crafty abilities.
A friend suggested we do something with bottle caps so I cobbled these flower picks together with the ideas gathered from several different samples I found online.
Supplies You Need
Metal bottle caps
Plastic milk jug
Sharp scissors
Popsicle sticks
Acrylic paint
Hot glue gun
Sharpie pen
Paint the Bottle Caps
I had the Peanut paint up the popsicle sticks and bottle caps all by herself.
There were no real instructions other than "make it colorful and happy."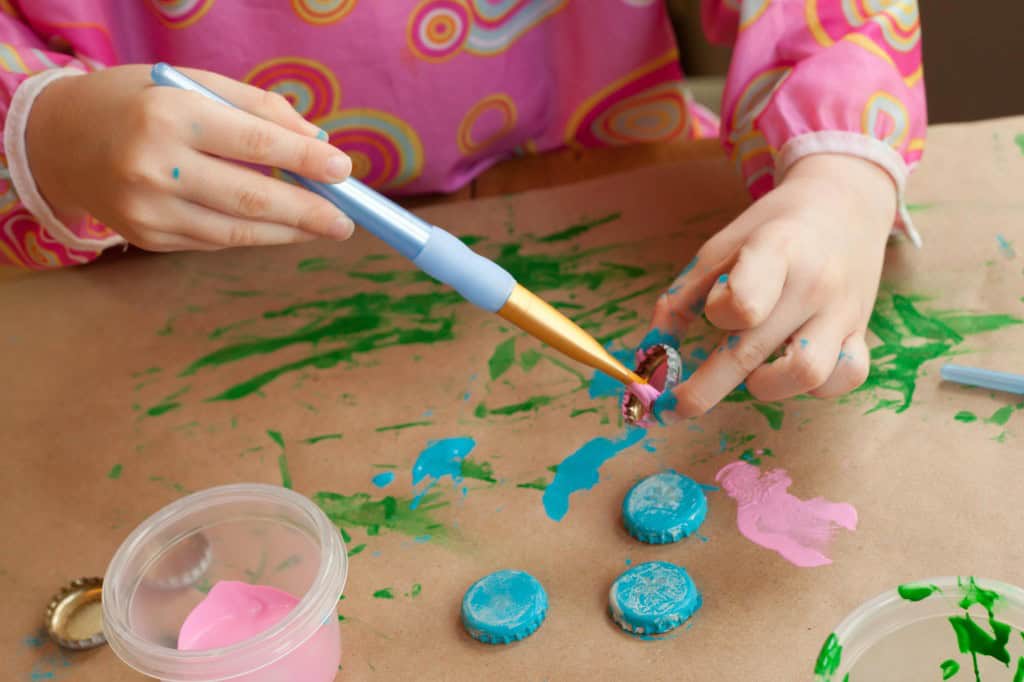 Cut the Milk Jug Flowers
I cut freeform flower shapes out of the rinsed plastic milk jug.
You could try to trace flower shapes, but the thickness of the plastic makes it tricky to cut them perfectly. I found it much easier to just wing it.
Mark the Bottle Caps
Once the paint was completely dry, I wrote the plant names on each of the bottle aps.
Assemble the Garden Markers
With all the elements prepped and ready, I used my hot glue gun to attach each bottle cap to a flower shape and then attach them to the painted popsicle sticks.
The Peanut proudly placed them in the pots. I wish I had a picture of her carrying them like a bouquet of flowers out to our garden!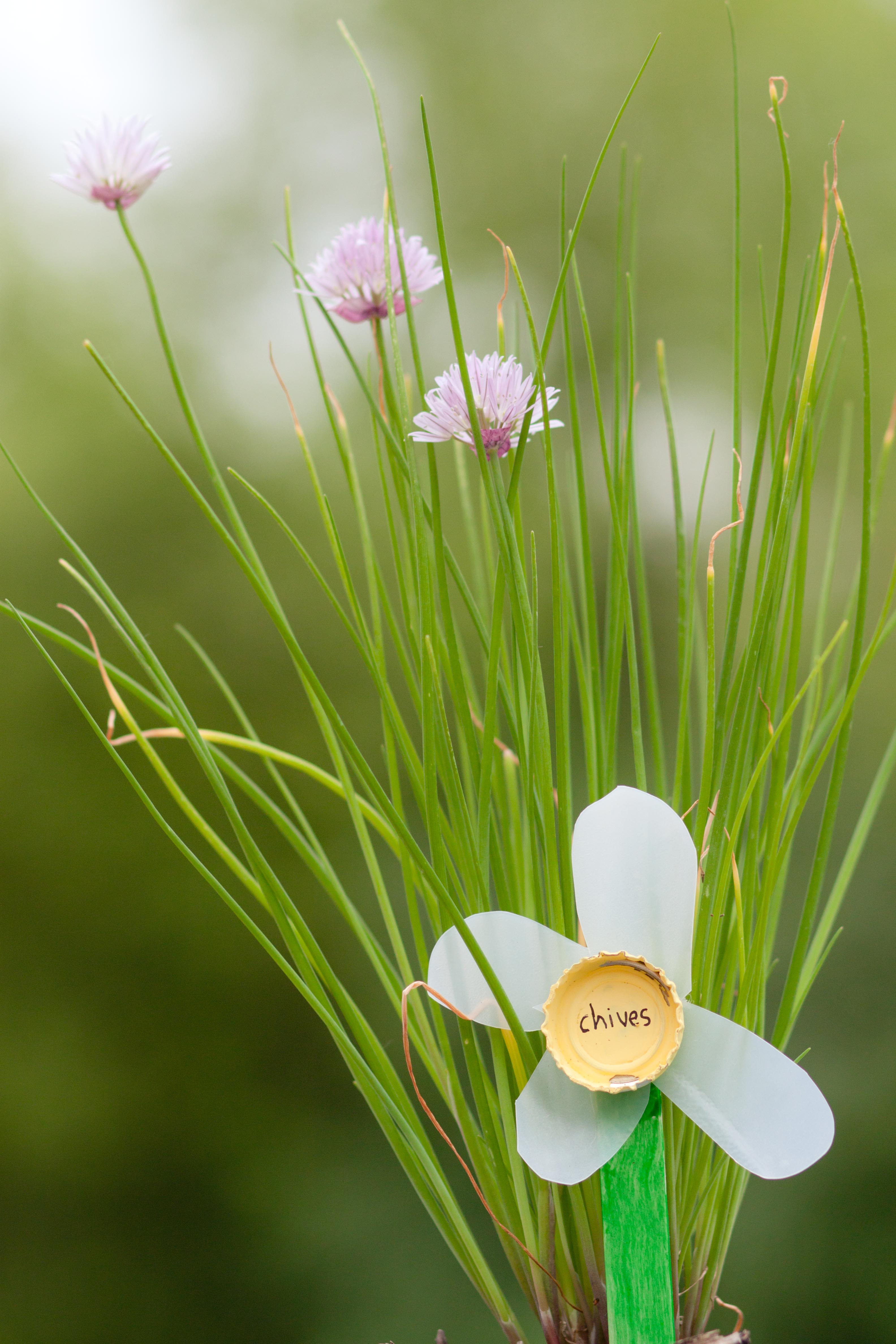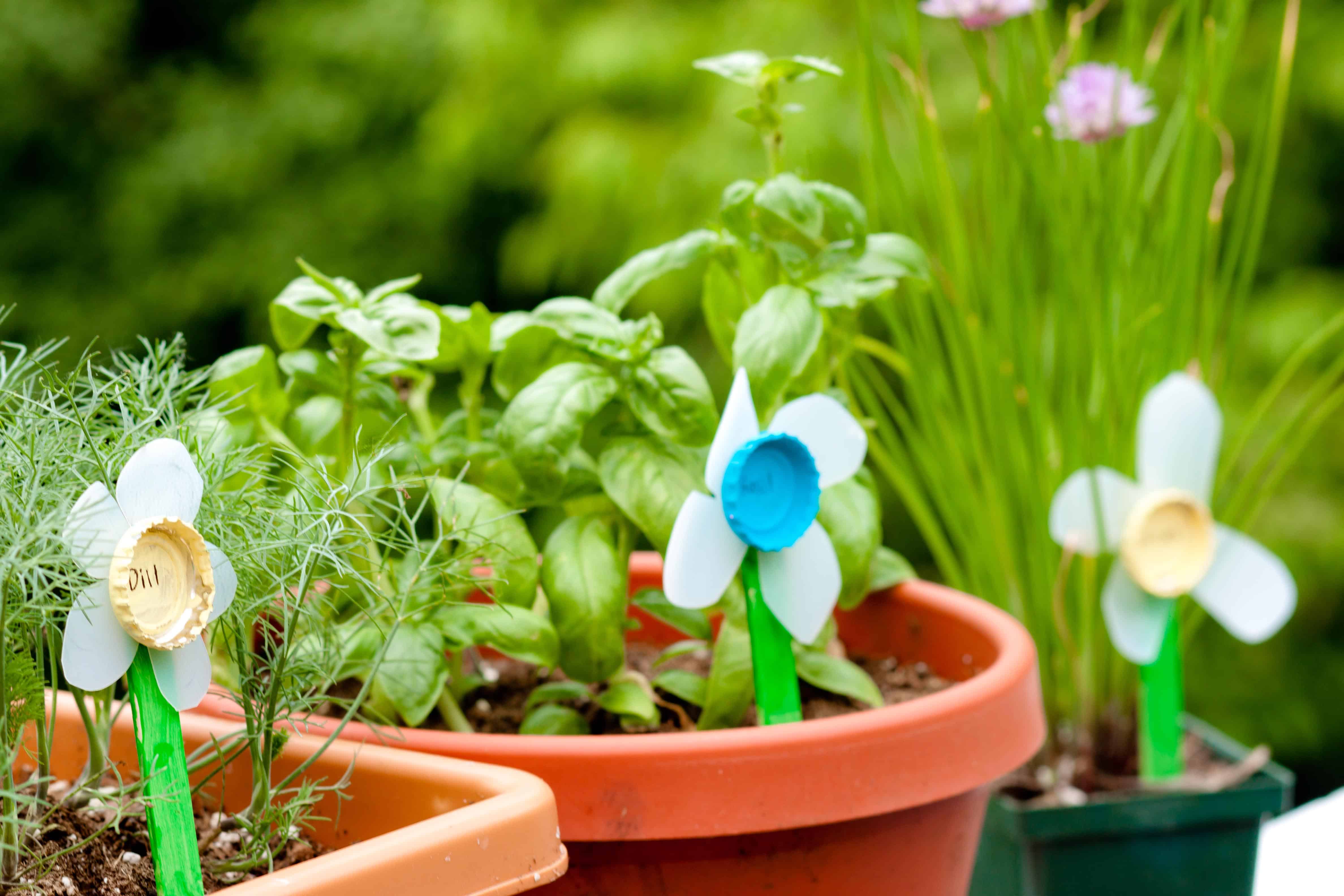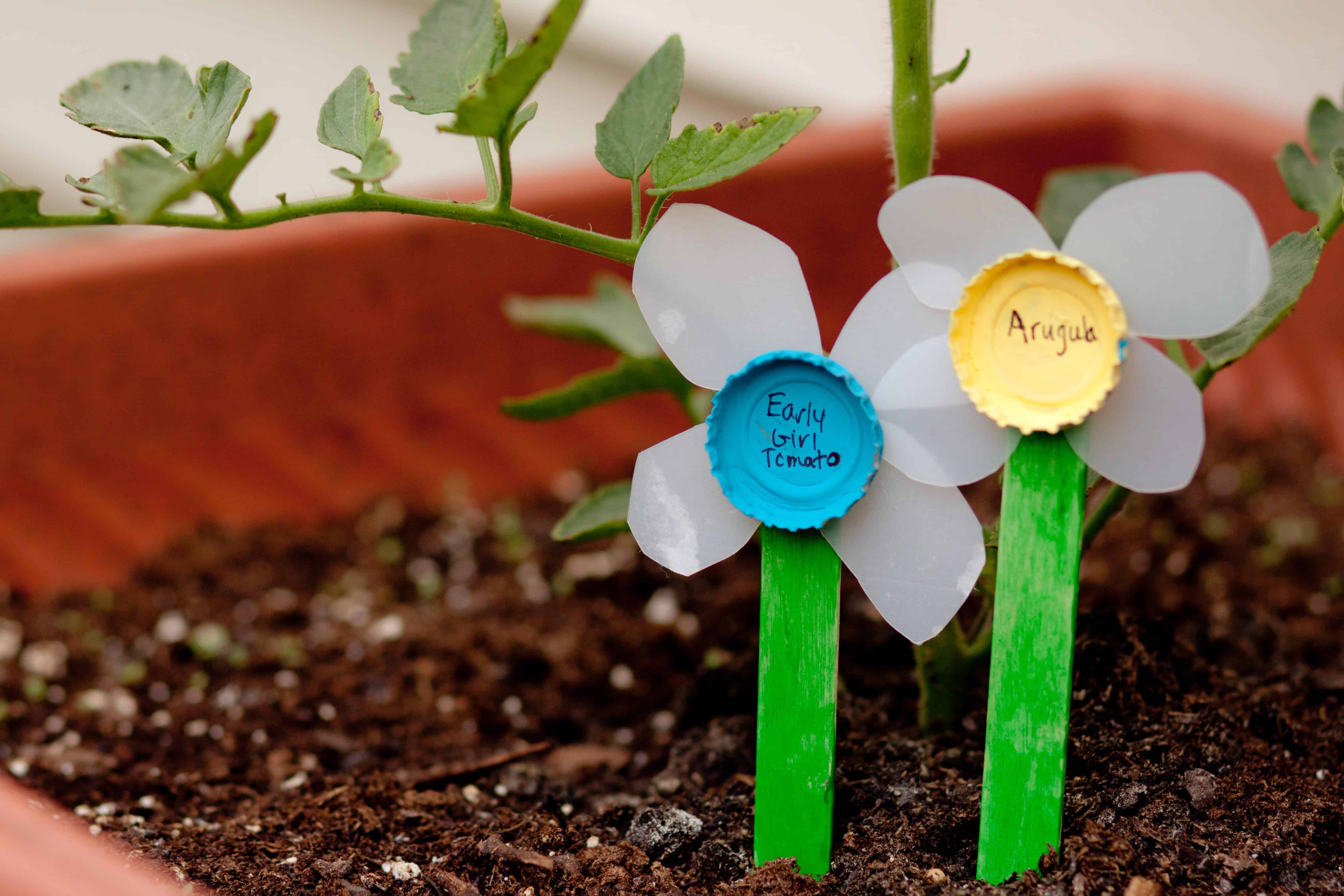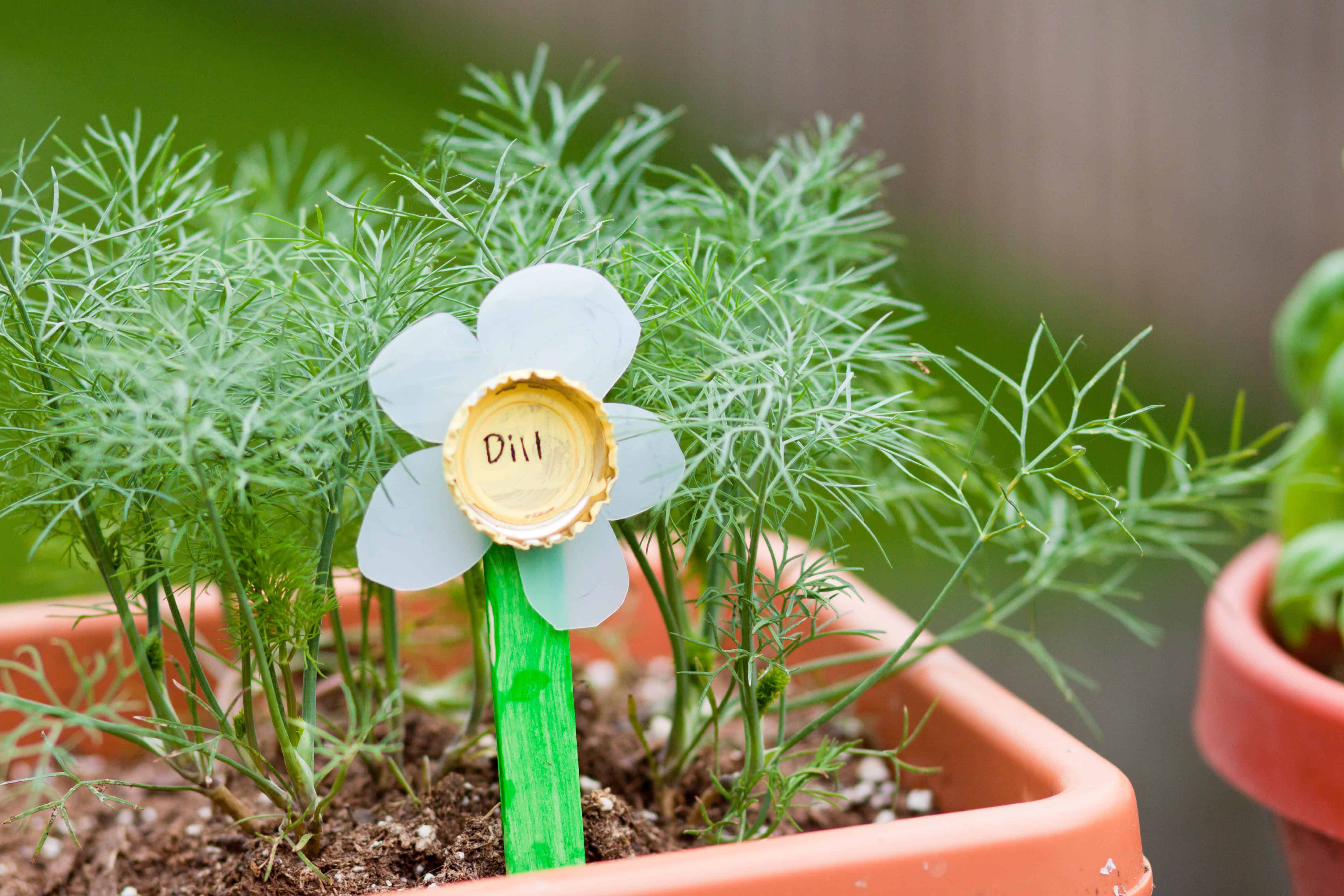 Easy Variations
We used just simple craft acrylic paints. It took two coats to get the paint to really stick to the metal bottle caps.
I had to write VERY carefully with my Sharpie pen or it would cut through the paint and chip it off.
You might have better luck trying to write the names on the stems: the wooden popsicle sticks absorbed the paint far better.
They aren't perfect and the paint may wash away in the first heavy rain, but I love how these turned out!
More Fun Gardening with Kids