Want the best book quote to use for crafting something special for Read Across America week at your kids' school? Make a custom vinyl heat transfer for decorating a personalized t-shirt for them to wear for spirit week with these fantastic book quotes.
This week is Read Across America Week and the girls' school has been celebrating with daily spirit activities for the kids. Monday was "Wear a t-shirt your classmates can READ." and I was stumped.
After the fact, I realized they probably meant something simple that just happened to have some sort of text on it. Since I am a terrible housekeeper crafting over achiever, I decided to make shirts with quotes from some of our favorite children's books using my Silhouette Cameo.
The hardest part was choosing just the right quotes!
I've been a collector of children's books since before we had kids and reading illustrated classics to the girls has been one of my very favorite things to do as a parent.
While choosing the quotes, I considered:
Would it be fun to read?
Could each girl read her own shirt?
Is the quote short enough to create with the Silhouette?
These were the winning selections.
Jump to: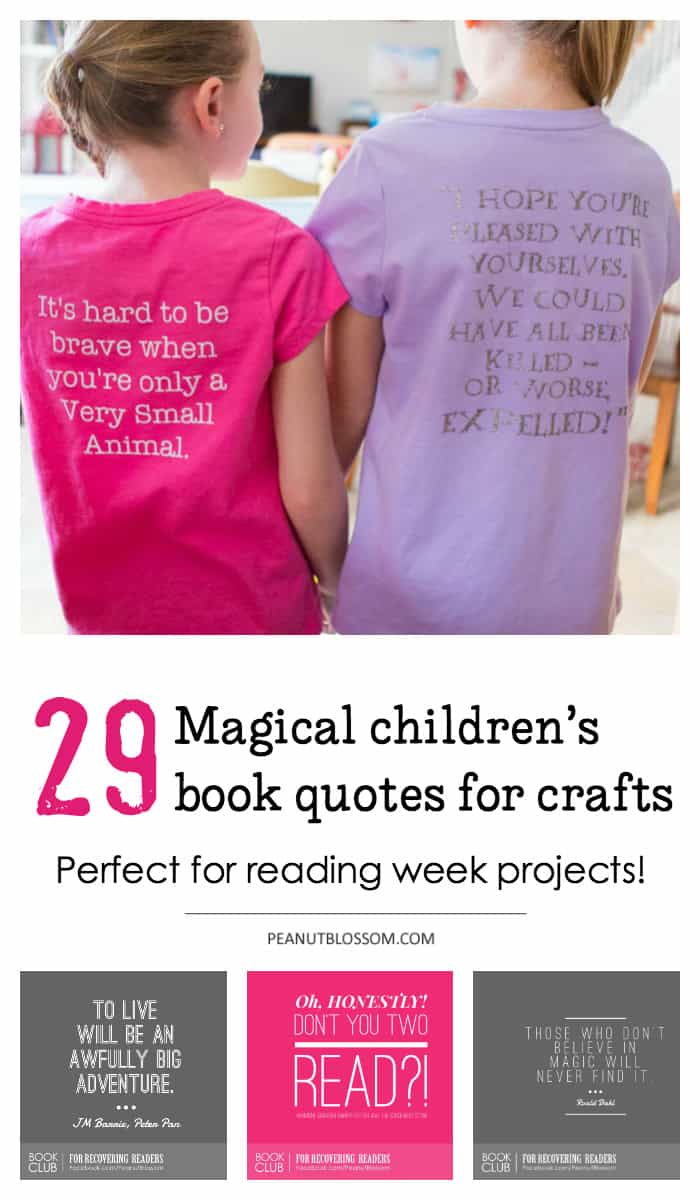 Best Classic Children's Books To Read
I'm super particular about the book editions I purchase for our family's library.
After a ton of hunting, these are the specific versions of the books I recommend that inspired the book quotes on the list:
Make Your Own Book Quote T-Shirt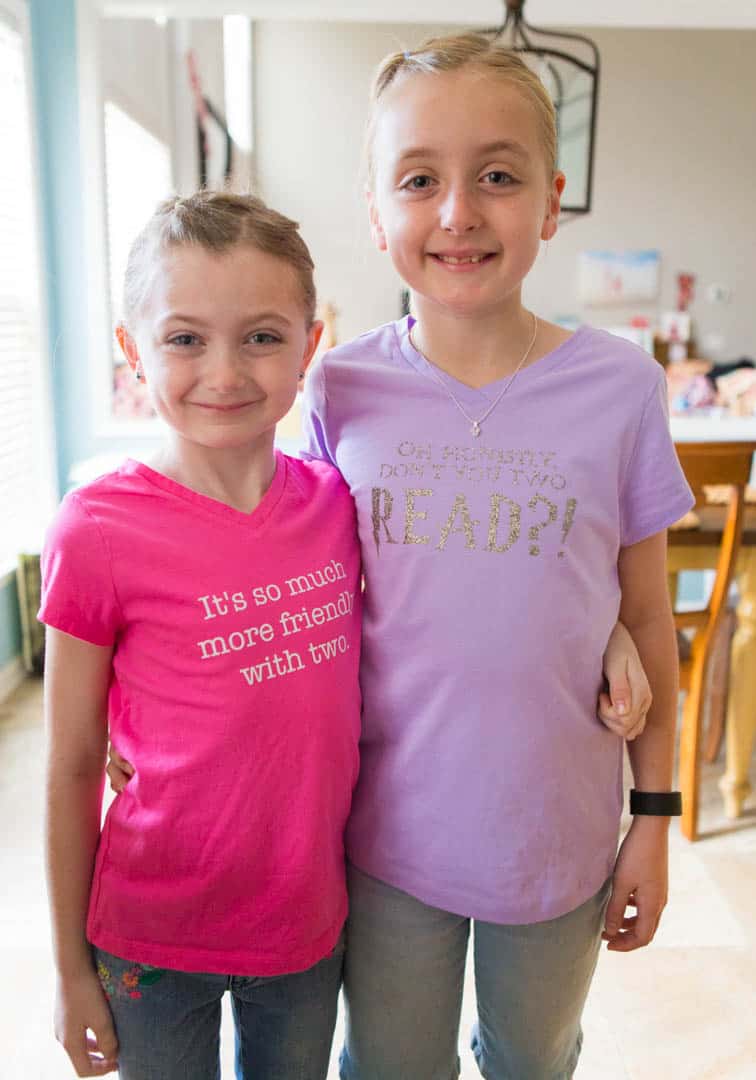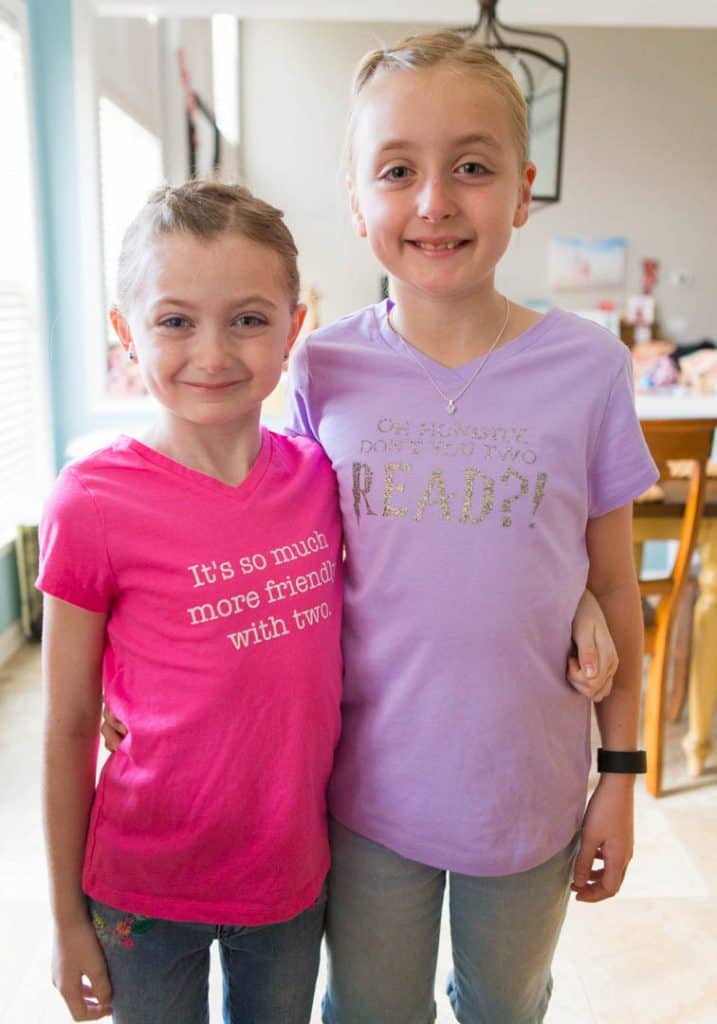 I loved being able to personalize the quotes and designs for each girl's preferences.
The Peanut got front & back quotes from Miss Hermione Granger from Harry Potter.
Little Pea sported a pink Piglet colored t-shirt with precious quotes from Winnie the Pooh.
I'm a little sad how hard it is to read the Peanut's shirt in this photo, but in person it was fantastic.
I used sparkly rainbow glittered vinyl and it looks incredible in the right light.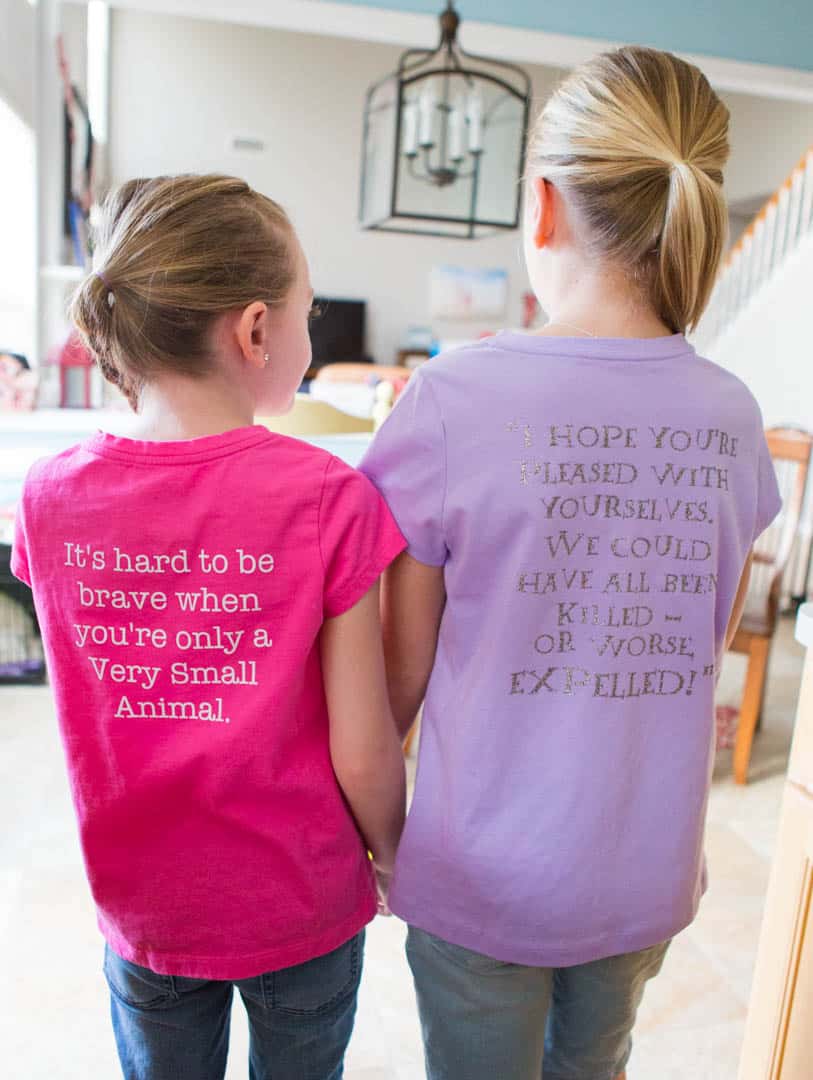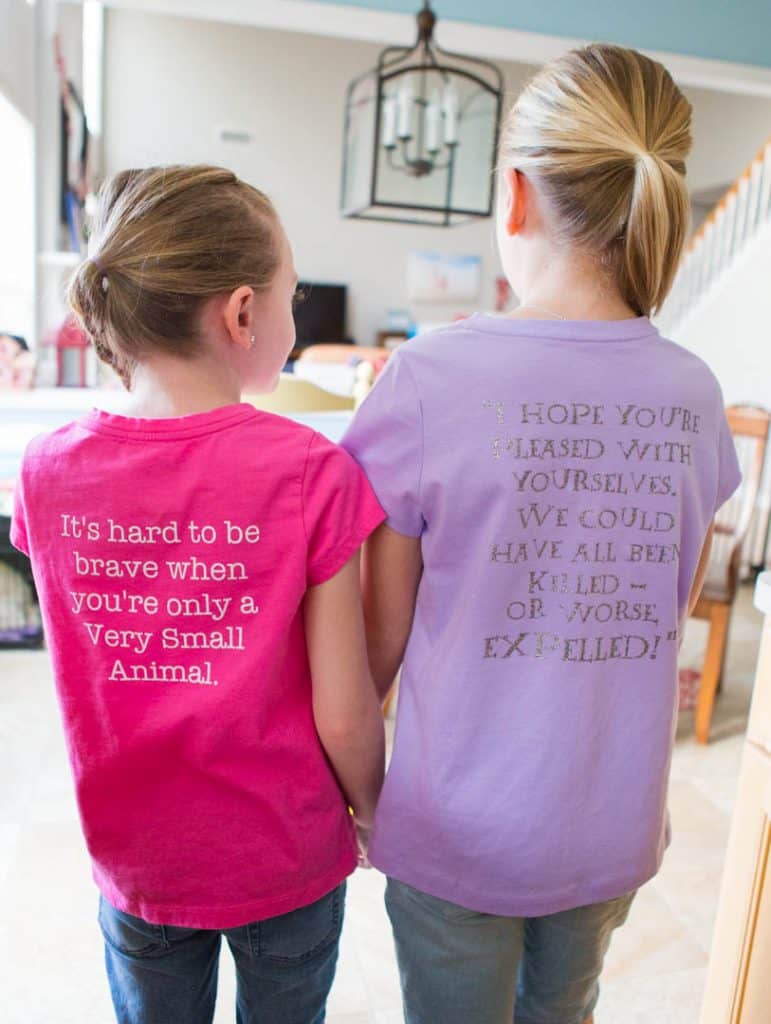 Supply List
To make a custom t-shirt for your child for reading week, here's what you need:
Plain colored t-shirt: I bought ours from Walmart but Michael's has lots of options, too.
Heat Transfer Vinyl: I used rainbow glitter on the purple shirt and white glitter on the pink shirt shown in the image above. You can find both varieties of heat transfer vinyl here.
A weeding hook to remove the excess vinyl after you've made the quote cut
An iron and an ironing board
I simply typed in the quotes myself using the Silhouette software that comes with the machine. No fancy files or design work required.
Are you new to Silhouette?
You can read my full introduction to the machine right here.
As for the quotes themselves, I am personally drawn towards all things Roald Dahl. Matilda and The BFG are just chock full of fantastic gems and I count them as two of my most favorite books ever.
I love this list of quotes because they are short enough to fit on a custom shirt.
They should easily fit on a t-shirt or tote bag or any other Reading Week project you can dream up!
Which one is your favorite?
The Best Children's Book Quotes
These are some of my favorite kids' book quotes from reading out loud to my children:
Harry Potter Quotes
Oh, HONESTLY! Don't you two read?! - Hermione Granger
I hope you're pleased with yourselves. We could all have been killed - or worse, expelled. - Hermione Granger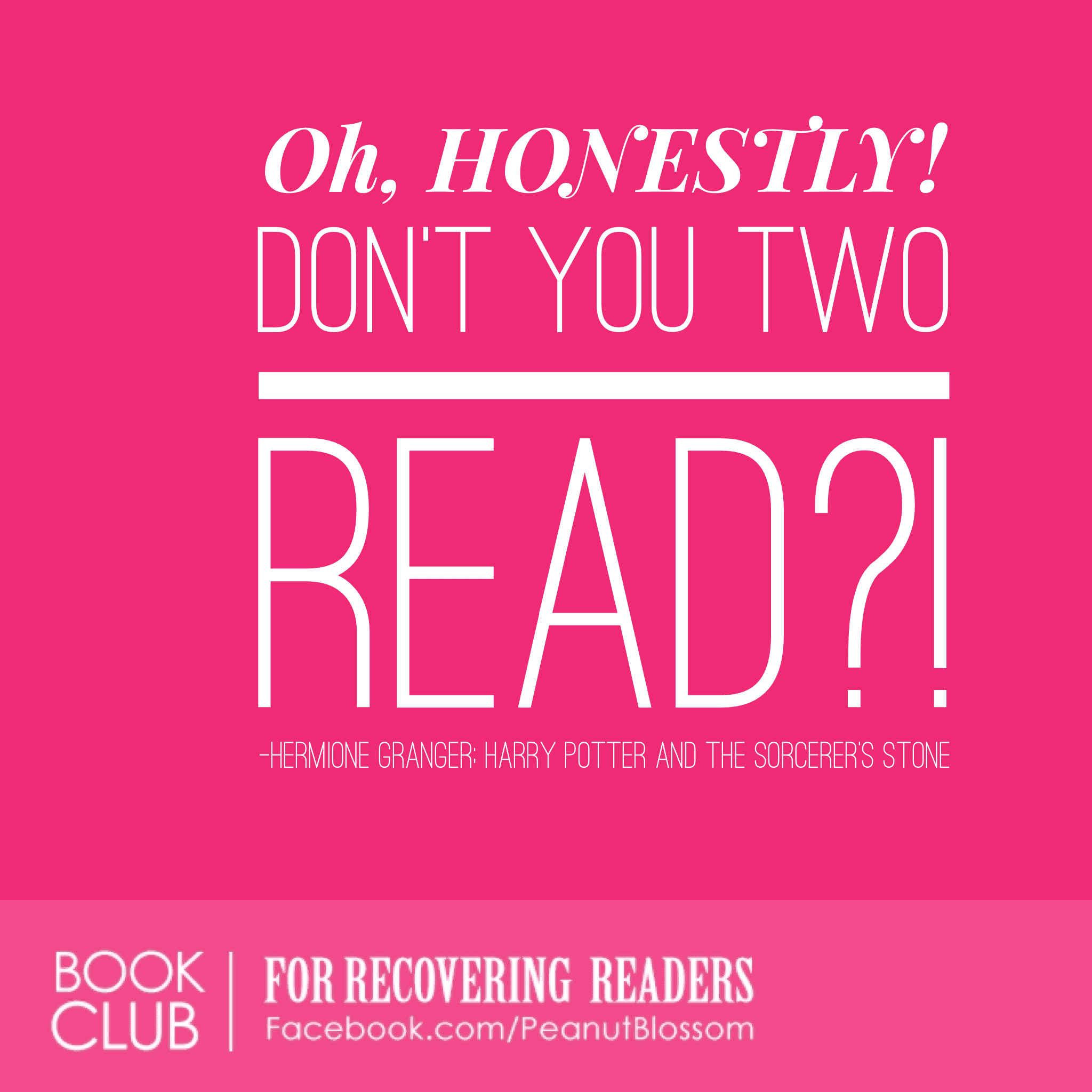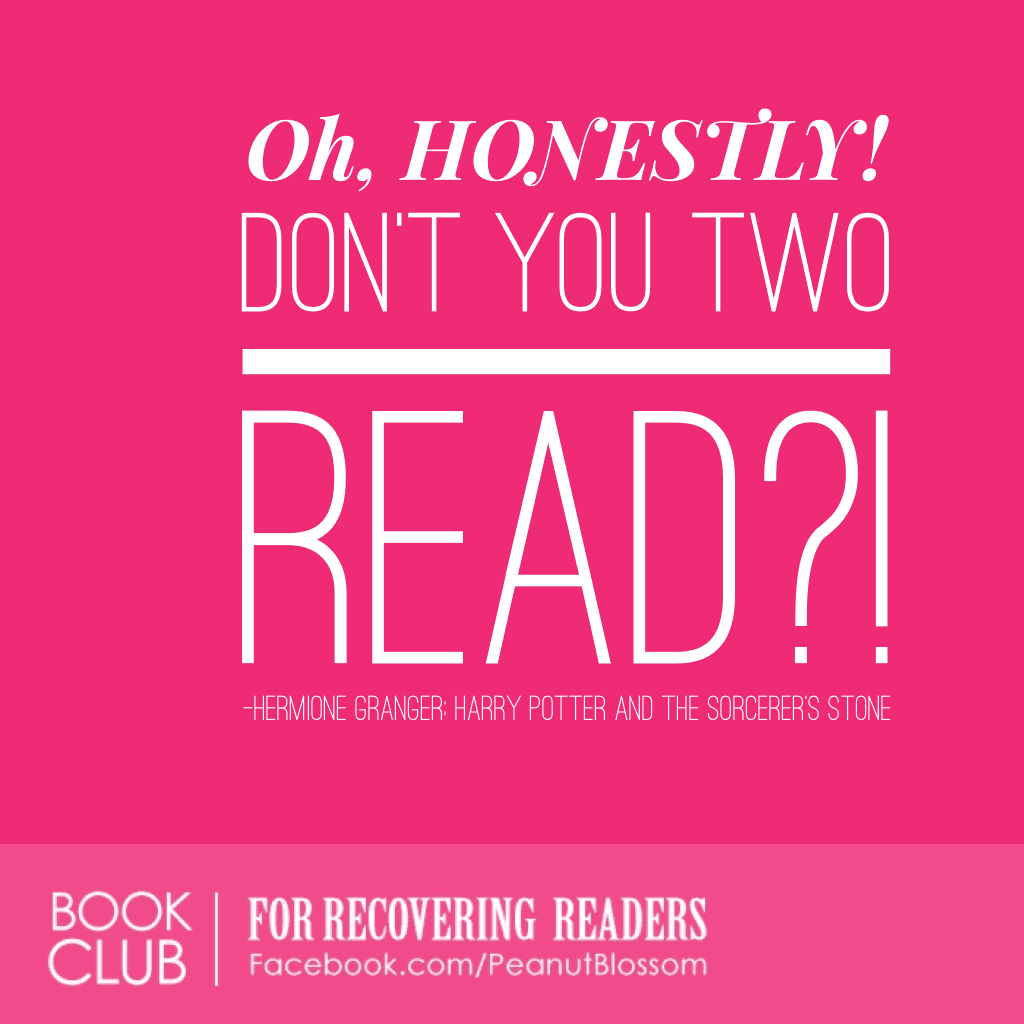 Roald Dahl Quotes
Those who don't believe in magic will never find it. - Roald Dahl
If you are going to get anywhere in life you have to read a lot of books. - Roald Dahl
The BFG Quotes
Don't gobble funk around with words. - Roald Dahl
Two rights don't equal a left. - Roald Dahl
Matilda Quotes
Don't worry about the bits you can't understand. Sit back and allow the words to wash around you, like music.- Roald Dahl
Sometimes Matilda longed for a friend, someone like the kind, courageous people in her books. - Roald Dahl
The books transported her into new worlds and introduced her to amazing people who lived exciting lives. - Roald Dahl
The books gave Matilda a comforting message: You are not alone. - Roald Dahl
So Matilda's strong young mind continued to grow, nurtured by the voices of all those authors who had sent their books out into the world like ships on the sea. - Roald Dahl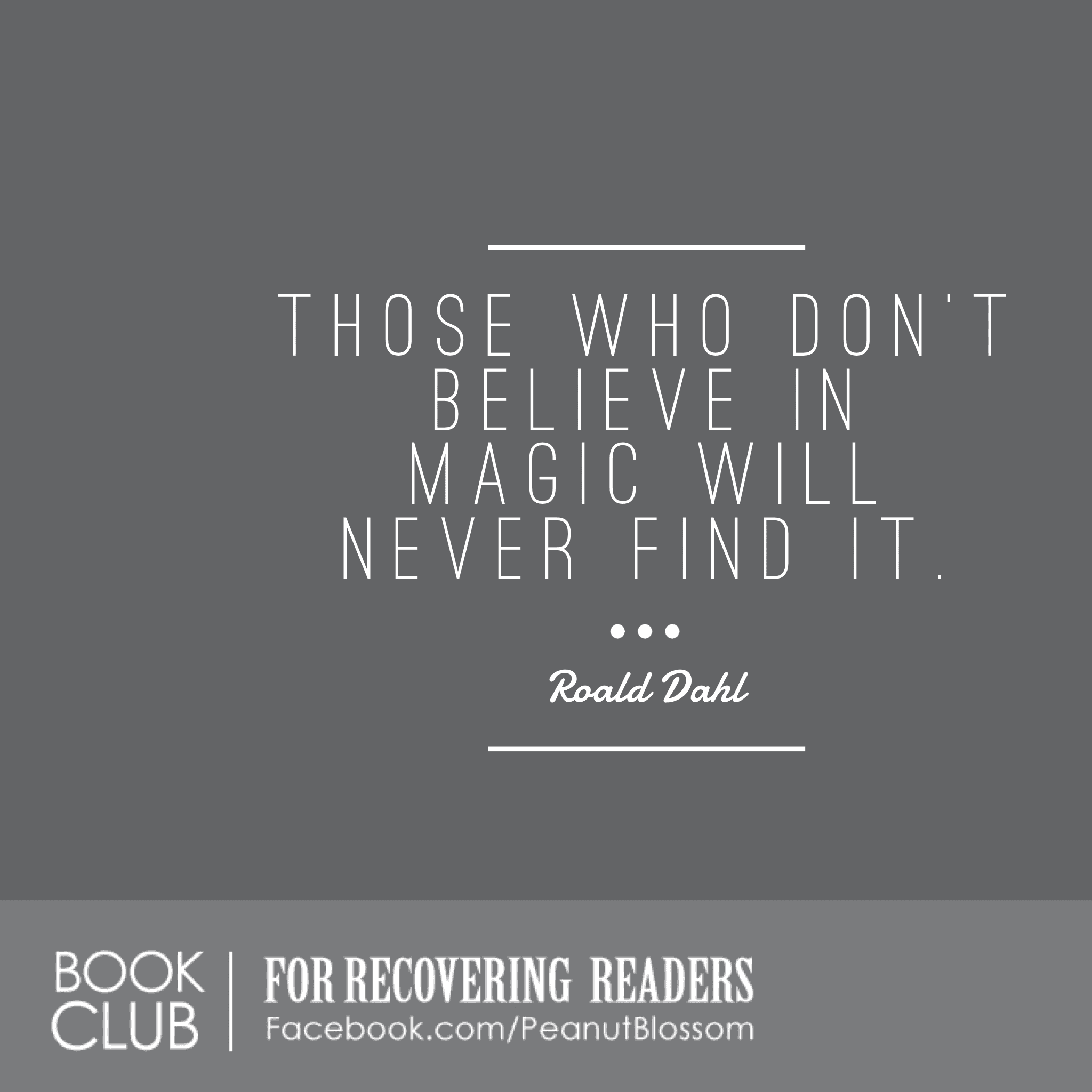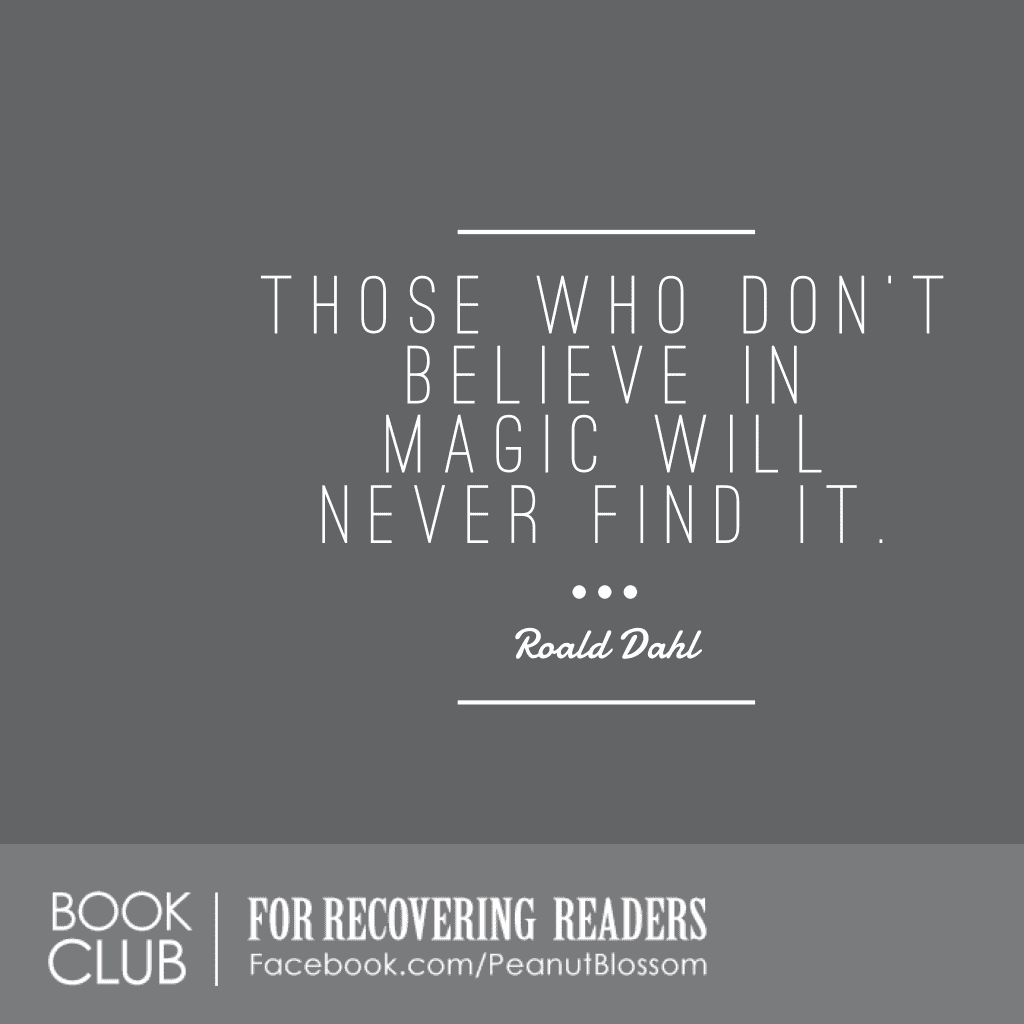 Winnie the Pooh Quotes
It is so much more friendly with two. - Piglet
It is hard to be brave when you're only a Very Small Animal. - Piglet
Whenever there comes a day when we can't be together, keep me in your heart, I'll stay there forever. - Winnie the Pooh
The Lion, The Witch, and The Wardrobe Quotes
Some day you will be old enough to start reading fairy tales again. - C.S. Lewis
They Open A Door And Enter A World.
Once a King in Narnia, always a King in Narnia.
'This must be a simply enormous wardrobe!' thought Lucy.
Alice in Wonderland Quotes
Why, sometimes I've believed as many as six impossible things before breakfast.
Curiouser and curiouser!
Have I gone mad?
I'm afraid so, but let me tell you something, the best people usually are.
I knew who I was this morning, but I've changed a few times since then.
The Little Prince Quotes
The most beautiful things in the world cannot be seen or touched, they are felt with the heart.
All grown-ups were once children... but only few of them remember it.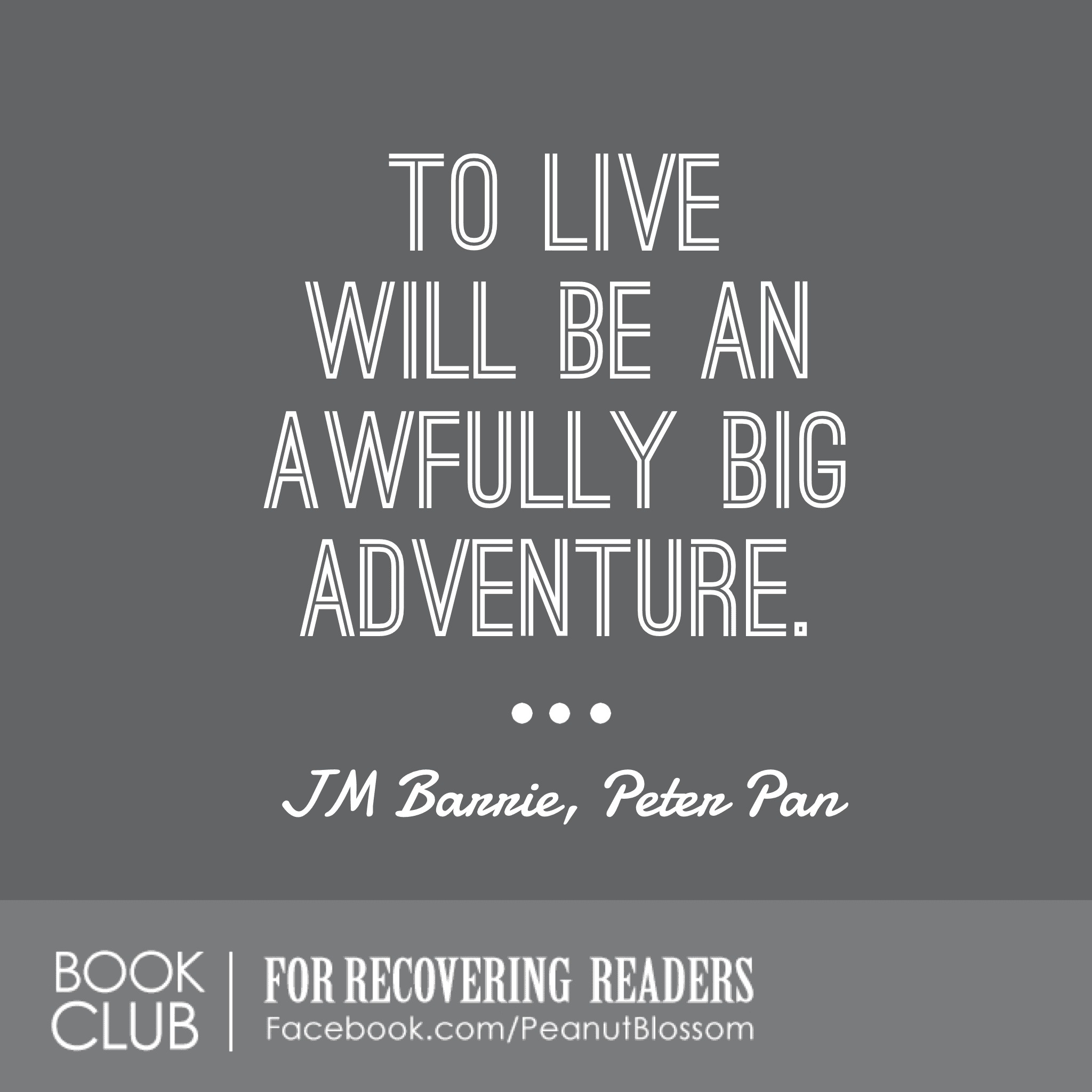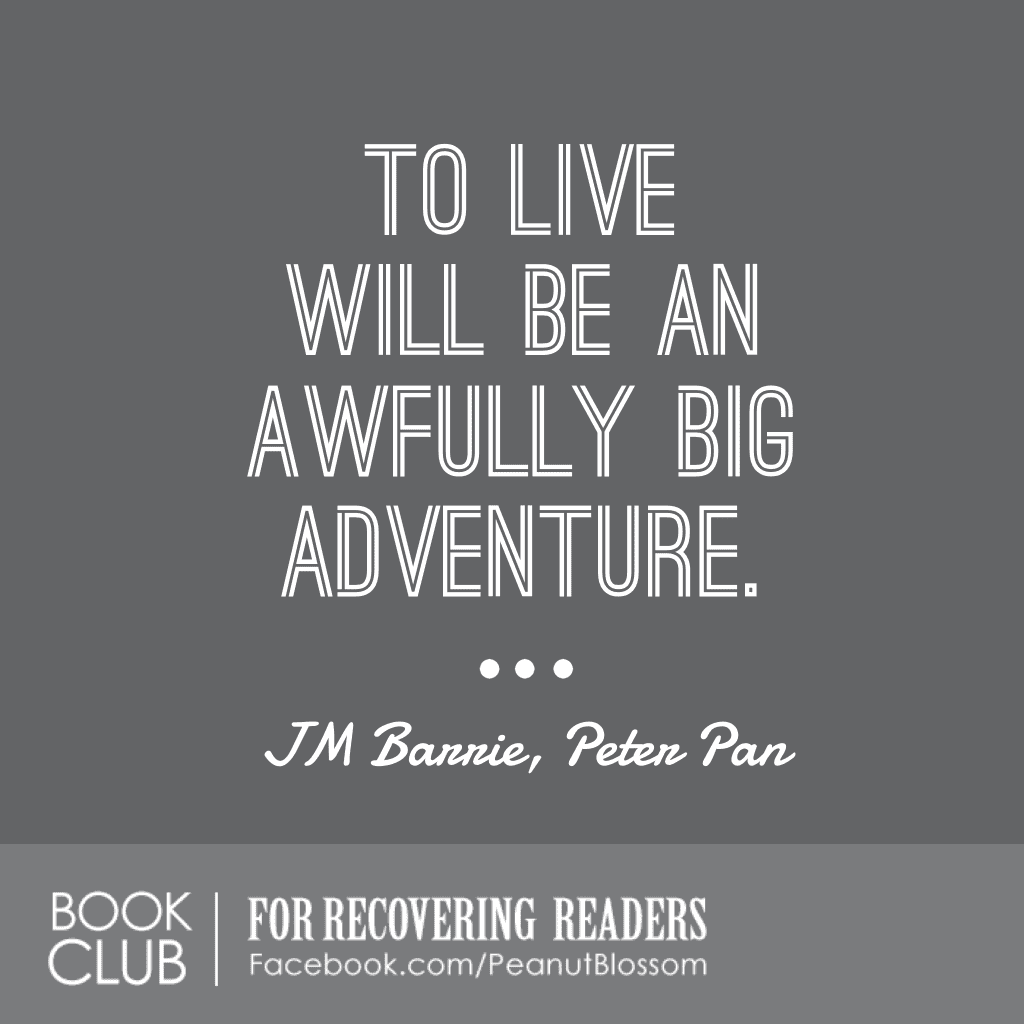 Peter Pan Quotes
To live will be an awfully big adventure.
Second star to the right and straight on 'til morning.
Never is an awfully long time.
The moment you doubt whether you can fly, you cease for ever to be able to do it.
All children, except one, grow up.
More Great Books to Read With Kids