12 best audiobooks for families on road trips: books you will love just as much as your kids. Keep the peace and avoid losing your sanity, these fun audiobooks for kids will entertain even the adults when you're spending long hours in the car together.
If you love traveling with your family, don't miss our favorite travel tips on Don't Just Fly.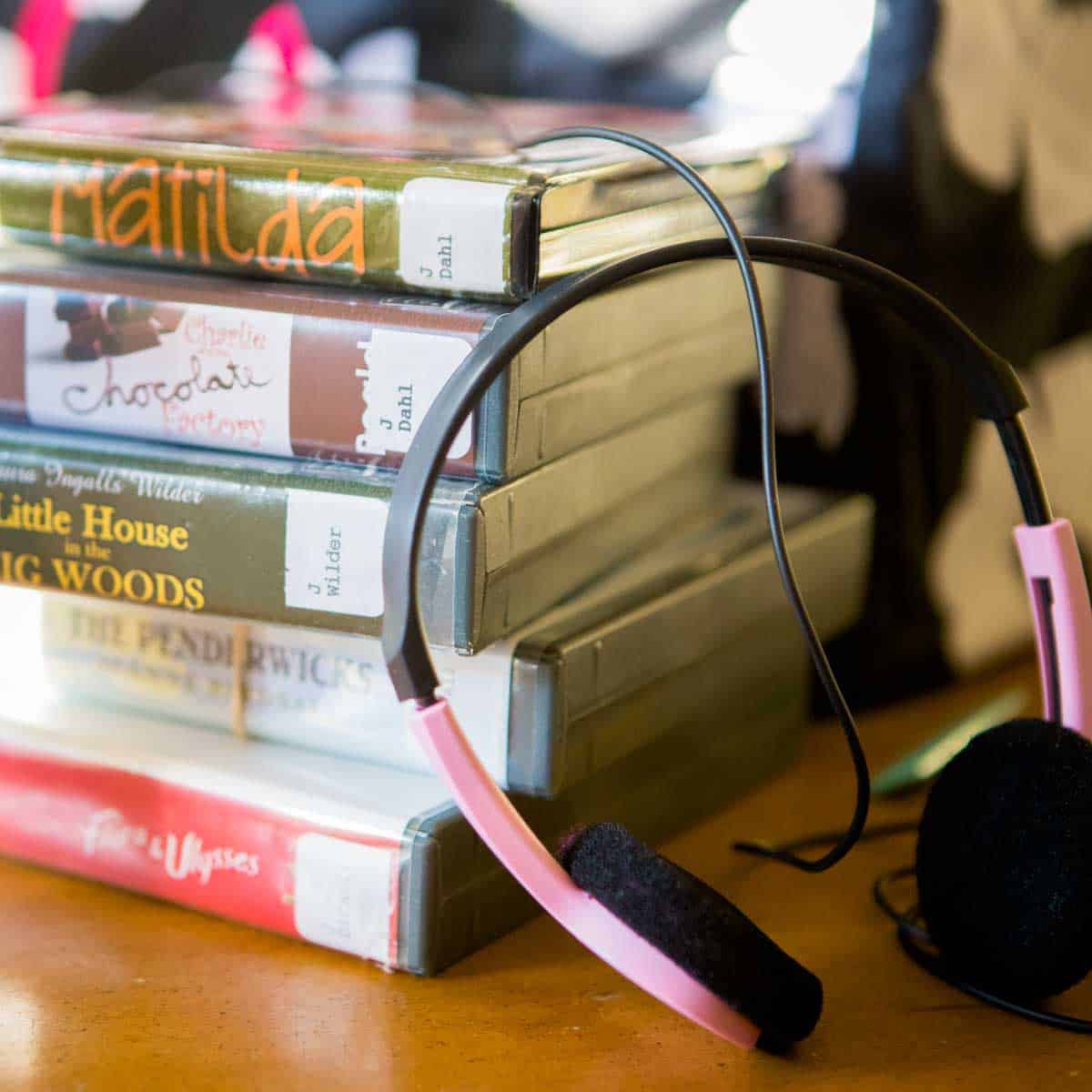 The girls and I are in the middle of a 3 week road trip where we are spending 46+ hours in the car together. I realized right before we left that after months' of planning this adventure, all my stress and Type A super powers were channeled into a complete obsession over how to keep everyone entertained during the car ride.
My girls get car sick fairly easy so the classic parent fall back of plugging them into a tablet with headphones and a movie was not an option for us. I'm actually not upset by this because:
It means that I don't have to hear them begging for tablet time for hours on end. They don't even want it while we're in the car.
I feel that it is important to LOOK OUT THE WINDOW. That's what travel is about--the journey! I think kids' imaginations are activated from the boredom of staring out a window. I want them to see the changing countryside. I want them to see road side signs. I want them to get excited about seeing cows and horses in the pastures. I want them to look at where we are going.
But this also means that I could very easily fall victim to an insane level of "Are we there yet??" So this trip, we're trying a fairly new thing to us: audiobooks.
I spent WEEKS researching reviews and trying to figure out the best audiobooks for families on road trips, ones that I would love just as much as the kids. I also needed the best way to listen to audiobooks with the kids for the ride. Audio books can be ridiculously expensive and I didn't want to go broke filling up 46+ hours of drive time.
I found the perfect work around by sourcing our audiobooks from three separate places:
Audible.com: This is the easiest place to find, purchase, and listen to audiobooks. They have the best and most comprehensive library of options. A monthly subscription gives you 1 credit per month which equals about one book. (Some are worth 2 credits.) But at $14.99/mo, that really adds up quickly if you need as many books as we do. Audible frequently does promotions and I was lucky enough to catch one at the beginning of summer that was 99 cents/mo for 2 months. I signed up and saved my credits so that I had 2 months at 99 cents and one month at $14.99 giving me 3 credits total.
Our library: I waited until the last possible minute to get some audiobooks on CD from our library which has a 3-week borrowing period. We'll be gone longer than the 3 weeks we have them so I'll have to renew them via my online access to the library account or face possible late fees. (Which should still be far cheaper than purchasing on Audible.)
Hoopla app: I noticed our library has partnered with Hoopla for audiobooks and video content for kids. I was able to find several titles on Hoopla that our library didn't have in stock. Hoopla also has a 3-week rental period but then the content is simply removed from your account. I created a wishlist with the final few titles I wanted so that I can wait to download them until we are ready to listen to them.
NOTE: I was hesitant to rely solely on digital versions of the audiobooks in case we ended up with a pile of gadgets that ran out of battery. I loved knowing I had a few copies on CD to pop into the player in a pinch.
Looking at those three sources, I balanced the audiobooks we wanted to read by where I could get them the easiest. There were a few titles our library and Hoopla didn't have so those were the ones I purchased via Audible.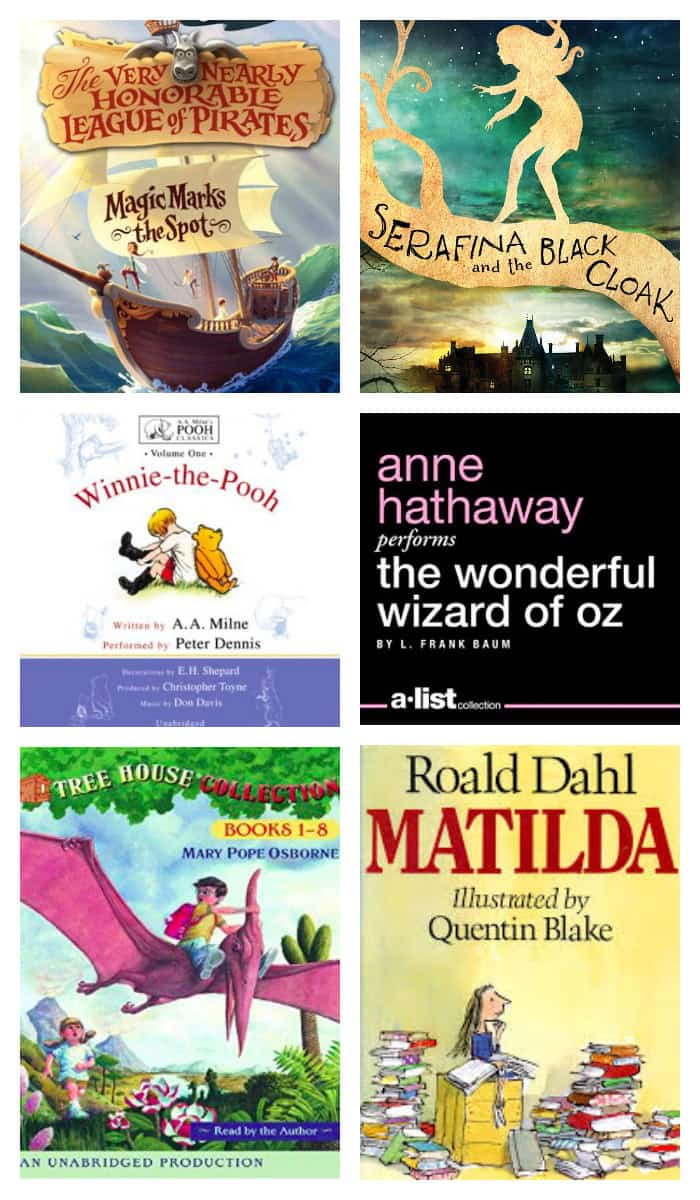 The 12 best audiobooks for families, a road trip playlist for everyone:
Note: Many of these are new to us and I will update this post with reviews as we listen to them!
From Audible:
Magic Marks the Spot: The Peanut started this book in paperback and I confess to being a little bit jealous. The intro sounded like fun! She only got a couple chapters in so we decided to listen to it together instead. We started listening to it during our latest stretch of drive and it is definitely living up to my expectations so far. I have laughed out loud many times and the plot holds my attention while driving.
Update: We finished it and the whole family enjoyed the tale. The vocabulary was a bit over the kids' heads but that's what made it fun for the adults. Definitely curious about the follow up books in the series!
The Collected Stories of Winnie-the-Pooh: Little Pea is obsessed with Pooh right now. We've read the book together in the evenings but it just never gets old. Knowing how much she loves these tales, I grabbed the collected works for the trip so she has something to listen to if she isn't interested in the selection that the Peanut and I are listening to. I have it ready to go on a tablet with headphones just in case.
Magic Tree House Collection, Books 1 - 8: This is the 2nd collection of stories I have just for Little Pea. I packed a paper version of the first Harry Potter book that I've been reading out loud to the Peanut. When we need some time to sneak in a chapter at the hotel room, Little Pea can be listening to Magic Tree House on her own.
Serafina and the Black Cloak: This story takes place at the Biltmore Manor in Asheville, NC, one of my favorite places to visit. The description has me wondering if it is maybe a bit too scary and dark for my girls right now but I couldn't help adding it to the list knowing I will listen to it after the trip is over if they decide it is too much. This title was on sale for $4.99 because Audible was having a promotion for the narrator and all the titles in their library she has done.
Update: I previewed this at bedtime with earphones during our first evening in a hotel after the girls were tucked into bed. It is far too intense of a story for my 6 & 9 year olds and would be more appropriate for 12 and up.
The Wizard of Oz: Our version is narrated by Anne Hathaway, one of my favorite actresses. Because I had a copy of the book on my Kindle already, Amazon gave me the option to download this title for just 99 cents. What a steal!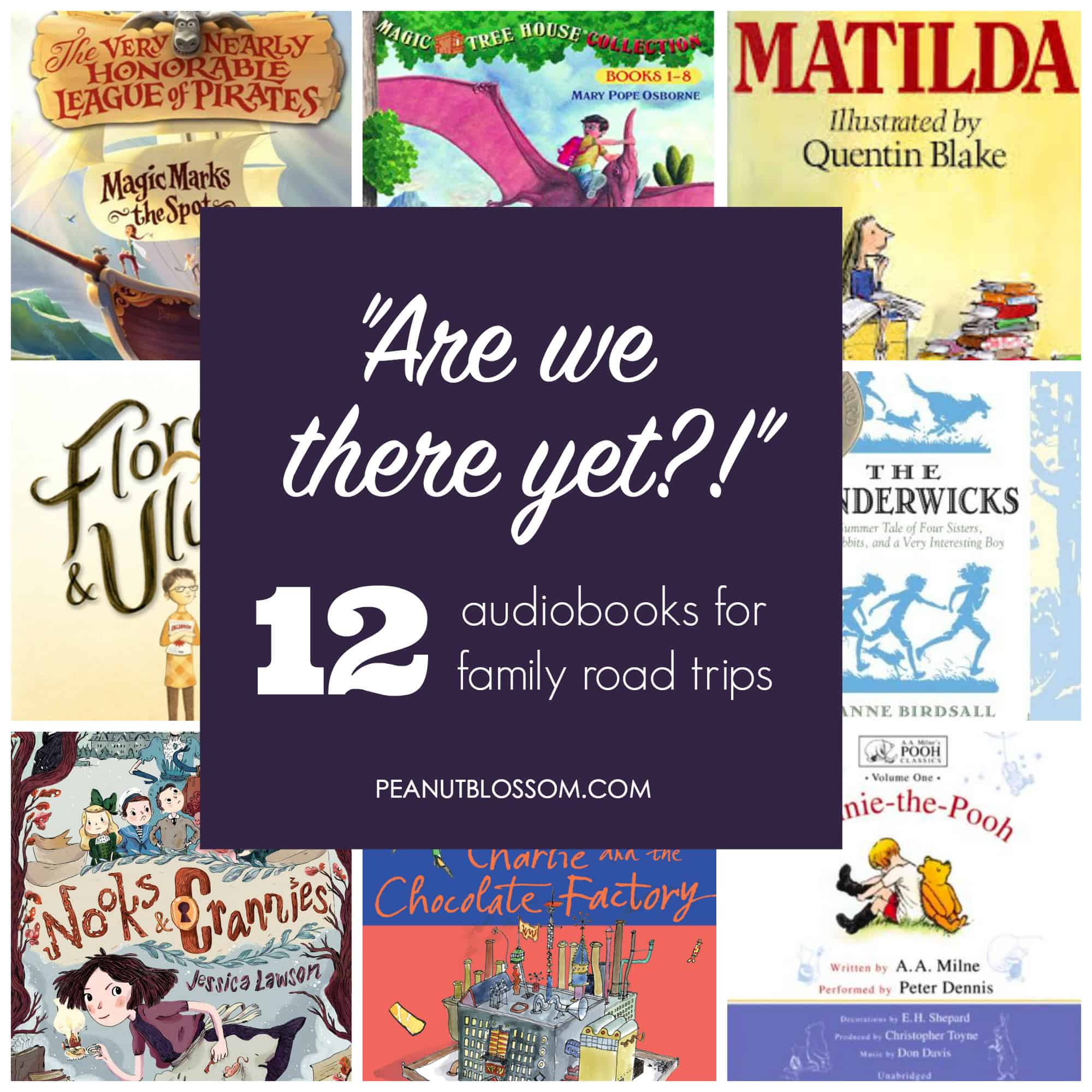 From the Library:
Matilda: Roald Dahl is one of my all time favorite authors and Matilda is one of my favorite books. I read it out loud to the Peanut years ago and it is time to finally introduce it to Little Pea. It is narrated by Kate Winslet and will be the very first book I play. I. Can't. Wait.
Update: We listened to Matilda first after we departed Charlotte. We easily finished it on the first leg of our drive. It is an amazing narration, a fantastic story, but my attention wavered towards the end. I still highly recommend it especially if you are unfamiliar with the story.
Charlie & The Chocolate Factory: Another great pick by Dahl that I've already read to the Peanut. Little Pea has seen the classic movie and I just knew this would be an easy choice for our ride.
The Penderwicks: Audible recommended this title based on the other books I had been looking at for this trip. The description sounds lovely and it is very highly rated. Getting it free from the library meant I was willing to take the chance on an unknown title!
Little House in the Big Woods: Since we'll be driving right through Wisconsin and Minnesota, a classic Laura Ingalls Wilder pick was an obvious choice. I haven't heard these stories since I was little, this should definitely be fun.
Flora & Ulysses: This book came highly recommended from Zina's "Books your 8 year old won't be able to put down" list from June. I was tickled pink to find it on audio from the library. She's warned me to hold off on it until we are really and truly sick of the car because it will be the perfect pick-me-up.
Update: This was the first full book we listened to once Tim joined our drive. I have a feeling the story was a little above both girls' right now but they still really enjoyed "the squirrel story." It is funny and dramatic in just the right ways to catch your attention while you're driving along.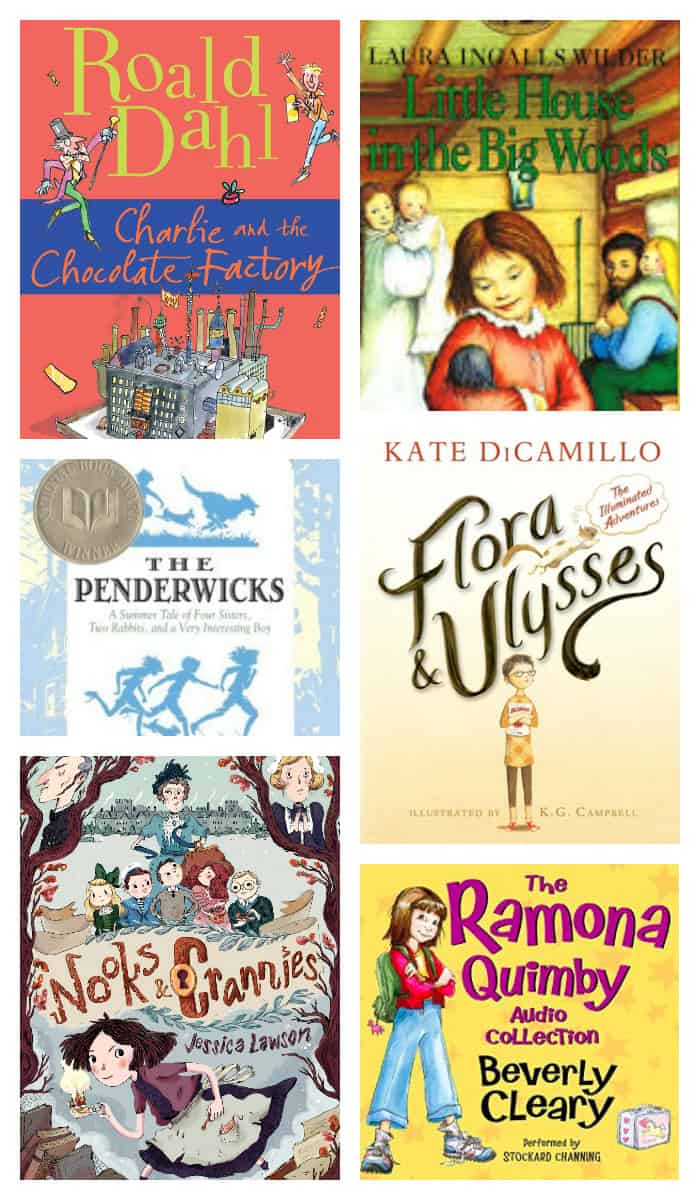 From Hoopla:
Ramona Quimby Collection: Who doesn't love Ramona?? The complete unabridged collection of her stories was a great pick to help pad out the long hours we'll be in the car. I'm holding off on this one until towards the end of the trip but I know it will be a sure hit with both girls.
Nooks and Crannies: Audible also recommended this title based on my history. It's a nice lengthy book and sounds very intriguing. I was thrilled to find it on Hoopla and can't wait to dig in.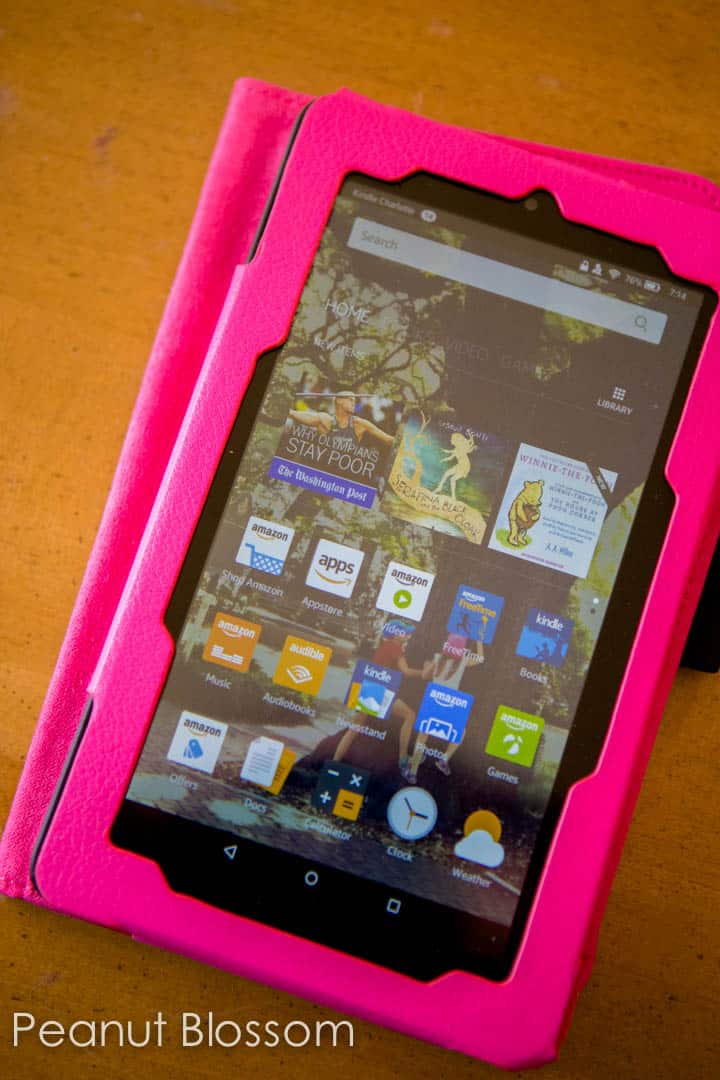 How we listen to audiobooks in the car:
I downloaded the Audible app to my phone so I have access to our entire library on the go. You need to be connected via Wi-Fi in order to download a title to your device so it is best to plan ahead before departure.
We are also traveling with a pair of Kindle Fire tablets I purchased for our trip as part of their Prime Day promotion. The Kindle Fire arrived with Audible already in place which made it extremely easy to access my account. I loaded each tablet with a different book so that we could connect them to my car stereo system if my phone causes trouble at some point.
Having back up books for Little Pea on the tablet also allows us to hook her up with a private pair of headphones if she wants to listen to something different. We've used this both in the car and in the hotel room at night while I read Harry Potter out loud to the Peanut.

P.S. You won't want to miss the Ultimate packing list for family road trips here.