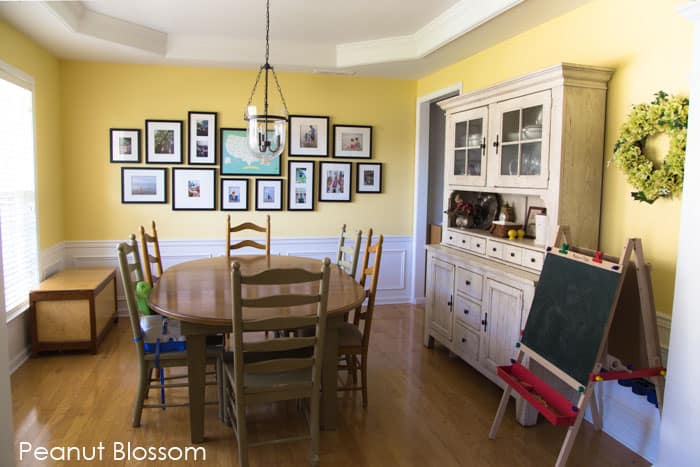 For several years the wall gallery above our fireplace was my pride and joy. I've written about it several times since I first hung it and it is featured in almost all of my seasonal decor posts in some way or another. When we moved last summer, I accidentally broke one and I was Heartbroken.
I looked online for a replacement and was downright giddy to discover that the product has been improved and relaunched under new ownership. I contacted Mary Ann at Change of Art and told her what a fanatical lover of these frames I am and was giddy when she agreed to help me design a new gallery for our dining room in the new house.
Since travel has become such a big priority for our family now that our girls are older, I really wanted a place to display photos from our trips. I found this awesome print of the map of the US and wanted to use it as a centerpiece for the gallery. Mary Ann proposed the layout you see above, all that's missing is one last piece of flair that will be mounted above the map when I find just the right object. Since I'm fickle, that may be a while.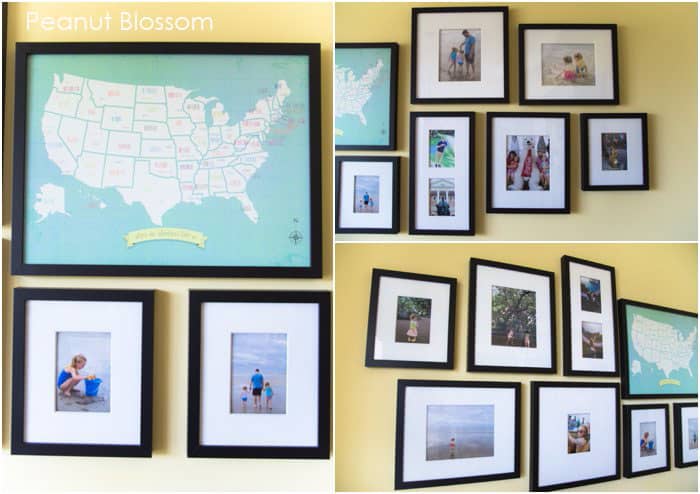 There are two main features that make these frames stand out leaps and bounds above the rest:
1. The Ease of Hanging Them:
Oh My Gosh. It could NOT be easier. Each frame comes with a printed template that shows you precisely where to nail the hanger. You tape up the guides, adjust them as needed, and nail that puppy into place. The hangers are these sturdy plastic button things that hook into the back of each frame.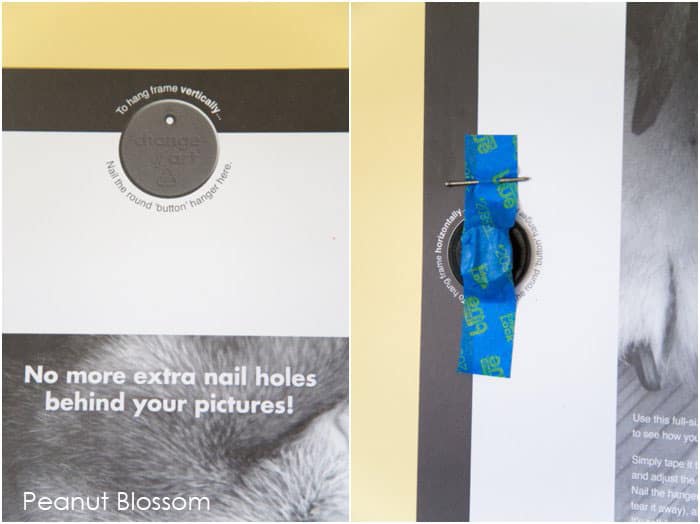 Here's my gallery of templates hanging. You can see I've nailed in some of the hangers already: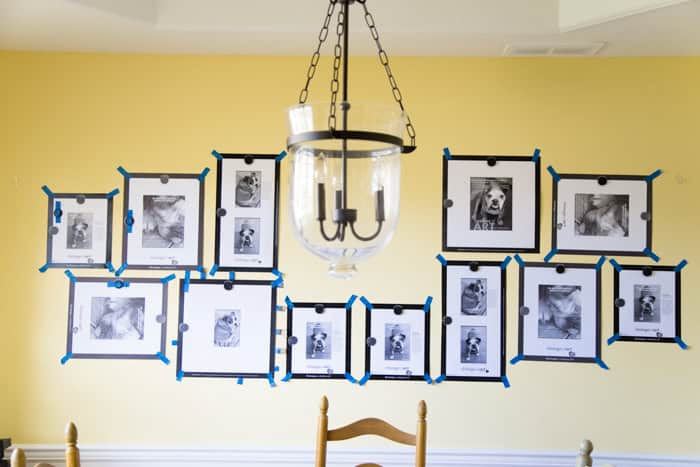 Once the hangers are nailed in, gently remove the templates and put them away for safe keeping. I saved mine incase we move again, I was so happy to still have my templates from the original wall gallery last summer!
Then you just pop the frames into place on the hangers and you're done. That's it. I did this entire wall all by myself in less than 20 minutes and that's WITH stopping to take a phone call. The hardest part was getting the first template in the right spot, then I just built from there.
2. The Storage Pocket!!!:
I'm just realizing now I didn't take a shot of this but you can see it easily on Change of Art's site here. To add a photo to your frame, you simply slide it into the back of the frame. There's no little tabs to move, you don't remove the back, it seriously just slips in. Then, right in front of that slot is a built-in pocket to hold extra prints. When you want to change your gallery, you just move the old prints into the storage pocket and add new ones.
I rotate my galleries seasonally. I have fall, winter, spring, summer, Christmas, birthdays, Disney, 4th of July, Easter, Halloween, and Back to School galleries that I add to and swap out as the year progresses. I love to mix in old shots with new ones.
My plan for this travel gallery is to showcase an entire wall of vacation photos from any trip we go on in the coming years. It will be like our stationary slide-show to relive the vacation together. Then I'll mix and match the prints as I see fit until we get to go on another trip.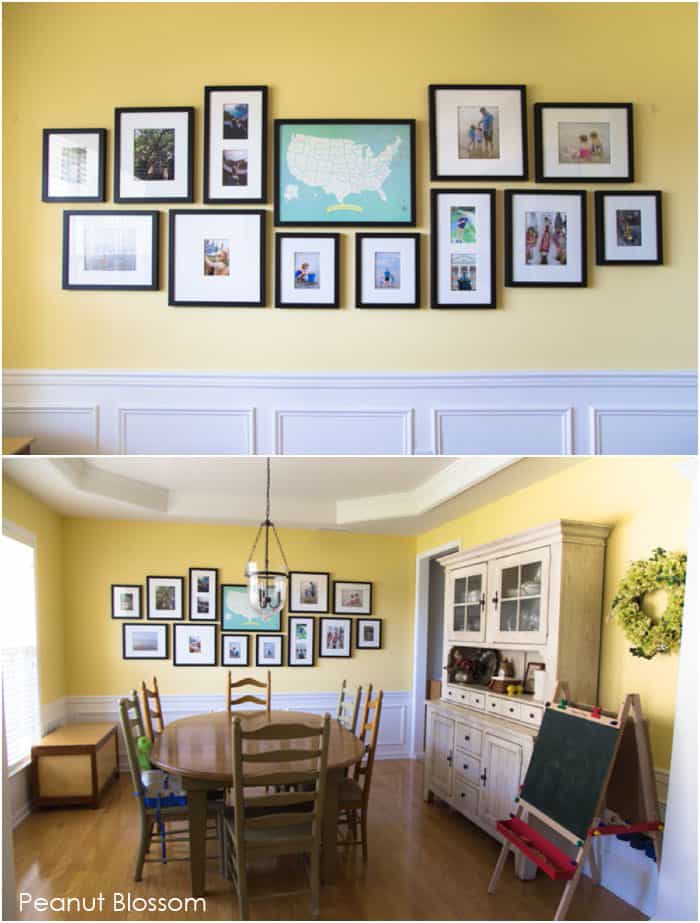 Since our dining room also serves as Homework Central, I love this built-in Geography lesson for the girls. We love to talk about our photos and where they were taken and where those points fall on the map.
If you're interested in adding some more personal touches to your home but are overwhelmed with where to start, check out the Change of Art site. Mary Ann has stocked it with lots of great eye candy to get you inspired.
You can also follow her on Facebook and Pinterest.

P.S. I've had a few requests for the sizes involved in my gallery. Sorry I didn't think to add that right away! Here you go:
For the gallery featured in the yellow dining room:
2: square frames, coming soon to her site. You can contact Mary Ann at Change of Art if you are interested in purchasing these items before they are available on her site. She is waiting on product shots before she can release them officially.
This post is sponsored by Change of Art. I was given the frames to review but all thoughts and opinions are distinctly my own. You can view my full disclosure here.