Make a custom high school graduation t-shirt and take annual milestone photos of your child every summer starting in kindergarten. Such a fun thing to display at a future high school graduation party!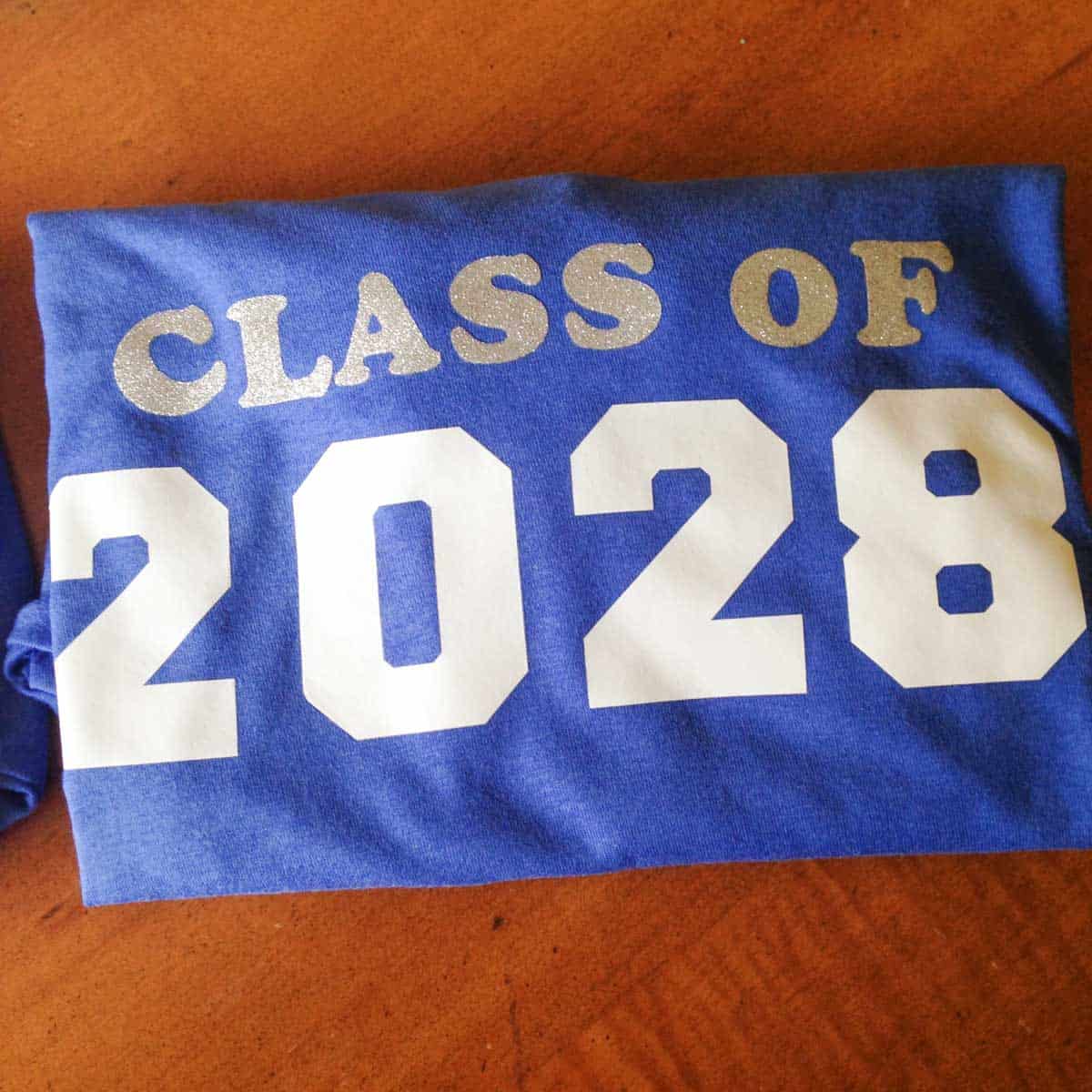 Since my girls started kindergarten and preschool respectively, we've been doing the cutest annual summer photo session ever.
I created custom high school graduation shirts with their years on the front and we've taken a simple backyard photo with them every summer.
I plan to print them out for their graduation party so they can see just how much they've grown.
When we first started in 2012, ironing on those Class of 2025 and Class of 2028 messages made me really stop in my tracks.
Those years seemed so very far away, they sounded nearly futuristic to me!
Now I can count the number of years left for this milestone photo on one hand. Time goes faster than you think!
Here's everything you need to know to recreate this tradition for your kids.
Jump to: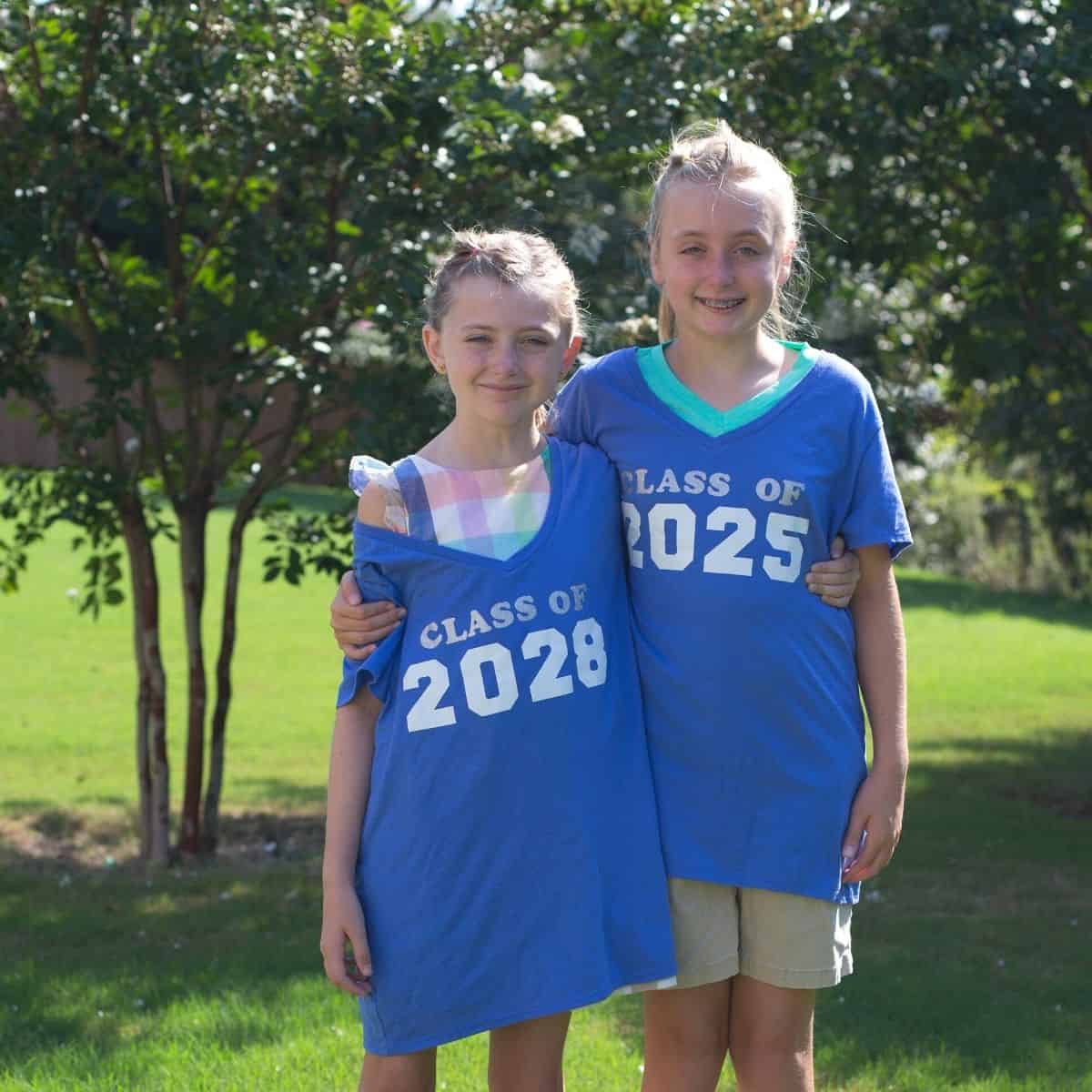 Supplies You Need
This is really such a simple custom craft. All you need is:
PRO TIP: When I selected the t-shirts to use, I chose a neutral color not their high school colors because I wasn't sure if we would move or switch schools before graduation.
I'm so glad I did this because neither girl will be attending the high school we were originally assigned. A lot can change between kindergarten and freshman year of high school!
This would also be a great first project to make with your Silhouette Cameo! You could cut your own custom designs on heat transfer vinyl instead.
How to Make a Custom Graduation Shirt
If you've never done iron on letters before, I suggest testing it out on a scrap piece of fabric to get the hang of it.
Thankfully, small mistakes are easily overlooked in the photos but you'll be dragging these shirts out year after year so you'll want to get them looking as best you can!
Prewash and dry the t-shirts so you can avoid shrinkage.
Preheat your oven to the settings required by your iron-on letters and numbers.
Iron the shirts to remove any wrinkles.
Let the shirts completely cool from the heat of the iron before placing the letters. If the shirts are too hot, the letters may stick before you're ready.
Once the letters and numbers are placed as you want them, lay the clean tea towel over the design and iron them into place as directed on your materials.
Carefully peel back the plastic coating from your letters.
Turn the t-shirts inside out and iron the design from the back to seal all the edges.
How Much Time You'll Need
The whole project took me about 20 minutes for two shirts.
You may need a little more time if you're washing and drying them before doing the project.
How to Store the Shirts
I pack the finished tees away with their birthday hats and first day of school chalkboards, only to be worn once a year between now and senior year.
As soon as we are done with the photo session, the shirts get folded right back up and stored away.
The one year we didn't do this, they got lost in the house and we had to hunt for them for an entire morning before we could get our photos taken!
Photo Tips for the Photo Session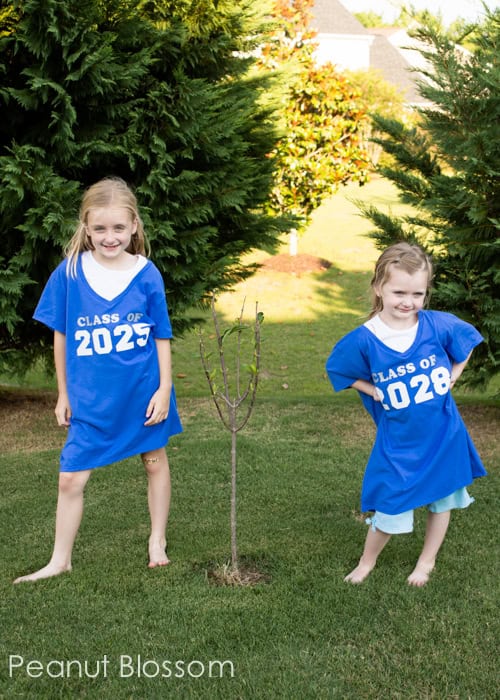 The first year I took their photo, I had them also stand next to a baby tree in our backyard.
Sadly that tree didn't make it to the next summer but my intentions were good.
I recommend picking a nice spot in your front or back yards for the photo and keeping the spot consistent from year after year.
I take one photo of both girls together and then individual photos of each girl.
I love how the shirts looked so large on my tiny peanuts when we first started!
In those first photos, they look like dresses and are falling off their shoulders but now they are getting very close to fitting perfectly!