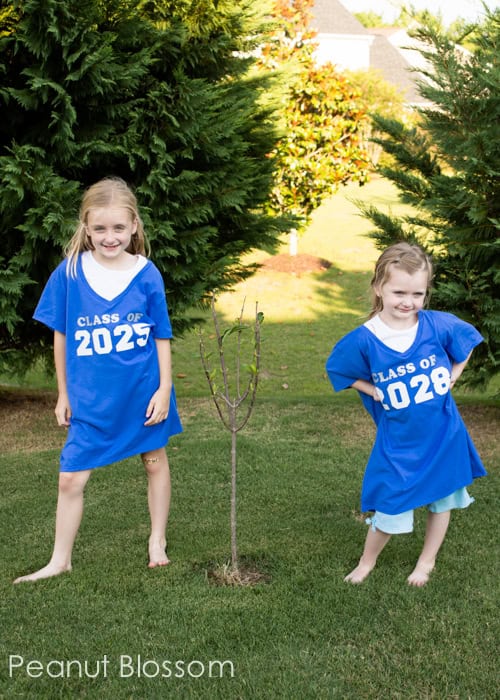 And then this happened.
We had both girls' last days of school this week. A friend of mine with a son the same age as the Peanut recently shared a photo of him wearing a similar shirt and I just had to do this.
Class of 2025. Class of 2028! What?! That's like futuristic robot Jetsons' time isn't it?? Will we be traveling by hoverboard??
I made these shirts as a surprise for their last day of school but you could easily make this a summer project with your kids.
Supplies needed for this graduation photo idea:
A blank t-shirt. I used an adult size L for the girls.
Iron-on Letters & Numbers. I preferred to use white letters like these and numbers like these.
The whole thing took me about 20 minutes. If you've never done iron on letters before, I suggest testing it out on a scrap piece of fabric to get the hang of it. Thankfully, small mistakes are easily overlooked in the photos!
I packed the finished tees away with their birthday hats, only to be worn once a year between now and senior year. I love how they are so large they look like dresses and are falling off their shoulders. I can't wait to watch them grow into these shirts over time.
For an added bonus, I took this first shot next to our freshly planted baby tree. If it is still around in 11 more years, that last photo in the series will be so fun to see!