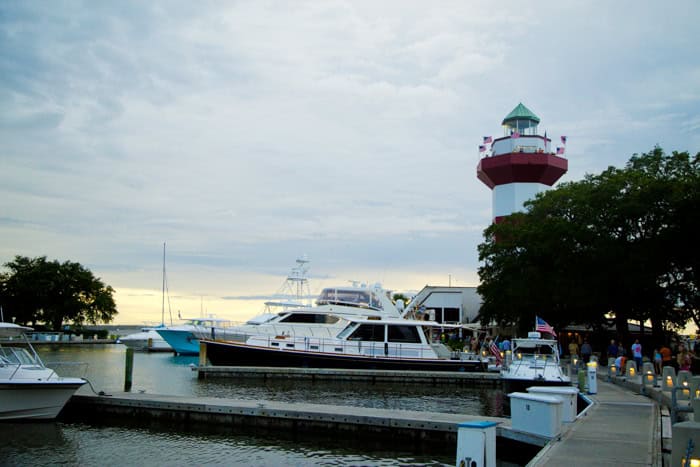 We've been sharing so many tips for keeping the kids happy during your vacation but today I'd like to pause and consider you the adults for a minute. Family travel doesn't need to be centered solely on the children for every single moment, sometimes mom & dad need a bit of a breather too.
My husband and I recently celebrated our anniversary and this year it meant bringing the kids along for our special dinner. Just because we had pint sized companions didn't mean we had to stoop to a chicken nuggets and dancing characters restaurant. I hope you find our tips for fancy dining helpful!
Do you have any great road trip tips to share? Leave me a comment, I'd love to hear it!
Tips for Dining Out With Kids
For the past 11 years my husband and I have celebrated our anniversary with a special weekend away or at the very least a fancy dinner out together.
This year, living far away from family for the first time since having children we were forced to choose between staying home or attempting a romantic adventure with the kids.
The adventure won. We headed to Hilton Head Island for a quick weekend at the beach. Though there were plenty of beach shack spots our kids would have felt right at home at, we wanted something a bit fancier and more adult for our anniversary dinner.
With 2 girls ages 6 & 3 this was definitely an option with just a bit of planning and preparation:
1. Call ahead!: 
I phoned our restaurant of choice to double check that children were welcome. I personally felt better knowing that they had a high chair available and children's portions on the menu. I made reservations for an earlier time when the restaurant would be less crowded and when our girls would still be well behaved and not overtired.
2. Dressing to code:
I made sure that my girls were dressed in their fanciest vacation gear (plus sweaters!! So many restaurants are over air conditioned in the summer!) I'm a firm believer that what they wear dictates the tone of expected behavior. A fancy dress for dinner signals it's time for our best manners. It also says, "This meal is going to be special for us all."
3. It's a date!:
We talked with our kids about what "anniversary" means and how we wanted them to come and celebrate with us. They know that mommy & daddy go on dates at home once in a while, this was a family date. They loved feeling so included with our party.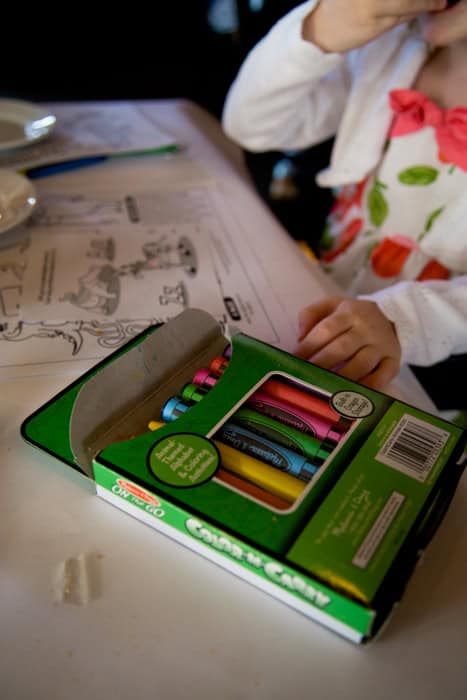 4. Practicing manners:
We are always working on our please and thank you's but a meal like this is also a chance to work on eye contact with other adults, listening skills, and making simple requests. We have our 6 year old practice placing her own order politely and thanking the servers when the food arrives or plates are removed.
5. BYOC: Bring your own crayons. 
The finer more adult oriented restaurants do not always have crayons and placemats for coloring for the kids. Our daughters have come to expect this whenever we dine out so I came prepared with our own.
We loved the Melissa & Doug Color by Numbers set and the Color-N-Carry Animals set for the girls. The crayons and markers are self contained in the packaging, they were just the right size for my purse, and took up very little room at the table. Bonus points that both have built-in hard surfaces to color against--the nicer restaurants with soft tablecloths can make that tricky!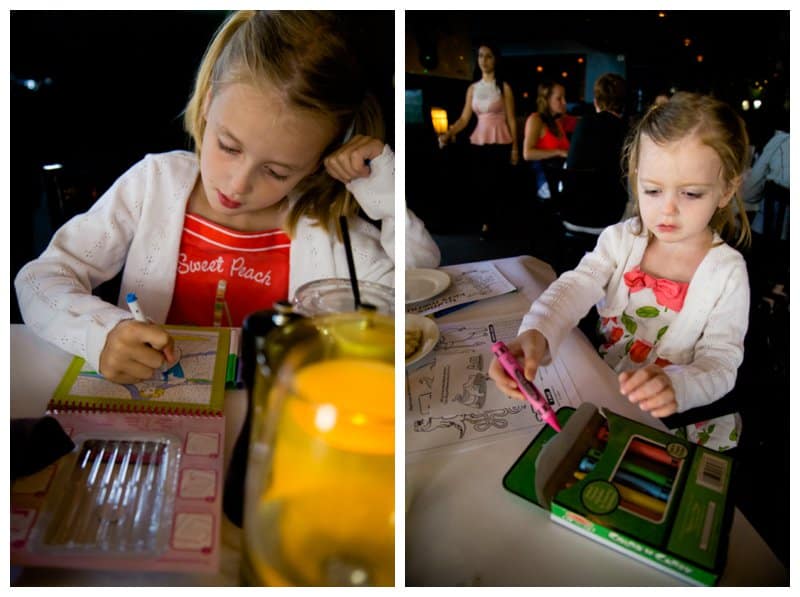 6. Lighten up:
Finally, once the kids are set and happy, Enjoy Yourself!! It's ok to spend time enjoying your own meal for once and not waging the nightly veggie battle. Let them fill up on the bread basket if they want. Promise ice cream for dessert if things go well. Or even go full steam ahead and try a full meal of "Yes Moments."
After all, this is your vacation too.