New Year's Resolutions do not have to be number on the scale-oriented. This year, try something new and make a few resolutions that will actually improve your life and make you happier.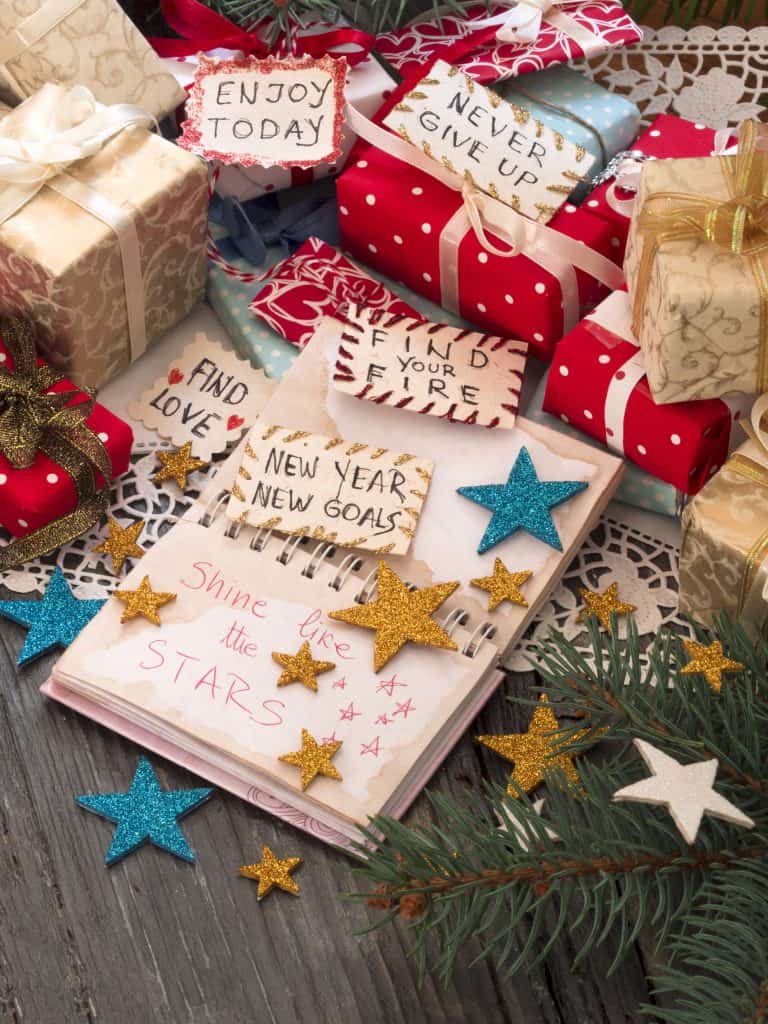 I love this snippet of time between Christmas and New Year's Eve. The busyness of the holiday is behind me and there is a quiet lull before the launch of the next year. Most of my very best ideas have come to me during this time slot at the end of each year.
I love to set new year resolutions. Very rarely do they have weight or health attached in a number on the scale-driven way.
Rather, I prefer to think creatively and look at ways to make both myself and my family happier.
This year, the manuscript for my second book is due in 2 weeks and the photos due about a month later.
I'll be starting 2019 up to my ears in crazy as I finish up this intensive project.
So I wanted to take a moment now to share with you the seven books that I believe will make the greatest impact on your new year. Some of them I've already read, some I'll be reading in January.
I think these books will make a MUCH more positive impact on your life than any weight loss cookbook or gym membership could.
I hope you enjoy them and find something that inspires you to start your new year off on the right foot.

7 books that will make your new year more joyful:
1. Joyful: The Surprising Power of Ordinary Things to Create Extraordinary Happiness:
I just downloaded the audio version of this book. It is the first one I'll be listening to come January.
From Amazon: "Designer and TED star Ingrid Fetell Lee presents groundbreaking research to explain how making small changes to your surroundings can create extraordinary happiness in your life."
From the summaries I've read, there is great emphasis on the impact color has on our lives. I 100% believe that to be true and I can't wait to read more about it.
2. Finish: Give Yourself the Gift of Done:
I listened to this book by John Acuff last March and it was life-changing. I'm not kidding. I found myself both laughing out loud and groaning with mortification as John called me out on some of my most predictable behaviors.
I'm a hardcore procrastinator and perfectionist. Finish helped me discover tangible ways to overcome both those negative traits.
If you have ever found yourself abandoning unfinished projects (hobbies, crafting projects, goals for your family, anything!) this book is for you. "Give yourself the gift of done."
3. Start: Punch Fear in the Face, Escape Average, and Do Work That Matters:
He doesn't know it, but John Acuff is totally my boyfriend. After falling in love with Finish, I knew I had to begin 2019 with his other book Start.
Now that I know how to get a goal done, I definitely need a little encouragement in trying some new things. My friend Zina recommended this as a perfect companion to Finish, so I'm excited to check it out.
4. Little Fires Everywhere:
The first book from the 2019 line-up of my book club. If you've struggled to find time for yourself, reading even just ONE book a month that is just for you is the perfect place to start. Our online book club would love to have you as a member. You can read all about our group right here.
Get your copy of LITTLE FIRES EVERYWHERE here.
5. The Read-Aloud Family:
If you're on my email list, then you got the first notification that I discovered and DEVOURED this book back in August '18. (If you're not on the list, I'd love to have you join us right here.)
I sort of accidentally stumbled into reading it and then found myself totally unable to put it down until I had finished it in under 24 hours. I immediately had my husband listen to the audio version and we put the recommendations into practice right away. We don't read as a family every day, but we strive for at least once a week. Some weeks much more. The impact it has made on our family as a whole is remarkable and deserving of it's own post. But for now, I just HIGHLY recommend you grab a copy and read it right away in January.
Get your copy of THE READ-ALOUD FAMILY here.
6. The Southern Living Party Cookbook:
Santa brought me a copy of this book for Christmas and I am IN LOVE. For the last few months, a deep worry has settled on my heart about the lack of community we've built since moving to Charlotte. We have amazing neighbors and have some lovely friends, but I don't think we've made nearly enough effort to open our home to them.
I truly believe that investing in your friends and family is the key to happiness. So with that in mind, I have one really major new year's resolution that will be the main focus of my 2019. This book is at the heart of that goal. I can't wait to share more with you about it.
But, if you find yourself wanting to host more social engagement in your home, this book is not only filled with recipes, but phenomenal hosting inspiration and advice.
Get your copy of THE SOUTHERN LIVING PARTY COOKBOOK here.
7. The Ultimate Kids' Cookbook:
While we're talking about investing in family, if you do absolutely nothing else with your new year but take the time to cook with your kids, you will have far beat out millions of new year's resolution makers. Teaching your children to cook healthy homemade meals is an investment in their future happiness as well as your own.
The time I've spent with my girls in the kitchen makes up some of the most precious memories I have with them. Give you and your kids the wonderful gift of time together.
We are all crazy busy, but we all have to eat. Take advantage of the time you have and make the most of it with this amazing guide for parents and their kids.
Get your copy of THE ULTIMATE KIDS' COOKBOOK here.
And quick, before you go . . .
Like to celebrate? Get on the list!!
I love sharing seasonal recipes and ideas for celebrating the holidays. The new year is going to bring some of my very best content yet. If you'd like to make joyful celebration a part of your family's life in the new year, be sure to get on my weekly email list where I share the latest ideas for making each season special:
GET ON THE LIST
If you liked this post, don't miss our other New Year's Eve reader's favorites: