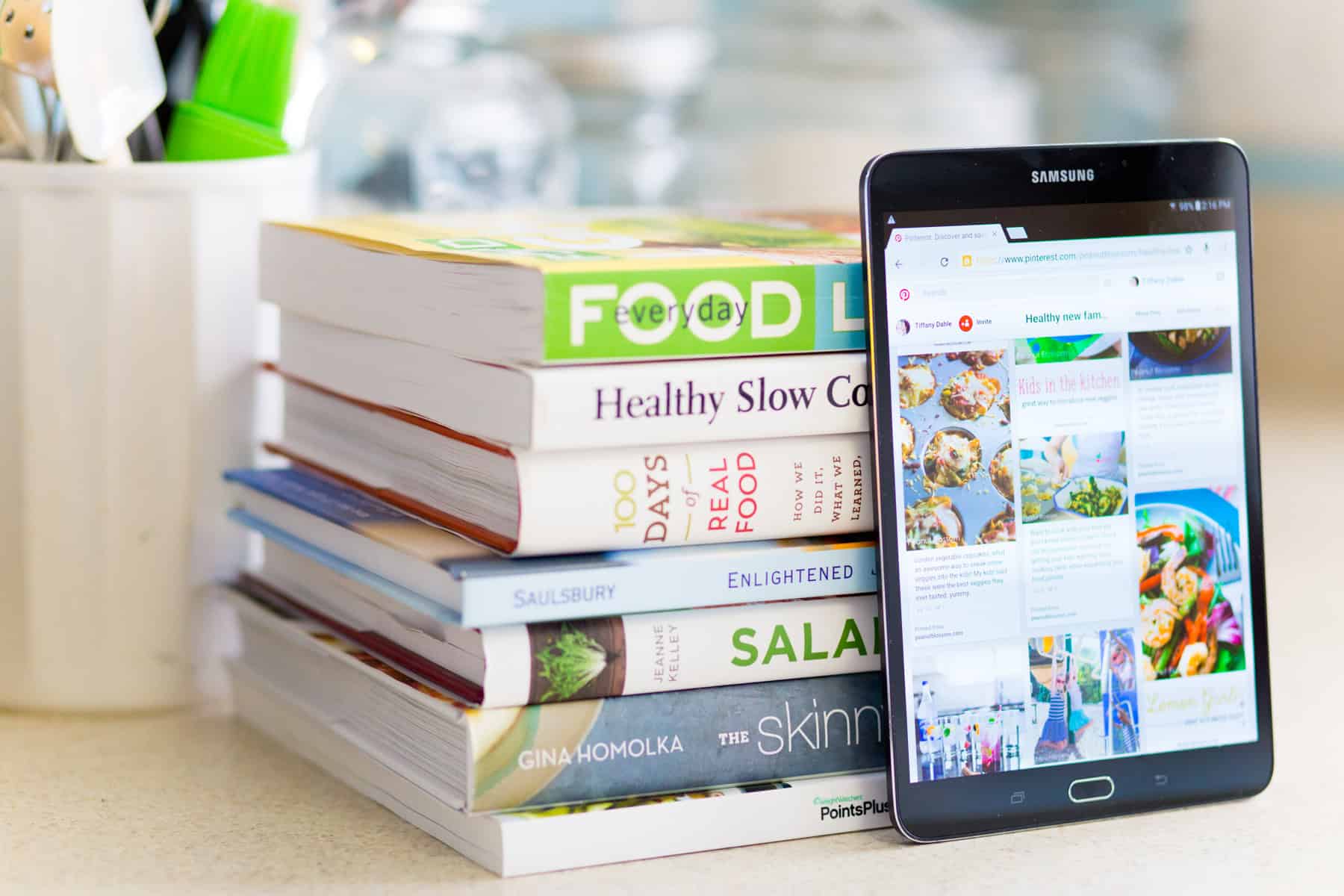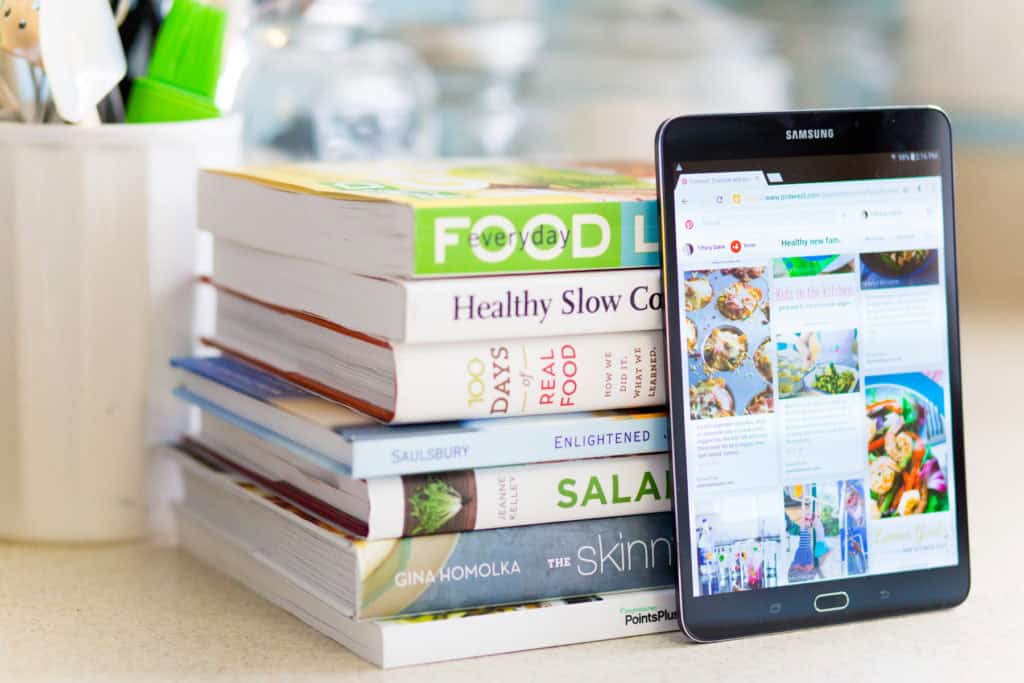 Why is it that when you are dieting, EVERYTHING suddenly looks delicious??
Because we eat with our eyes first. It's a hard and fast rule when it comes to food and it is exactly why food photography is so popular. So it's no wonder that when Tim and I decided to change some unhealthy eating habits--TOGETHER--I headed straight for my bookshelf that is literally overflowing with photo-filled cookbooks.
I am drawn to books that have big bright beautiful pictures. If the recipe looks good, I feel like it will taste even better. If I am excited about it tasting good, I'm more excited to make it at the end of a busy day.
When you're starting a new round of eating habits, it can be so overwhelming to find recipes that fit your new rules. When I tried to meal plan for our first week of healthier eating, I just knew that flipping through the pages of my favorite lighter cookbooks would give me inspiration.
Barnes & Noble recently gave me the opportunity to test out their Samsung Galaxy Tab S2 NOOK. I jumped at the opportunity with my Book Club friends in mind. I thought I'd load it up with our picks of the months. I have long since sworn off buying cookbooks digitally because they can't recreate that experience of flipping through the pages to look for inspiration.
Or can they??
My new 8-inch NOOK by Samsung arrived preloaded with a few pieces of content to let me test it out. One of the books is my personal favorite The Pioneer Woman Cooks: Food from my Frontier. I gasped out loud when I tapped the first page and the thumbnails of the pages popped up in the scrollable field below: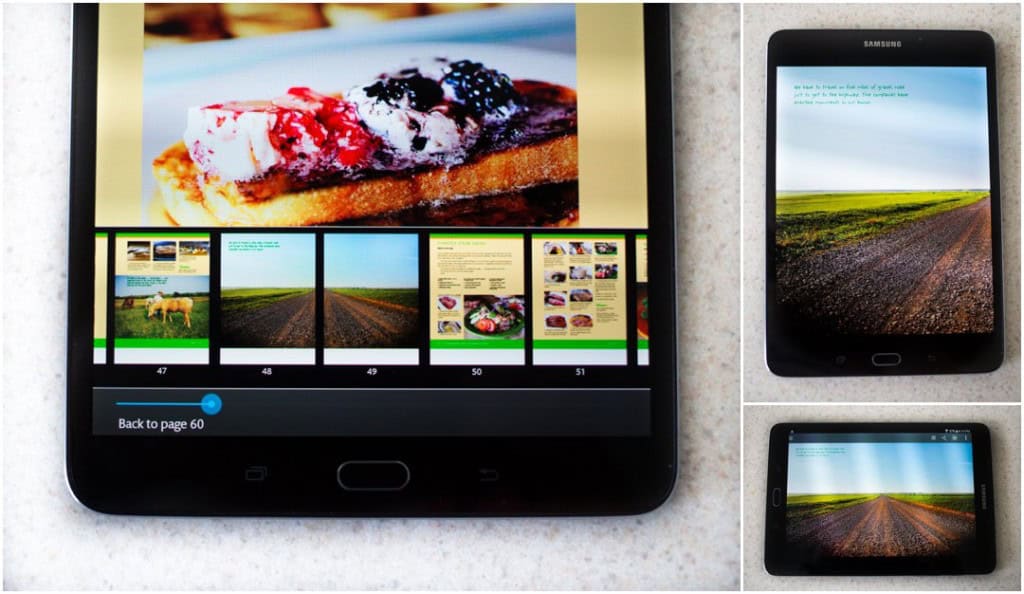 I scrolled through the previews at lightning fast speed and could stop any time I saw a big beautiful photo I wanted to check out.
But what about two page spreads? I used to hate how photos or recipes would be cut off in a digital version. With the new 8-inch NOOK by Samsung, the vertical orientation of the screen is filled with a single page (top right photo), but if I turn it horizontally, the two page spread opens up and I can see the photo as Ree intended but even BETTER than in the printed version of the book because the image is seamless.
Now I find myself eyeing up my bookshelves buckling under the weight of cookbooks and wishing I had them all available at the tap of a button.
So you're starting a new food routine, where should you look for recipes to get you started??
Top 15 Resources for Healthy Eating Recipes: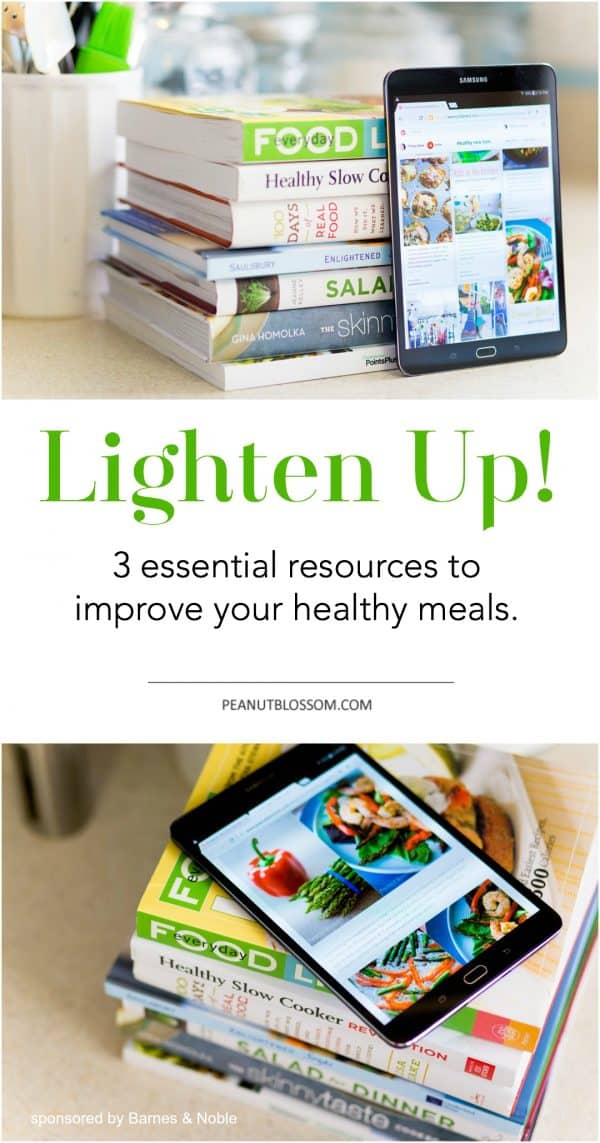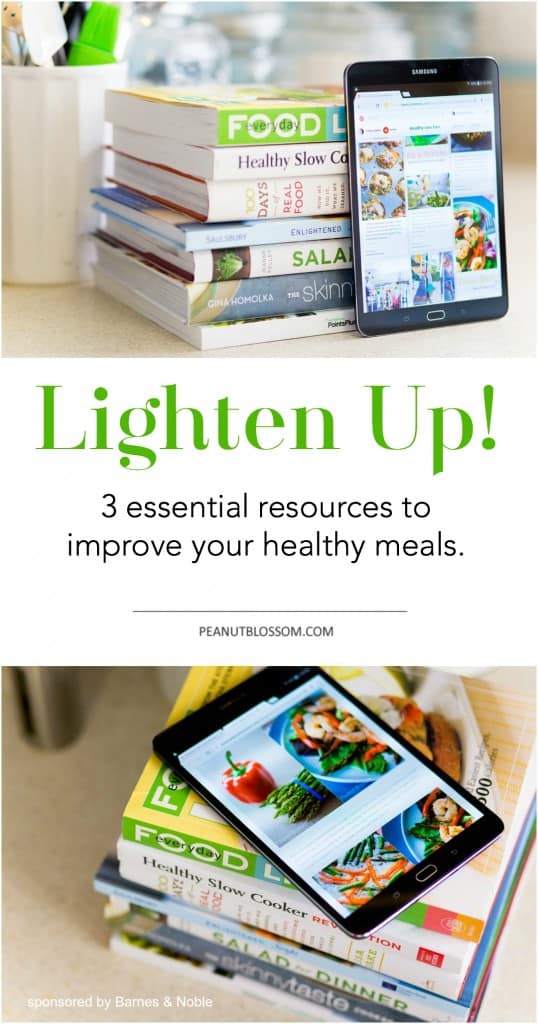 Traditional Cookbooks: My favorites that hit rotation frequently:
Everyday Food Light: A focus on real food, fast.
Healthy Slow Cooker Revolution: For the busy nights when you need a little help.
Enlightened Soups: My go-to book for most of the fall and winter.
Salad for Dinner: Some of the recipes are heavier than others but they offer great inspiration for mixing it up yourself.
Skinnytaste: Great ideas for some comfort foods done lighter.
Healthy Blogs to follow: I have found that if I follow food bloggers that rely mostly on real foods, I can usually tweak their food ideas easily to match our habits. These may not be "diet" bloggers, but I love their real food approach.
People to follow on Pinterest:
What I love about the NOOK by Samsung is that not only can it help me collect my favorite cookbooks, but I can access my favorite blogs and sort all my new recipes and inspiration on Pinterest. The tablet becomes my one stop spot for all things healthy recipes and meal planning.
As a food photographer myself, I am extremely picky about the images that come with recipes. I was downright giddy with how gorgeous even my own content looks on the NOOK by Samsung. The colors and the resolution are STUNNING. It is the perfect format for being inspired to stick to healthier recipes for my meal planning sessions.
NOOK gift cards are the perfect way to explore the endless reading and entertainment content available in the NOOK Store. It has millions of books and a leading selection of movies and TV shows. NOOK gift cards can be redeemed in Barnes & Noble stores nationwide, online at BN.com, and on NOOK devices. Plus, NOOK gift cards never expire and have no hidden fees.