Looking for a unique Harry Potter costume beyond Harry, Ron, and Hermione? How about dressing as Rita Skeeter and the Daily Prophet featuring Bellatrix Lestrange fresh out of Azkaban?? These easy DIY Halloween costumes are so fun!
It's no secret we're huge Harry Potter Fans in this family.
Last year, we were in the middle of finishing the last Harry Potter books as read-alouds with my kids and we were deep into the world of Hogwarts together.
For previous Halloweens, the girls have gone as Harry and a Hogwarts witch. We wanted to branch out with something a little more creative this time.
Little Pea announced she really wanted to go as Rita Skeeter which made me laugh out loud. There's a certain sass factor with that character that just fits her personality a little too well.
Since they wanted to go as a coordinating pair of sister costumes, we came up with the idea that the Peanut would go as The Daily Prophet newspaper featuring Bellatrix Lestrange in her "escape from Azkaban" striped prison uniform.
The costumes were so easy to pull together and the girls got stopped on the Trick or Treat trail all night long by parents who went absolutely wild for their costumes.
DIY Rita Skeeter Costume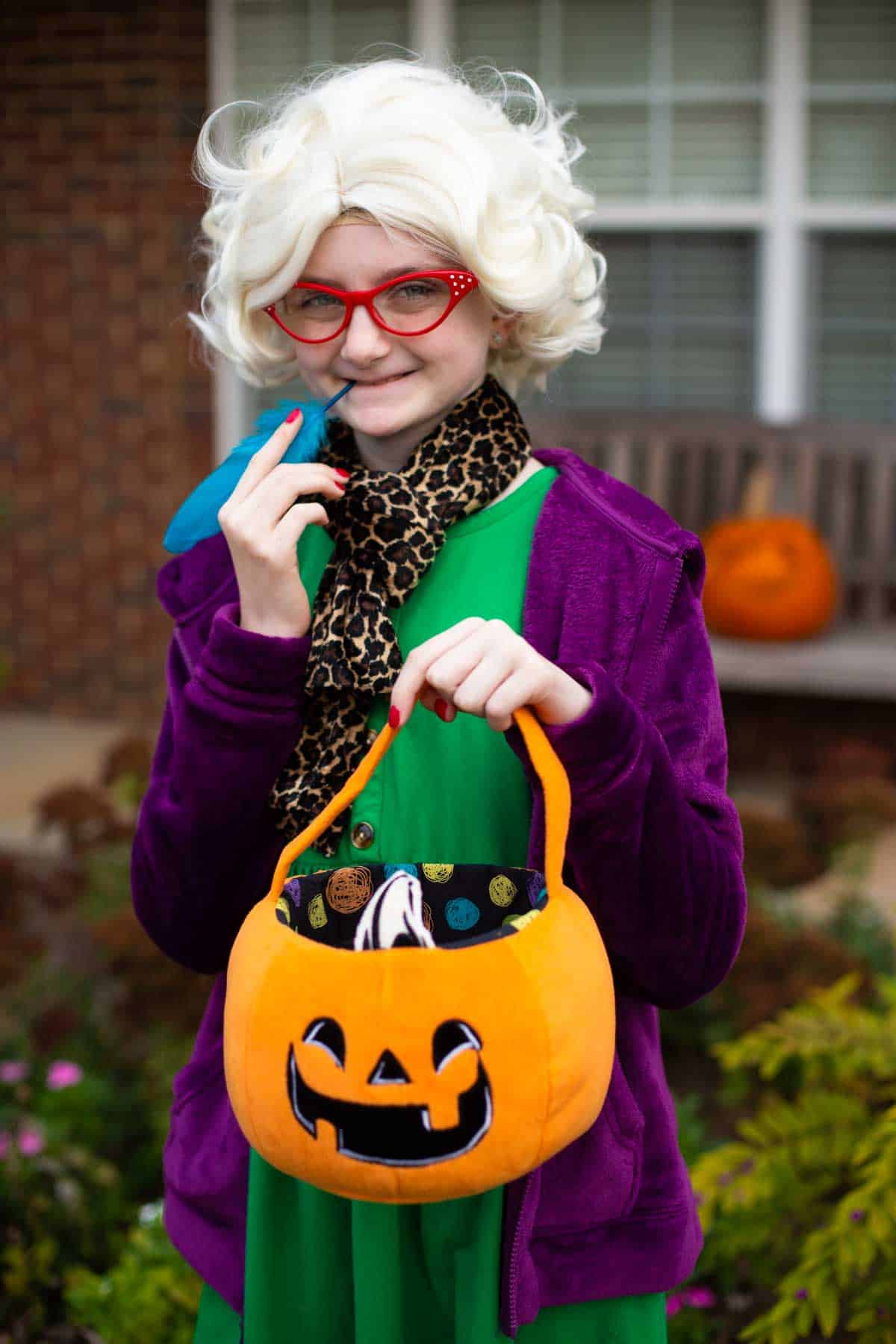 Creating the Rita Skeeter for my 10 year old tween daughter took a simple visit to the internet for essential pieces:
My daughter insisted on painting her nails red and added the leopard print scarf for extra flair. I insisted on the purple hoodie to keep her warm as the sun went down.
The Daily Prophet Costume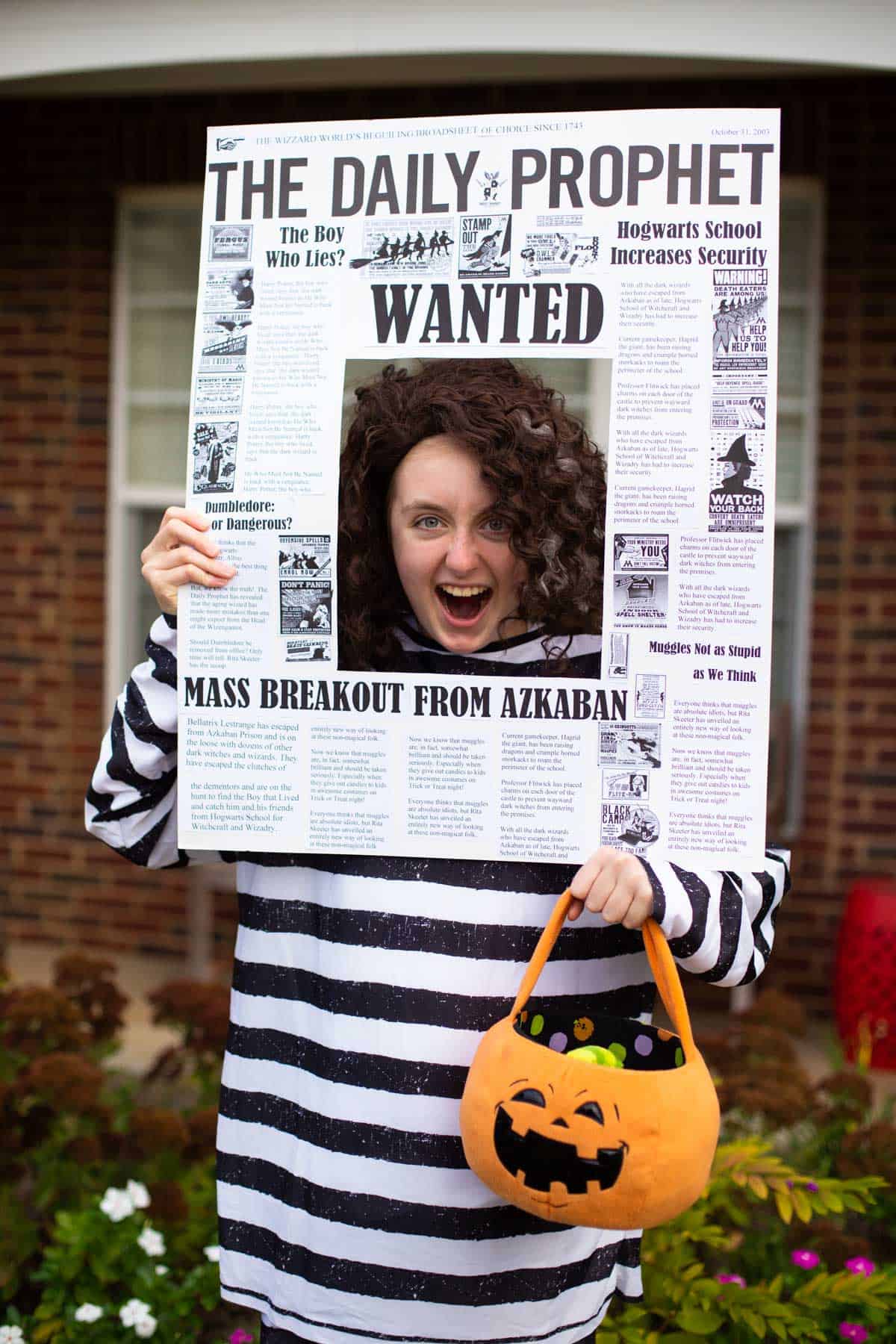 I still laugh out loud at the sheer brilliance of this easy but stunning Harry Potter costume. It stopped everyone in their tracks and was an enormous hit during Trick or Treating.
Bellatrix Lestrange Wig: The signature element of her costume, everyone knew immediately who she was supposed to be. You can find the wig here.
A Prison Uniform: Any black and white striped prison costume will do. We chose this one here.
The Homemade Daily Prophet Sign: This was a labor of love, but I promise it didn't take me long to do. Full instructions below.
How to Make a DIY Daily Prophet Sign:
All you need is a large piece of white poster board to serve as the background of the newspaper.
Trim a face-sized square hole in the center of the poster board. I penciled in the shape on the back and cut it out with my scissors.
I typed up all the headlines in various newspaper fonts and just printed them on our home computer.
For the body of each article, I typed up one silly paragraph and then just copied and pasted it over and over in my document before printing.
I used a scissors and glue stick to put everything into place.
Those old fashioned skills I learned in my high school journalism class came in handy after all!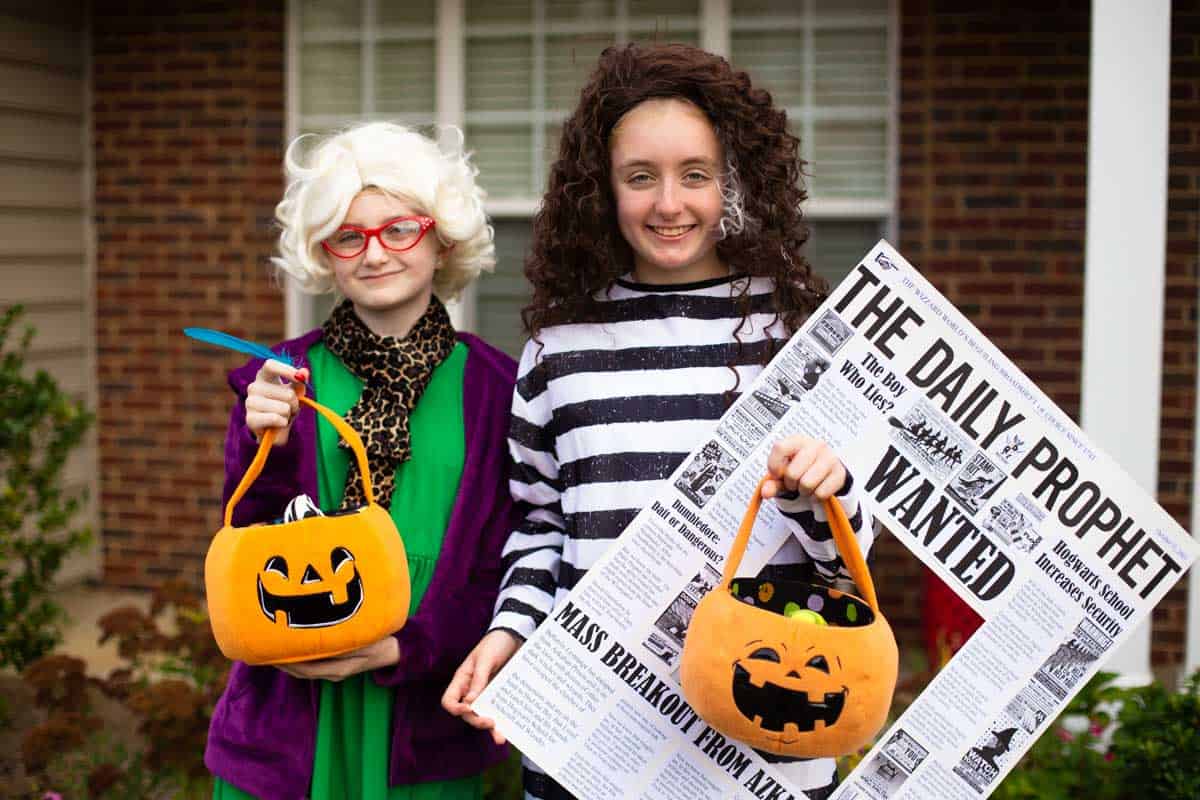 This may be the most epic Halloween costume pairing my girls have ever done. It is perfect for any kid who loves all things Harry Potter.
More Harry Potter Ideas
If you're excited to share Harry Potter with your kids, why not start your own family Harry Potter Fan Club??