Got a kiddo who loves art? This paint palette birthday cake was easy peasy to make and is just perfect for an art-themed birthday party.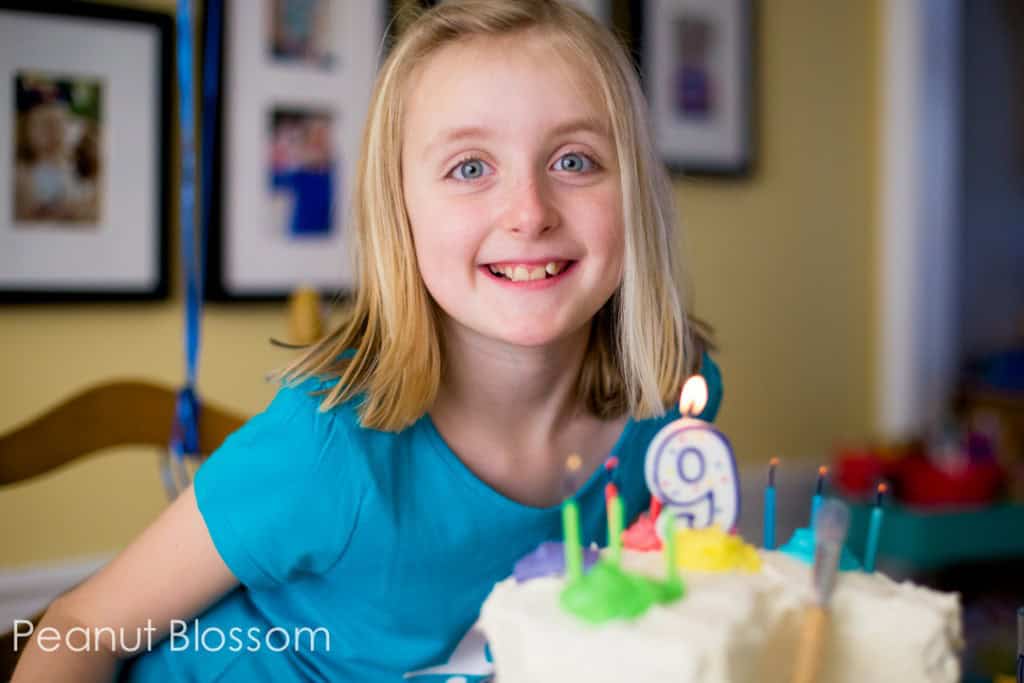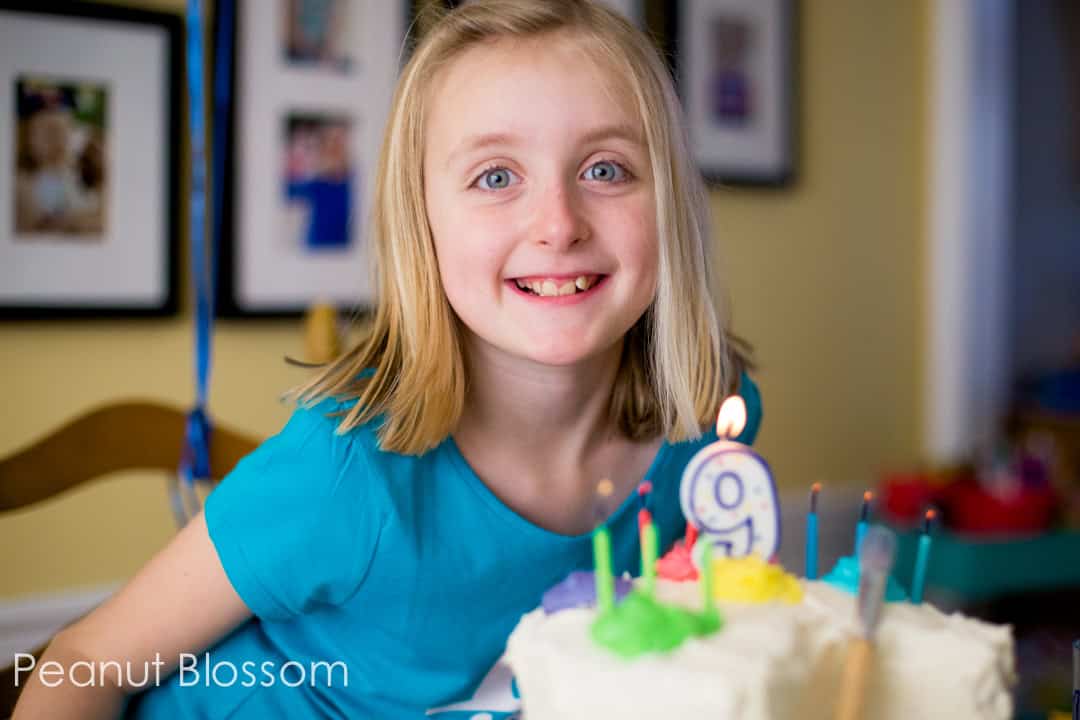 So that not so little Peanut is 9! For you loyal readers who have been following along with our adventures for a while, this might be a shocker to you too. Kids just grow so fast it is unbelievable.
Every year up until now, it was obvious what theme my little lady wanted for her party. It turns out that at 9, she might finally be outgrowing the desire for a character on top of her cake. I think this realization hit her harder than it did me and she really struggled with what to ask for when it came to her cake.
It was a great opportunity for me to explain that a "theme" doesn't always have to be your favorite cartoon character. We started talking about some of her favorite things: the beach, sea creatures, puppies, animals of all kinds, and finally we circled back to her absolute love of all things art and drawing.
I pulled up Pinterest on my laptop and searched for "art party birthday cake" and we started to gather ideas. I'm no cake expert and I refuse to work with fondant. So, we had to tailor anything we found to what could be created with a simple box mix and homemade buttercream. I think we hit it out of the park: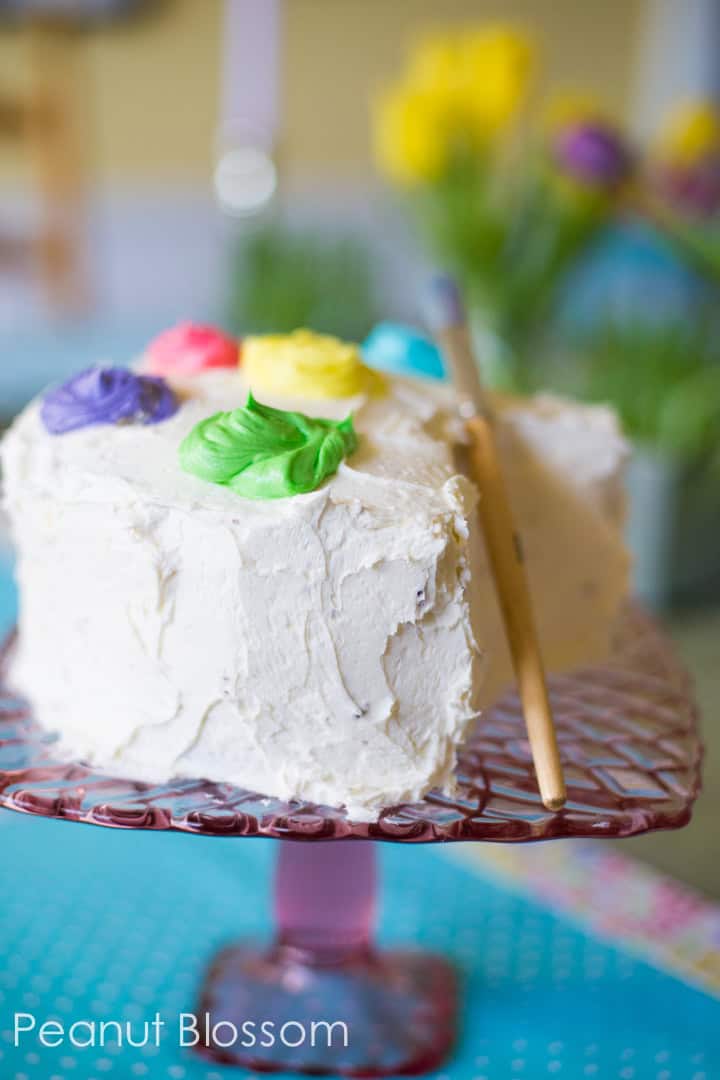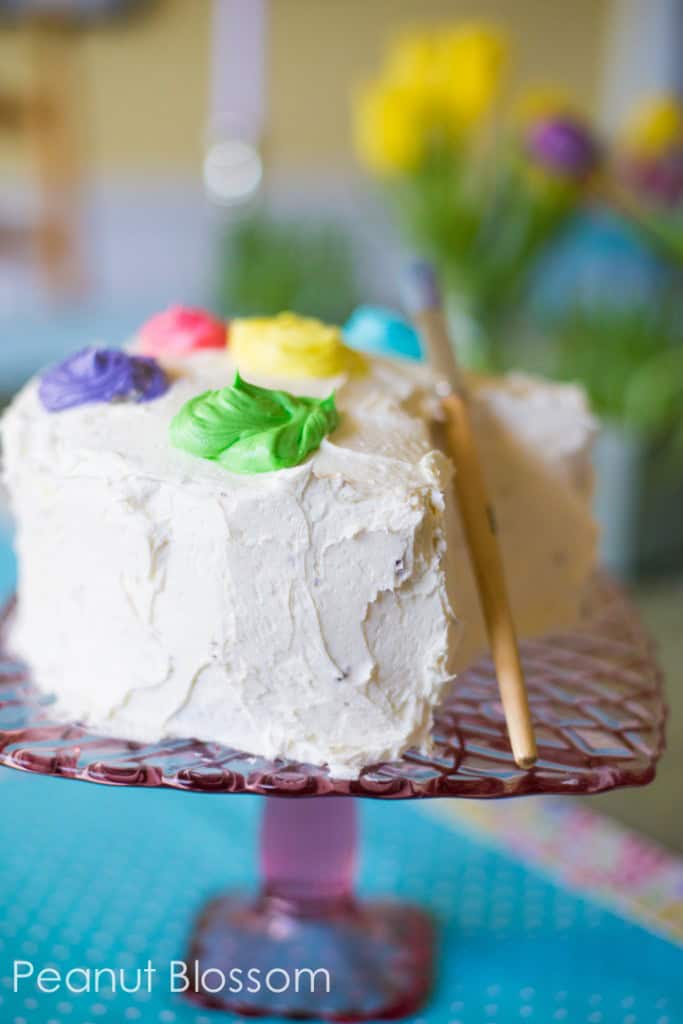 We made this paint palette birthday cake out of a simple chocolate cake boxed mix and a batch and a half of my favorite whipped buttercream. Scroll down for the simple instructions at the bottom of the post.
The Peanut wanted to have a real paint brush included in the scene and we didn't have a fresh new one to use. I washed up one from our art stash and just was careful that the bristles never really touched the frosting to keep things hygienic.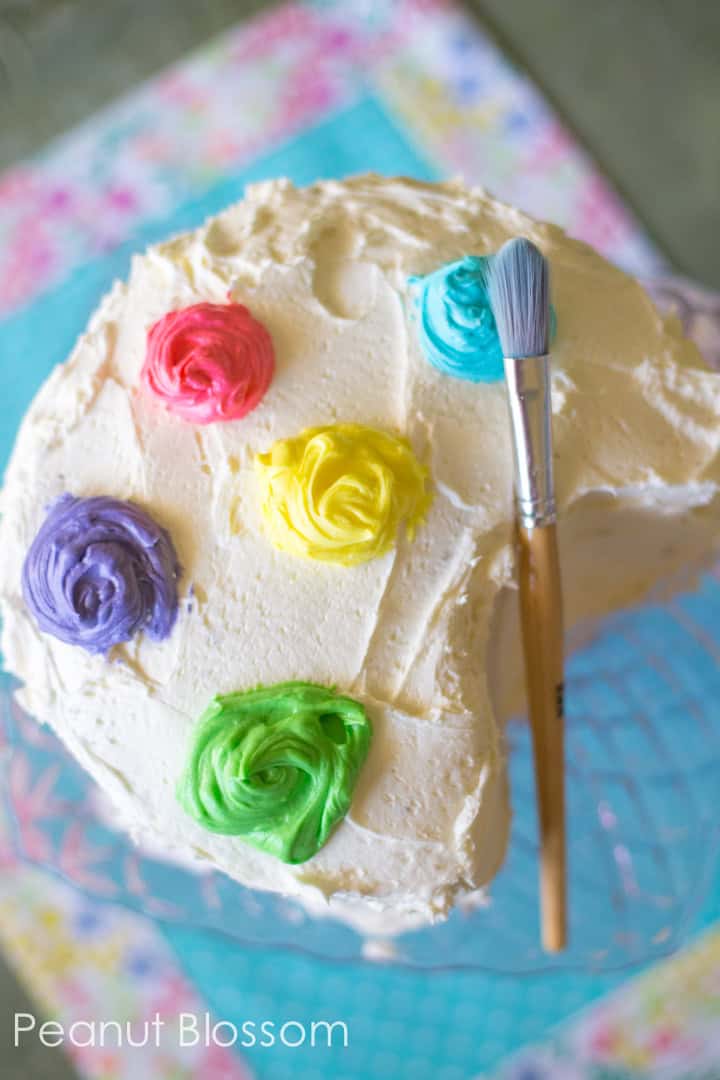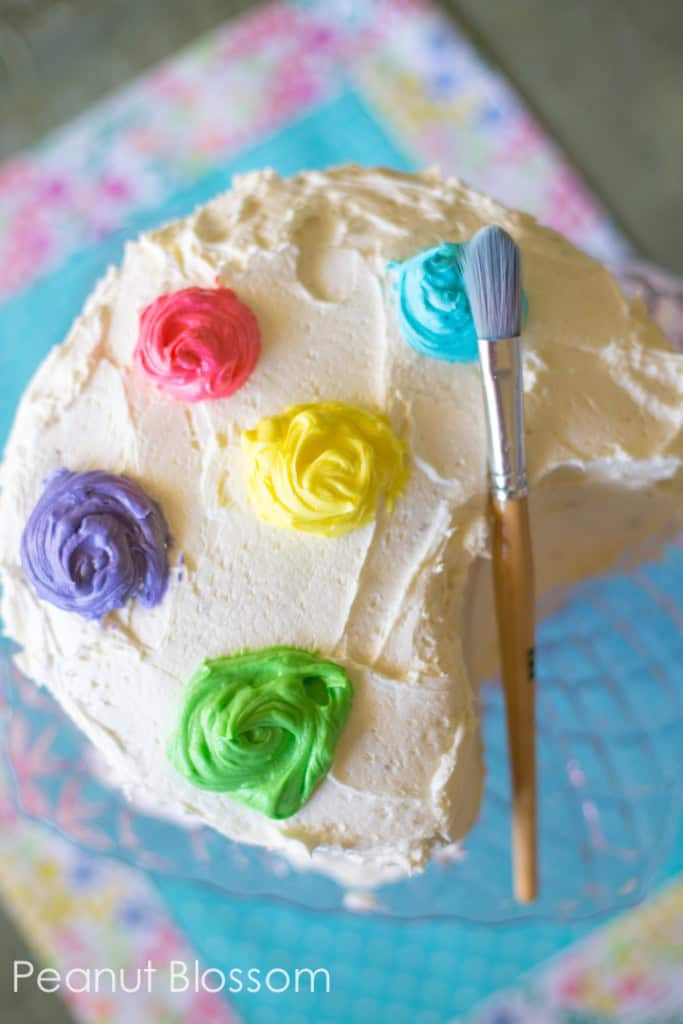 I didn't think to photograph the creation stages for you, it was not the prettiest thing since I had exactly zero idea what I was doing. But we were both thrilled with how it came out. I snapped a few pictures of it to share and then my lady got completely inspired to pose with her cake on her own.
She ran upstairs and grabbed her hat from last year's party and asked to pose with her cake. We were both laughing so hard, it is my favorite memory from her special day. I love how she is keeping her playful sweet personality. I hope that never goes away. Life is full of challenges, laughter keeps us going.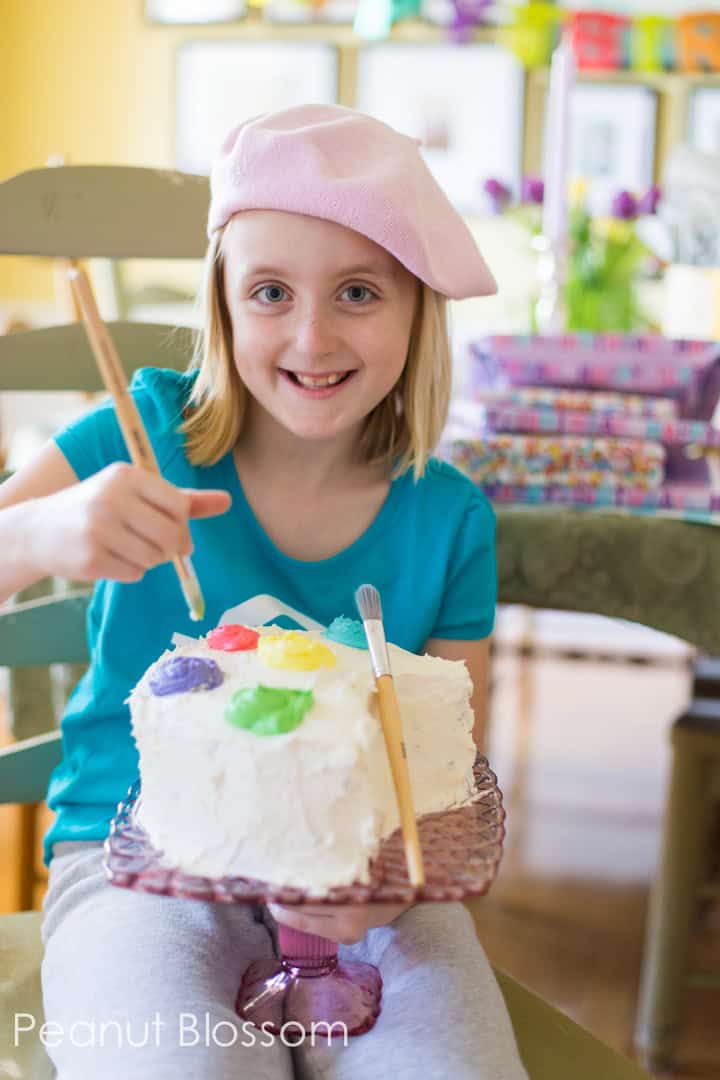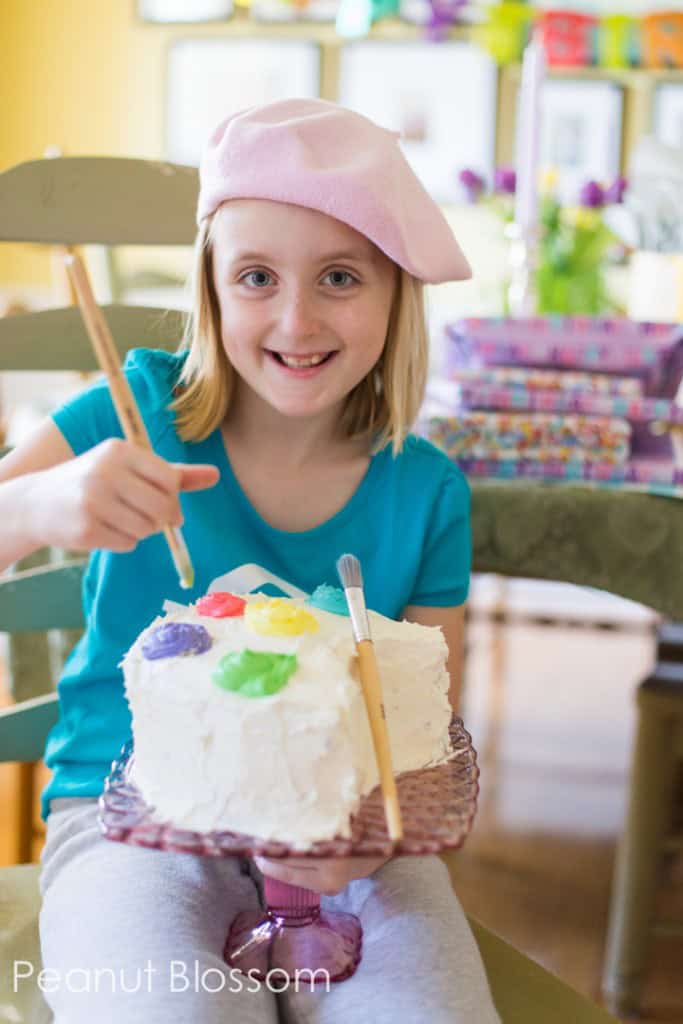 How to make a paint palette birthday cake for an art party:
Bake your favorite flavor cake in 2 9 inch round cake pans. (We chose chocolate from a box mix.)
Make one batch whipped vanilla buttercream from this recipe here.
Place one cake layer on your cake plate and top with a thin layer of buttercream.
Place the second cake layer on top of the first.
Using a sharp knife, carve out the palette divet in one side. (I gave the snack pieces to the girls as a special treat.)
Very Carefully frost a thin layer of buttercream over the cut edge of the cake. With the exposed cake, it is very crumbly. Crumbs are probably going to mix into the frosting, but just try to seal them in as best you can. Continue with a thin layer around the remaining edge and top of the cake.
Chill the cake in the fridge while you prep the paint colors. This will set the frosting and make it easier to add the final coat.
Put 1-2 tablespoon of frosting into each of 5-6 small bowls or cups. Tint each one a different color with gel food coloring.
Take the cake back out of the fridge and apply the remaining frosting over the top and sides of the cake. This will cover any of the crumby bits that got mixed in earlier and leave your cake nice and white and clean.
Dollop the paint blotches on the top. I swirled them with my knife to look like little paint blobs.
Add a paint brush to the scene and done!