This fun trio of macaron-inspired cake sandwich cookies is perfect for young bakers who love American Girl's Grace character.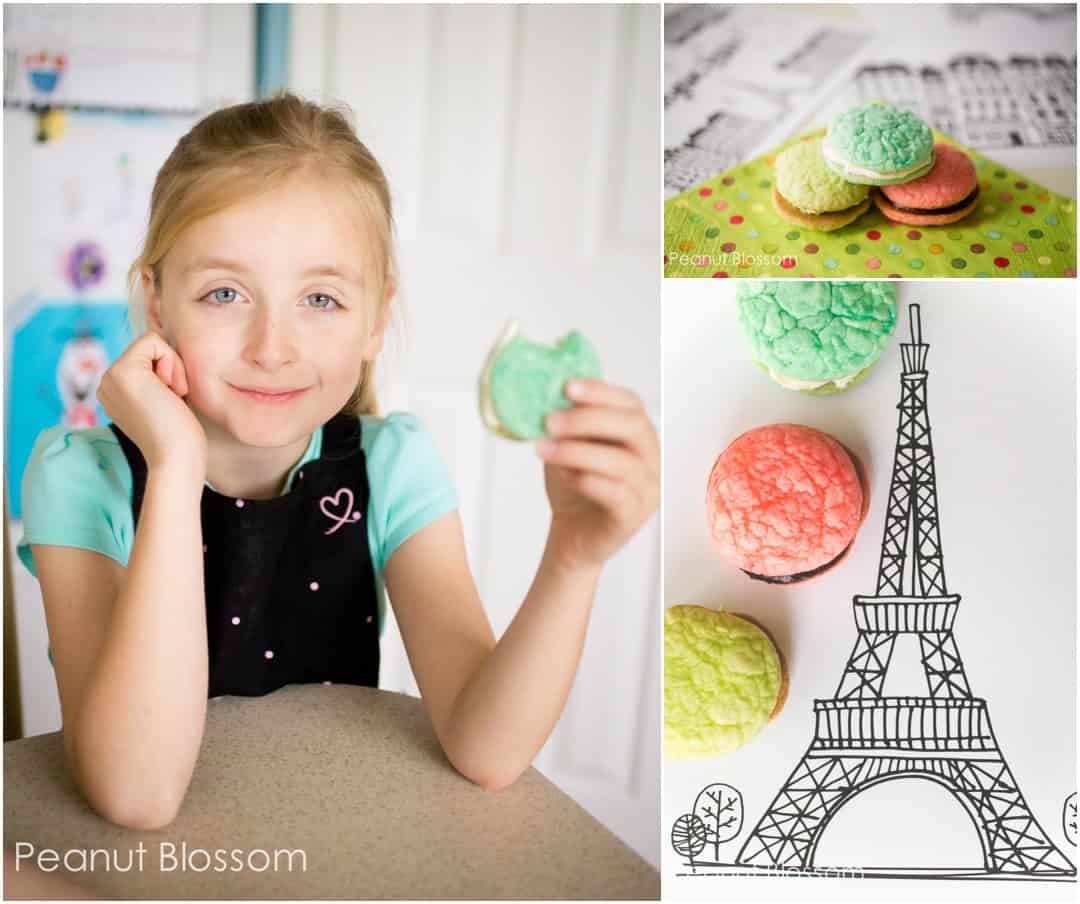 I mentioned the other week how the Peanut has fallen in love with Grace from American Girl and all things French Pastry Shoppe. When Grace's movie came out this summer, we wanted to do something special for our first viewing of American Girl Grace Stirs Up Success.
The Peanut had been playing with the Grace's Sweet Shop app on her iPad and discovered a homemade macaron recipe she wanted to try. We thought it would be such a fun treat for our movie party.
The problem came in with their recipe being not exactly stellar. The dough was stiff and the baked cookie crumbled. Not exactly conducive to kid baking. The Peanut was so disappointed, I set out to find a different kid-friendly version of French Macarons that she could actually help with.
In the end, we mixed and matched a few ideas I found online and made up our own! It was so much fun and they turned out great. We made (from top to bottom in the photo below) tinted Macarons in French Vanilla, Chocolate Ganache, and Pistachio Fluff--my personal favorite.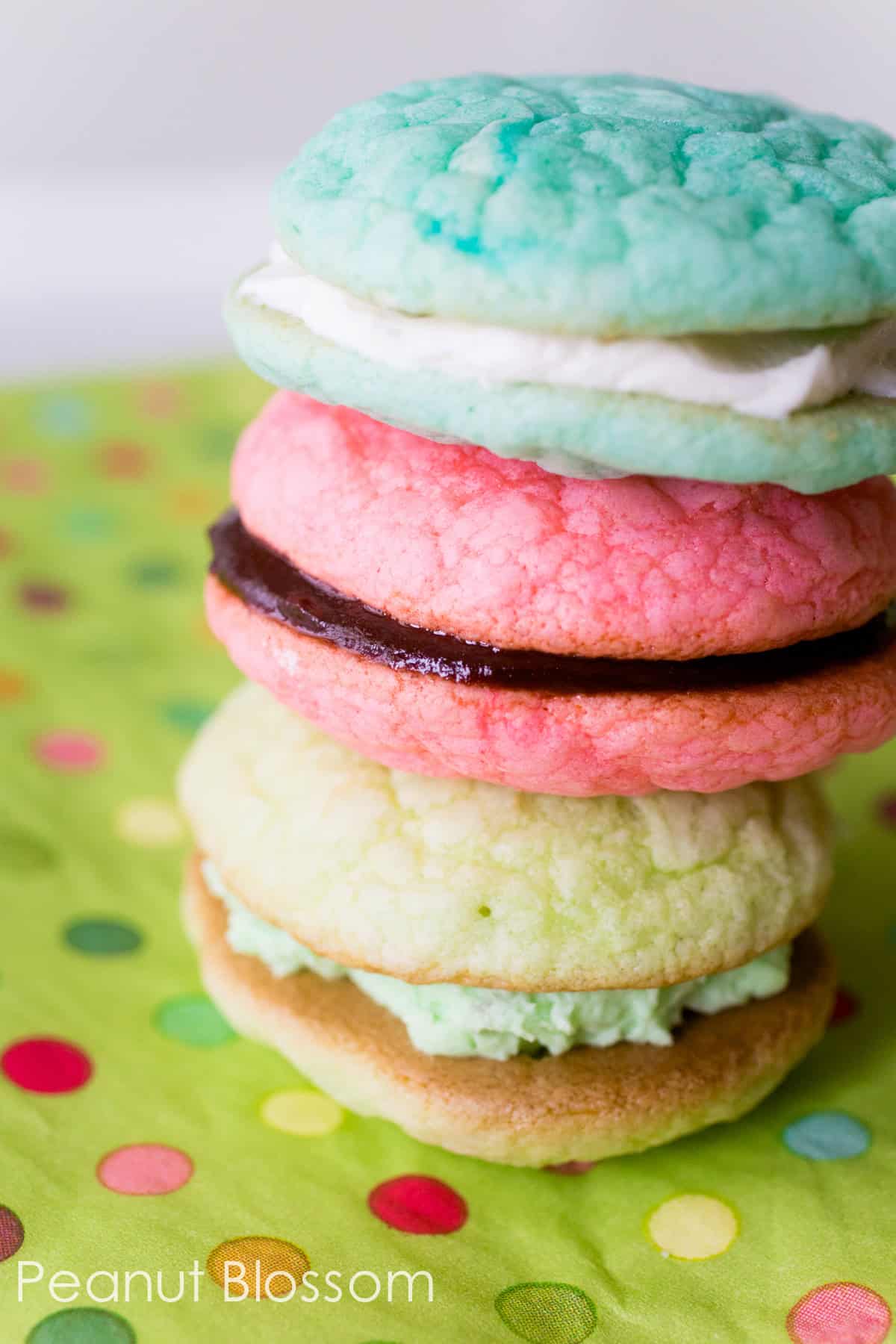 To make it more of a party, I even went so far as to download the Paris Party Set from Caravan Shoppe. So the Peanut and I could have some special one on one time in the kitchen, we set up Little Pea with the pictures of the Eiffel tower and the city scapes and asked her to color them up while we made the macarons.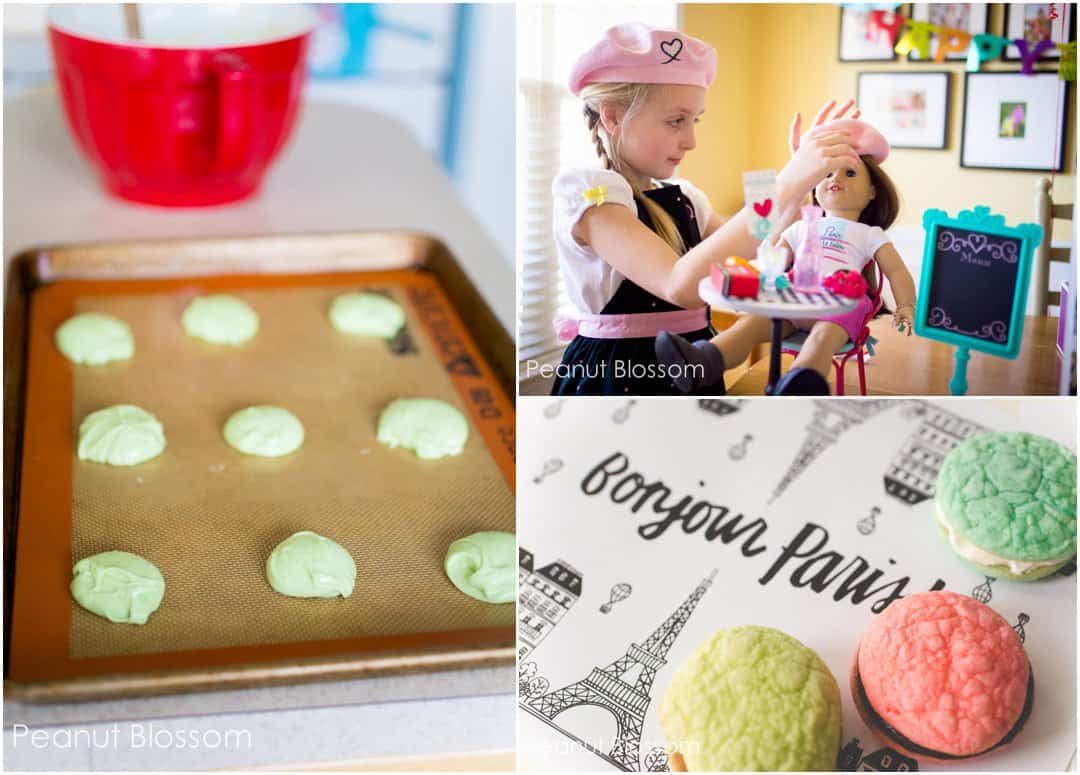 The Peanut was so excited to wear her matching apron from Grace's bakery for our cookie session but she loved it even more that I let her crack all the eggs and do as much of the baking as possible: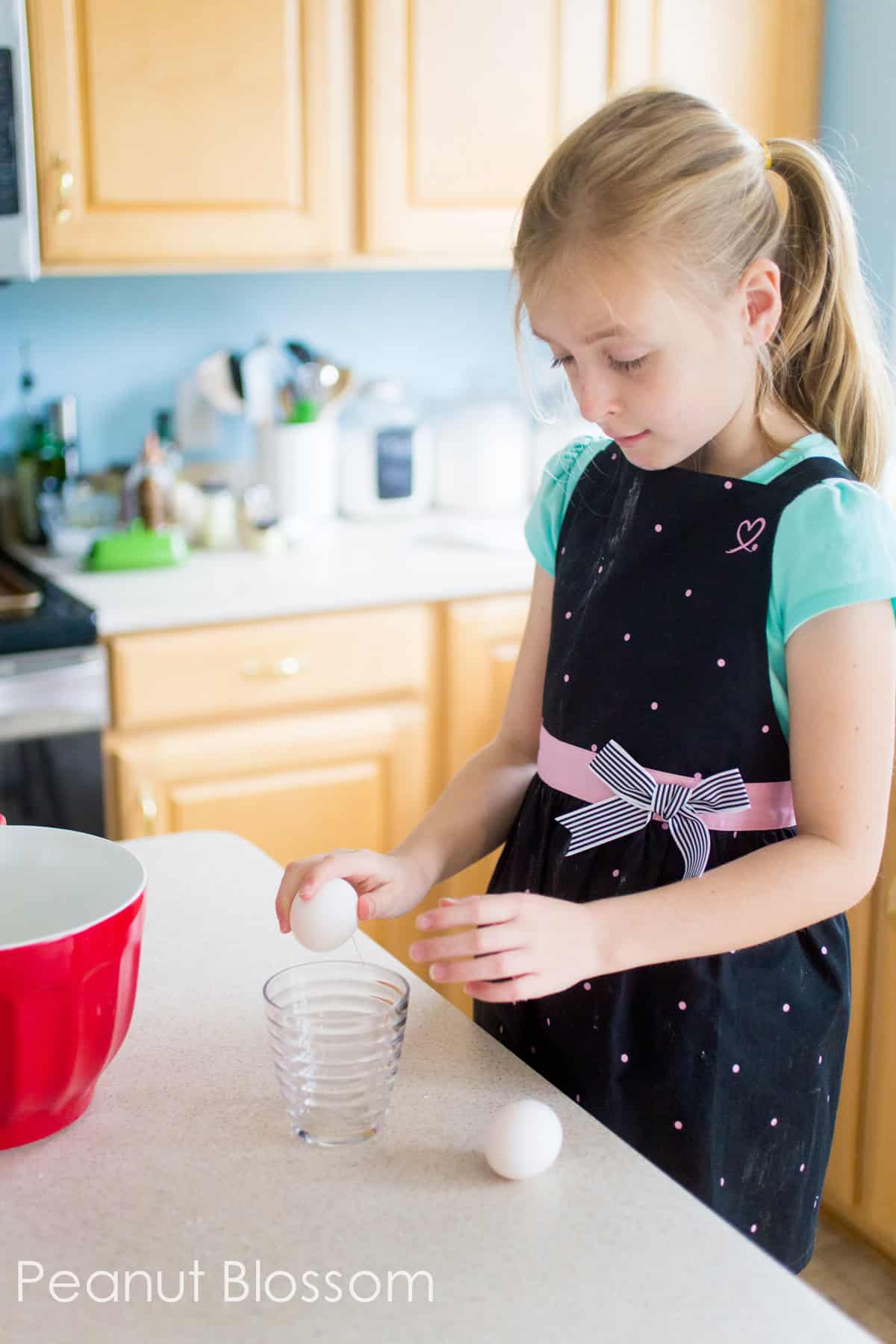 We wanted a variety of flavors and colors for our macarons but we didn't want to be drowning in cookies. I decided we would make one single batch of the batter for our cookies and then divide it into 3 equal portions in separate bowls for tinting.
I let the Peanut pick the colors for our vanilla cookie base. She chose pink, green, and blue.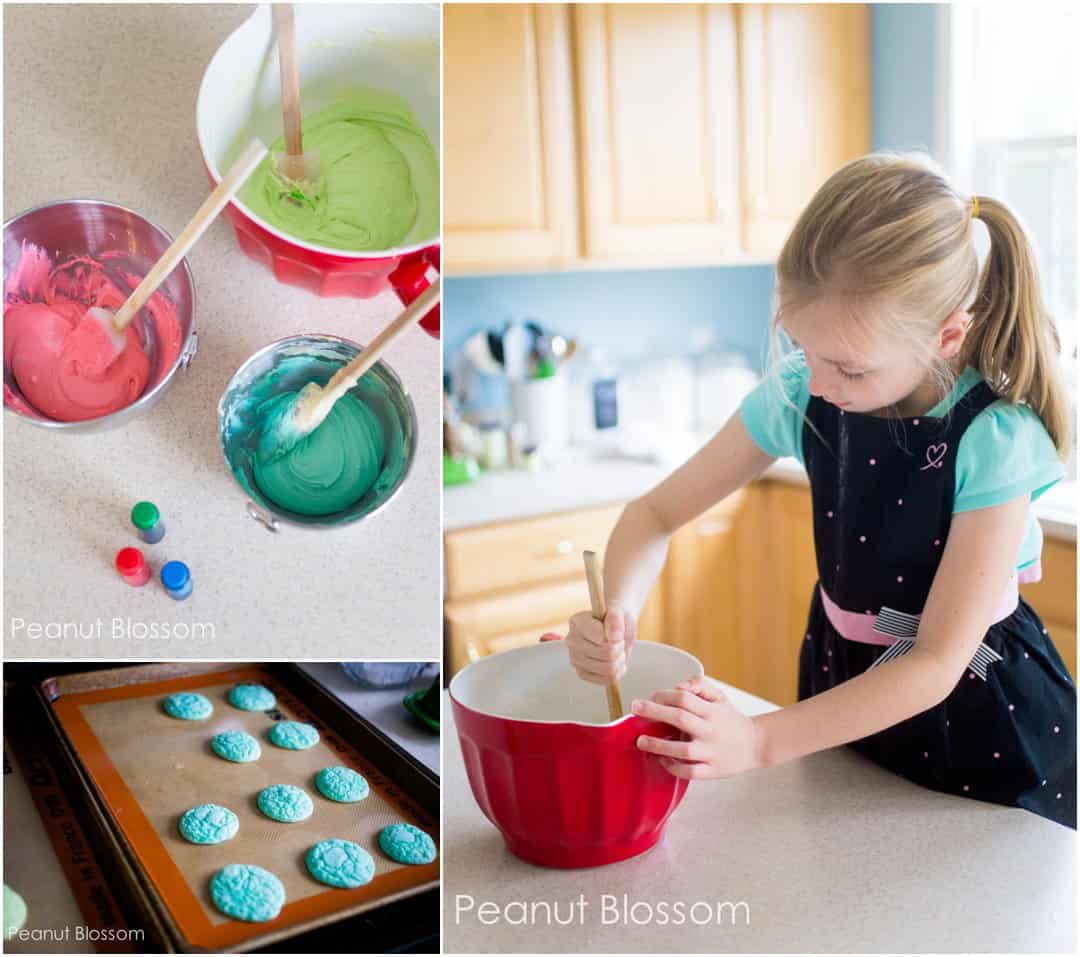 Since all the cookies were vanilla, we played with the flavors for the filling. I made tiny portions of a whipped vanilla buttercream frosting, chocolate ganache, and a pistachio fluff. All three got 2 thumbs up from our testers but the girls both loved the chocolate one best and I devoured the pistachio.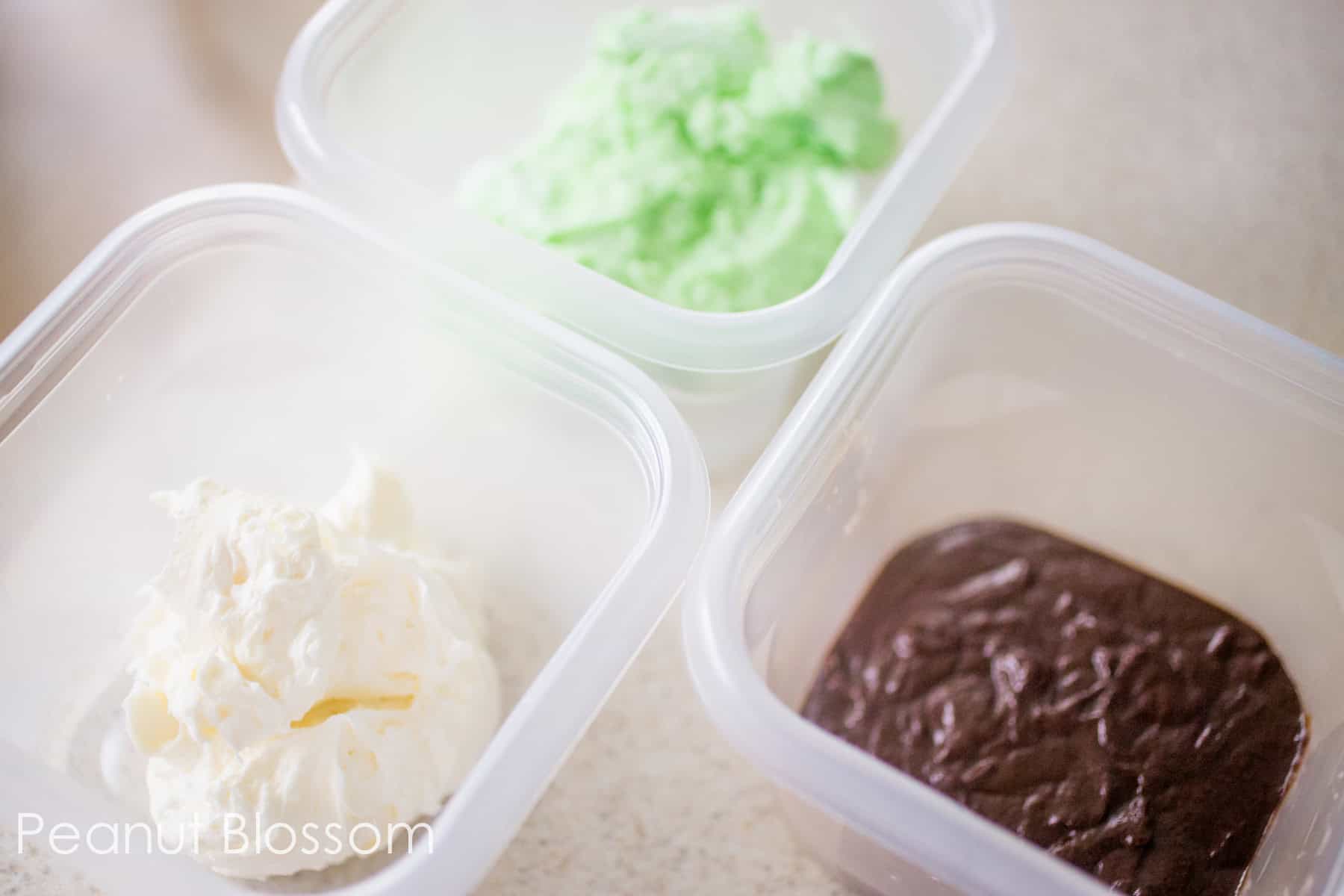 Since we only wanted a couple of cookies for each of us during the party, I stored all the fillings separately in the fridge. We assembled leftover cookies as we wanted them but the buttercream and chocolate had to come to room temperature before they could be spread easily. The pistachio worked the best for impromptu filling later.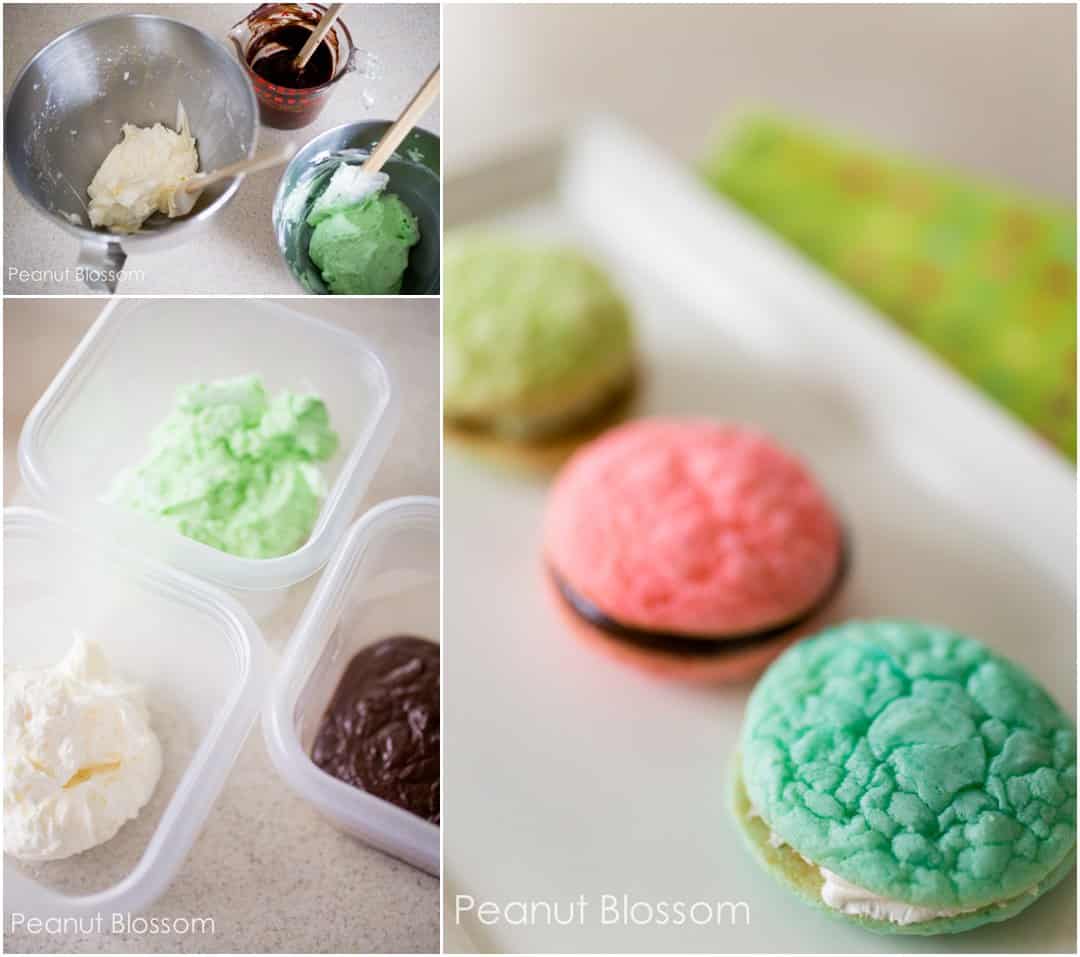 To be fair, these are not *exactly* macarons. They are much more like dressed up whoopie pies made on a smaller scale. We experimented with a more legitimate recipe and discovered that real macarons are very EXACT. At her current level of skill, the Peanut wasn't able to really help with the baking which was no fun. But, the real deal is so delicious, they'd be a great project for a more advanced baking partner to help with and might be worth trying again at some point.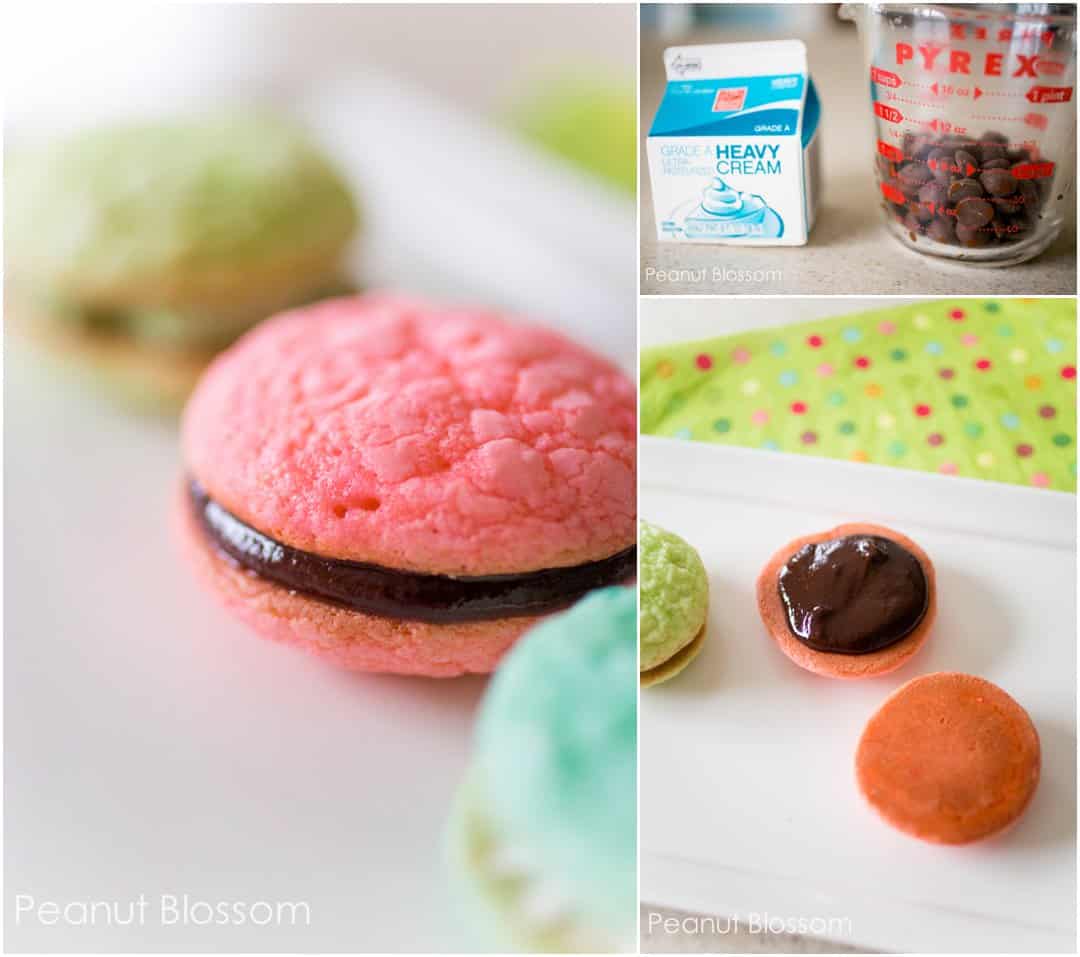 Has your daughter discovered Grace yet? I watched the movie with the girls and thought it was super cute. I think that it would make a perfect weekend party for your daughter and her friends to get together and bake & watch the movie with their treats.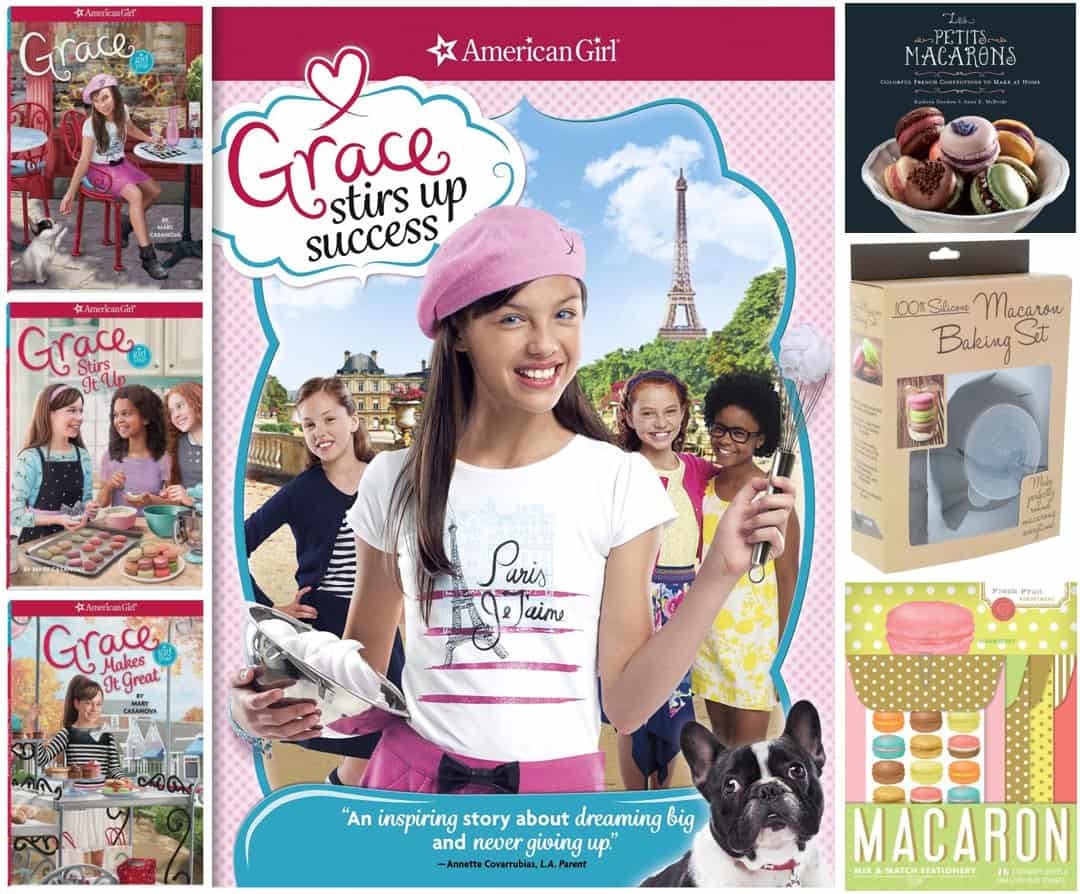 You might also enjoy:

📖 Recipe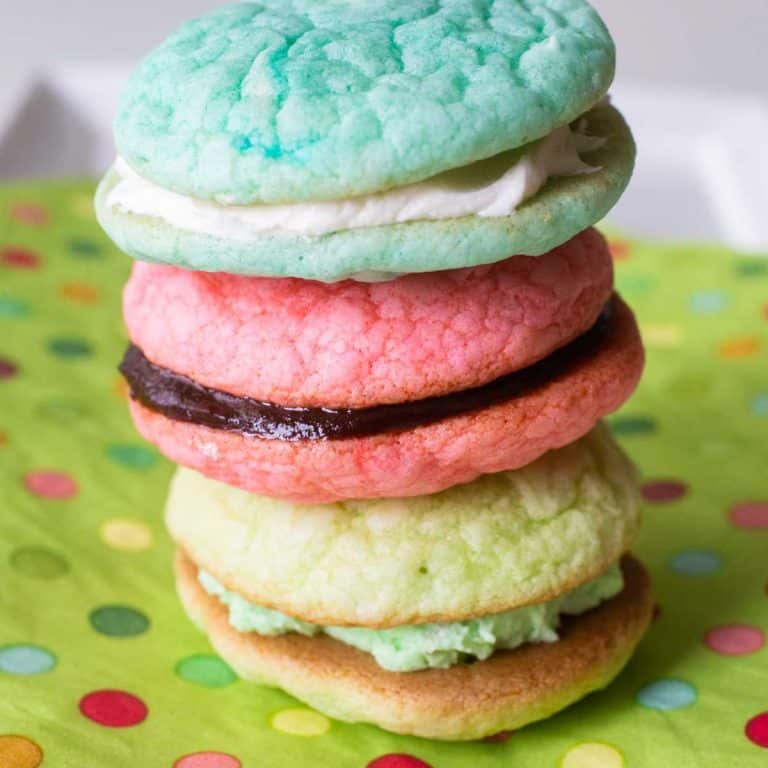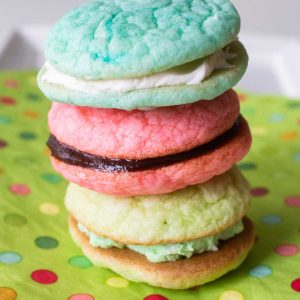 Homemade Macarons for Kids
Got a little baker who wants to make French macarons? This easy recipe is perfect for playing with different flavors of sandwich cookie fillings.
Ingredients
For the cookies:
1

box vanilla cake mix

3

tablespoon

milk

¼

cup

vegetable oil

2

eggs

food coloring
Chocolate ganache:
¾

cup

heavy whipping cream

1

cup

chocolate chips
Vanilla buttercream:
8

tablespoon

(1 stick) of butter at room temperature

1

cup

confectioners' sugar

Pinch

of salt

½

tablespoon

vanilla extract
Pistachio fluff:
1

pkg pistachio instant pudding

prepared according to pie filling instructions

1

container of Cool Whip
Instructions
For the Cookies:
Heat the oven to 350°F. Line your cookie sheets with silicone baking mats or parchment paper.

In a large bowl, combine the cookie ingredients until thoroughly wet.

Divide the dough evenly into three bowls and tint each one a color of your choice.

Roll dough into 1 inch sized balls and place 1 inch apart on the cookie sheet.

Bake 7-9 minutes or until set.

When slightly cooled, move from the cookie sheet to wire baking racks to cool completely before filling.
Chocolate ganache
Melt the chocolate chips in the microwave by heating in 30-second batches and stirring until smooth. Pour in the cream, stir to combine. If the mixture is too thick, add a little more cream at a time until proper consistency is reached.
Vanilla buttercream
Beat the butter and sugar together with a hand mixer or stand mixer with the whisk attachment. Add the salt and vanilla and stir to combine.
Pistachio fluff
Prepare the pistachio pudding according to the package directions for PIE FILLING. (This is thicker than normal pudding.) Gently fold in the Cool Whip to great the fluffy frosting-like filling.
Save This Recipe to Your Recipe Box
Find this delicious recipe next time you visit by saving it to your very own recipe box on my site. All your favorites stored in one easy place!