Looking for a way to organize all your digital photos? Whether you're importing them from your DSLR camera, a point and shoot, or your cell phone, Adobe Lightroom will help you organize all your images neatly and has user-friendly editing options that will polish the photos perfectly.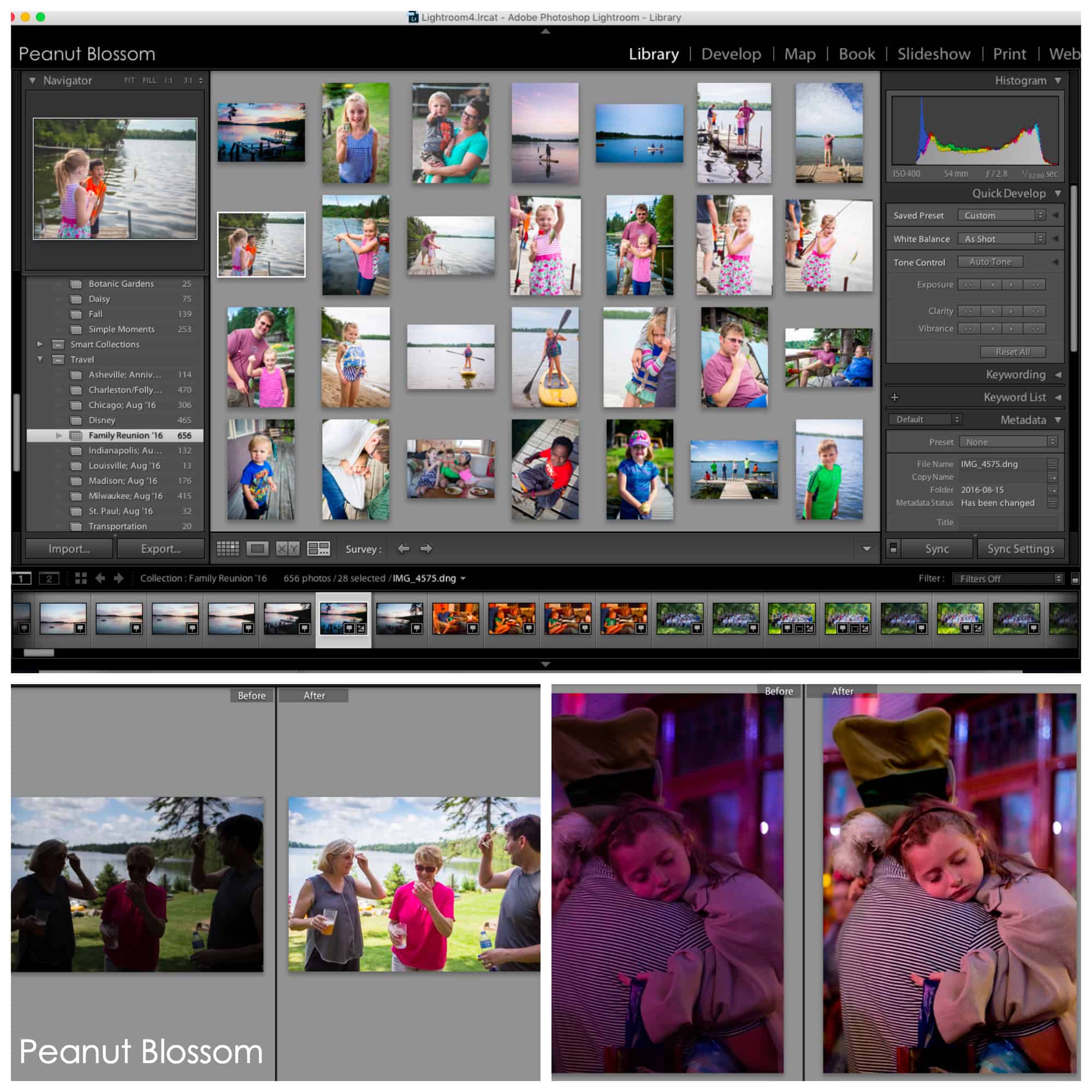 When Handyman Tim first gave me my DSLR all those years ago, he should have just wrapped up a software license to Adobe Lightroom to go with it. Not only do I think that Lightroom is the best photo editing software for moms EVER but I think it is just as essential as any one of my lenses or even the camera itself.
There is not ONE single image hanging on my walls or printed in a photo album that hasn't been passed through Lightroom on my computer. Except for the very rare instance when I share a picture from my iPhone directly, there are not any photos on this blog that haven't been given however slight a polish in Lightroom.
I have been such a crazy raving fan of Lightroom for so long that when I knew I'd be on the road for three weeks this summer as part of our crazy road trip, one of the first things I did to prep my laptop was to install Lightroom so I could edit our photos on the go. Lightroom has helped me to understand tricky photography essentials like exposure, white balance, and highlights/shadows more than any other class or workshop I've taken.
Whether you're a mom who is just starting out with photography so you can capture your sweet little ones or your a seasoned blogger looking to strengthen the imagery on your site, Lightroom is an essential tool in your kit.

All in One Photo Editing Software for Moms
The number one reason I adore Lightroom is that it is truly an all in one software. Unlike Photoshop or PicMonkey, Lightroom lets you build and organize a photo library. All of my images are cataloged in Lightroom for easy access. I've set up a user-friendly system for importing the images and organizing them so that I can find exactly what I need at a glance.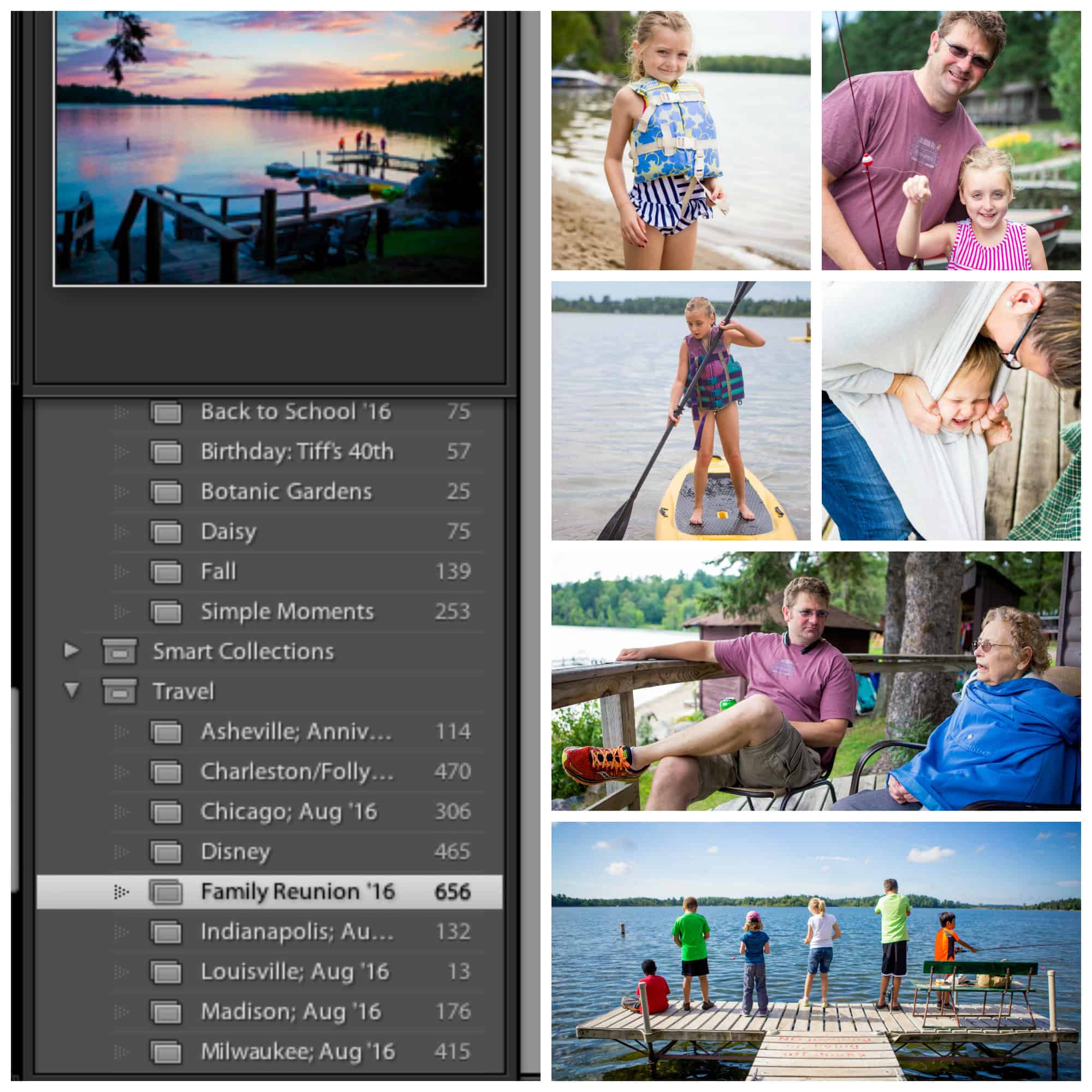 Using Lightroom to Understand the Tech Behind the Image
When I was first learning to shoot in Manual mode on my DSLR, Lightroom helped me to understand the connection between my settings and the final image. I could see up close and extra large what happens when I miss focus or use the wrong aperture for the image I was trying to create.
Using Lightroom's histogram, I learned the difference between an under exposed, over exposed, and perfectly exposed image. The easy slider panel allowed me to quickly correct my mistakes and has saved countless images from the virtual trash bin.
With a simple nudge of a slider or two, you can easily fix problems with exposure, botched white balance, rescue blue skies (like this tutorial here), and boost colors and contrast to give your photos a bit of *POP*.

And when you've polished your photo just as you want it, Lightroom makes cropping and sharing your images easy as pie. There are preset crop settings for 4x6 and other common print sizes or you can do a custom crop or square for sharing on social media.
The most important feature
The feature that makes Lightroom truly special and amazing for newer photographers is it's non-destructive editing process. This is a fancy way of saying that you can edit the heck out of, crop a million ways from Sunday, and play with your image as much as you possibly want and your original image file stays INTACT and PERFECT. Those changes apply to a preview of the image and are only applied upon exporting the file which creates a new file for you to use, protecting and saving your original.
In plain English this means: As your editing skill improve, you can revisit older images in your library and edit them according to your best techniques. This is no small thing for a beginner photographer.
If you don't have a DSLR, Lightroom is still an amazing tool. I use it to organize and catalog all the photos and videos from my iPhone. I set up separate catalogs for my daughters' point & shoot cameras so they can store their images separately from mine.
If you don't already have Lightroom, you can buy a copy of it right here.