Thanks to the lovely folks at the American Girl Bistro for hosting us for this special event. All thoughts and opinions are our own.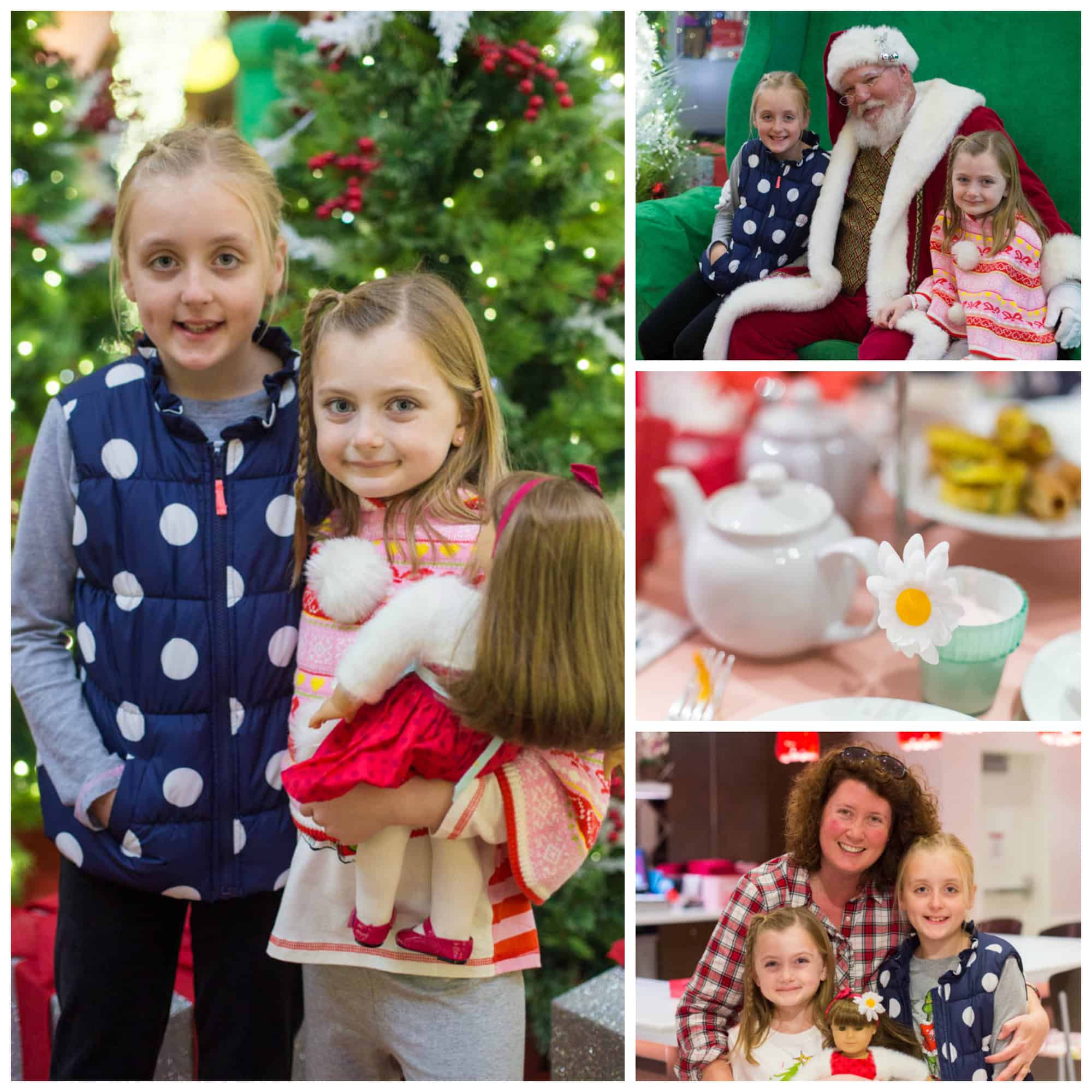 I remember fondly the special traditions my mom created for us to celebrate the Christmas season together: Breakfast with Santa, an annual shopping trip to Hallmark for a new ornament, and special lunches together. Christmas was just as much about the preparation time as it was the big day itself.
This year I was eager to try something a little new with my girls. Ages 6 & 9 are just too fun: old enough to behave so well in public, young enough to still appreciate simple outings together. I decided to organize one afternoon for some mommy-daughter time together.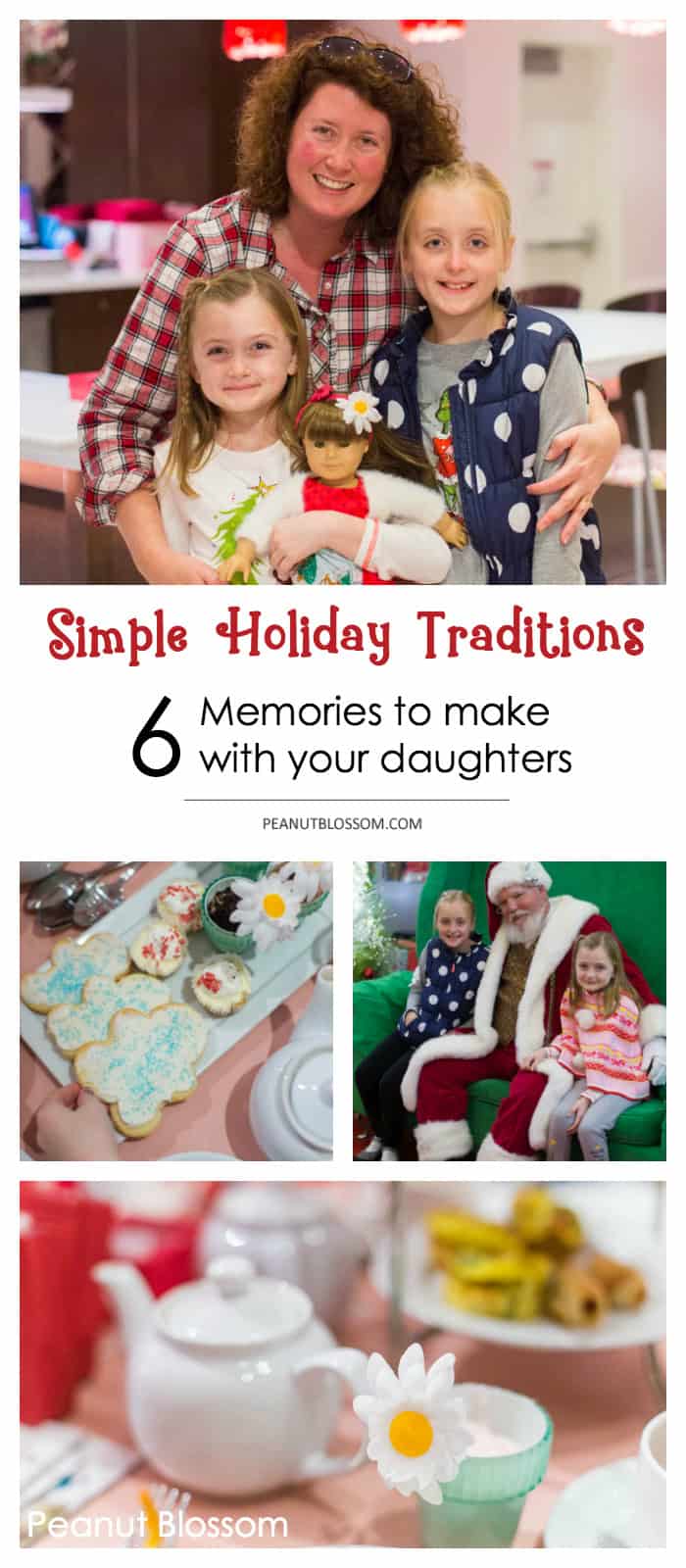 Our special afternoon together was sandwiched together by two special events: a visit with Santa Claus and a special holiday tea at the American Girl store in our local mall. I rounded out the rest of the day with super simple things to make our time feel extra festive.
Visit with Santa: We have found Santa Claus at many different places in and around Charlotte the last few years: at the Daniel Stowe Botanic Gardens, on the Polar Express in the Blue Ridge Mountains, at the Biltmore in Asheville. This year we just kept it super simple and visited with him right at South Park Mall. Little Pea was thrilled but I could tell that the Peanut was feeling a smidge embarrassed to be standing in line to sit near him. When I pointed out two other kids taller and older looking than her in line, she felt a lot better. I remember indulging my mom for photos of us with Santa well into our teen years. I hope my girls always have a playful sense of fun when it comes to hanging out with the guy in red.
Holiday tea: South Park Mall features the American Girl Store with a bistro that hosts several events throughout the year. They have a sweet holiday tea event that is run throughout December so I booked a table right at the beginning of December.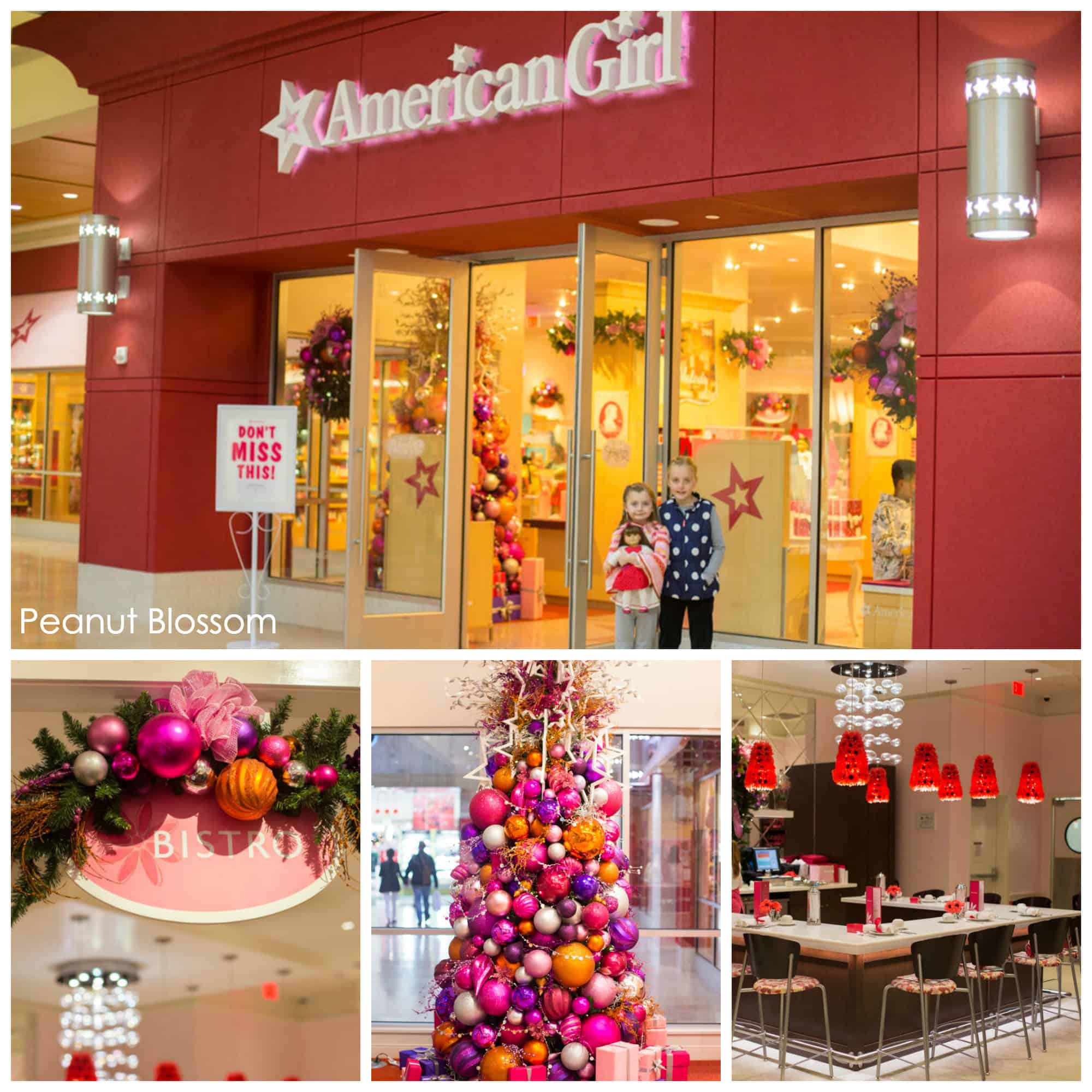 We've never done one of their special events before, so we weren't sure what to expect. The tea started at 4pm inside the bistro. They served our choice of tea or hot cocoa in individual tea pots along with an adorable tier of light snacks: fruit kabobs with strawberry yogurt dip, gingerbread shaped tea sandwiches, and mini frittatas. The grand finale featured frosted sugar cookies, miniature peppermint cheesecakes, and chocolate mousse flower pots.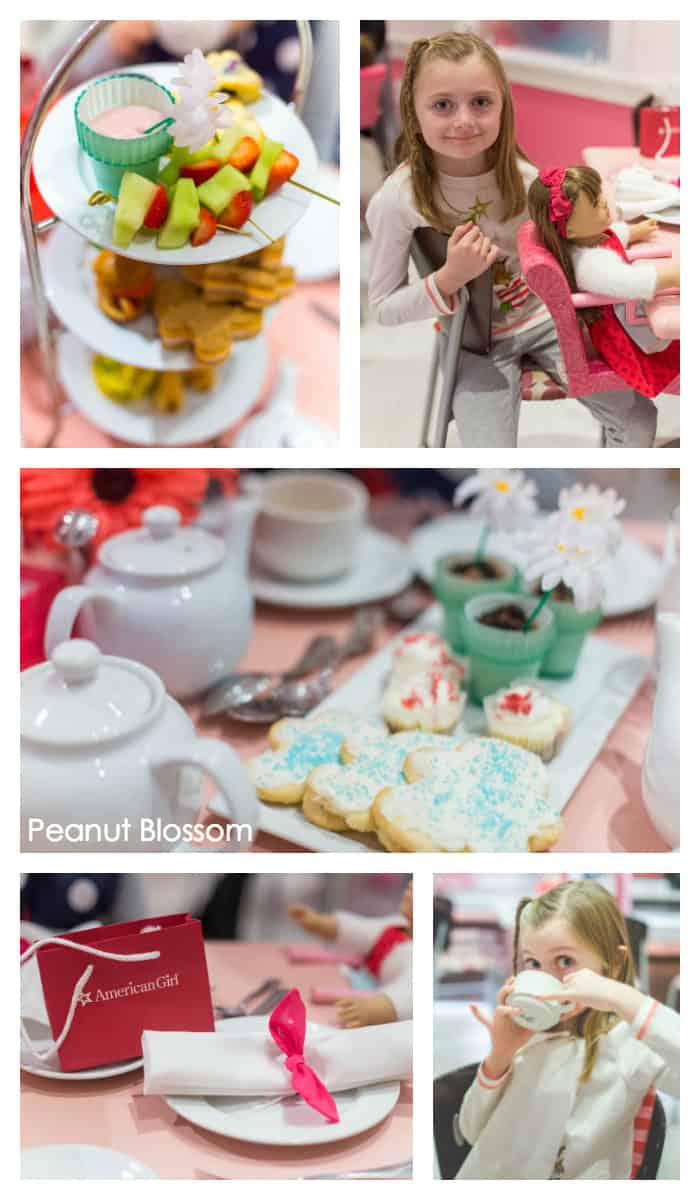 While we waited to be served, the girls worked on a simple glittery snowflake craft that was featured inside the tiny American Girl shopping bags at each place. The tea wouldn't have been complete without a special seat at the table for our doll. Little Pea loved the tiny matching teacup and saucer she was able to use to help serve and feed her doll.
The Peanut's favorite part was the box of discussion questions that sat on the table. When our waitress first pointed them out I didn't think we would need them since we have no trouble chattering away. But, the girls loved taking turns reading off the questions and they were just right for the ages and interests of my little ladies.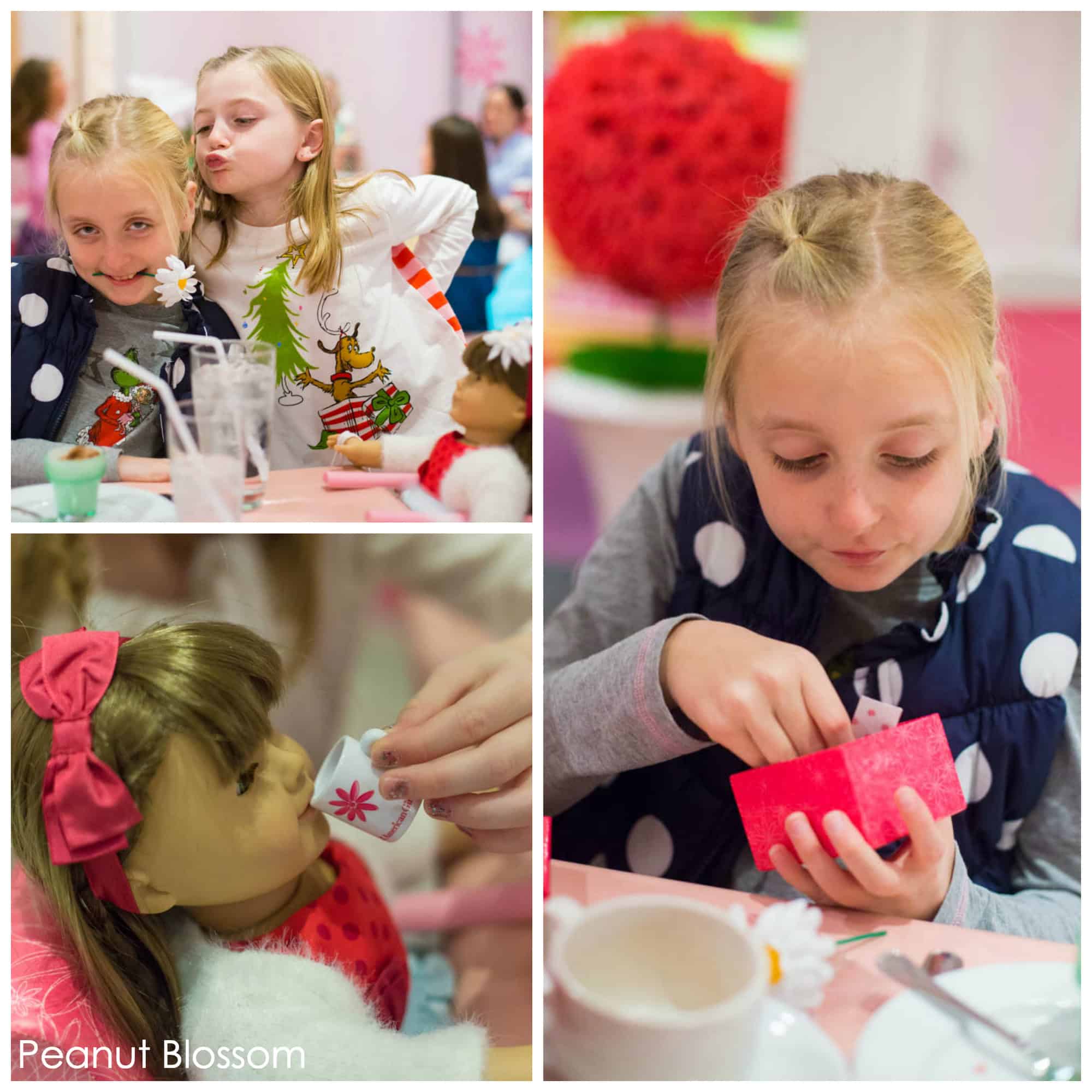 The holiday tea took about an hour. We arrived early for our visit with Santa beforehand and left enough room in the middle for some light shopping for presents for the family. It was a lighthearted and festive way to spend a simple afternoon. Other traditions we've done in the past have been so much more of a burden on our schedule. It was wonderful to have something so sweet and so close to home this year!
To make your holiday afternoon extra festive, here are my favorite tips:
6 simple holiday traditions for moms and daughters:
1. Dress up in something a little festive and special for your afternoon. The girls loved wearing their new Christmas t-shirts and glittery shoes.
2. Paint your nails in holiday colors: We dug up a red, green, and white glitter nail polish that Little Pea insisted on wearing. Why not??
3. Listen to Christmas music in the car on the way too and from your outing. I created a special playlist for us on Spotify that features all the kids' favorites.
4. Visit with Santa and get the scoop on what the kids are wishing for this Christmas.
5. Plan a holiday tea party where your girls can brush up on their manners before the big family dinner.
6. Take a holiday selfie with you and your girls. They will want to remember that YOU were there, too!
If you have an American Girl store near you, they run the holiday tea event right up until Christmas. Here in Charlotte their next holiday tea is on December 22 at 4pm. What a fun thing to do with grandma if she is coming into town for Christmas! You can find out more information and reserve your seats here.