You Had Me At Hola is the official July Pick for the Peanut Blossom Book Club for Recovering Readers.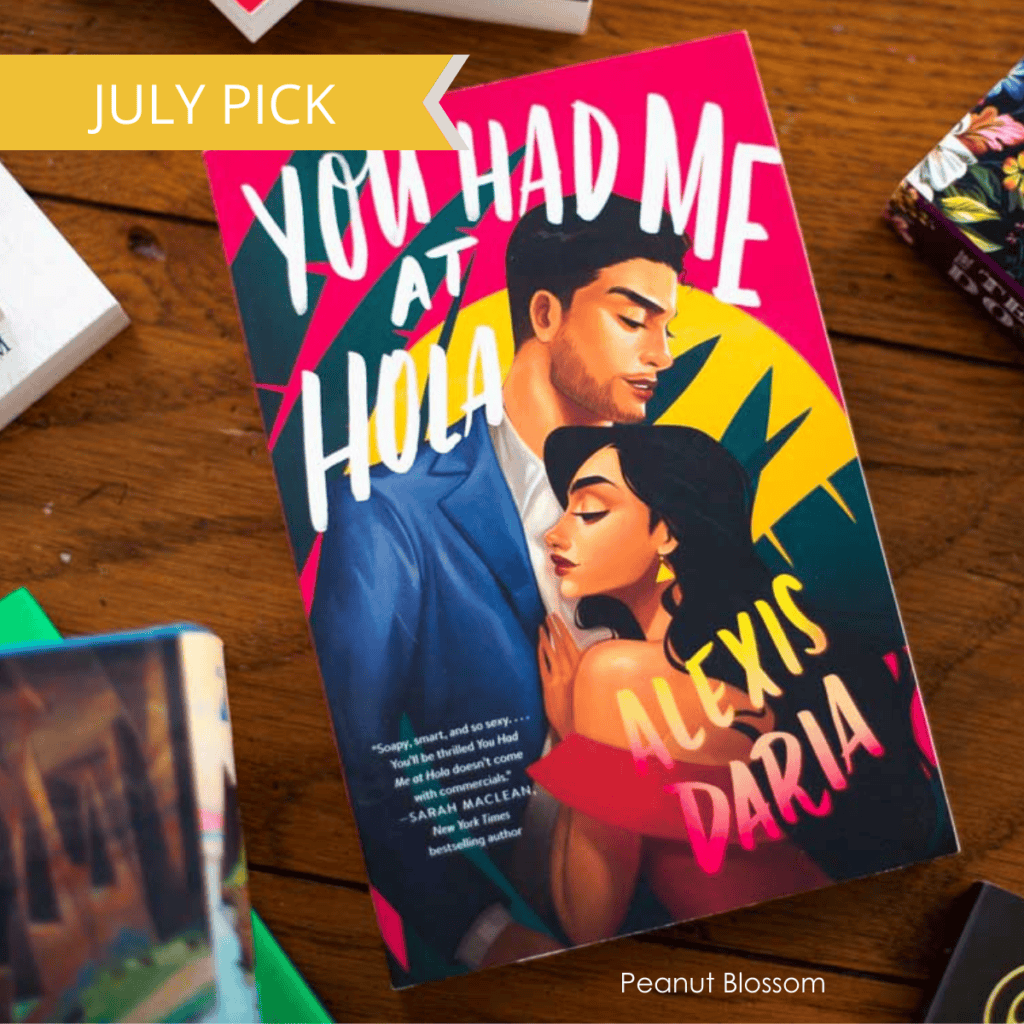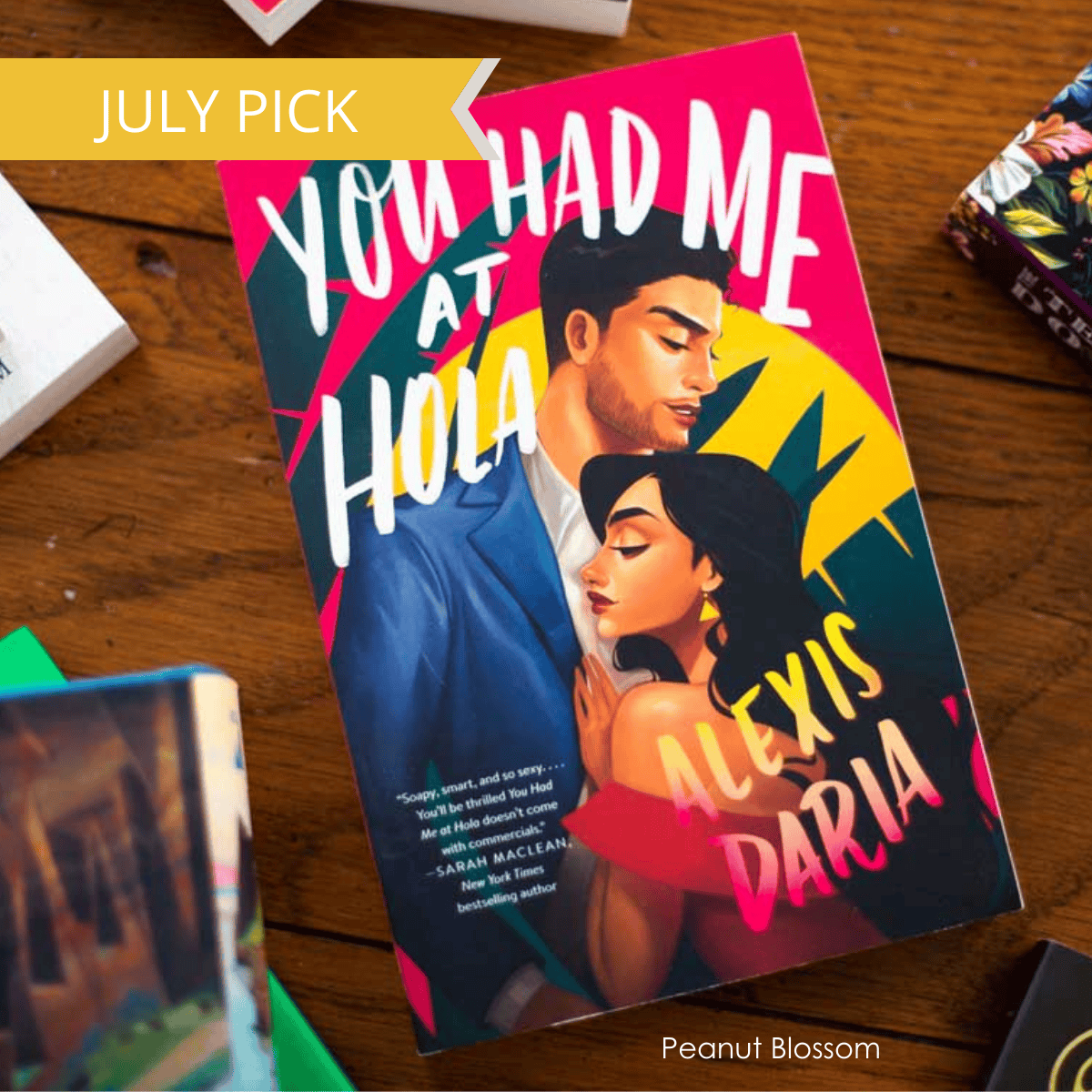 During every lunch hour on my college campus, you would hear the stereo sounds of Days of Our Lives streaming from the open doors of every dorm room in the hallway.
Though it has been years since I've sat and watched a soap opera, the genre still holds a special place in my heart.
This month's book takes place on the set of a telenovela, a Spanish-language soap opera. I was so excited to discover this unique plot set-up in You Had Me At Hola by Alexis Daria and thought it would be fun to revisit the soap opera watching days of my college years.
Not familiar with this kind of show? Maybe you'll want to prep by watching one of these telenovelas on Netflix before you start the book.
For those of you who love to hear foreign languages spoken, this might be an excellent month to try out an audiobook. Spanish is such a lovely language and hearing it rather than reading it on paper will definitely bring a fun twist to your reading experience!
I can't wait to hear your thoughts on this month's pick!

P.S. Just joining us? Don't miss the full 2021 line-up for our book club picks.
Want to get free reminders for each month's book pick?
Sign up for my book club newsletter right here:
July's Official Book Club Pick: You Had Me At Hola by Alexis Daria
Featured as an Amazon editor's pick for "Best Romance," I'm pleased to announce that it is our official July Pick for this year.
Get your copy of this month's book club pick:
Money-saving tricks for reading this month's book pick:
You can get the book from your library.
The Kindle version is cheaper than the paperback AND you can save money on the Audible version if you own the Kindle copy! I love to use the Amazon Whispersync feature to go back and forth between audio and digital reading.
Special Note: There's a fair amount of Spanish in this book club pick. This would be an excellent month to try out purchasing the Kindle + Audible combination so you can both SEE and HEAR the Spanish.
What is this month's book about?
"RITA® Award Winning author Alexis Daria brings readers an unforgettable, hilarious rom-com set in the drama-filled world of telenovelas—perfect for fans of Jane the Virgin and The Kiss Quotient.
Leading Ladies do not end up on tabloid covers.
After a messy public breakup, soap opera darling Jasmine Lin Rodriguez finds her face splashed across the tabloids. When she returns to her hometown of New York City to film the starring role in a bilingual romantic comedy for the number one streaming service in the country, Jasmine figures her new "Leading Lady Plan" should be easy enough to follow—until a casting shake-up pairs her with telenovela hunk Ashton Suárez."
Read the full description of the book here.
Discussion Questions for You Had Me At Hola:
Want to discuss this month's book with your book club friends? Here are some great conversational questions to get the party started.
You can download the full discussion guide here and then print it to have handy.
Would you watch Carmen in Charge if it was an actual TV show? Who would you cast in Jasmine and Ashton's roles?
Do you have a large family like Jasmine's? Do you have any family traditions?
If you didn't know Spanish before reading the book, did you find yourself looking up words and phrases that were used?
This month's read had racier love scenes than our previous books. Were you okay with this, or did it make you uncomfortable?
Have you ever watched a telenovela before reading this book? If not, would you be more compelled to watch one now?
What did you think of Jasmine's "Leading Lady Plan"?
Would you have made the choice's Ashton made concerning his son?
Do you think there should be harsher laws against stalkers and intrusive paparazzi, or do you feel public attention just comes with the territory of being a celebrity?
Will you be more likely to read books with LatinX representation after reading You Had Me At Hola?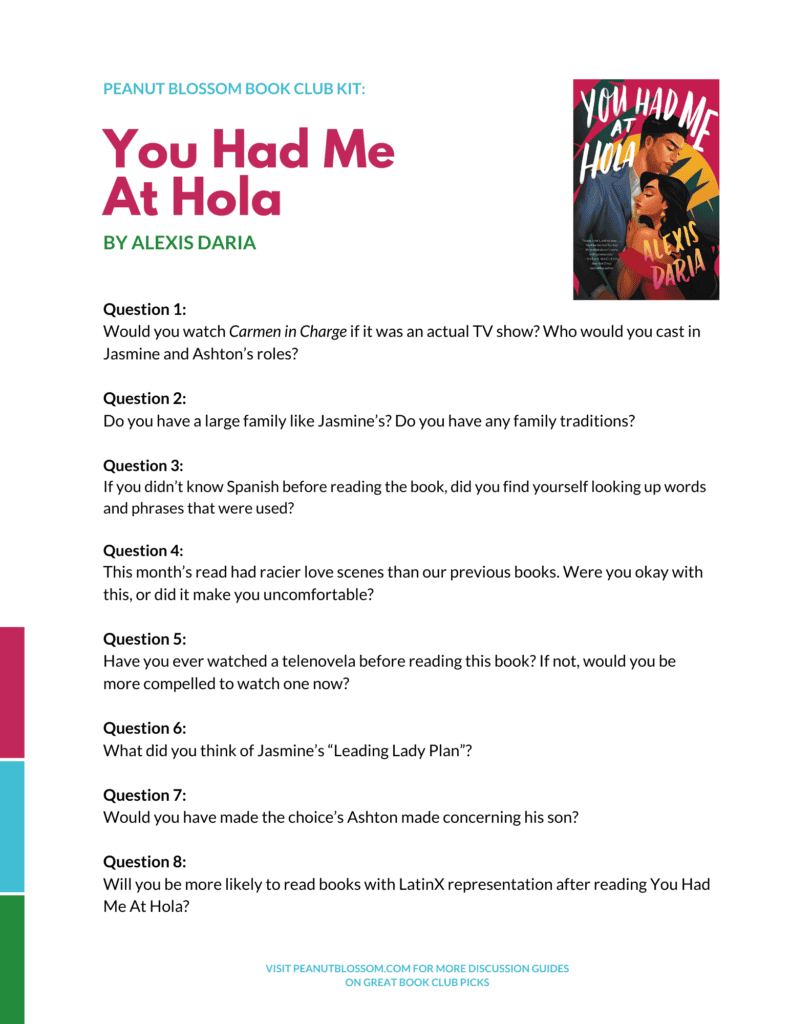 Book Club Party Recipes:
These easy recipes are perfect for enjoying while you're reading this month's pick or to serve at your book club party: