Book Club Kit for The Arrangement by Sarah Dunn includes book club discussion guide and party menu.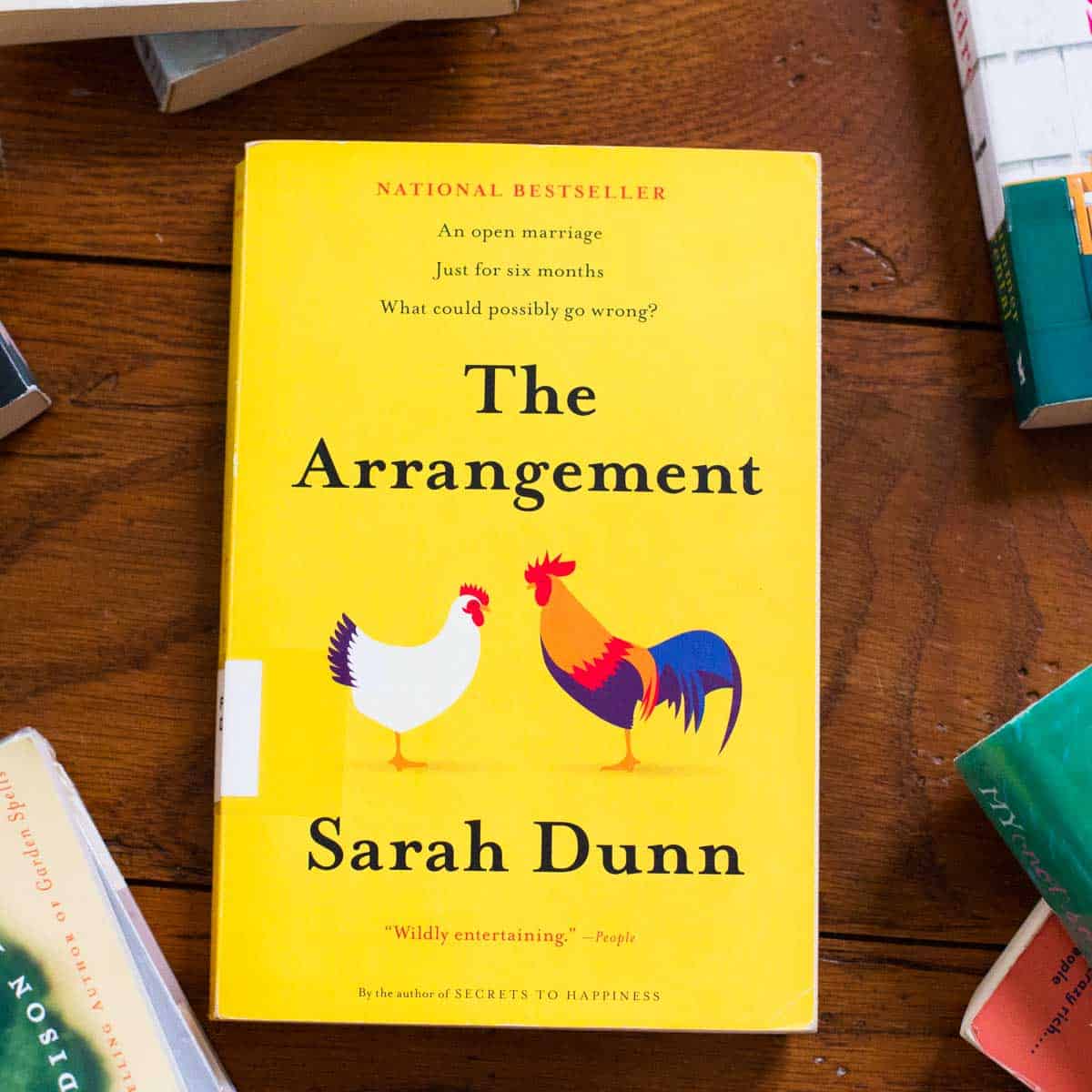 Every February I try to pick an offbeat romance for our book club pick of the month.
From the teenage sweethearts in Eleanor & Park to the opposites attracting in Who Do You Love to the engagement regrets in The One That Got Away, we've had some fun love stories to chat about over the last few years.
But, none quite like this month's pick!
After seeing this book on several lists of top reads from last year, I am excited to announce we'll be reading The Arrangement by Sarah Dunn.
Peanut Blossom Book Club
This book was our official February 2018 pick for the Peanut Blossom Book Club.
Want to see what we're reading today? Check out our book club book list here.
Want Free Reminders for Each Book?
Sign up for my book club newsletter right here:
What is The Arrangement About?
"Lucy and Owen, ambitious, thoroughly-therapized New Yorkers, have taken the plunge, trading in their crazy life in a cramped apartment for Beekman, a bucolic Hudson Valley exurb.
They've got a two hundred year-old house, an autistic son obsessed with the Titanic, and 17 chickens, at last count.
It's the kind of paradise where stay-at-home moms team up to cook the school's "hot lunch," dads grill grass-fed burgers, and, as Lucy observes, "chopping kale has become a certain kind of American housewife's version of chopping wood."
When friends at a wine-soaked dinner party reveal they've made their marriage open, sensible Lucy balks. There's a part of her, though-the part that worries she's become too comfortable being invisible-that's intrigued.
Why not try a short marital experiment? Six months, clear ground rules, zero questions asked.
When an affair with a man in the city begins to seem more enticing than the happily-ever-after she's known for the past nine years, Lucy must decide what truly makes her happy-"real life," or the "experiment?""
And then go grab a copy of The Arrangement so you can join us for our book club discussion next month! 
The Arrangement Book Club Questions
I believe the best book club questions to spark a lively discussion in your group help readers make personal connections to the story.
You can read about how to write the best book club questions on your own here, but hopefully these will get you started!
Question 1:
What did you think of this month's pick? Would you have picked it up on your own?
Question 2:
Owen & Lucy develop rules for their open marriage experiment.
Do you have any ideas for rules you think they should have added to the list?
Question 3:
Sunny Bang helps set Lucy up with Ben to even the playing field with Owen.
Would you help set up one of your friends even if you thought their experiment was crazy?
Question 4:
The book implies that men benefit from marriage more than women do.
Do you agree? Why or why not?
Question 5:
Lucy enjoys her half of The Arrangement because she found herself "feeling like the best version of herself, the version she used to be a long time ago.
Only back when she was that version of herself, she hadn't appreciated it.
She didn't know it was something that would go away, that would disappear so slowly and yet so quickly she wouldn't even notice it was gone until it was too late."
Do you relate to this quote? Do you feel you've already had a best version of yourself or are you looking forward to a future you being your best version?
Question 6:
"Most people in this country will have three or four marriages in their lifetime. Each one will challenge them and suit them in a different way. The lucky few, the ones who are willing to work at it, will have a handful of very different marriages, all with the same person."
- The Arrangement by Sarah Dunn
How many marriages have you had so far? (With the same person or not!)
Question 7:
Which of the side plots interested/entertained you the most? Which one the least?
To jar your memory, here's a rundown of the main side characters:
Sunny Bang
Susan & Rowan -- the preacher and her husband
Gordon & Kelly -- the billionaire couple
Izzy
Ben
Colleen & Mr./Mrs. Allen Lowell
Wyatt
Question 8:
Several members of book club mentioned this book was too depressing.
Others found things to laugh at.
Where do you fall on the spectrum? What did you find funny, if you did?
Question 9:
The author of this month's book also wrote/created the tv show American Housewife.
Do you see similarities between the book and sit-com dialogue/plot? Have you watched this particular show?
See the online discussion here.
Book Club Party Menu
For the book club party menu, serve easy nibbles your friends will love.
You May Also Enjoy
If you enjoyed this book, you'd likely enjoy these other fun book club picks from through the years: