Rush by Lisa Patton is the official August Pick for the Peanut Blossom Book Club for Recovering Readers.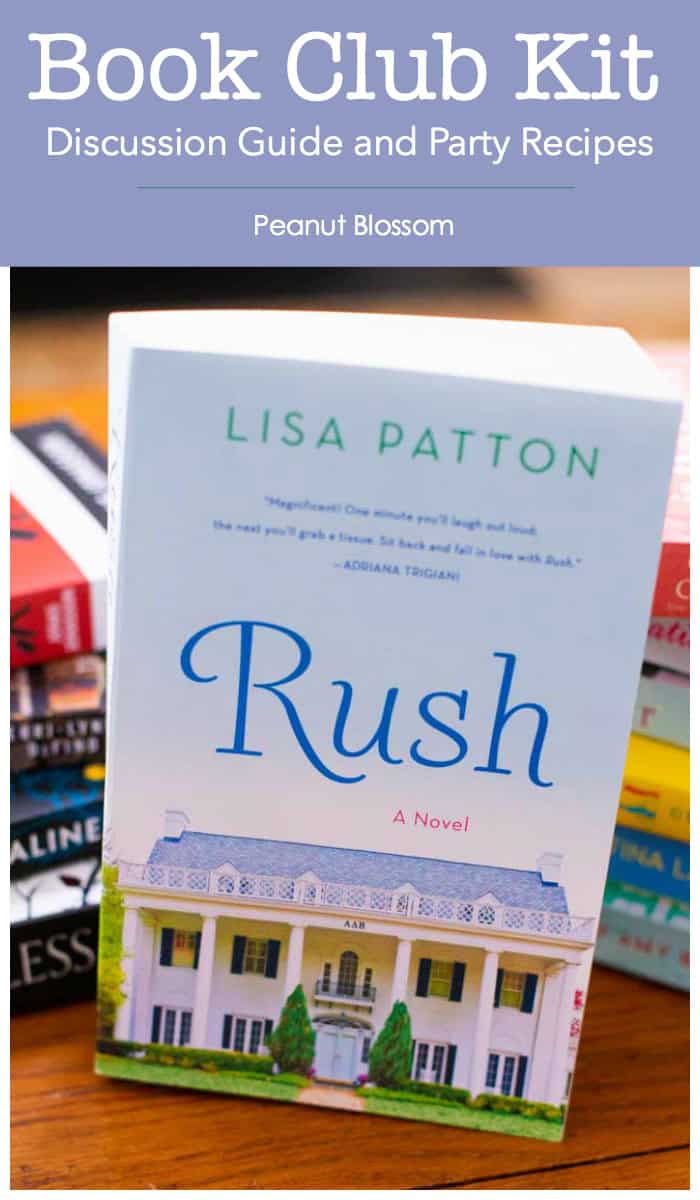 We are in the middle of the weirdest Back-to-School season in modern history. When I chose the 2020 line-up for our book club picks, I had no idea the challenges college students and their parents would be facing right now.
August is traditionally the time for moving into a brand new dorm room, or if you were like me, signing up for Rush in the Greek system at college. In honor of this exciting time of year for new college students, I thought it would be fun to dig in on this month's book club pick: Rush by Lisa Patton.
Were you in a sorority in college? I'm a proud Tri-Delt from the University of Wisconsin. Those years spent in the house with my sisters were some of the very best in my life. I'll be super curious to see what this month's book has to say about Greek life and chat with you about it in the coming weeks.

August's Official Book Club Pick:  Rush by Lisa Patton
I'm pleased to announce that it is our official August Pick for this year.
Get your copy of this month's book club pick:
Money-saving tricks for reading this month's book pick:
You can get the book from your library.
The Kindle version is currently the same price as the paperback, but you can save money on the Audible version if you own the Kindle copy. I love to use the Amazon Whispersync feature to go back and forth between audio and digital reading.
What is Rush about?
"It's move-in day for college freshmen on the Ole Miss campus. Nobody wants to fit in more than Cali, a bright, small town girl with family secrets too scandalous for the well-to-do to imagine. Sorority rush is weeks away and without a pedigree, Cali doesn't have much of a chance at membership. Her dorm room alone is as plain as a cardigan sweater, while the girls next door have one that would make the finest of designers swoon.
Wilda, Alpha Delta Beta alum and rush advisor, has a daughter rushing in the fall, but Lilith, the well-heeled House Corp President, sees Wilda as a pushover and will stop at nothing to ensure her own daughter's legacy bid. Inside the Alpha Delt house, Miss Pearl has been housekeeper and second mother to the girls for years, even though it reminds her of a painful part of her past. When a chance for promotion arises, Lilith slams her Chimmy Choo heel down fast, crushing Miss Pearl's hopes of a better future. But once Wilda and the girls find out, they devise a plan destined to change Alpha Delta Beta―and maybe the entire Greek system―forever."
Get your copy of the book here.
Discussion questions for Rush:
Coming soon!
Be sure to check out the official discussion in our book club group right here.