Recipe for Persuasion by Sonali Dev is the official March 2022 pick for the Peanut Blossom Book Club for Recovering Readers.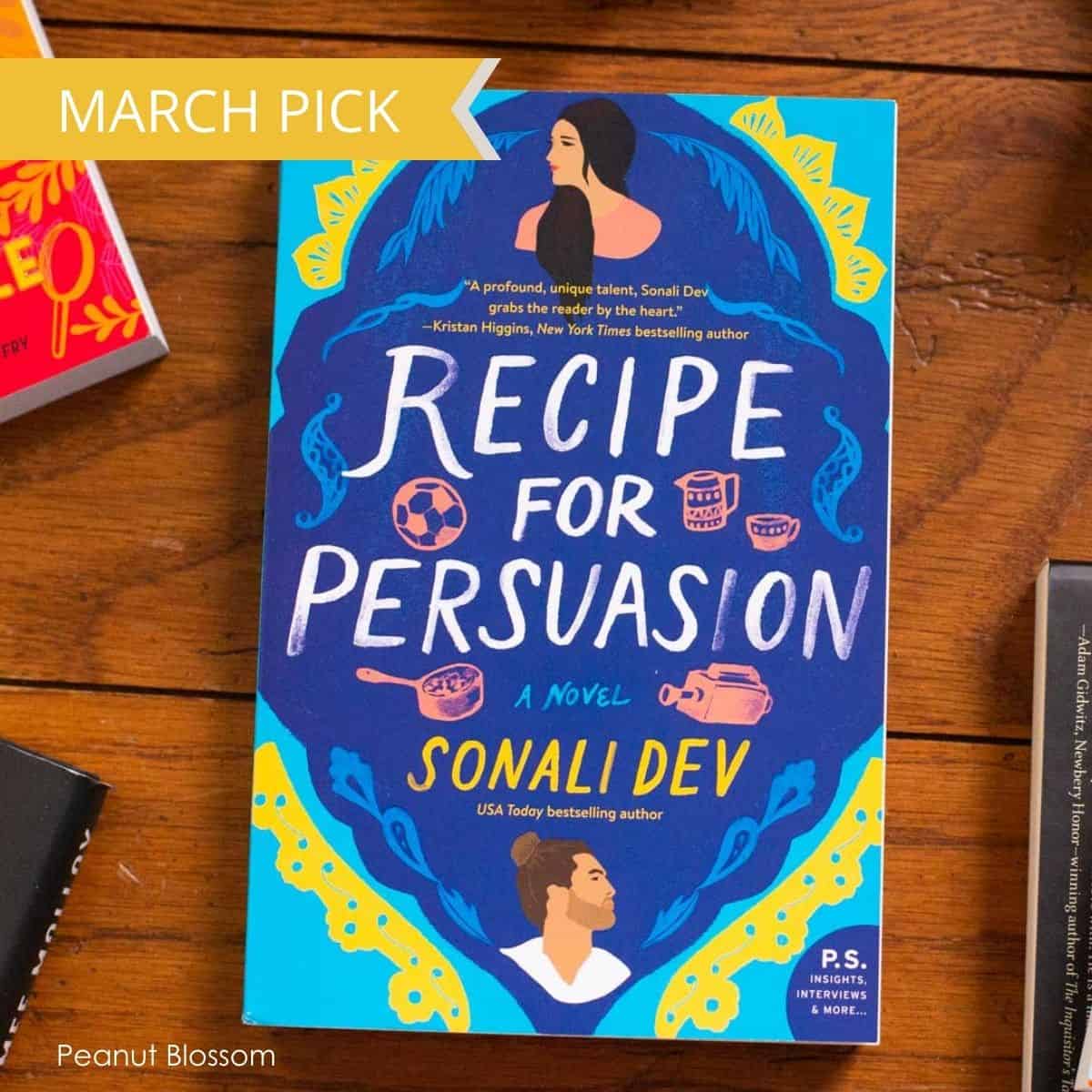 I am a *huge* Jane Austen fan. During one of my favorite college courses, we read every single one of her books in a single semester.
But my favorite part of the class was that our professor showed us the movie version of Emma staring Gwyneth Paltrow and the movie Clueless, which is actually based on Emma, so we could compare them. You can read more about this and 7 other modern movies that retell classic novels here.
Modern retelling of classic stories is a such a fun way to connect with these older beloved books.
I was tickled pink to discover a new series of Jane Austen-inspired books by Sonali Dev. I can't help but wonder what my college professor would think of them!

Want Free Reminders for Each Book?
Sign up for my book club newsletter right here:
March Official Book Club Pick: Recipe for Persuasion by Sonali Dev
I'm pleased to announce that this is our official March Pick for this year.
Get your copy of this month's book club pick:
Money-saving tricks for reading this month's book pick:
What is this month's book about?
"From the author of Pride, Prejudice, and Other Flavors comes another , clever, deeply layered, and heartwarming romantic comedy that follows in the Jane Austen tradition—this time, with a twist on Persuasion.
Chef Ashna Raje desperately needs a new strategy. How else can she save her beloved restaurant and prove to her estranged, overachieving mother that she isn't a complete screw up? When she's asked to join the cast of Cooking with the Stars, the latest hit reality show teaming chefs with celebrities, it seems like just the leap of faith she needs to put her restaurant back on the map. She's a chef, what's the worst that could happen?
Rico Silva, that's what.
Being paired with a celebrity who was her first love, the man who ghosted her at the worst possible time in her life, only proves what Ashna has always believed: leaps of faith are a recipe for disaster.
FIFA winning soccer star Rico Silva isn't too happy to be paired up with Ashna either. Losing Ashna years ago almost destroyed him. The only silver lining to this bizarre situation is that he can finally prove to Ashna that he's definitely over her.
But when their catastrophic first meeting goes viral, social media becomes obsessed with their chemistry. The competition on the show is fierce…and so is the simmering desire between Ashna and Rico. Every minute they spend together rekindles feelings that pull them toward their disastrous past. Will letting go again be another recipe for heartbreak—or a recipe for persuasion…?"
Read the full description of the book here.
Discussion Questions for Recipe for Persuasion
COMING SOON
You May Also Like
If you liked this book, you may also enjoy these other fun foodie book club picks: