Book Club Kit for The Miniaturist by Jessie Burton includes book club discussion questions and party menu.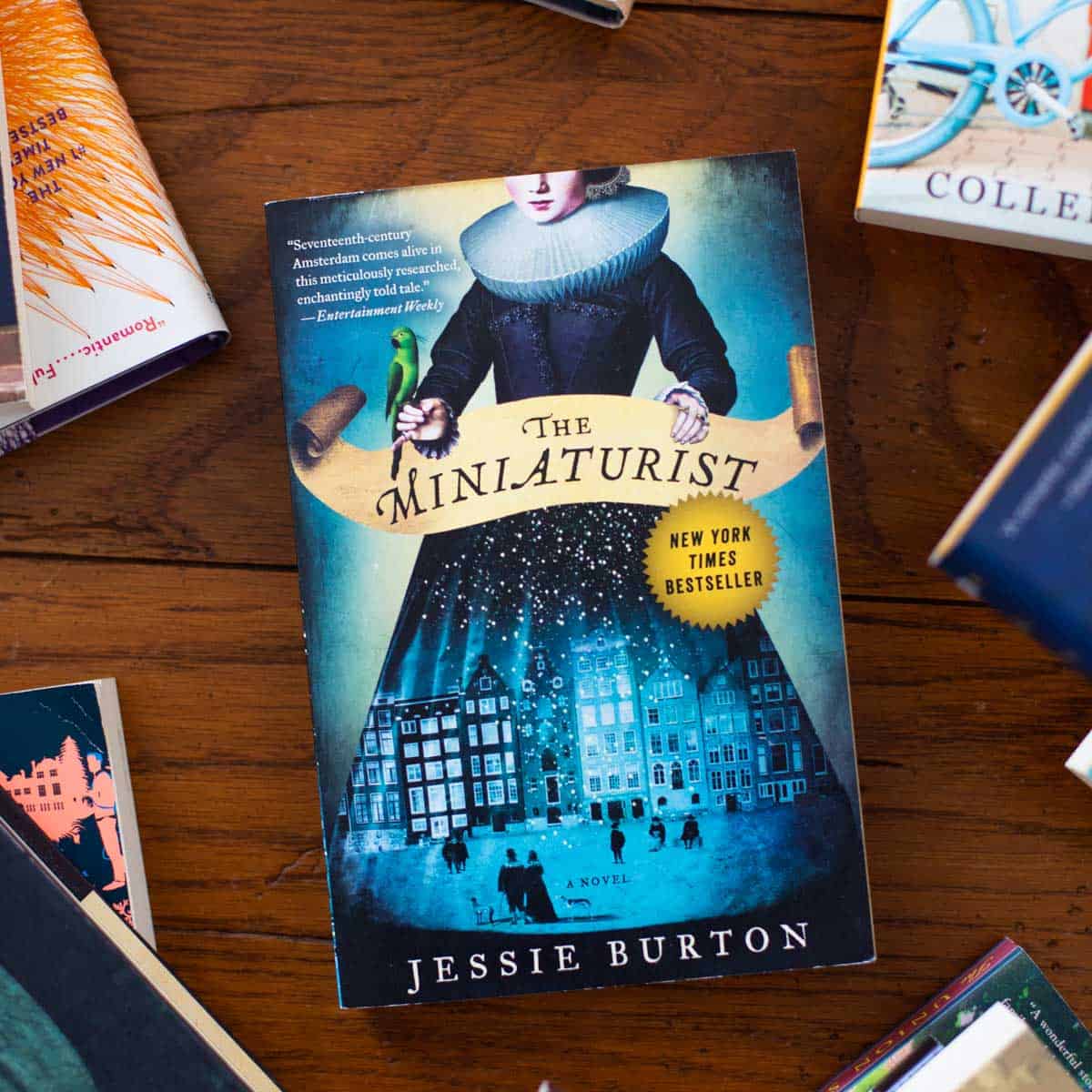 I don't do horror movies or anything overly scary.
Even certain thrillers can be a bit much for this old scaredy cat. But come October, I definitely find I have a taste for darker more intriguing books.
I went hunting for something that fit the season and stumbled upon The Miniaturist by Jessie Burton.
I hesitated briefly since we just finished another historical fiction book, but this one definitely appears to have a more magical element to it.
Peanut Blossom Book Club
This book was our official October 2016 pick for the Peanut Blossom Book Club.
Want to see what we're reading today? Check out our book club book list here.
Want Free Reminders for Each Book?
Sign up for my book club newsletter right here:
What is The Miniaturist About?
"Set in seventeenth century Amsterdam—a city ruled by glittering wealth and oppressive religion—a masterful debut steeped in atmosphere and shimmering with mystery, in the tradition of Emma Donoghue, Sarah Waters, and Sarah Dunant.
"There is nothing hidden that will not be revealed . . ."
On a brisk autumn day in 1686, eighteen-year-old Nella Oortman arrives in Amsterdam to begin a new life as the wife of illustrious merchant trader Johannes Brandt. But her new home, while splendorous, is not welcoming. Johannes is kind yet distant, always locked in his study or at his warehouse office—leaving Nella alone with his sister, the sharp-tongued and forbidding Marin.
But Nella's world changes when Johannes presents her with an extraordinary wedding gift: a cabinet-sized replica of their home. To furnish her gift, Nella engages the services of a miniaturist—an elusive and enigmatic artist whose tiny creations mirror their real-life counterparts in eerie and unexpected ways . . .
Johannes' gift helps Nella to pierce the closed world of the Brandt household. But as she uncovers its unusual secrets, she begins to understand—and fear—the escalating dangers that await them all. In this repressively pious society where gold is worshipped second only to God, to be different is a threat to the moral fabric of society, and not even a man as rich as Johannes is safe. Only one person seems to see the fate that awaits them. Is the miniaturist the key to their salvation . . . or the architect of their destruction?"
Go grab a copy of The Miniaturist here.
Book Club Discussion Questions
I believe the best book club questions to spark a lively discussion in your group help readers make personal connections to the story.
You can read about how to write the best book club questions on your own here, but hopefully these will get you started!
Question 1:
What did you think of the book? Is it something you would have picked for yourself? Would you recommend it to friends?
Question 2:
Which character(s) were you particularly drawn to in the story? Did that change as the book went on?
Question 3:
Did you know that The Miniaturist is inspired by an actual doll house owned by an actual Pertronella Oortman??
I was fascinated to discover this information about here.
That is about where the similarities end, the book is not a biography in any way but what a fascinating source of inspiration for the author!
Did you play with doll houses as a child? Do you collect miniature items today? Have you seen Jenny Lawson's from The Bloggess haunted doll house based on her favorite books?
Question 4:
Nella arrives to her new home young and almost childlike. How do we see her develop throughout the book?
Do you think she regrets coming to Amsterdam by the finale?
Question 5:
Were you surprised by Marin's secret life?
What clues did we have at the beginning of the story that hinted at it?
Question 6:
In Nella's shoes, how would you have handled her discovery at Johannes' office? Take your chances in Amsterdam or return home to your family in the country? Something else?
Question 7:
Why do you think we never meet the Miniaturist in this story?
Question 8:
Johannes traded several different products during his travels. Why do you think the author chose sugar to be in the middle of his conflict with the Meermans instead of something else?
What role do sweet foods have in the book?
Question 9:
Do you see Johannes as a victim, a villain, or a hero?
Book Club Party Menu
Hosting a party for your book club friends? Give them a bunch of nibble options, just add a bottle of wine!
You Might Also Enjoy