The Inheritance of Orquídea Divina is the official September 2023 pick for the Peanut Blossom Book Club for Recovering Readers.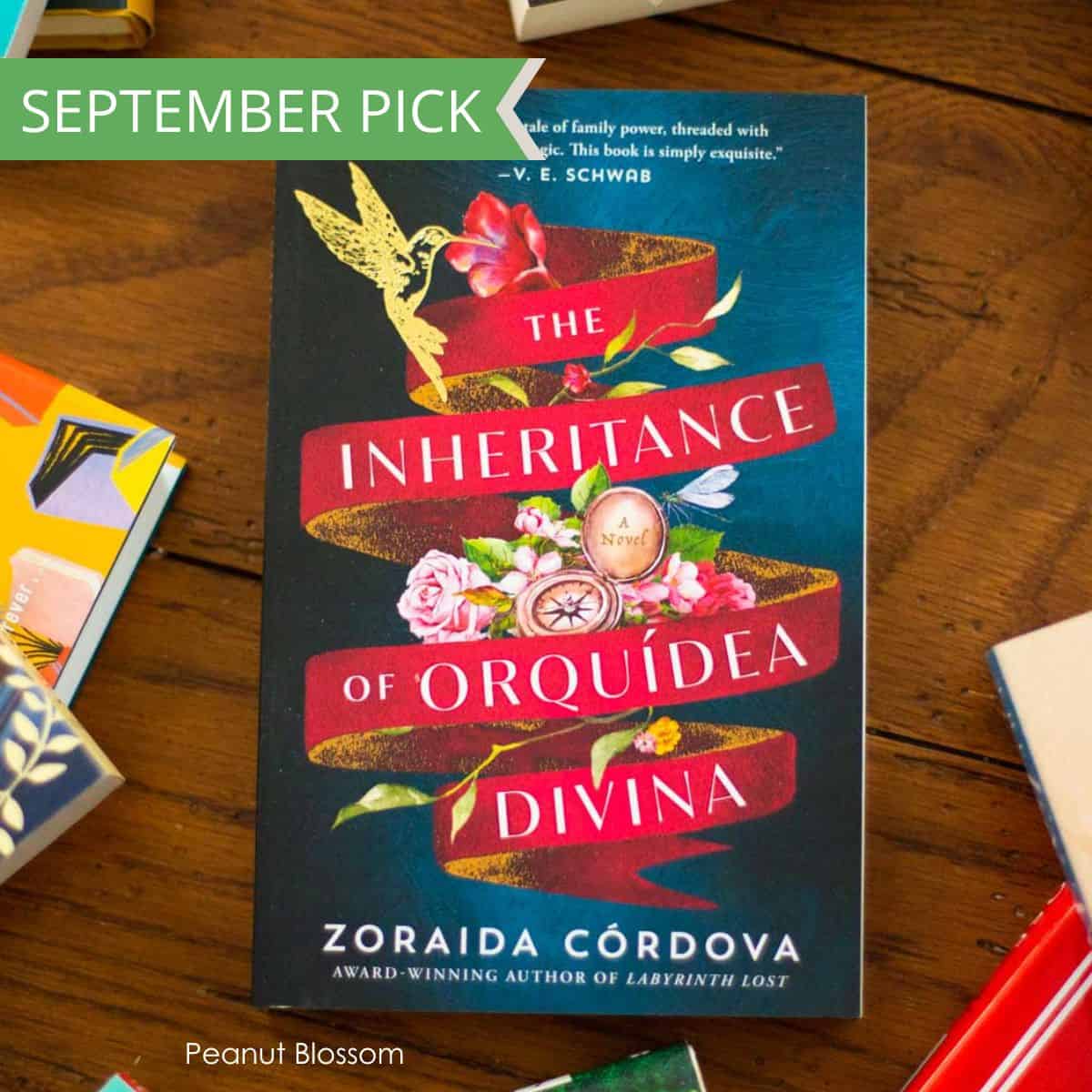 As we head back into the school year, I try to find a September book club pick that has a little more meat on its bones than our summer line up.
Some years it has been historical fiction, some years it has been an epic family drama.
This year it is both of those things WITH magical realism frosted on top.
I was able to read this month's book in just a matter of days because the story swept me up right from the beginning. It is sure to spark your imagination as you read.
But good news! If you need a little help getting into things? The author has created a music playlist and a visual inspiration board.
Be sure to check out all the extras in the party planning section of the post below!
Want Free Reminders for Each Book?
Sign up for my book club newsletter right here:
September Official Book Club Pick: The Inheritance of Orquídea Divina
I'm pleased to announce that this is our official September Pick for this year.
Get your copy of this month's book club book:
Money-saving tricks for reading this month's book:
What is this month's book about?
"The Montoyas are used to a life without explanations. They know better than to ask why the pantry never seems to run low, or why their matriarch won't ever leave their home in Four Rivers - not for graduations, weddings, or baptisms.
But when Orquídea Divina invites them to her funeral and to collect their inheritance, they hope to learn the secrets that she has held onto so tightly their whole lives.
Instead, Orquídea is transformed into a ceiba tree, leaving them with more questions than answers.
Seven years later, her gifts have manifested in different ways for Marimar, Rey, and Rhiannon, granting them unexpected blessings and powers.
But soon, a hidden figure begins to tear through their family tree, picking them off one by one as it seeks to destroy Orquídea's line.
Determined to save what's left of their family and uncover the truth behind their inheritance, her descendants travel to Ecuador - to the place where Orquídea buried her secrets and broken promises and never looked back."
Discussion Questions for The Inheritance of Orquídea Divina
I think the best book club questions help members to connect with one another on a personal level.
While you're free to discuss the specifics of the plot of the book, here are a few great personal questions to help you get to know each other better based on The Inheritance of Orquídea Divina:
1. This month's book is filled with many different strong characters and plot lines, which one did you connect with the most and why?
2. The story switches back and forth between Orquídea's past and her descendants' present, which part of the story did you prefer and why?
3. Orquídea builds her dream home in just the right place for her family. Where would you go to build yours? And how far would you be willing to travel to get there?
4. The Montoya family is quite large with lots of branches on the family tree. Were you able to keep all the characters organized in your mind as you read? How does your own family compare to the Montoyas?
5. Marimar, Rey, Tatinelly, Rhiannon, and the rest of the family travel to Ecuador in search of Orquídea's past. Have you traveled to your grandparents' hometown? How did you feel about it? Did you learn anything from the experience?
6. Why do you think the author chose to portray the family magic through a great tree, roots, and flowers? What do you think is the significance in the fact that Marimar's rose doesn't bloom?
7. If you could read a sequel (or a prequel) about one of the characters, who do you think would have the most interesting story?
8. I was so inspired to discover that the author Zoraida Córdova, created a visual inspiration board on Pinterest as she created the story of Orquídea.
If you can share the photos with your book club group and talk about how these images inspired parts of the story you remember most. Is this how you imagined them to look as well?
Book Club Party Menu
I think it is so fun to plan your book club dinner menu or dessert list based on the theme of the book.
This month's book club pick shifts back and forth between New York, the fictional Four Rivers, USA, and Ecuador.
When planning your book club menu, you could offer items from my NYC party menu but I think some Latin American inspired items would make a lot more sense.
The Montoya family celebrates with big feasts. A roast pork is mentioned at a pivotal moment of the story. You could wow your friends with a taco night and serve my Mexican pulled pork carnitas.
For a sweet dessert, why not a traditional tres leches cake? It is delicious with or without a sprinkle of cinnamon on top.
If you're feeling more snacky than full meal, offer up my savory chicken enchilada dip and an easy platter of sweet and spicy Mexican hot chocolate cookies.
Music to Play While You Read
The author, Zoraida Córdova, created a playlist to listen to as she wrote this book.
You could play this while you enjoy reading or as background music for the party:
You Might Also Like
If you LOVE this month's book, you may also enjoy one of these fun books for book club: