Learn how to read more books this year, find the time for reading, and make your reading life a priority in the new year.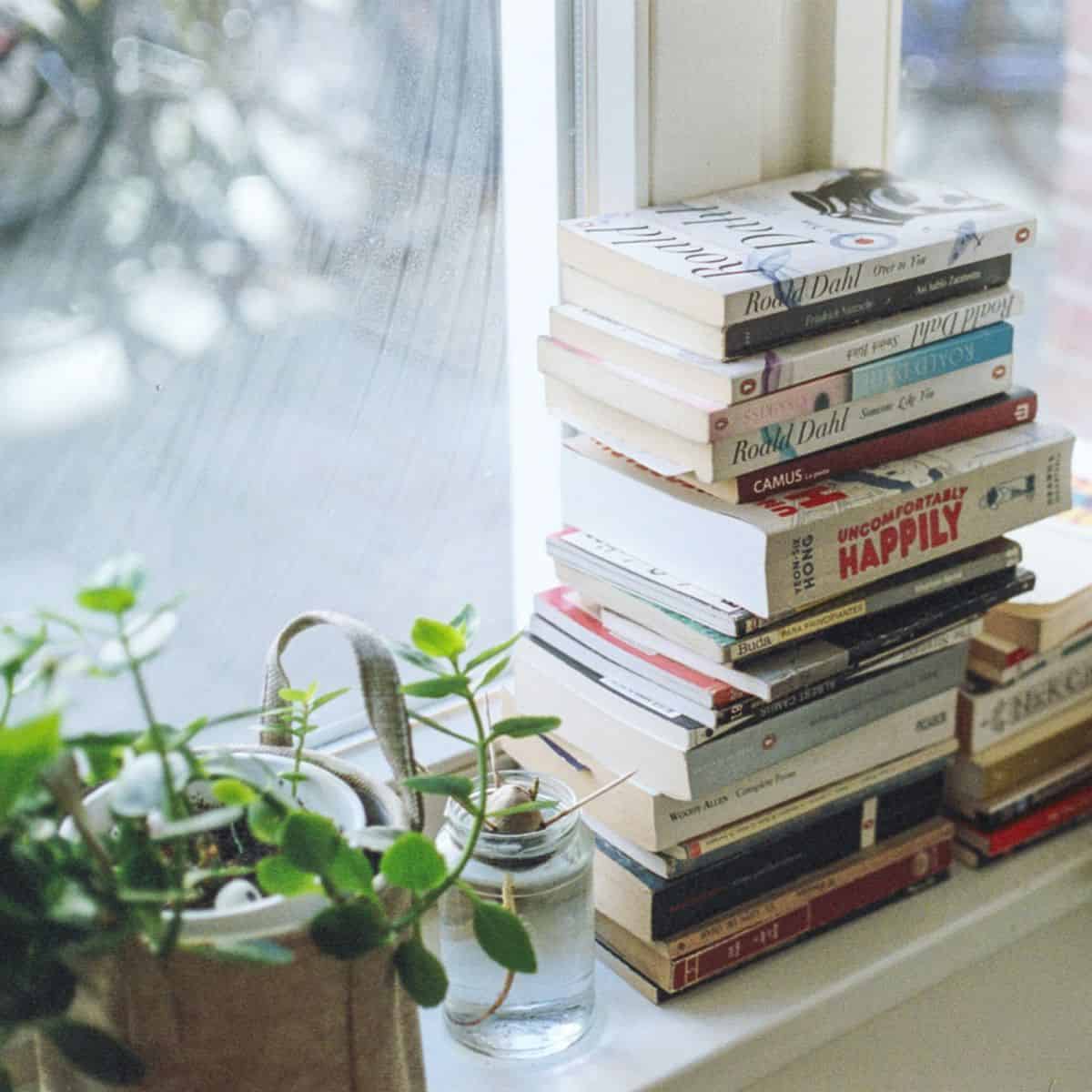 Do you want to know how to read more books?
Did you know 1 in 4 Americans hasn't read a book in the last 12 months??
Are you one of them? I'm here to help!
Why Americans Aren't Reading
This morning a friend of mine tagged me on a video going viral on Facebook:
"Tiffany, you need to track down these people and recruit them for your book club."
I was intrigued so I watched the video. What I saw made my heart stop.
Watch the interview right here:
According to a Pew Research, 1 in 4 Americans hasn't read a single book in the last year. Check out the results of their study here.
Average folks, not one single book in 12 months. Are you one of them?
Well guess what ---> I certainly was one of them.
Becoming a parent is tough.
Finding time for yourself after babies take over your world is even harder!
Moms have SO MUCH on their plates, it's no wonder a year could pass by without having found enough time to sit and read a book.
When my girls were little, this former book worm became one of those 1 in 4 Americans.
My attention span was broken, my nerves were shot.
Reading a book for pleasure felt like the last thing I wanted to do with my rare Me Time.
But even then I could have at least named a book or one that I wanted to read. I missed reading but was too overwhelmed to do anything about it.
The people Jimmy Kimmel's team stops on the street were likely experiencing a bit of stage fright.
It has to be intimidating to have a camera shoved in your face and an unexpected open question like "Name a book, any book."
But even when I give them some forgiveness for their shock, most of them follow it up with "I don't read books."
I wish I had been standing there with the guy with the mic. I would have followed it up with "WHY?" Especially since I believe it is so important to read.
I may not know all the reasons people don't read books, but I have a very strong handle on why a mom may not be reading.
If you're feeling like your attention span is broken and you can't focus on a book or you're frustrated that you can't find more time to read, I wanted to share some tips for getting your reading mojo back.
How to Read More Books This Year
The secret to reading more books is easier than you think.
With just a few simple strategies and some support and encouragement, you'll be on your way to crushing your to-read list.
1. Join a Book Club Built for YOU
This is exactly why I created the Peanut Blossom Book Club for Recovering Readers.
I felt like most book clubs would battle it out to see who can pick the most depressing or intellectual book.
That is not how I wanted to spend my limited free time.
I want to read FUN lighthearted pick-me-ups. Page turner books I couldn't put down.
Peanut Blossom Book Club members frequently:
Transform from reading no books to breaking their own reading records
Share their favorite "in-between" books, selections they pick up between our monthly picks
Rave about the lighthearted and fun monthly books I choose for our group
Don't just read on paper! We have audio & digital book lovers in the group, too
Want to join in? We always love having new friends joining our discussions.
You can sign up right here.
2. Start Easy
If you want to read more books, it is important that you start with a short book that interests you!
That may seem obvious, but it is often where most of our new book club members struggle.
My advice is to just find one of our books that speaks to you. Maybe it's a romance, maybe it's a young adult novel, maybe it's even from the children's section.
I read books in ALL of those categories!
No one has to know what you're reading, you're not being interviewed by Jimmy Kimmel about what's on your nightstand.
Give yourself permission to read whatever guilty pleasure you want and make it a quick read, short book so you get a fast and easy win.
Need some book ideas? Try one of these:
And if you want to save money on your Kindle book-buying habit, you'll want to be sure to check out my best Amazon book deals. I update that post when great picks go on sale throughout the year.
3. Find the Time to Read
Life is busy. You've got a million things on your list to do. And you're just supposed to sit down and read??
I'd say, YES. But I realize that isn't a practical choice for most adults.
Instead, if you want to read more books you need to get creative with your time.
You also need to take time to read rather than waiting for it to be given to you.
My essential mini habits for book lovers helped me DOUBLE the amount of books I read in a year.
Multitasking and listening to an audiobook while I spend most of my life driving my kids around in the car helped increase that number of books read, too.
Not an audiobook fan yet? You will be once you read my list of 15 best audiobooks for your first listen.
4. Find Your Tribe of Readers Online
I get it. You finally have a pocket of time to read and instead of picking up your book you're reaching for your phone to scroll through Facebook or Instagram.
It's a habit that is really difficult to break.
I suggest you follow some book-themed social accounts.
The more they pop up in your feeds, the more you'll be reminded that you really want to be reading.
Here are some favorite book themed social media accounts for you to follow:
5. Play Book Bingo
Sometimes all it takes is a little friendly competition, even if it is only with yourself.
Download my free book bingo for adults and see if you can complete the challenge this year!
Set yourself a reward for completing your Bingo card and stick to it.