Do you want to know how to read more books?
Did you know 1 in 4 Americans hasn't read a book in the last 12 months. Are you one of them? We're here to help!
Find a book you'll love and 12 great pockets of time to fit reading into your day.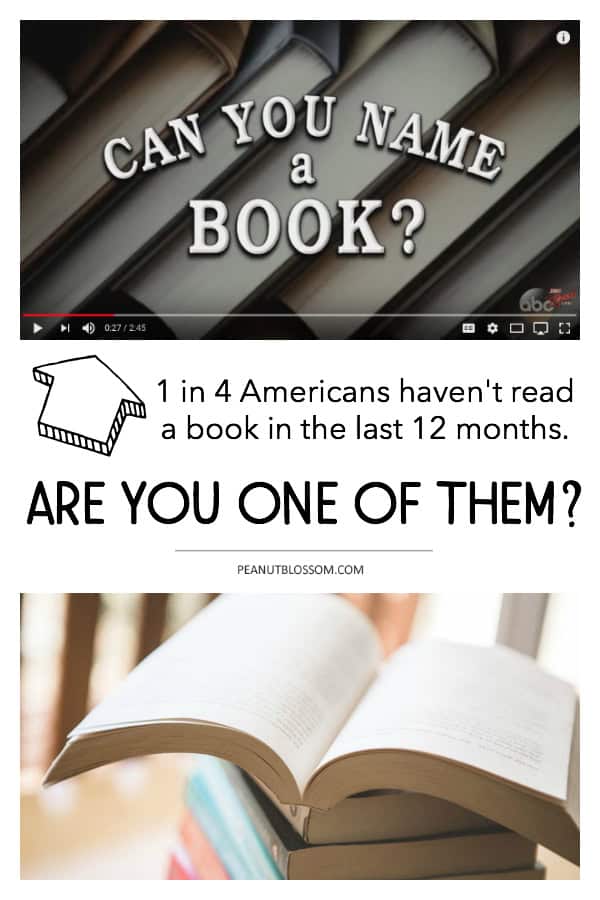 This morning a friend of mine tagged me on a video going viral on Facebook:
"Tiffany, you need to track down these people and recruit them for your book club."
I was intrigued so I watched the video. What I saw made my heart stop. Watch the interview right here:
According to a Pew Research, 1 in 4 Americans hasn't read a single book in the last year. Check out the results of their study here.
Average folks, not one single book in 12 months. Are you one of them?
Well guess what ---> *I* was!!
Becoming a parent is tough. Finding time for yourself after babies take over your world is even harder! Moms have SO MUCH on their plates, it's no wonder a year could pass by without having found enough time to sit and read a book.
When my girls were little, this former book worm became one of those 1 in 4 Americans. My attention span was broken, my nerves were shot. Reading a book for pleasure felt like the last thing I wanted to do with my rare Me Time. But even then I could have at least named a book or one that I wanted to read. I missed reading but was too overwhelmed to do anything about it.
The people Jimmy Kimmel's team stops on the street were likely experiencing a bit of stage fright. It has to be intimidating to have a camera shoved in your face and an unexpected open question like "Name a book, any book." But even when I give them some forgiveness for their shock, most of them follow it up with "I don't read books."
I wish I had been standing there with the guy with the mic. I would have followed it up with "WHY?"
I may not know all the reasons people don't read books, but I have a very strong handle on why a mom may not be reading. I wanted to share with you some tips for getting your reading mojo back.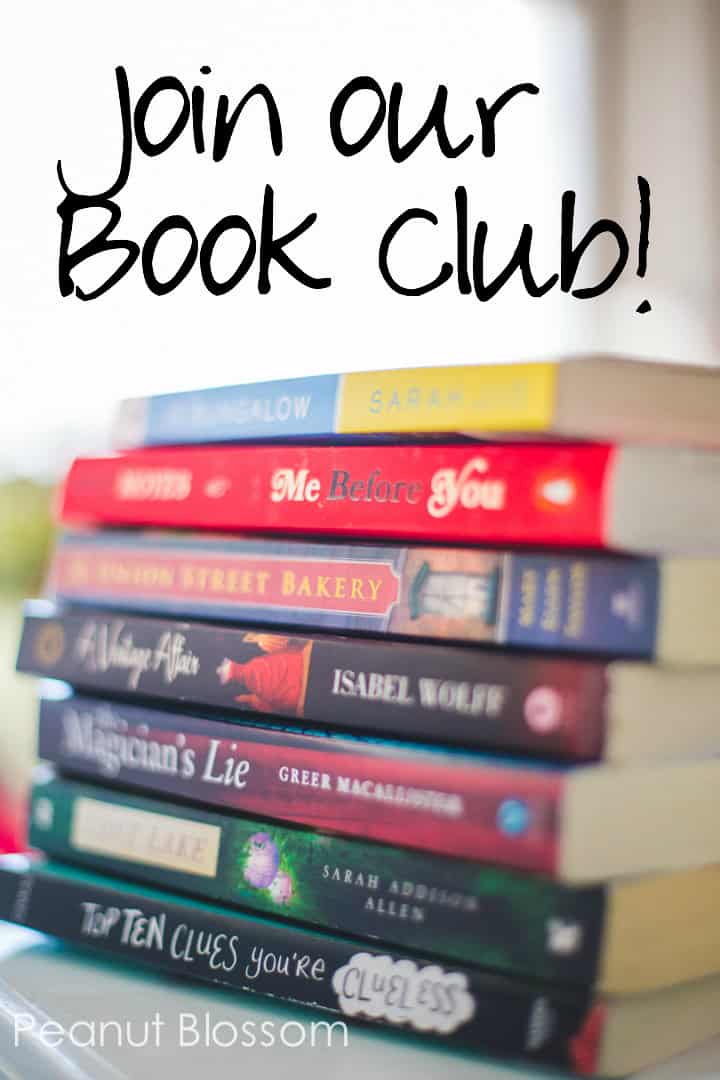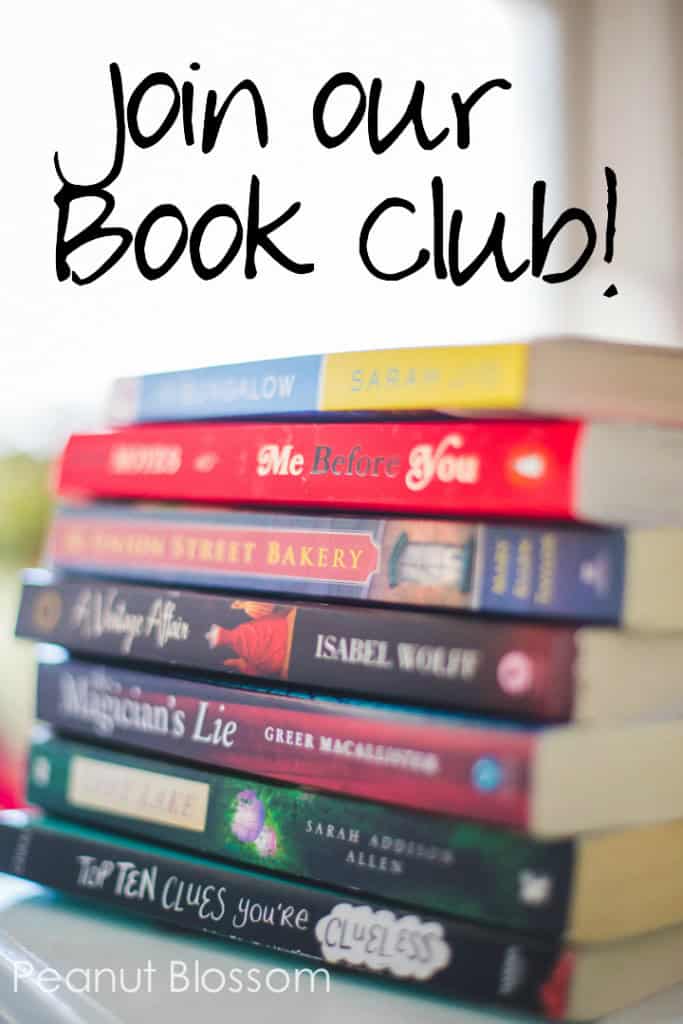 1. How to read more books: First, join a Book Club built for YOU:
This is exactly why I created the Peanut Blossom Book Club for Recovering Readers. Most book clubs battle it out to see who can pick the most depressing or intellectual book. That is not how I wanted to spend my limited free time. I want to read FUN lighthearted pick-me-ups. Page turner books I couldn't put down.
Peanut Blossom Book Club members:
Transform from reading no books to breaking their own reading records
Share their favorite "in-between" books, selections they pick up between our monthly picks
Rave about the lighthearted and fun monthly books I choose for our group
Don't just read on paper! We have audio & digital book lovers in the group, too
Want to join in? We always love having new friends joining our discussions. You can sign up right here.
2. Start easy, pick a short book that intrigues you:
Maybe it's a romance, maybe it's a young adult novel, maybe it's even from the children's section. I read books in ALL of those categories! No one has to know what you're reading, you're not being interviewed by Jimmy Kimmel about what's on your nightstand. Give yourself permission to read whatever guilty pleasure you want.
Need some book ideas? Try one of these:

3. Find the TIME to read--12 great pockets of time for busy moms to read:
First, just give yourself forgiveness for not having a solid hour or two to read. Break it down and try to 5 - 10 minute windows in your day. Here are some great pockets I've found:
Before the kids wake up: I like to read in bed on my Kindle for a few minutes before I get up for the day.
During breakfast: How about listening to an audiobook with the kids while everyone eats in the morning? Check out our favorite 12 audiobooks for families here.
While you shower: Get yourself an Echo Dot and keep it on your bathroom counter. Listen to an audiobook while you're getting showered and ready.
During your work commute: Listen to an audiobook while you drive.
After the kids are off to school: Before you dig in on your to-do list, give yourself 15 minutes with your book.
During your lunchtime: Listen to an audio book or read a chapter while you enjoy lunch.
While working out: Listen to an audio book or read while you do the treadmill or stationary bike.
During carpool: Check out my sneaky trick for more reading here.
While dinner is cooking: An Instant Pot definitely helps this. Toss the food in and read for the 15 minutes it cooks. Get 8 starter recipes here.
While the kids do their homework: Sit with them and read your book. You're there if they have questions but modeling great lifelong learning that will inspire them.
During the kids' sports activities: My daughter complained that I wasn't watching her at swim class because my nose was buried in a book. So, I switched to audio so I could keep my eyes on her but listen to my book at the same time. Win-Win!
At night before sleeping: Even a few pages here and there before bed will help you relax and take your mind off the troubles of the day. This is where my deep love for my Kindle comes into play. I can read in the dark while my husband goes to sleep early. Read about why I gave up paper books (and you should too!) here.
4. Surround yourself with readers on social media:
I get it. You have one of those pockets of time I mentioned above and instead of picking up your book you're reaching for your phone to scroll through Facebook or Instagram. It's a modern habit that is really difficult to break.
I suggest you follow some book-themed social accounts. The more they pop up in your feeds, the more you'll be reminded that you really want to be reading.
Here are some favorite book themed social media accounts for you to follow--Go on and follow them ALL, the more the better: