Big Little Lies is the official January 2015 pick for the Peanut Blossom Book Club for Recovering Readers.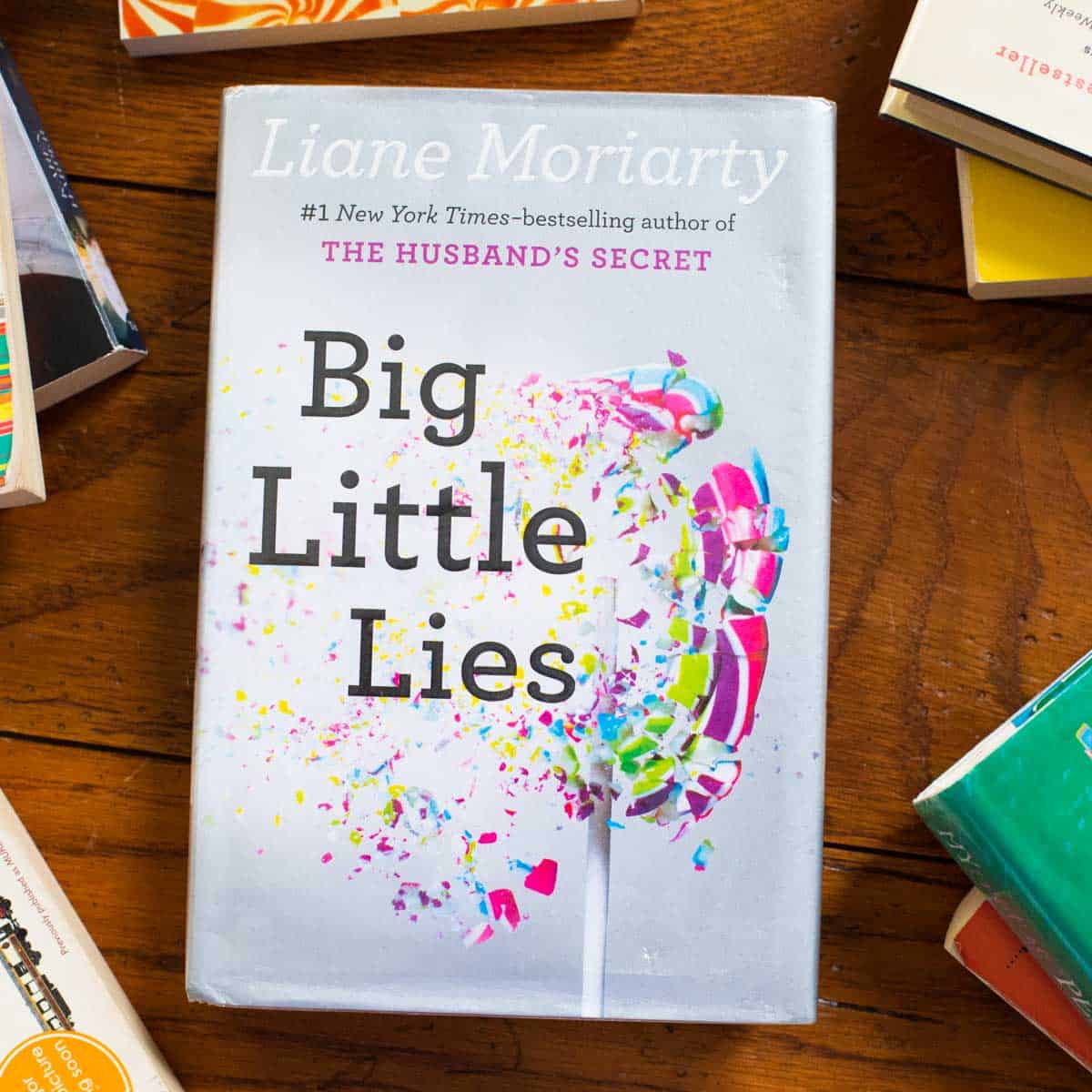 When I launched the Peanut Blossom Book Club for Recovering Readers in 2015, I thought maybe I'd get a handful of friends to join me in an online chat about books.
Never in a million years did I expect the kind of reaction this club has gathered on Facebook!
We now have thousands of readers in our private group who love to share their favorite reads every month.
The enthusiasm and energy all of our "recovering readers" have brought to the group has absolutely re-energized my love for reading.
Want to join us? You can get all the details on the club here:
Want Free Reminders for Each Book?
Sign up for my book club newsletter right here:
First Book Club Pick
Our first book club pick ever that launched our club was "Big Little Lies" by Liane Moriarty.
I wanted a big bestseller to get everyone excited and wow did this one pay off!
Looking for more great books to choose for your first book club meeting?
What Is Big Little Lies About?
"From the author of Nine Perfect Strangers, Apples Never Fall, and The Husband's Secret comes the #1 New York Times bestselling novel about the dangerous little lies we tell ourselves just to survive.

A murder...A tragic accident...Or just parents behaving badly? What's indisputable is that someone is dead.

Madeline is a force to be reckoned with. She's funny, biting, and passionate; she remembers everything and forgives no one. Celeste is the kind of beautiful woman who makes the world stop and stare but she is paying a price for the illusion of perfection. New to town, single mom Jane is so young that another mother mistakes her for a nanny. She comes with a mysterious past and a sadness beyond her years. These three women are at different crossroads, but they will all wind up in the same shocking place.

Big Little Lies is a brilliant take on ex-husbands and second wives, mothers and daughters, schoolyard scandal, and the little lies that can turn lethal."
Big Little Lies Book Club Discussion Questions
Question 1:
Which character from "Big Little Lies" did you most identify with and why?
Question 2:
Playground Politics: Do you recognize portraits of people in your own life in the drama among the parents at the school in "Big Little Lies"? Are you able to relate to the conflict among the mothers (i.e. birthday party invitation protocol, interactions with the school staff, and the clique groups among the mothers themselves) or has your school experience been more peaceful?
Question 3:
There is a lot of discussion about women and their focus on their own body image in "Big Little Lies," particularly in the characters over 40. Do you think women tend to be more or less body conscious at that age? At what age did/do you feel most confident about yourself?
Question 4:
Several scenes show characters expressing violent tendencies/desires in "Big Little Lies." (Jane says she wants to throw Ziggy into the wall when he has a meltdown in the bathtub, that she wants to hit Renata, and then stops just short of kicking Harper in the play yard. ) What do you think the author is trying to imply about this in regards to Perry's character? Are we meant to sympathize with his tendencies or are they presented as a foil?
Question 5:
A lot of Madeline's storyline in "Big Little Lies" is about the complications that arise from the merging of new modern families. What kind of problems exist among families and extended families now that didn't when you were a child? Have you faced similar challenges with your family?
Question 6:
When Jane recounts what happened the night she got pregnant in "Big Little Lies," she focuses on what the man said rather than on what he did. Why does Jane feel more violated by two words – fat and ugly—than by the actual assault? If she were your friend, how would you have advised her to handle the situation the next morning?
Question 7:
The power of secrets is a theme throughout "Big Little Lies." Jane remembers, "She hadn't told anyone. She'd swallowed it whole and pretended it meant nothing, and therefore it had come to mean everything." Do you think this is true, that the more you keep something secret, the more power it takes on?
Question 8:
Gwen, the babysitter, seems to be the only one to suspect what is going on with Celeste and Perry in "Big Little Lies." Celeste then realizes she's never heard Gwen talk about a husband. Do you think Liane Moriarty intended to suggest that perhaps Gwen had an abusive husband and that she left him? In light of what happens at the end with Bonnie, do you think it's only people who have personally experienced abuse who pick up on the signs?
Question 9:
At one point in "Big Little Lies" Jane thinks she and Ziggy will have to leave Pirriwee because "rich, beautiful people weren't asked to leave anywhere." Do you think different rules apply to rich people? Do you think being rich allowed Perry to get away with things longer than would have been likely if he hadn't had money?
Question 10:
In "Big Little Lies" Bonnie says, "We see. We fucking see!" Were you surprised to learn about Bonnie's history? Were you surprised to discover that all along Max had been seeing what Perry was doing to Celeste?
Question 11:
What did you think of the format using interview snippets to the reporter in "Big Little Lies"? Did you find them distracting or entertaining or insightful?
Question 12:
In "Big Little Lies" Madeline muses, "Maybe it was actually an unspoken instant agreement between four women on the balcony: No woman should pay for the accidental death of that particular man." And then Madeline thinks, " Sometimes doing the wrong thing was also right." Do you agree with what the women decided to do? Do you think there's a stronger bond between women than there is between men?
Question 13:
At one point in "Big Little Lies," Susi says that, in Australia, one woman dies every week because of domestic violence. In the United States, more than three women are murdered by their husbands or boyfriends every day. Every nine seconds in the United States a woman is assaulted or beaten. Domestic violence is the leading cause of injury to women—more than that caused by car accidents, muggings, and rapes combined. Are you surprised by these statistics?
Question 14:
Were you surprised by Abigail's web site in "Big Little Lies"? If she was your daughter, how would you have handled the situation?
Book Club Party Menu
If I could go back and host our first book club party in person, I would serve bubbly champagne to celebrate.
I'd pair it with the most popular party food recipes from my site including cheesy crab melts and shrimp with dipping sauce.