Book Club Kit for Beneath a Scarlet Sky by Mark Sullivan includes book club discussion questions and party menu.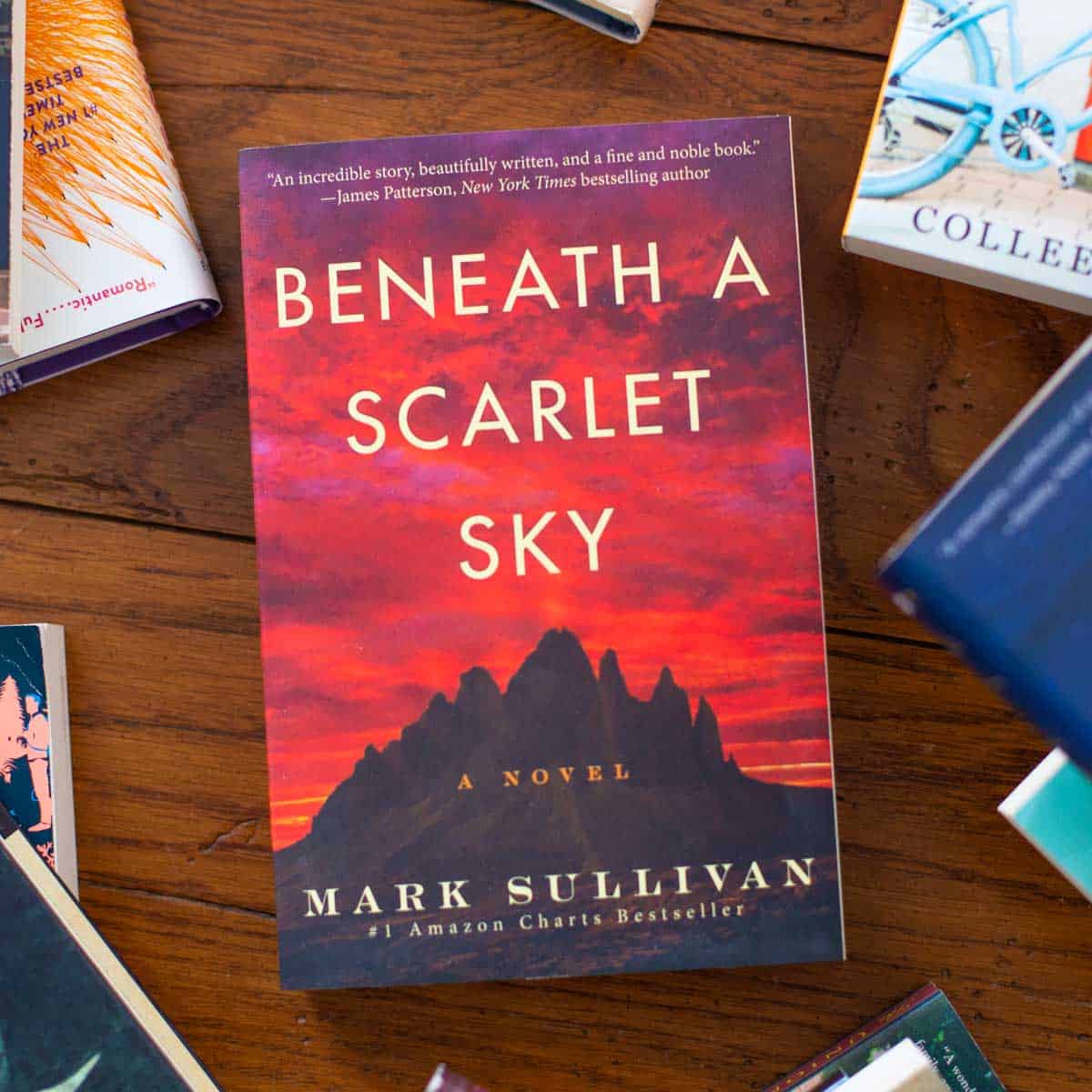 January marks the launch of our FOURTH year of the Peanut Blossom Book Club for Recovering Readers. I can't believe we've been going strong for so long.
I try to kickstart each new year with a blockbuster book that will draw in new club members and entice them to join us in our quest to rediscover our love of reading.
The more I poked around looking for the "next big thing," Beneath a Scarlet Sky by Mark Sullivan kept popping up again and again.
Several of our book members called it the best book they read all year.
I was finally intrigued to pick it up myself and want to invite you to join me.
Peanut Blossom Book Club
This book was our official January 2018 pick for the Peanut Blossom Book Club.
Want to see what we're reading today? Check out our book club book list here.
Want Free Reminders for Each Book?
Sign up for my book club newsletter right here:
What is Beneath a Scarlet Sky About?
"Soon to be a major motion picture from Pascal Pictures, starring Tom Holland.
Based on the true story of a forgotten hero, the #1 Amazon Charts bestseller Beneath a Scarlet Sky is the triumphant, epic tale of one young man's incredible courage and resilience during one of history's darkest hours.
Pino Lella wants nothing to do with the war or the Nazis. He's a normal Italian teenager—obsessed with music, food, and girls—but his days of innocence are numbered. When his family home in Milan is destroyed by Allied bombs, Pino joins an underground railroad helping Jews escape over the Alps, and falls for Anna, a beautiful widow six years his senior.
In an attempt to protect him, Pino's parents force him to enlist as a German soldier—a move they think will keep him out of combat. But after Pino is injured, he is recruited at the tender age of eighteen to become the personal driver for Adolf Hitler's left hand in Italy, General Hans Leyers, one of the Third Reich's most mysterious and powerful commanders.
Now, with the opportunity to spy for the Allies inside the German High Command, Pino endures the horrors of the war and the Nazi occupation by fighting in secret, his courage bolstered by his love for Anna and for the life he dreams they will one day share."
Go grab a copy of Beneath a Scarlet Sky here.
EDITED TO ADD TRIGGER WARNING:
I just finished the book this morning. While riveting and well told, the story is significantly more violent than any other book club pick we've ever had. As a WWII tale, this shouldn't be a surprise but I was not prepared for some gruesome depictions in the last third of the novel.
If you would like to participate in our book discussion without having to read the most intense of the violence, I highly recommend you skip reading pages 418 - 459 (Chapter 29 - 32, Start reading again at the beginning of Section 5: "Vengence is Mine Sayeth the Lord"). I've summarized the major plot points that are important for you to understand so you can pick the story back up on page 460. Read the spoilers right here.
Beneath a Scarlet Sky Book Club Questions
I believe the best book club questions to spark a lively discussion in your group help readers make personal connections to the story.
You can read about how to write the best book club questions on your own here, but hopefully these will get you started!
Question 1:
What did you think of this month's pick? Is this something you would have chosen to read on your own?
Question 2:
The book takes place in Milan during WWII.
Fun Fact: I lived there for about 6 months right out of college in 1998. I spent many weekends walking the city streets from Castle Sforzesco to Piazza del Duomo.
I took my husband back to visit in 2005 and thought you'd love to see some old photos that show the details a little better.
My Italian friends mentioned bits about WWII and building that had been rebuilt since.
But as a young 20-something, none of it truly registered until I read this book.
Imagining my beloved city being bombed and experiencing such death and destruction was heart wrenching for me.
This is the first WWII story where I felt I had a personal connection to the events.
Were you able to connect to the story or did it still feel remote and distant to you?
Question 3:
"If a bomb's coming at you, it's coming at you. You can't just go around worrying about it. Just go on doing what you love, and go on enjoying your life."
- Mr. Beltramini from Beneath a Scarlet Sky
Pino is horrified his family continues to play music and dance in the middle of the bombings but seeing his father perform Nessun Dorma is a turning point for him.
Did you find yourself looking up the music to hear it yourself?
I found this phenomenal clip of Andrea Bocelli performing it for you:
Now, imagine for a moment sitting in a seat at La Scala, Milan's famous opera house, to witness the theater for yourself!
Could you follow Mr. Beltramini's advice?
Question 4:
Pino's parents force him to escape the bombings in Milan and retreat to Lake Como. Little do they know the dangers he will face from Father Re's missions while he is there.
I visited Lake Como several times during my stay in Italy. The lakes are right at the foot of the Swiss Alps and on a clear day you can see them all the way from Milan.
As a parent, if you knew the full dangers that Pino faced in Como, would you have kept him in Milan or sent him to Father Re?
Question 5:
Mrs. Napolitano is a pregnant Italian Jew who successfully escapes over the treacherous mountain pass into neutral Switzerland.
She nearly dies along the way.
If you were in her shoes, do you think you'd be brave enough to attempt the trek?
Question 6:
Despite the briefness of their initial encounter, Pino hold's a torch for Anna for months and months, through many challenging adventures.
Is it truly love for Anna that he is clinging to or does she represent hope? Did you find his obsession believable considering how they met?
Question 7:
Pino's parents insist that he willingly enlist with the Nazi's to avoid being sent to the Russian front where he is unlikely to return alive.
Knowing you'd have to work for the enemy, what would you have done if you were in Pino's shoes?
Question 8:
The lines between good and evil are often blurred in Beneath a Scarlet Sky.
Villains are shown to have a human side, the "good guys" are shown to have violent impulses or selfish tendencies, and chaos breaks loose at the end of the war.
Have you read or watched any other WWII books or movies where the characters were as nuanced?
Or do you find that most WWII stories are more cut and dried with "Here are the Good vs. the Bad"?
Question 9:
Most of our book club authors have been female, but this month featured a male author.
Did you notice a difference in the writing style? How might a female author have covered the same real-life story differently?
Book Club Party Menu
Books set in Italy make planning a book club party menu extra easy.
Start with a large bottle of red wine and add warm focaccia with an easy marinara sauce for dipping or a plate of olive oil with a drizzle of balsamic vinegar.
Or keep things light and serve caprese salad so everyone has room for a creamy slice of this easy tiramisu.
You May Also Enjoy
If you enjoy historical fiction, chances are you'll love these other book club picks from over the years: