The Ten Thousand Doors of January by Alix E. Harrow is the official January Pick for the Peanut Blossom Book Club for Recovering Readers.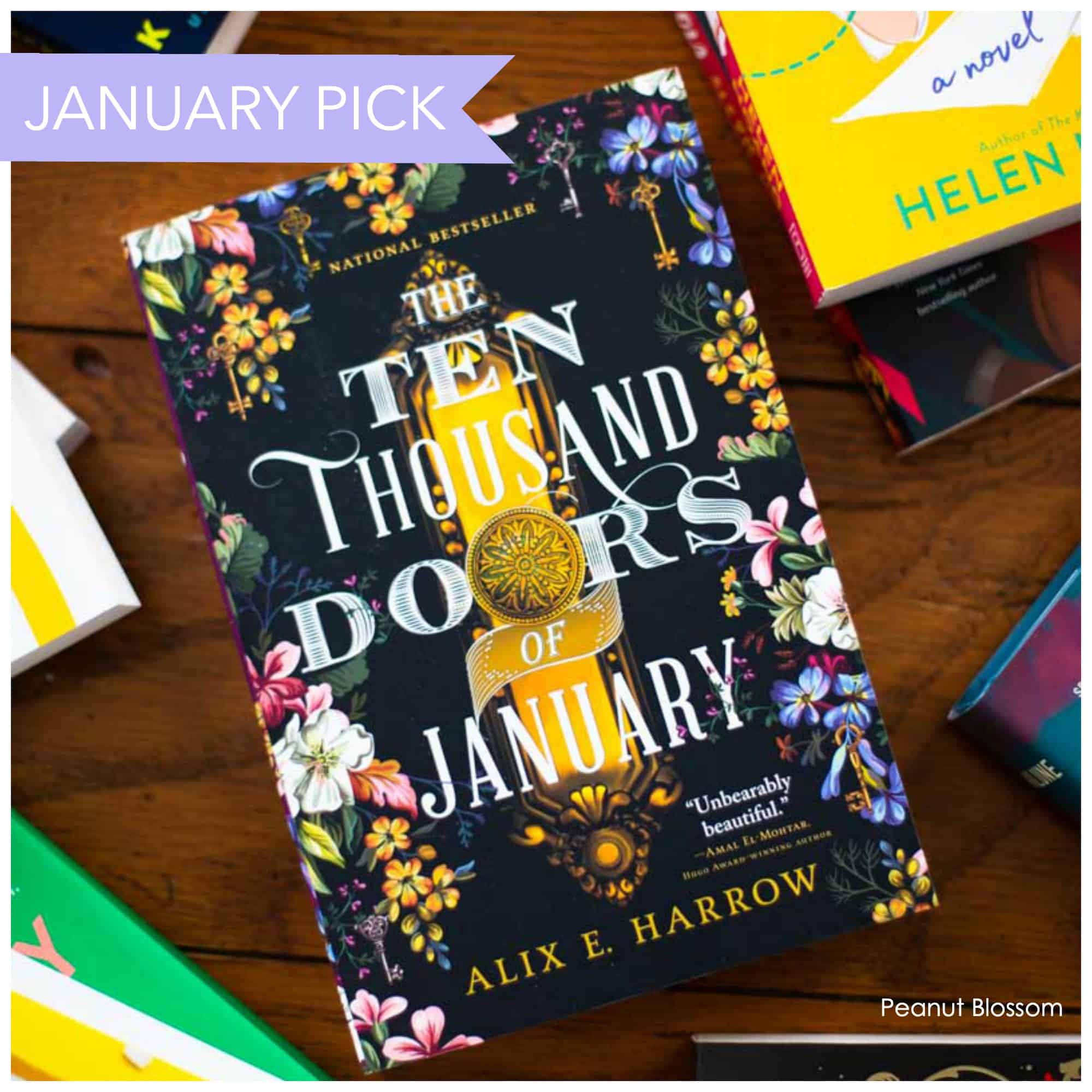 Hello, 2021! We're all very glad to see you.
Who's ready for another year of the Peanut Blossom Book Club?? ME!
I'm so excited about this year's book line-up. I had so much fun picking the titles we'll be spending the coming year with.
This month's book came highly recommended by several of our book club members. I've had my eye on it for ages and I just couldn't resist picking it for our January book pick.
What better time of year to read The Ten Thousand Doors of January than January itself, right?? Scroll down for more info about the book and I'll see you in the group once I've finished it.

P.S. Just joining us? Don't miss the full 2021 line-up for our book club picks.
Want Free Reminders for Every Book Pick?
Sign up for my book club newsletter right here:
January's Official Book Club Pick: The Ten Thousand Doors of January by Alix E. Harrow
I'm pleased to announce that this is our official January Pick for this year.
Get your copy of this month's book club pick:
Money-saving tricks for reading this month's book pick:
You can get the book from your library.
The Kindle version is cheaper than the paperback AND you can save money on the Audible version if you own the Kindle copy! I love to use the Amazon Whispersync feature to go back and forth between audio and digital reading.
What Is This Month's Book About?
"In the early 1900s, a young woman embarks on a fantastical journey of self-discovery after finding a mysterious book in this captivating and lyrical debut.
In a sprawling mansion filled with peculiar treasures, January Scaller is a curiosity herself. As the ward of the wealthy Mr. Locke, she feels little different from the artifacts that decorate the halls: carefully maintained, largely ignored, and utterly out of place.
Then she finds a strange book. A book that carries the scent of other worlds, and tells a tale of secret doors, of love, adventure and danger. Each page turn reveals impossible truths about the world and January discovers a story increasingly entwined with her own.
Lush and richly imagined, a tale of impossible journeys, unforgettable love, and the enduring power of stories awaits in Alix E. Harrow's spellbinding debut--step inside and discover its magic."
Get your copy of the book here.
Discussion Questions for The Ten Thousand Doors of January:
Want to discuss this month's book with your book club friends? Here are some great conversational questions to get the party started.
You can download the full discussion guide here and then print it to have handy.
Do you normally read fantasy books? Is this a book you would have chosen yourself?

Which story did you prefer -- January's or Adelaide's?

If you came upon a magical door that opened to a different world, what would you like that world to be like?

The author has said this was a stand-alone story but that the ending left room for "more adventures." Would you read a second book set in this world?

What would be your last name if you lived in The Written?

Would you like to see this book as a movie or streaming TV series?

What would you have changed about the ending if you wrote the book?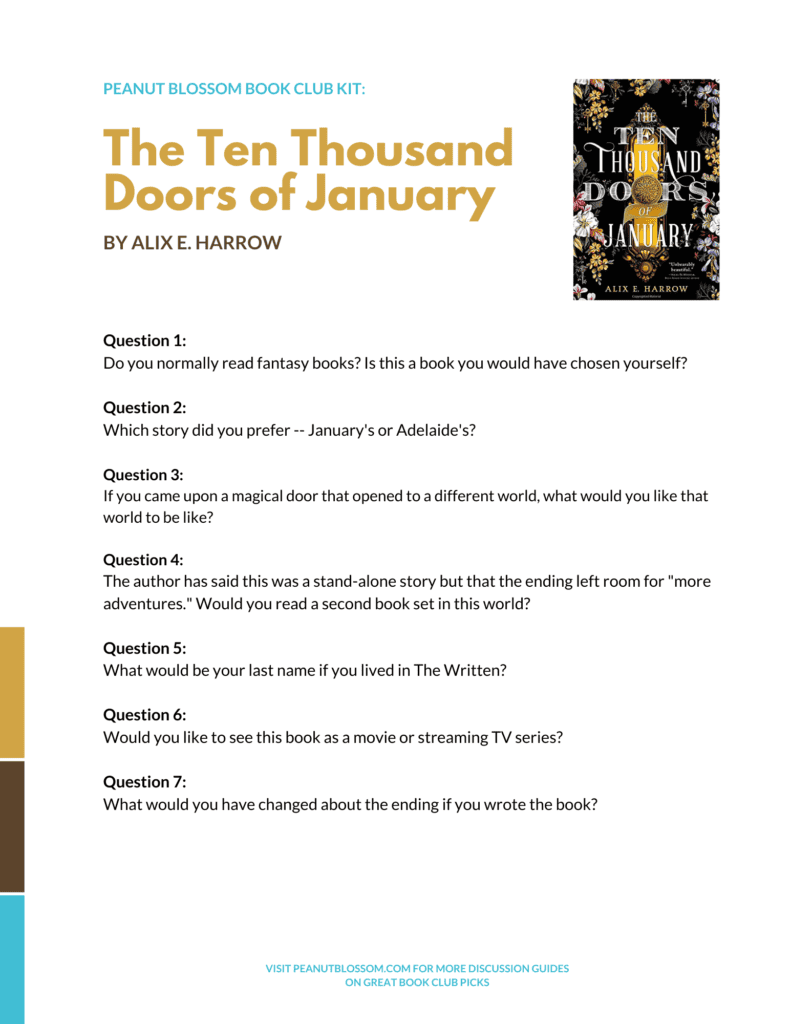 Book Club Party Recipes:
Looking for fun book club munchies to enjoy while you chat about the book with your friends? Just like the characters travel through different world, give your guests options to choose their own adventures with various dips and snacks served charcuterie style.