Once upon a time I was part of an awesome book club.
In a land far away, I read all the time.
And then our move happened.
In the last year and a half, as much as I hate to admit it, I've lost my love of reading. It took me a while to acknowledge that even to myself, and it is finally time to admit it here to you. My love of books is still there buried somewhere but in many ways I think it was the victim of the very stressful life change that came with starting our lives over in a new town.
Every time I sit down to read, my brain goes into overdrive and I can't concentrate on the plot. I've started and stopped at least 4 different novels and there was another one I had to push through so hard it started to feel like homework just to finish it.
I joined a new book club in the hopes that it would rekindle this flame. In so many ways it has helped, but I still consider myself in recovery. My attention span for sitting with a book is still weak, but improving. And it has everything to do with these 4 titles.
These books were each light enough to not make me dread my reading time and intriguing enough to actually call me to pick that Kindle back up. I'm finally starting to feel that old yearning to begin another new book and it is such a relief! I'm hoping my summer will be filled with a lot more reading time so I hope to have more titles to share with you soon.
Until then, here are my top 4 picks for you to add to your own summer list: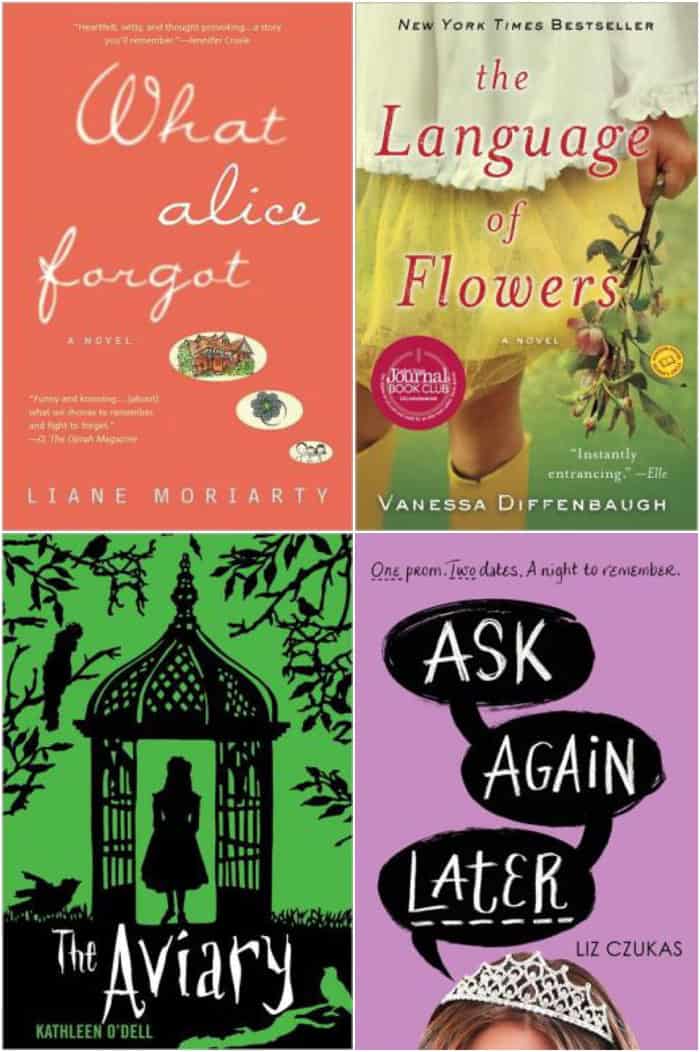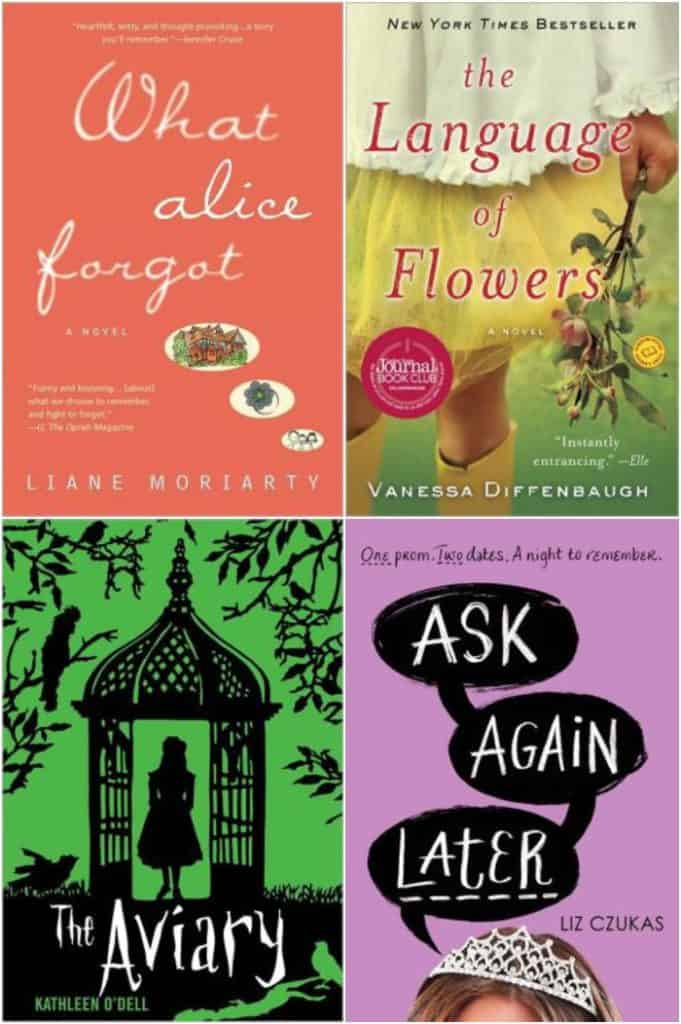 1. What Alice Forgot: Alice awakes from a big fall + bump on the head and discovers she doesn't remember the last 1o years of her life. This was my new book club's most recent pick and it is a phenomenal group discussion starter. Since I'm new to the club, it was a great way to get to know everyone better by discussing where each of us was 1o years ago.
2. The Language of Flowers: The description of this book sounded only so-so to me but the story really drew me in right away. Years ago I used to work in a floral shop so I was predisposed to appreciate the plot line about the flowers but I was still surprised by how much I really enjoyed it. I read this book in about a day. I actually wish I had purchased the paper copy because it has an awesome flower dictionary at the back I'd love to reference!
3. The Aviary: This came recommended to me by the same friend who recommended The Night Circus which remains one of my very favorite books ever. It's a young adult novel: short, just a teeny spooky and dark, and just enough mystery to keep me coming back for more. It ended up being quite a page turner towards the end. Would actually make a fun Mom/Daughter book club read for those of you with older girls.
4. Ask Again Later: I could not be any more excited for my friend Liz Czukas to have published her first book. I actually headed to the book store the day this came out, I was so eager to hold it in my hands. This is also a young adult novel and centers on a prom gone haywire. It was absolutely delightful. It brought back so many fond memories of high school, was actually sweetly romantic, and just the right amount of funny. The perfect beachy or pool side read if you want something lighthearted that will make you smile.
Have you read anything great lately? Please leave me a note in the comments, I'd love to check it out.