Lost Lake by Sarah Addison Allen is the official July 2023 pick for the Peanut Blossom Book Club for Recovering Readers.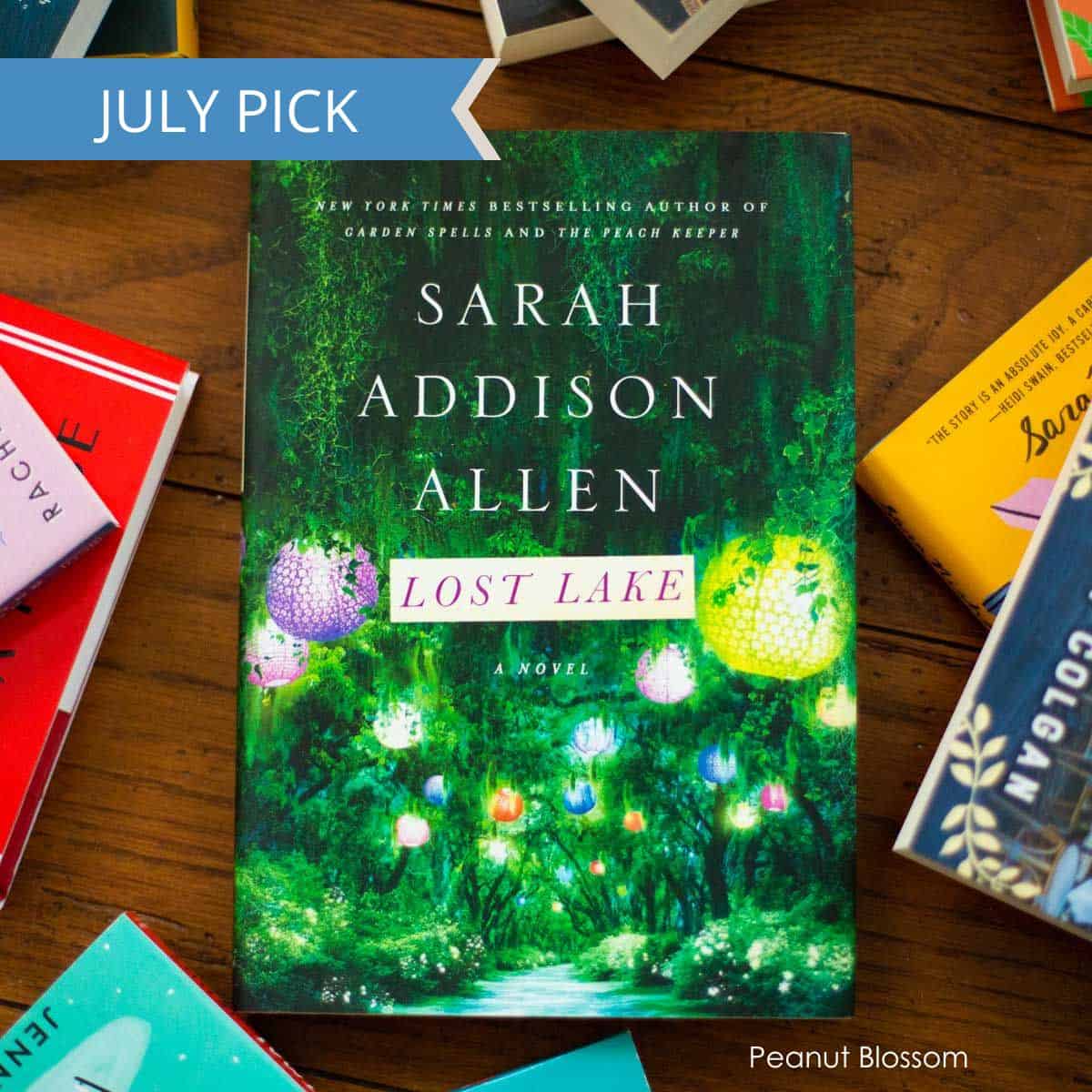 It is a very rare occurrence for an author to appear on our official Book Club Books list more than once.
I try hard to spread the love around and make sure we're reading new-to-us authors as often as possible.
However, July's book happens to be by one of my very favorite authors and the time was right for her to make another appearance as part of our official line-up.
We read her book The Sugar Queen during our very first year of book club!
Rather than choose the new book that marked her re-entry into the publishing world after a few challenging years for her family, I decided to pick one of my favorites of her titles.
If you love this book, you'll definitely have to add Other Birds to your to-read list!
Want Free Reminders for Each Book?
Sign up for my book club newsletter right here:
July Official Book Club Pick: Lost Lake
I'm pleased to announce that this is our official July Pick for this year.
Get your copy of this month's book club book:
Buy the book on Audible.
Money-saving tricks for reading this month's book:
You can get the book from your library.
You can buy a used copy here.
Check to see if the Kindle version is on sale or if it is part of Kindle Unlimited.
What is this month's book about?
"The first time Eby Pim saw Lost Lake, it was on a picture postcard. Just an old photo and a few words on a small square of heavy stock, but when she saw it, she knew she was seeing her future.
 
That was half a life ago. Now Lost Lake is about to slip into Eby's past. Her husband George is long passed. Most of her demanding extended family are gone. All that's left is a once-charming collection of lakeside cabins succumbing to the Southern Georgia heat and damp, and an assortment of faithful misfits drawn back to Lost Lake year after year by their own unspoken dreams and desires.
 
It's a lot, but not enough to keep Eby from relinquishing  Lost Lake to a developer with cash in hand, and calling this her final summer at the lake. Until one last chance at family knocks on her door.
 
Lost Lake is where Kate Pheris spent her last best summer at the age of twelve,  before she learned of loneliness, and heartbreak, and loss. Now she's all too familiar with those things, but she knows about hope too, thanks to her resilient daughter Devin, and her own willingness to start moving forward. Perhaps at Lost Lake her little girl can cling to her own childhood for just a little longer... and maybe Kate herself can rediscover something that slipped through her fingers so long ago.
 
One after another, people find their way to Lost Lake, looking for something that they weren't sure they needed in the first place:  love, closure, a second chance, peace, a mystery solved, a heart mended.  Can they find what they need before it's too late?"
Discussion Questions for Lost Lake
I think the best book club questions help members to connect with one another on a personal level.
While you're free to discuss the specifics of the plot of the book, here are a few great personal questions to help you get to know each other better based on Lost Lake:
1. Do you have a vacation spot that is particularly special to you for sentimental reasons? How often have you been back to this spot?
2. There is a long list of characters in this book, visitors to the resort as well as the main characters. Which ones were your favorite to read about?
3. Eby says that if "we measured life in the things that almost happened, we wouldn't get anywhere." What are your own fateful "almosts"?
4. Have you read a magical realism book before this one? How did you feel about the everyday magic the characters experience?
5. Kate, a born storyteller, has the power to alter Wes's perspective about his sad past through one powerful retelling. Have you ever tried to "rewrite" your own story about a difficult experience to help you move on? How effective do you think that would be?
6. The women in Kate's family are all impacted by the "Morris curse." Do you have any family legends like this?
7. If you could write the end of Lost Lake yourself, would you keep it as is or would you have changed something?
You Might Also Like
If you LOVE this month's book, you may also enjoy one of these fun books for book club: