The March pick of the Peanut Blossom Book Club for Recovering Readers is The 100-Year-Old Man Who Climbed Out the Window by Jonas Jonasson.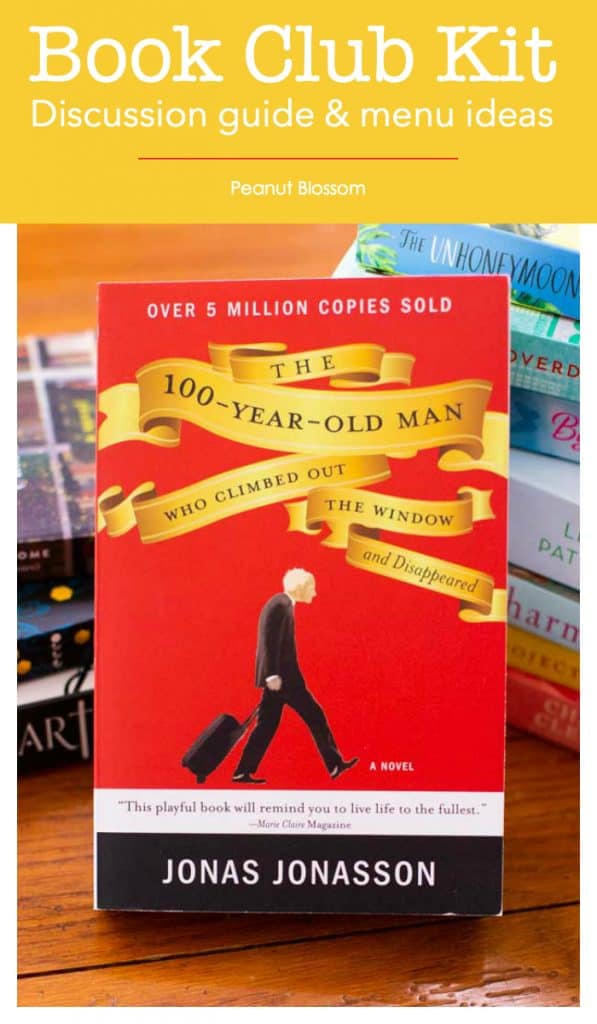 One complaint I have seen most often about friends' book clubs is that their group picks the same kind of book over and over again. While that kind of routine can be comforting for busy moms with little time to read, it can also eventually lead to boredom and avoidance of books altogether.
Since our very beginning, I have tried to mix up our genres a bit from month to month. Sometimes this means that books aren't everyone's "cup of tea" but it is something that has repeatedly been mentioned as a favorite characteristic of our group.
This month's book repeatedly popped up in my "You might also like" feature on Amazon for the longest time. When I took a closer look, the description made me laugh and I thought it would be fun to read this at the same time as my husband so we could chat about it together.
March's Official Book Club Pick: The 100-Year-Old Man Who Climbed Out a Window by Jonas Jonasson
With a 4.5 star rating from 14,845+ reviews, I'm pleased to announce that it is our official March Pick for this year.
Get your copy of this month's book club pick:
Money-saving tricks for reading this month's book pick:
You can get the book from your library.
The Kindle version is currently the same price as the paperback, but you can often save money on the Audible version if you own the Kindle copy. I love to use the Amazon Whispersync feature to go back and forth between audio and digital reading.
Book club movie night:
It turns out, our book pick has also been made into a movie. You could read our book and then enjoy a movie night with your spouse if you can't get them to read the book, too.
You can watch the movie on Amazon here.
What is The 100-Year-Old Man Who Climbed Out a Window by Jonas Jonasson about?
"After a long and eventful life, Allan Karlsson ends up in a nursing home, believing it to be his last stop. The only problem is that he's still in good health, and in one day, he turns 100. A big celebration is in the works, but Allan really isn't interested (and he'd like a bit more control over his vodka consumption). So he decides to escape. He climbs out the window in his slippers and embarks on a hilarious and entirely unexpected journey, involving, among other surprises, a suitcase stuffed with cash, some unpleasant criminals, a friendly hot-dog stand operator, and an elephant (not to mention a death by elephant).
It would be the adventure of a lifetime for anyone else, but Allan has a larger-than-life backstory: Not only has he witnessed some of the most important events of the twentieth century, but he has actually played a key role in them. Starting out in munitions as a boy, he somehow finds himself involved in many of the key explosions of the twentieth century and travels the world, sharing meals and more with everyone from Stalin, Churchill, and Truman to Mao, Franco, and de Gaulle."

Discussion questions for The 100-Year-Old Man:
Coming soon!
Be sure to check out the official discussion in our book club group right here.