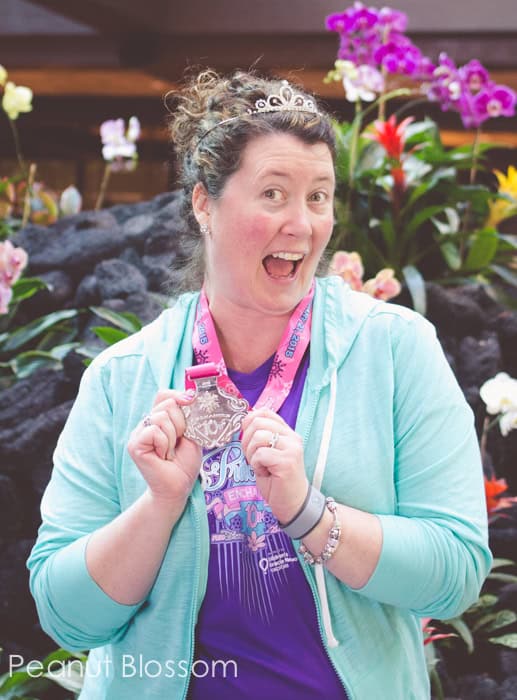 Woah Nelly! Looky what I have up there! Why yes, that IS a shiny 10K medal hanging around my neck and a very sparkly tiara upon my curly head!
We're a little over a week out from the run and I am still on Cloud 9. Every other run I've done (a 2-mile, a 5K, and a 4-mile) left me wanting to NEVER run again for at least a few weeks, up to a few months. This time, outside of a brief few minutes around mile 5 where I was feeling crazy for putting myself through this, I've been excited to do it all again from the moment I crossed the finish line!
I've got so many great tips for you to plan your own fun race weekend but I've significantly updated this post. Be sure to go check out the latest version on my new travel blog Don't Just Fly: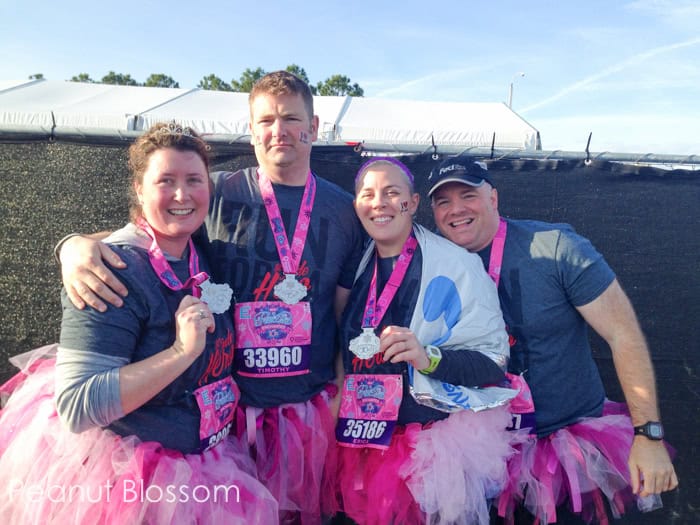 1. Registration is competitive: If doing a runDisney event is on your wish list, pick your race event and plan to be at your computer 5 minutes before registration opens. Races sell out within hours, not days. You have no time to waste.
2. Arrive Early: This may not be feasible with your schedule or budget, but if at all possible, I highly recommend arriving no later than Thursday at noon for your weekend event so that you can hit the Expo before the crazy crowds arrive. We got in at 3:30pm and headed straight to the Expo even before checking in to our hotel and I am so glad we did. By the time we left at around 5, the line of cars waiting to get into the parking lot was insane and the crowd levels inside had ramped up considerably.
Getting early access to the Expo allows you to snag any of the official merchandise you're wanting before it is sold out and gives you plenty of time to pick up your bib and deal with any issues that may have come up.
3. Take the day before your run easy!: We spent the entire day before our run at Universal walking ourselves silly. Not the best choice for the day before the run. There are so many fun things to do that don't require insane bits of walking.
Try Disney's Fantasia Gardens Miniature Golf, the Splitsville Luxury Lanes for some bowling, or if the weather is nice enough, lounge poolside at your hotel and do a light trip to Downtown Disney for shopping and dinner.
4. Plan to get to bed EARLY: We went to sleep at 8:30 pm the night before and got up at 3:00 am for our run. I did just fine with 6 hours of sleep the next day and felt plenty rested . . . until we crashed hard at 7 pm the next night. ha.
5. Bring your phone for pictures: Most of my favorite pictures from race morning were taken with Tim's cell phone. There are official race photographers taking your picture towards the finish line as you are running, but they are fairly expensive to purchase. I loved our more candid snaps while we were waiting and our group shot afterwards. Tim even shot a little video of us running through EPCOT and we snagged this video of the start line:
6. Plan to refuel!: You are going to be hungry and exhausted after your run. This is not the time to be wandering around trying to find a table. Before you even head to Orlando, know where you're going to be having breakfast after the race. After our 10k, we were showered and ready to go by 9:30 am, a 9:45 reservation at our hotel or a 10-10:30 am reservation somewhere else would have been perfect.
Why not celebrate with a character breakfast or head over to Kona Cafe at the Polynesia Resort and get their amazing Tonga Toast--french toast filled with bananas and deep fried. Yum. (Pro Tip: If Kona Cafe is booked and you can't get in, head downstairs to the quick service restaurant on the main floor, Capt Cooks, they still serve the Tonga Toast!)
7. Dinner reservations: Race weekends are BUSY. You will struggle finding a spot to have dinner without a long wait if you aren't prepared. We don't normally arrange our vacations around our meals, but in this instance you'll be happy you did. At the very least, be sure to have reservations for dinner the night before your run and for the dinner the day of your race. Make sure both of them are early.
We enjoyed dinner at 4:40 pm the day of our race at Le Cellier in the Canada pavilion of EPCOT. With a big post-race breakfast at 10 am and a light snack in the early afternoon, we were ready for a nice dinner early in the evening so we could go home and crash.
8. Pick your post-race park carefully: Our plan all along was to spend the evening in EPCOT after our run. Since our trip was just a party of 4 adults, we loved spending time in the World Showcase strolling, riding a few rides, and sipping on beers/wines of the world. EPCOT is so much more laid back than the other parks, in my opinion, and the perfect place to be part of Disney without pressure to be running around too much. So much good food, beautiful scenery, lots and lots of benches for sitting when you feel like your legs are going to break. Hmm, just me?
9. Stay at a Disney hotel: If you have to splurge on one thing, this should be it. You'll be closer to the race so you don't have to get up quite so early. You'll be surrounded by other runners and feel part of the community. The hotel staff will understand exactly what you're going through and be able to support what you need.
Additionally, when you stay at a Disney hotel you'll receive:
free transport from the airport
free transport to the EXPO
free transport to the parks & Downtown Disney
free parking both at your hotel and all the other Disney hotels AND the Disney parks if you have your car
a free Magic Band to access the parks and easy payment for dining and shopping during your weekend.