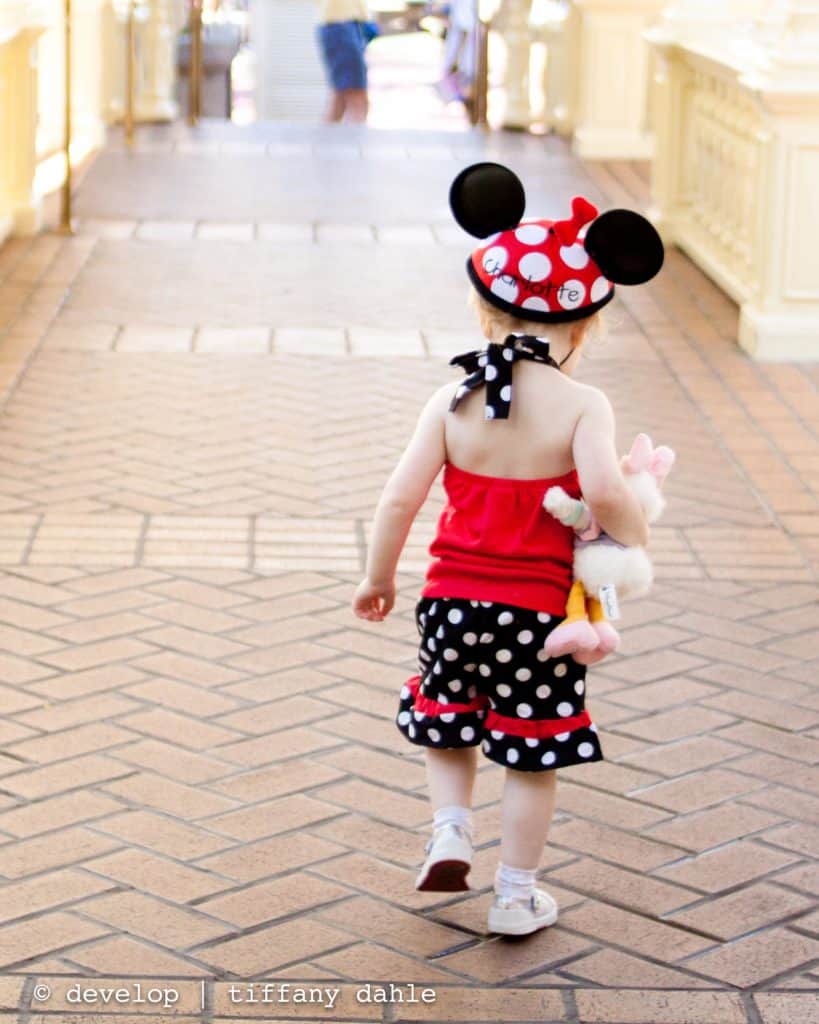 The thing that took me most by surprise during our family vacation to Disney World is just how difficult taking pictures would actually be! The parks are very crowded even on slower traffic days. Those gorgeous photos I had in my mind's eye were nearly impossible to capture without lots of extra bodies in the frame.
This was complicated by the fact that we were traveling with two small girls ages 2 & 5. If you're not familiar with photographing a 2 year old just know that she saw every moment out of her stroller as an opportunity to run as far and fast away from us as possible. Since her safety is far more important than taking her photo, she appears strapped in and safe in her stroller for most of our vacation album.
My husband and I decided to designate one single morning of our 5 day trip to capturing some images of the girls in the park:
Day 1: We rode on as many rides at Magic Kingdom as we could squeeze into a single day and got familiarized with the layout of the park.
Day 2: We scheduled our "slow it all down and take some pictures" morning followed by an early lunch and sight-seeing the parades and live shows.
This worked out really well because the girls weren't quite so anxious that we were "keeping them" from the rides and were just as relieved to be going at a slower pace for a morning.
Scheduling our photo time for Day 2 also allowed me one day to just experience the park without trying to multitask with my camera. I was able to look around and scout out a few spots for photo ops the next day.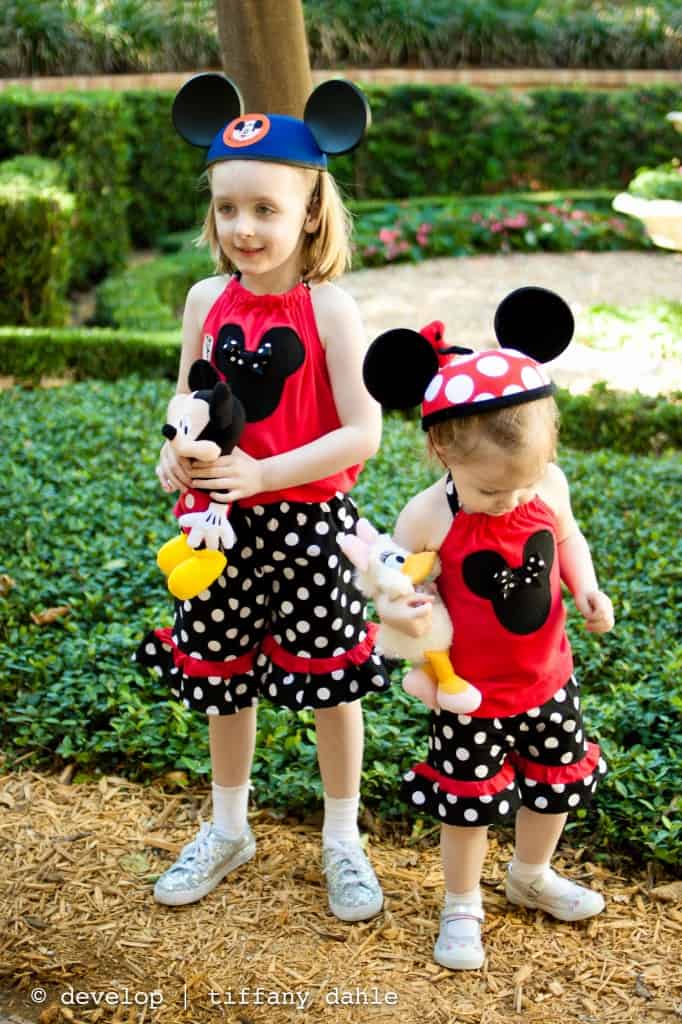 My best tips for trying your own informal photography session at Disney World:
1. Mouse Ears: Arrive at Magic Kindom at park opening time and head straight for Mickey & Minnie Mouse. Their "dressing room" is right off the main square of the park. If you head there right away in the morning, there is very little wait. As you head out of their greeting room you exit through the store where the famous mouse ear hats are sold and personalized.
- While we waited for the girls' hats to be embrodiered, we took some silly photos of them trying on the crazier hats available that we didn't want to purchase. Made for a silly photo op.
- Once they had their hats, there is a pretty little courtyard area directly outside the store with beautiful lighting. (See photo above.)
- My oldest daughter wore her mouse ear hat all day long. Splurge for the $7 personalization, it shows up in photos far better than their $3 option! I was able to get so many sweet photos of the back of her head with her name on her hat that really gave a personal touch to our images. The thinner, cheaper embroidery option would never show up.
2. Shoot early!: The park opens at 9 a.m. as a general rule. From 9 - 10 am was the last of the golden hour time frame for us during the time of year we visited. Beyond that, the light becomes very harsh and bright and you need to look for open shade if you don't want squinty sweaty photos. Decide which images are most important to you and try to get them done before 10 a.m. I regret not trying for our "in front of the castle" family shot during that time frame but it is impossible to do it all! There's always next time.
3. Consider your wardrobe: I'll be the first to admit it, we went way over the top with the girls' outfits. I'm not suggesting you need to be as crazy as me. That being said, if you are looking for wall-worthy images from your vacation it does pay to consider what your entire family is wearing during the day you plan to set aside the time for photos. We color coordinated for that one day--the girls in their matching outfits, me in a simple white t-shirt, my husband in a grey Mickey Mouse t-shirt that our daughters were thrilled with. No matter which combination of the 4 of us appears in a photo from that day, there are no major clashes of color or patterns in our wardrobe.
This post is part of my ongoing Disney vacation photography series:
Interested in reading more? You can see the whole Disney photo tips series here.