Recently I shared how I've struggled to make time and find the interest in reading--a drastic change for someone who has always listed "Book Worm" as one of her bigger personality traits. The response has been amazing and so supportive. Many of you have mentioned going through something similar with new babies in the house. I know I'm not alone.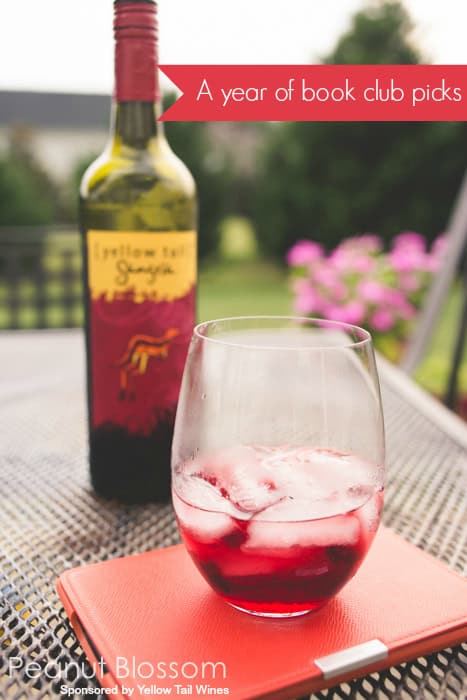 When Yellow Tail wines approached me and asked if I might be interested in reviewing their new sangria at a party or book club gathering, it was like the universe was telling me to keep plugging away at fixing my reading struggles. Over the weekend I happily packed my tote bag with wine and headed to Book Club. If anything can keep me motivated to push through and keep reading, a mom's night out with friends is definitely it.
Normally I like to go all out with my contribution to the party feast. But end of year with school and start of summer meant I've been barely treading water. I loved being able to pop the bottles of sangria in my bag and not having to worry about making it from scratch! So easy to transport to a friend's house. The ladies all gave two thumbs up on the taste test so I feel great about recommending it to you!
Book club night and the reading time it requires has always been my one solid "me time" strategy. In honor of all my book club friends, both the new and the old, I thought it would be fun to round up a year's worth of reading picks for those of you looking for something different.
This is sort of a mixed bag of recommendations but they all have this in common:
No tear jerkers. I'm just not in the phase of life where I want to spend my free time crying. On purpose. No thanks.
Escapism: The word of the day. These books all transported me out of my current world either because I was engrossed by the characters or quite literally the world was completely different than our own.
Action oriented, mysterious, or light: None of these books were overly heavy. Though the plots were intriguing and make for excellent conversation starters, I wasn't left depressed for days. I haven't read it, but I get the impression that these are the polar opposite of "The Fault in Our Stars."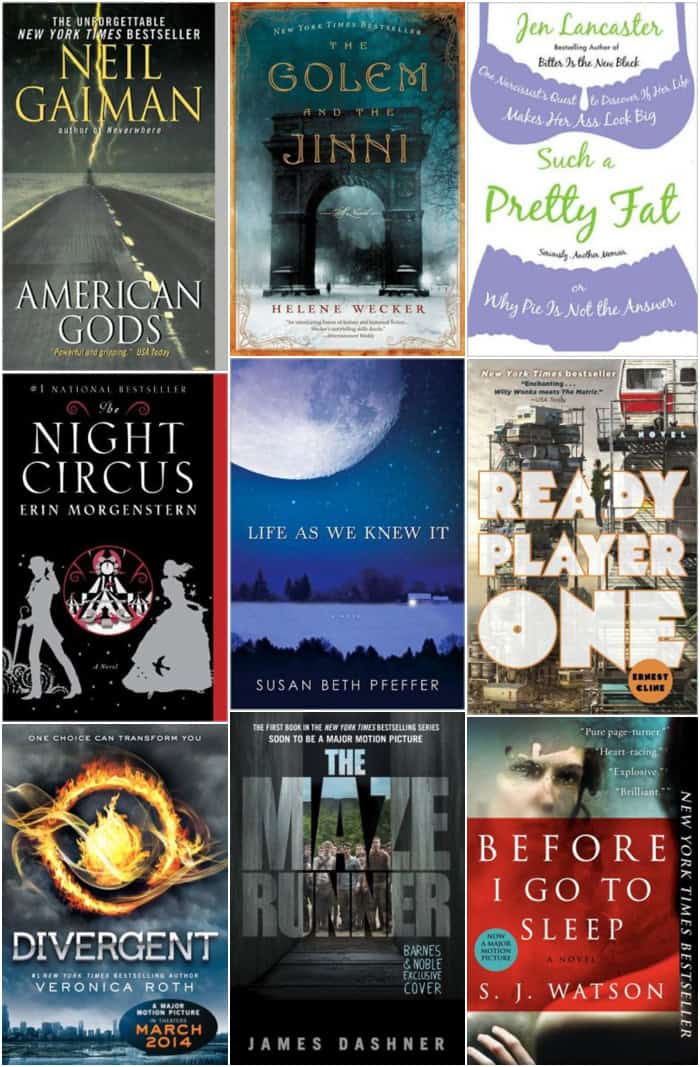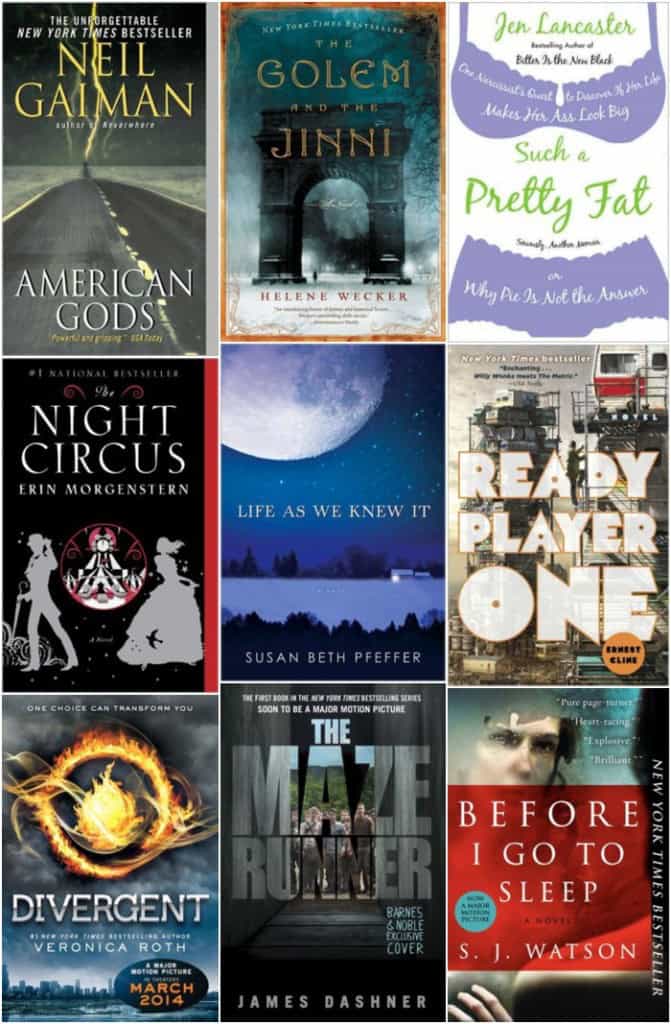 In no particular order, 12 book club picks:
American Gods by Neil Gaimon: Perfect for lovers of mythology and American road tripping.
The Golem and the Jinni by Helene Wecker: I'm still wading through this lengthy pick but it has been enjoyable enough to include. Fantasy set in New York City's immigrant communities. Just a touch magical, just a touch historical fiction.
Such a Pretty Fat by Jen Lancaster: I read this during Christmas break right before New Year's Resolutions time, the perfect time of year to read it. If you've ever been on a diet or worried about your weight, this is a very relatable (but funny) pick.
The Night Circus by Erin Morgenstern: Still tops my favorite books of all time list. I love this one and had to recommend it again just in case there are still some who have not read it. I think I'll be reading it a second time this fall, something I never do.
Life as We Knew It by Susan Beth Pfeffer: Young Adult pick featuring life after a catastrophic world event. It is one in a trilogy, I enjoyed the whole set.
Ready Player One by Ernest Cline: This is the only book I have not yet read but it has been on my list for ages. My book club just announced it is our October pick and I can't wait to finally dig in. It came recommended highly by multiple sources I trust so here it belongs.
Divergent by Veronica Roth: I hesitated to add this pick just because I hated the third in the trilogy SO MUCH. But I loved the first two as strongly as I hated the third so there we go.
The Maze Runner by James Dashner: This was a page-turning thriller for me. Also part of a series. The first couple were fantastic but it definitely did not end strongly. Bummer, but still worth reading and I'll be first in line to see the movie.
Before I Go To Sleep by S.J. Watson: Creepy and intriguing thriller. I don't do "scary" well, this was right up my alley!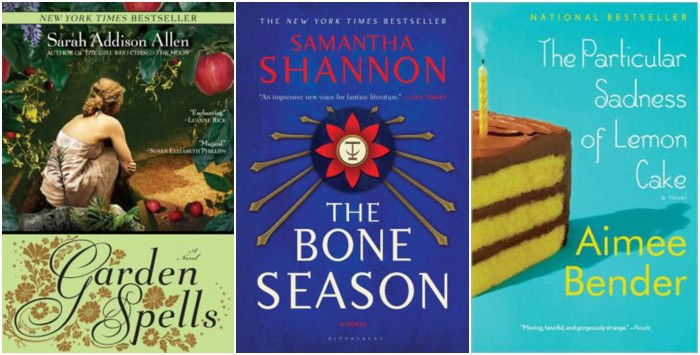 And these bonus three books are ones that I have not yet read. I checked in with a friend I consider a reading soul mate for her recommendations and she came back with these:
Garden Spells by Sarah Addison Allen: A magical garden, a family in North Carolina? I'm thinking this is going on my list stat.
The Bone Season by Samantha Shannon: Apparently this was the hot book of 2013? Just shows how I've not been paying enough attention to books! This quote from Redbook.com made me laugh: "It's the Harry Potter/Hunger Games fix you've been craving." Sold.
The Particular Sadness of Lemon Cake by Aimee Bender: A nine year old girl discovers she has the magic to taste her mother's emotions in the things she bakes. As both a mom and as a baker this idea intrigues me!

This post is sponsored by Yellow Tail Wines. I was asked to share their sangria with my book club friends and we all enjoyed it tremendously. Peanut Blossom only works with brands we trust. View our full disclosure here.