Looking for the best book club picks for 2020? We've been picking the perfect book club books for 6 years!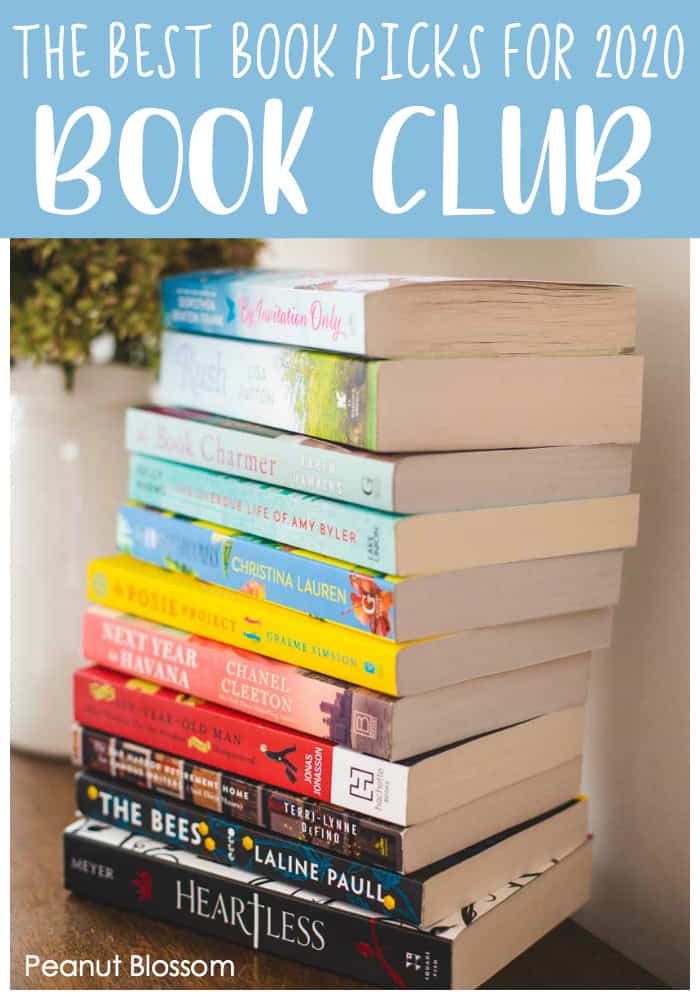 UPDATE: The 2021 List is Now Here!!
We hope you loved the 2020 list, come join us as we read the best book club picks for 2021 in the new year!
Hope to see you there,

Are you resolving to read more in the new year? The Peanut Blossom Book Club for Recovering Readers is the very best book club for busy moms who struggle to make time to read. We are a group of friends who have been chatting about books on Facebook for the last 5+ years and we would love to have you join us.
How do we define the best book club picks for 2020?
We read only FUN, light-hearted books.
We avoid tear jerkers.
We don't take our book picks too seriously, reading is for pleasure.
We have a variety of genres throughout the year: romance, historical fiction, magical realism, fantasy, and mystery all make the rotation year after year.
RELATED: Check out our best book club picks for 2019 here.
Our book club is NOT for anyone who:
Needs long-grinding 500+ pages books to feel accomplished
Wants each line of the book to be a mental challenge
Desires books with great, lasting, classical importance
Our book club is DEFINITELY FOR anyone who:
Is desperately busy and struggles to find time to read
Used to love reading for fun before family-life became so all-encompassing
Misses chatting with friends over a fun book
Needs something light to relieve the burdens of the day
Wants a book club with flexibility and NO RULES or deadlines
Knows that occasionally reading picks outside of your comfort zone is the best way to find new favorite authors and genres
Does this sound like you? Then, welcome!
There are just two steps to get started:
1. Follow along on Facebook:
I post monthly discussion threads for each book inside our private Facebook book club. Join us here.
You'll discover our group is filled with kind, upbeat people who just love to share their new favorite reads. We talk about all books, not just the official monthly picks. It's a great place to get new recommendations all year long.
2. Sign up for email updates:
Nothing is worse than having an exciting announcement and knowing that social media algorithms will filter and prevent me from getting the news to you. I don't want Facebook deciding what you see and what you don't.
Please join my email newsletter list so you won't miss a single book club announcement:
GET ON THE LIST
You'll also be added to my weekly newsletter where I share fun seasonal recipes and ideas for you to enjoy your family more.
Now that you're in the club, just grab the next book in the list that calls your attention and get reading!
The OFFICIAL list of best book club picks for 2020!

Here we go! The portion of this post we are all the most excited for.
I'm thrilled to be able to announce the entire list of books we'll be reading next year.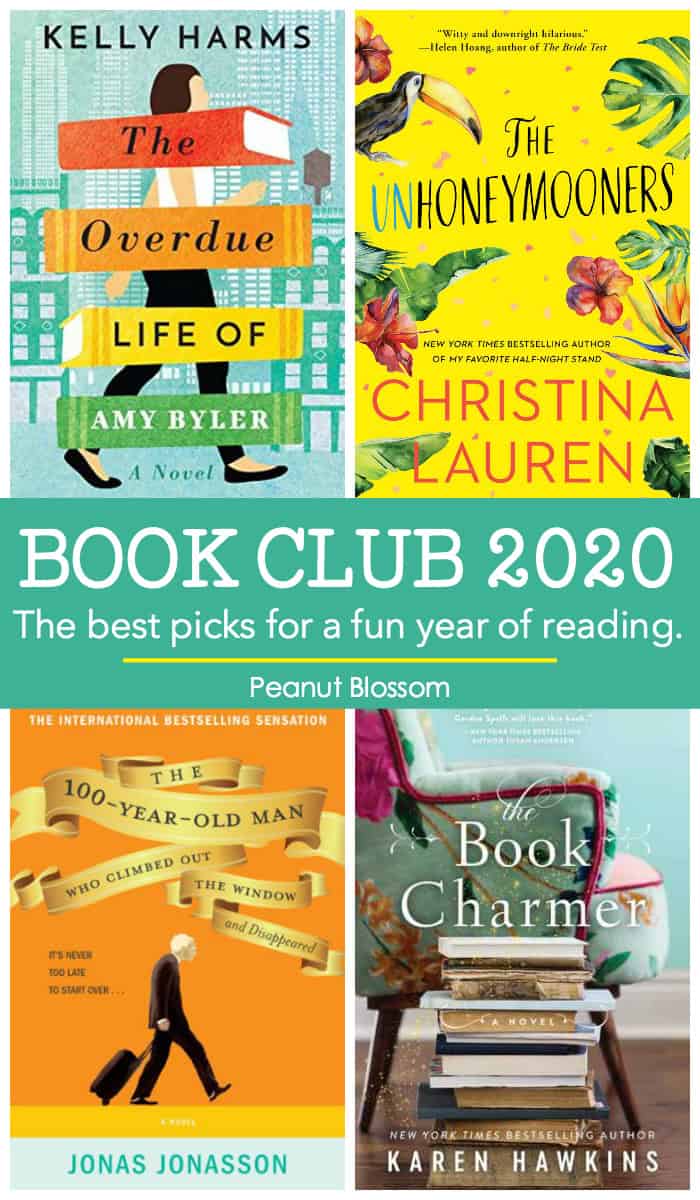 January:
The Overdue Life of Amy Byler by Kelly Harms
Check out the discussion guide for Amy Byler here.
February:
The Unhoneymooners by Christina Lauren
Check out the book club party ideas for The Unhoneymooners here.
March:
The 100-year-old Man Who Climbed Out the Window and Disappeared by Jonas Jonasson
Check out the book club party ideas for The 100-year-old Man here.
April:
The Book Charmer by Karen Hawkins
Check out the book club party ideas for The Book Charmer here.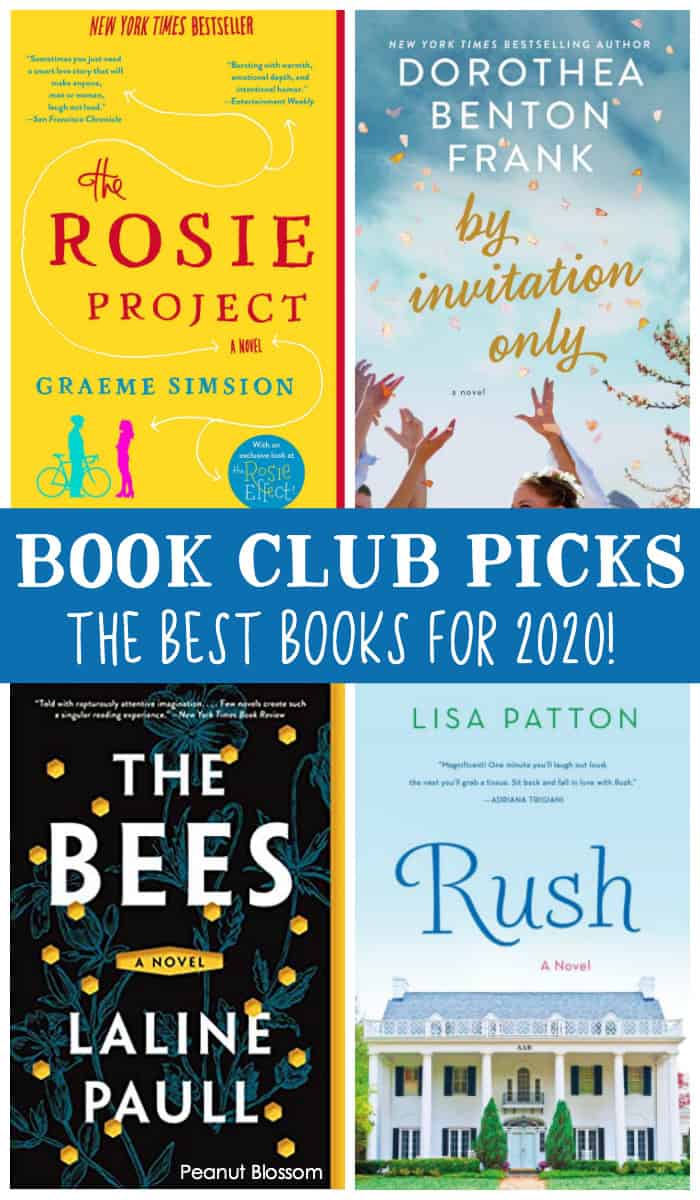 May:
The Rosie Project by Graeme Simsion
Check out the book club party ideas for The Rosie Project here.
June:
By Invitation Only by Dorothea Benton Frank
Check out the book club party ideas for By Invitation Only here.
July:
The Bees by Laline Paull
Check out the book club party ideas for The Bees here.
August:
Rush by Lisa Patton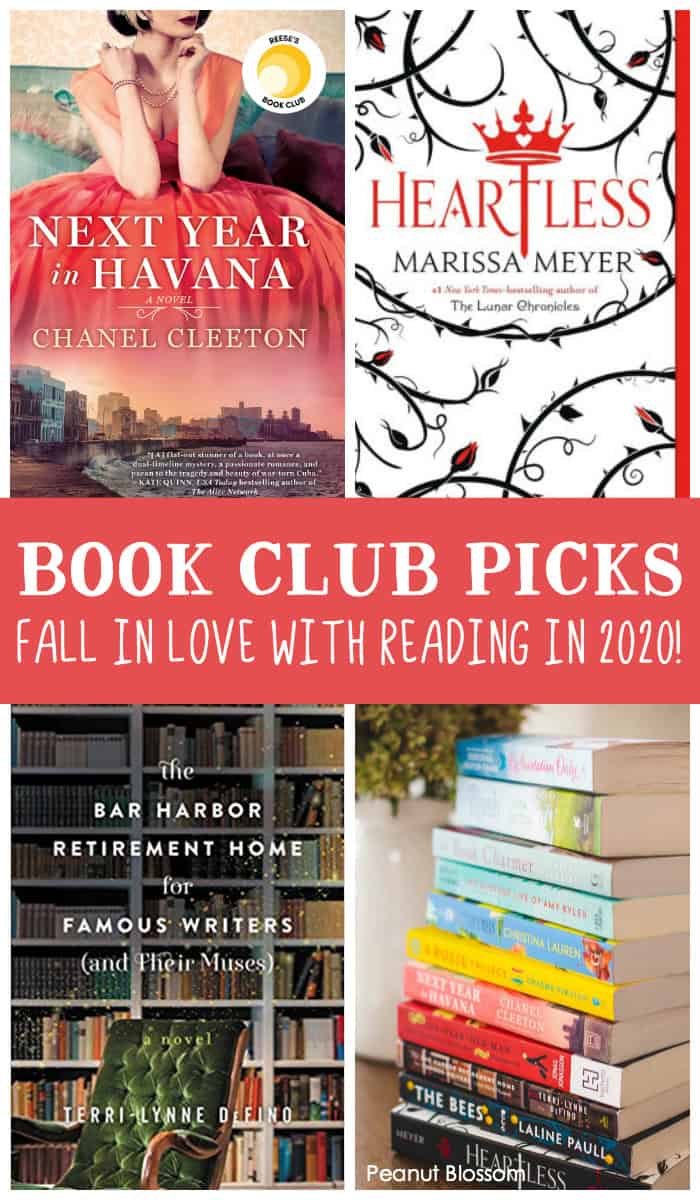 September:
Next Year in Havana by Chanel Cleeton
October:
Heartless by Melissa Meyer
November:
The Bar Harbor Retirement Home for Famous Writers (and their Muses) by Terri-Lynne DeFino
December:
Every December we do a "reader's choice" month where you pick your own book. We will celebrate together with our popular Pay it Forward Book Exchange on Facebook.
Even though you are welcome to choose anything you want to read this month, I always come prepared with some fun ideas to get you started!